Ise
Ise is a coastal town in the scenic Ise-Shima National Park. The town shares its name with the myth-enveloped shrine which is visited by millions of Japanese each year.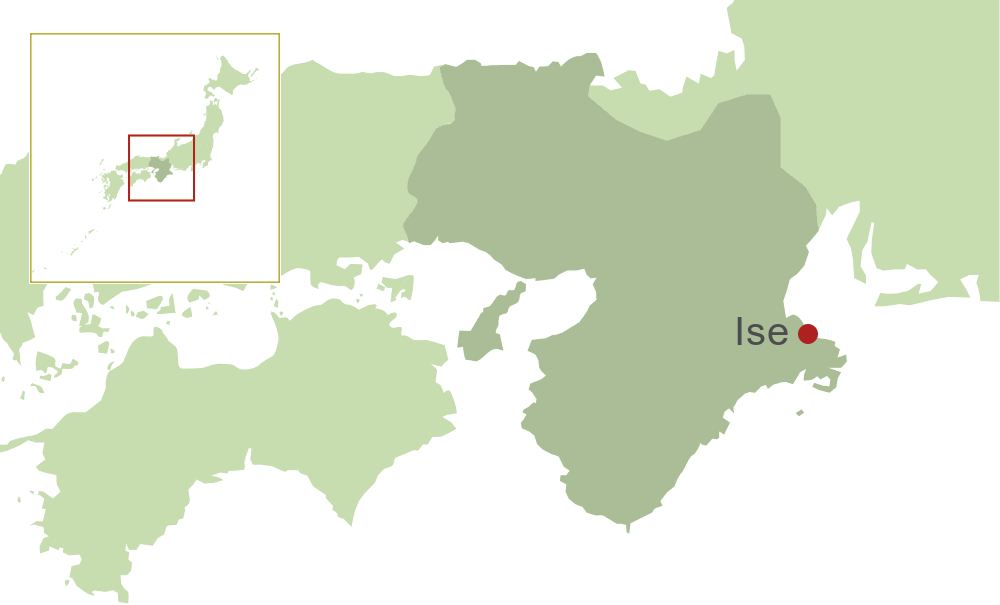 "This historic seaside town, home to the shrine of the Sun Goddess, is descended on by millions of pilgrims each year and is well worth a visit"
Paul O'Brien, Sales Team Leader
The shrine is dedicated to the Sun Goddess, Amaterasu-Omikami, who was once considered a founder of the Japanese nation and a direct blood relation of the Imperial Family. Pilgrims have been coming for centuries; it's the most important site in Shinto religion. As a power-spot, it outshines all others.
You cannot see inside the shrine, but walking around the sheltered wooden structures watching pilgrims paying their respects is fascinating. After the shrine, a visit to the old merchants' district of Okage Yokocho is recommended to take your mind to more earthly matters. Think fresh seafood snacks and traditional craftwork.
Hiking trails in the hills are also a popular diversion. A trip up the 500 metre peak at Mount Asama promises spectacular views of the coastline. Ise is part of a National Park with a range of day-tip options including boat cruises, island visits and eating grilled seafood with women pearl divers in nearby Toba.
Ise enjoys direct train links to Kyoto, Osaka and Nagoya making it an easy stop between these destinations.
Recommended Accommodation in Ise
The following are our favourites from among the western-style hotels and Japanese-style inns of Ise.

Experiences in Ise
Ise offers a wealth of exciting experiences that will help you get beneath the surface of Japan's fascinating culture. See below for a few of our favourites
Weather in Ise
The Climate Guide for Ise, Japan is perfect for planning your holiday. Monthly weather averages give the best indication of what the weather is usually like for every month of the year including figures for temperature, rainfall and sunshine.
Jan
Feb
Mar
Apr
May
Jun
Jul
Aug
Sep
Oct
Nov
Dec
Max Daytime Temperature (°C)
9
9
13
19
22
25
29
30
27
22
17
12
Min Night-time Temperature (°C)
2
2
5
10
14
18
22
23
20
14
9
4
Hours of Sunshine (Daily)
6
6
6
6
6
5
5
6
5
5
5
5
Hours of Daylight (Daily)
10
11
12
13
14
14
14
13
12
11
10
10
Heat and Humidity Discomfort
None
None
None
None
None
Low
High
High
Moderate
None
None
None
Days with some Rainfall
16
16
18
16
15
19
19
17
18
15
14
14
Monthly Rainfall (mm)
62
64
97
116
188
279
242
185
312
204
102
57
UV Index (Maximum)
3
4
6
8
9
10
11
10
8
6
4
3
Featured trips including Ise
Tokyo
Kyoto
Mount Koya
Kawayu Onsen
Yunomine Onsen
Nachi
Ise
Tokyo

Join the ranks of the junreisha, or pilgrims, as you explore Ise, Mount Koya and the ancient paths of the Kumano Kodo on this classic trip.

14 nights: from AU$6004 pp (twin share) Read more >

Tokyo
Kyoto
Mount Koya
Kawayu Onsen
Yunomine Onsen
Kii-Katsuura
Ise
Tokyo

Follow in the footsteps of Japanese royalty as you tread the pilgrimage paths of the Kumano Kodo, with superior accommodation and cuisine included.

14 nights: from AU$11305 pp (twin share) Read more >