Self-Guided Adventure
Pilgrim's Paths
14 Nights: from AU$11305 per person (twin share)
Trip Code: PPS
Our Pilgrim's Paths itinerary showcases a selection of the stunning natural environments navigated by the Kumano Kodo network of pilgrimage routes, juxtaposing unspoilt nature with two of Japan's most iconic cities. Read more >
Your journey begins and ends in Tokyo, Japan's remarkable capital city. Here, a visit to bustling Senso-ji Temple, where incense permeates the air and crowds of visitors queue to purchase their fortunes, gives a glimpse of a bygone Tokyo amongst the steel, glass and neon of a skyscraper world.
From the old town atmosphere of Senso-ji to the über-modern, fast-paced districts of Shinjuku and Shibuya, you'll be excellently placed to discover the many faces of Japan's capital city.
A ride on Japan's iconic Shinkansen will bring you to Kyoto, the "City of Ten Thousand Shrines", where historical monuments lie hidden around every corner and you may even catch a glimpse of one of the elusive geisha!
From Kyoto you will make your way through valleys and peaks to sacred Mount Koya, perched on a mountaintop in deepest Wakayama Prefecture, where you'll stay in traditional temple lodgings surrounded by thick forests and witness an early morning meditation ceremony.
From here you'll make your way even deeper into the Kii Peninsula, with stays in Kawayu Onsen and Yunomine Onsen - tiny, traditional spa towns that form part of the Kumano Kodo network of pilgrimage trails.
The Kumano Kodo has been trodden by pilgrims from diverse religious and social backgrounds for over a millennium, linking the three great shrines of Hongu Taisha, Nachi Taisha and Hatayama Taisha.
During your stay you'll visit all of these shrines as well as hiking through ancient forests, admiring the tallest waterfall in Japan, staying in traditional accommodations, soaking in some of the country's finest natural hot springs and walking a section of the Daimonzaka cobblestone stairway.
After your exploration of the Kumano Kodo and a stay on a tiny, forested island in Katsuura Bay, a scenic coastal train will bring you to the pilgrimage town of Ise, one of Shinto's most sacred sites.
Finally you'll round off your trip in Tokyo, where the towering skycrapers, glaring neon and cacophonic karaoke booths will provide an arresting contrast to your rural exploration!
What's included
14 nights' accommodation (seven nights Japanese style)

Breakfast each morning, seven evening meals, six lunches

Transport between destinations unless otherwise specified

First class (green) train tickets between destinations (where available)

Airport transfers by private car

Eight-hour private guide service in Tokyo including entrance fees and lunch

Full day private guide service in Mount Koya

Manaca transport card with 2,500 yen credit for use on local transport

Private cycling tour of Kyoto with lunch included

Japanese home-cooking class in Kyoto

Kansai Thru Pass

Same-day luggage forwarding service between destinations on the Kumano Kodo (From Kawayu Onsen to Yunomine and from Yunomine to Kii-Katsuura)

Pocket WiFi device

Your personalised InsideJapan Info-Pack
What's NOT included:
International flights

Some local buses

Any entrance fees including those for shrines, temples and museums unless otherwise specified

Baggage handling and luggage forwarding unless otherwise specified
Trip Highlights
Hike along the Kumano Kodo

Discover the sights of Kyoto by bicycle

Explore the Grand Shrines of Ise
Stay at a shukubo temple lodging on Mount Koya

Relax in hot spring baths at Yunomine

Take a Japanese home-cooking class
For more information email us: [email protected] or call: + 61 7 3186 8800
What, where, when and how...
Pilgrim's Paths - 15 Days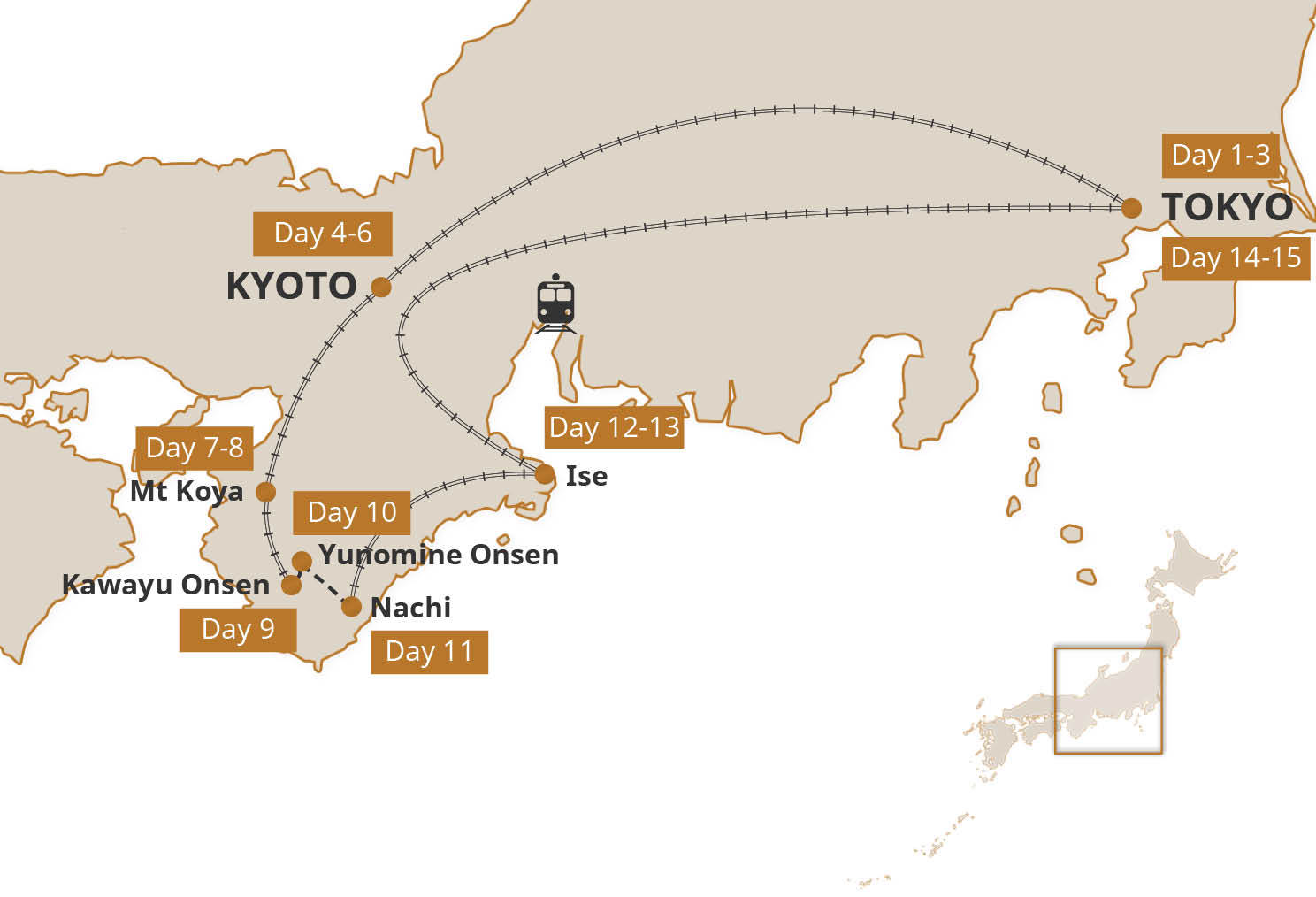 Pilgrim's Paths - 15 Days - Day by Day
Pilgrim's Paths - 15 Days - Accommodation
Pilgrim's Paths - 15 Days - Experiences
Day 1-3

Enjoy a stay in Asakusa, Tokyo's most traditional district and home to the city's oldest temple.

Welcome to Japan! On arrival at Narita Airport you will be escorted to your hotel in the traditional Asakusa district of Tokyo by private car. Situated on the banks of the Sumida River, Asakusa is Tokyo's most traditional area and is home to the magnificent Senso-ji Temple as well as a colourful carnival of market stalls, food vendors and traditional ryokan inns. The rest of this first day will be free for you to get to know this area or to venture further afield. Armed with your personalised InsideJapan Info-Pack, you will be all set to explore.
On your first full day in the city you will have a knowledgeable local guide at your disposal for eight hours. Tokyo is packed with sightseeing opportunities so let the guide do the hard work and lead you to the highlights. Itineraries are not fixed in advance, so if you have any special requests the guide will be happy to incorporate these into the day. Lunch and entrance fees will be included.
After an action-packed day of sightseeing you'll have another full day in which to either continue exploring Tokyo independently, or to make a day trip out of the city. There are almost endless possibilities – perhaps you'd like to get up early and sample Japan's freshest sushi at Tsukiji Fish Market, or maybe take a gentle cruise along the Sumida River. Marvel at the crazy fashions on display in Harajuku or head up the Skytree for dazzling views of the city (and hopefully Mount Fuji!)

Overnight: Gate Hotel Kaminarimon

Day 4-6

Tour Kyoto by bicycle as you speed past machiya townhouses, bamboo groves and a multitude of shrines and temples with a knowledgeable private guide.

Today you will leave Tokyo and head to Kyoto, Japan's erstwhile Imperial capital and the beating cultural heart of the country. On first glimpse, Kyoto gives the impression of being a very modern city – but underneath this you will discover a city of rich history and tradition with a vast array of shrines, temples and gardens.
Today you will have a free afternoon to begin exploring the city. Drink a cup of green tea at the picturesque Golden Pavilion, contemplate Zen at Ryoan-ji Temple's rock garden or wander through the thousands of vermillion torii gates that line the paths of Fushimi Inari Taisha.
On your second day in Kyoto you'll be touring the city by bike with a knowledgeable local guide. Kyoto is pretty flat for the most part and exploring by bike will mean you can glide through the scenic backstreets as well as stopping off at major sights such as the Golden Pavilion and Ryoan-ji Zen rock garden.
The highlight of your final day in Kyoto will be a home cooking course at a private house, during which you'll learn how to cook some simple Japanese dishes such as teriyaki chicken, sushi and tempura with an English-speaking instructor. This is a private class and offers a great chance to learn more about Japanese food – and to get a glimpse inside a regular Japanese home! The rest of the day will be free for you to continue exploring Kyoto – head out to Arashiyama to wander the bamboo groves or try out the nightingale floor at Nijo Castle.

Overnight: Celestine Kyoto Gion

Day 7-8

Relax and reflect at a traditional shukubo Buddhist temple lodging in sacred Mount Koya.

Today you will be travelling to Mount Koya, one of Japan's most sacred areas. The history of Koya stretches back some 1,200 years to the ninth century, when a monastic retreat was set up atop the mountain by the monk Kobo Daishi to serve members of the Shingon sect of Buddhism.
Today you will aim to arrive in time for the afternoon ceremony at your shukubo temple lodgings, before tucking into a traditional meal of vegetarian Buddhist food – known in Japanese as shojin ryori.
The next morning you will get up early to take part in the morning ritual at your shukubo temple lodging. You will have a full day in Koya with a private guide today, so make the most of this time to explore the atmospheric Okunoin cemetery and the beautiful gardens of Kongosan-mai Temple.
Your guide knows the history of the area well and will be able to answer any questions you might have, but this is also a chance for quiet reflection and relaxation. Dinner tonight will be another vegetarian feast at your shukubo.

Overnight: Fudoin Shukubo

Day 9

Dig yourself a riverbed hot spring bath in Kawayu Onsen, your first stop on the Kumano Kodo pilgrimage route.

From Mount Koya you will continue your adventures on the Kii Peninsula as you head by train to Kii-Tanabe. Here you'll have a short Kumano Kodo orientation session, grab a seafood lunch and hop aboard the bus to your next destination: Kawayu Onsen.
Kawayu Onsen is a small but popular onsen village and the ryokan inn you'll be staying at tonight is a staple of both foreign and Japanese guidebooks. All the rooms at the ryokan boast views over the Oto River, where guests can wander down in their yukata bathrobes and sandals to dig out their own hot spring baths. In the winter there is a large senninburo bath dug from the riverbed just opposite the ryokan where guests can relax by candlelight in the evenings.
Tonight you'll enjoy a delicious kaiseki style meal at your accommodation and be provided with a bento lunchbox to take with you tomorrow.

Overnight: Fujiya Ryokan

Day 10

Venture deep into the forests to Yunomine Onsen, a traditional spa town with one of Japan's finest hot springs.

Today you will take a bus to Hosshinmon-oji, the gates to the outer precincts of Hongu Taisha shrine, and hike the scenic 7 km to the shrine itself. This is the point at which all the pilgrimage routes of the Kumano Kodo converge and you'll pass some wonderful scenery on your way – including traditional villages, tea plantations, terraced fields and ancient forests of towering trees.
After you have explored the shrine you'll take the bus onwards to Yunomine Onsen, where your traditional ryokan inn will have its own wonderful hot spring baths for you to try and you'll be treated to another elaborate kaiseki dinner.

Overnight: Adumaya Ryokan

Day 11

Enjoy a traditional open-topped boat ride and visit two of the region's three great shrines as you complete your exploration of the Kumano Kodo.

This morning you'll be taking a leisurely boat ride along the Kumano River to Hatayama Taisha, the second of the three great shrines. For centuries pilgrims have approached this shrine by boat, passing through steep gorges and past impressive waterfalls along the way, and you'll be travelling in a narrow, open-topped boat just as they did (albeit with the help of a motor!).
After your visit to Hatayama Taisha you'll have lunch in nearby Shingu and catch the bus to Daimonzaka, where you'll walk a section of the 600 m cobblestone stairway to Nachi Taisha: the third and final great shrine of the Kumano Kodo set against the tallest waterfall in Japan.
Later you'll make the short bus journey to Kii-Katsuura, where you'll be staying in a large hotel with Japanese-style rooms on a tiny, forested island in Katsuura Bay. The fresh seafood dinner here will be absolutely wonderful – but the highlight should be a soak in the hot spring bath overlooking the bay!

Overnight: Kumano Bettei Nakanoshima

Day 12-13

Spend two days discovering one of Shinto's most sacred sites in Ise.

Home to two of the most important shrines in the Japanese Shinto religion, Ise in Mie Prefecture is your next destination. Here you'll have the opportunity to explore the inner and outer shrine as well as some of the town's unspoilt old streets and the Ise Bridge. Your accommodation will be at a traditional, wood-built ryokan inn with lovely gardens, where a top-notch kaiseki-style dinner is bound to be the highlight of your stay.
After relaxing at your ryokan, you'll have another full day to investigate Ise or to visit nearby Kashikojima Island and the nature reserves of the Ise Shima National Park. You could also explore nearby Toba, famous for pearl cultivation and home to the Mikimoto pearl company. Full details of all these options will be included in your personalised Info-Pack. Dinner will be included once again at your ryokan tonight.

Overnight: Todaya Ryoan Ryokan

Day 14-15

Finish your trip with an evening in Shinjuku: Tokyo's business and entertainment hub.

From Ise you will travel back to Tokyo for a final night in Yurakucho, one of Tokyo's brightest and best entertainment hubs, known for its busy department stores, lively restaurants and karaoke bars. With so much going on right on your doorstep, this is the perfect place to conclude your trip to Japan.
Sadly all good things must come to an end, and on your final morning you will be conveyed by private car to the airport in plenty of time for your departure flight. Have a safe journey home.

Overnight: Gate Hotel Tokyo
View all days
Day 1-3

Enjoy a stay in Asakusa, Tokyo's most traditional district and home to the city's oldest temple.

Welcome to Japan! On arrival at Narita Airport you will be escorted to your hotel in the traditional Asakusa district of Tokyo by private car. Situated on the banks of the Sumida River, Asakusa is Tokyo's most traditional area and is home to the magnificent Senso-ji Temple as well as a colourful carnival of market stalls, food vendors and traditional ryokan inns. The rest of this first day will be free for you to get to know this area or to venture further afield. Armed with your personalised InsideJapan Info-Pack, you will be all set to explore.
On your first full day in the city you will have a knowledgeable local guide at your disposal for eight hours. Tokyo is packed with sightseeing opportunities so let the guide do the hard work and lead you to the highlights. Itineraries are not fixed in advance, so if you have any special requests the guide will be happy to incorporate these into the day. Lunch and entrance fees will be included.
After an action-packed day of sightseeing you'll have another full day in which to either continue exploring Tokyo independently, or to make a day trip out of the city. There are almost endless possibilities – perhaps you'd like to get up early and sample Japan's freshest sushi at Tsukiji Fish Market, or maybe take a gentle cruise along the Sumida River. Marvel at the crazy fashions on display in Harajuku or head up the Skytree for dazzling views of the city (and hopefully Mount Fuji!)

Overnight: Gate Hotel Kaminarimon

Day 4-6

Tour Kyoto by bicycle as you speed past machiya townhouses, bamboo groves and a multitude of shrines and temples with a knowledgeable private guide.

Today you will leave Tokyo and head to Kyoto, Japan's erstwhile Imperial capital and the beating cultural heart of the country. On first glimpse, Kyoto gives the impression of being a very modern city – but underneath this you will discover a city of rich history and tradition with a vast array of shrines, temples and gardens.
Today you will have a free afternoon to begin exploring the city. Drink a cup of green tea at the picturesque Golden Pavilion, contemplate Zen at Ryoan-ji Temple's rock garden or wander through the thousands of vermillion torii gates that line the paths of Fushimi Inari Taisha.
On your second day in Kyoto you'll be touring the city by bike with a knowledgeable local guide. Kyoto is pretty flat for the most part and exploring by bike will mean you can glide through the scenic backstreets as well as stopping off at major sights such as the Golden Pavilion and Ryoan-ji Zen rock garden.
The highlight of your final day in Kyoto will be a home cooking course at a private house, during which you'll learn how to cook some simple Japanese dishes such as teriyaki chicken, sushi and tempura with an English-speaking instructor. This is a private class and offers a great chance to learn more about Japanese food – and to get a glimpse inside a regular Japanese home! The rest of the day will be free for you to continue exploring Kyoto – head out to Arashiyama to wander the bamboo groves or try out the nightingale floor at Nijo Castle.

Overnight: Celestine Kyoto Gion

Day 7-8

Relax and reflect at a traditional shukubo Buddhist temple lodging in sacred Mount Koya.

Today you will be travelling to Mount Koya, one of Japan's most sacred areas. The history of Koya stretches back some 1,200 years to the ninth century, when a monastic retreat was set up atop the mountain by the monk Kobo Daishi to serve members of the Shingon sect of Buddhism.
Today you will aim to arrive in time for the afternoon ceremony at your shukubo temple lodgings, before tucking into a traditional meal of vegetarian Buddhist food – known in Japanese as shojin ryori.
The next morning you will get up early to take part in the morning ritual at your shukubo temple lodging. You will have a full day in Koya with a private guide today, so make the most of this time to explore the atmospheric Okunoin cemetery and the beautiful gardens of Kongosan-mai Temple.
Your guide knows the history of the area well and will be able to answer any questions you might have, but this is also a chance for quiet reflection and relaxation. Dinner tonight will be another vegetarian feast at your shukubo.

Overnight: Fudoin Shukubo

Day 9

Dig yourself a riverbed hot spring bath in Kawayu Onsen, your first stop on the Kumano Kodo pilgrimage route.

From Mount Koya you will continue your adventures on the Kii Peninsula as you head by train to Kii-Tanabe. Here you'll have a short Kumano Kodo orientation session, grab a seafood lunch and hop aboard the bus to your next destination: Kawayu Onsen.
Kawayu Onsen is a small but popular onsen village and the ryokan inn you'll be staying at tonight is a staple of both foreign and Japanese guidebooks. All the rooms at the ryokan boast views over the Oto River, where guests can wander down in their yukata bathrobes and sandals to dig out their own hot spring baths. In the winter there is a large senninburo bath dug from the riverbed just opposite the ryokan where guests can relax by candlelight in the evenings.
Tonight you'll enjoy a delicious kaiseki style meal at your accommodation and be provided with a bento lunchbox to take with you tomorrow.

Overnight: Fujiya Ryokan

Day 10

Venture deep into the forests to Yunomine Onsen, a traditional spa town with one of Japan's finest hot springs.

Today you will take a bus to Hosshinmon-oji, the gates to the outer precincts of Hongu Taisha shrine, and hike the scenic 7 km to the shrine itself. This is the point at which all the pilgrimage routes of the Kumano Kodo converge and you'll pass some wonderful scenery on your way – including traditional villages, tea plantations, terraced fields and ancient forests of towering trees.
After you have explored the shrine you'll take the bus onwards to Yunomine Onsen, where your traditional ryokan inn will have its own wonderful hot spring baths for you to try and you'll be treated to another elaborate kaiseki dinner.

Overnight: Adumaya Ryokan

Day 11

Enjoy a traditional open-topped boat ride and visit two of the region's three great shrines as you complete your exploration of the Kumano Kodo.

This morning you'll be taking a leisurely boat ride along the Kumano River to Hatayama Taisha, the second of the three great shrines. For centuries pilgrims have approached this shrine by boat, passing through steep gorges and past impressive waterfalls along the way, and you'll be travelling in a narrow, open-topped boat just as they did (albeit with the help of a motor!).
After your visit to Hatayama Taisha you'll have lunch in nearby Shingu and catch the bus to Daimonzaka, where you'll walk a section of the 600 m cobblestone stairway to Nachi Taisha: the third and final great shrine of the Kumano Kodo set against the tallest waterfall in Japan.
Later you'll make the short bus journey to Kii-Katsuura, where you'll be staying in a large hotel with Japanese-style rooms on a tiny, forested island in Katsuura Bay. The fresh seafood dinner here will be absolutely wonderful – but the highlight should be a soak in the hot spring bath overlooking the bay!

Overnight: Kumano Bettei Nakanoshima

Day 12-13

Spend two days discovering one of Shinto's most sacred sites in Ise.

Home to two of the most important shrines in the Japanese Shinto religion, Ise in Mie Prefecture is your next destination. Here you'll have the opportunity to explore the inner and outer shrine as well as some of the town's unspoilt old streets and the Ise Bridge. Your accommodation will be at a traditional, wood-built ryokan inn with lovely gardens, where a top-notch kaiseki-style dinner is bound to be the highlight of your stay.
After relaxing at your ryokan, you'll have another full day to investigate Ise or to visit nearby Kashikojima Island and the nature reserves of the Ise Shima National Park. You could also explore nearby Toba, famous for pearl cultivation and home to the Mikimoto pearl company. Full details of all these options will be included in your personalised Info-Pack. Dinner will be included once again at your ryokan tonight.

Overnight: Todaya Ryoan Ryokan

Day 14-15

Finish your trip with an evening in Shinjuku: Tokyo's business and entertainment hub.

From Ise you will travel back to Tokyo for a final night in Yurakucho, one of Tokyo's brightest and best entertainment hubs, known for its busy department stores, lively restaurants and karaoke bars. With so much going on right on your doorstep, this is the perfect place to conclude your trip to Japan.
Sadly all good things must come to an end, and on your final morning you will be conveyed by private car to the airport in plenty of time for your departure flight. Have a safe journey home.

Overnight: Gate Hotel Tokyo
Close all days
Other trips you may like
Tokyo
Kawaguchiko
Matsumoto
Kyoto
Matsue
Naoshima
Tokyo

The best of Japan's arts scene, from Naoshima "Art Island" to the Adachi Museum, with moderate accommodation and some delicious meals included.

14 nights: from AU$5358 pp (twin share) Read more >

Kyoto
Miyajima
Matsuyama
Kotohira
Iya Valley
Takamatsu
Osaka

Explore the rural heartlands of Japan whilst helping to sustain unique aspects of Japanese culture and tradition on this classic two-week trip.

13 nights: from AU$5586 pp (twin share) Read more >

Tokyo
Mount Fuji
Kyoto
Nara
Osaka
Tokyo

Welcome to one of the most wheelchair-friendly countries in the world. Explore Tokyo, Kyoto, Osaka and more on this exciting 10-night adventure.

10 nights: from AU$7942 pp (call us to discuss to requirements) Read more >