Like this post? Help us by sharing it!
Whether you've had a busy day exploring Tokyo a or a long, winding walk along one of Japan's ancient hiking paths, there's nothing like rounding off the day with a leisurely dip in a naturally-heated pool, called an onsen. The phrase hadaka no tsukiai, meaning naked communion, refers to the breakdown of social barriers – and the consequent bonding – that occurs when Japanese people strip off and hop in a hot pool together. 
Public nudity sound a little daunting? Perhaps at first. But this is sort of the whole point: nudity is a great leveller. When everybody is naked, nobody is. Onsen bathing has lots of other benefits too, both mentally and physically. It's good for the skin, circulation, reducing stress and tons more. It really is a beautiful, cherished, vital part of Japanese culture – and we love it to the point that we believe no trip to Japan is complete without taking the plunge.  
Where to onsen
Japan is home to roughly ten percent of all volcanoes on Earth (it's safe, they won't erupt, don't fret). With so much geothermal activity, the country is absolutely packed with natural hot springs – over three thousand, in fact.
It's not at all difficult to experience this watery naked bliss on your trip. Almost any destination and itinerary can be easily adapted to feature an onsen visit (and you really must). 
The tricky part is deciding which kind of experience you're looking for… 
Where to onsen if you like your privacy
A ryokan is a traditional Japanese inn – think tatami mats, sliding doors and mossy gardens – where guests can take a dip in a private onsen. This is a perfect choice for first-timers: if you value your privacy and don't quite feel ready to visit a public spa yet, at many ryokan you will be able to visit an on-site onsen and bathe in relative solitude. Some ryokan even provide rooms that come with their own private thermal bath. 
One of our favourites is Ginyu, in Hakone. Every room has a private onsen, and with the complex based at an altitude of 420m, the views it offers over the dense forest below are about as spectacular as you'd imagine. 
Where to onsen if you're an adventurous type
One for the extroverts! One of the most impressive natural hot springs in Japan is Hirauchi Kaichu on the south side of Yakushima Island – the country's first World Heritage site. For the princely donation of 100 yen, you can cross the sand and clamber over a few rocks to visit the naturally-heated tidal pools. Check the tides before you go, of course – the pools are underwater at certain times of day! 
Even without the onsen, Yakushima Island is well worth a visit. Loggerhead turtles come ashore to lay eggs in the sand in the summer months, and the local foliage is beyond ancient. One tree, Jōmon Sugi, is estimated to be between two and six thousand years old. It's truly an otherworldly location, and a photographer's dream. 
Where to onsen if you want to go traditional
Kusatsu Onsen is a hot spring town sitting atop the mountains of Gunma Prefecture. It's famed for having the largest source of hot spring water in Japan: five thousand litres a minute. The town is built around the central yubatake or "hot water field", which is a network of large steaming pools. Unsurprisingly, there are over one hundred onsen to chose from.  
Wondering where all that geothermal activity comes from? The town sits 1,200m up the side of Shirane volcano! This makes for some stunning views of the surrounding countryside. In the winter months, the town has an excellent ski resort, too. 
Where to onsen if you love the mountains 
If you want to discover the real, traditional Japan, hit the north. Nyuto Onsen is tucked away in the mountains in the north of the Tohoku region. This is a part of Japan that's less explored by foreign visitors, with only 2% straying that far north. Consequently, Tohoku is where you'll find some of the most undiluted snapshots of Japanese life. 
Situated in the serene landscape of Towada-Hachimantai National Park, Nyuto Onsen features eight traditional ryokan bathhouses. The bathing here varies between mixed gender and segregated; the latter is the norm across Japan, the former is a rarity. It's particularly beautiful here in the winter months, with heavy snowfall and brilliant winter hues really amping up the magic. 
Where to onsen if you want to see the sights 
Hakone sits on Japan's 'Golden Route' between Tokyo and Kyoto, and is consequently super easy to get to. The town is renowned as a famous resting and bathing point for people heading to Tokyo to see the Shogun centuries ago. It's a great place to stop for a ryokan stay, to sample hot springs, the outdoors – and, of course, to capture the perfect view of Mount Fuji. If you're keen to spend a day gulping down lungfuls of crisp country air, check out the forested views around Lake Ashi and the Hakone Open Air Museum, too. 
Where to onsen if you want an ocean view
Head to the Noto Peninsula to find the Lamp no Yado Ryokan, which offers an onsen with one hell of a location. Picture yourself in a hot pool, incense on the breeze, with a view of ocean waves rolling on the shore, breaking and foaming over rocks, and swirling in a hundred little rock pools. Not bad, eh? 
This traditional inn sits on the Japan Sea Coast, and from wherever you are on the premises – pools, restaurant, bedrooms – you'll have a remarkable view of the waves. The wider area itself is charming, too, with a quaint, classic architectural style giving the feeling of being transported into a storybook. 
Where to onsen if you like your history
Said to have inspired the much-loved Studio Ghibli film Spirited Away, Matsuyama Dogo Onsen on Shikoku is one of Japan's most famous and iconic buildings. People have been bathing in the waters of the onsen for over a thousand years. Legend has it that the hot pools once cured a minor deity named Sukunahikona no Mikoto of a grave illness – filling him so fill of pep that leapt up and danced on the spot. Today you're unlikely to bump into a hand-jiving god, although it's not without its special guests – Japan's Imperial Family are known to frequent the spa. 
Where to onsen if you're a skier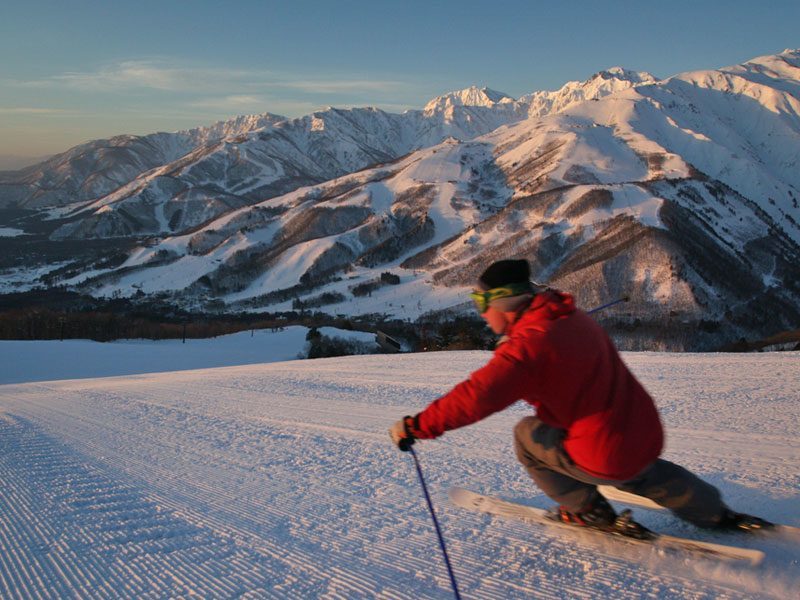 Nozawa Onsen is the oldest ski resort in Japan, evident in the ornate, elaborate design of its buildings – some of which have stood in the mountain valley for hundreds of years. Great for skiing, the area offers quality snow, good runs and a giant slice of Japanese culture. It's free from the music-pumping bars and giant hotels that can detract from the tranquillity in larger ski resorts. 
The town is also renowned for its hot springs, which are to-die-for after a day on the slopes. Located just three hours northwest of Tokyo, Nozawa Onsen's central location makes it perfect to add onto a wider trip across the country. If a hot bath after a long day of carving powder sounds like your idea of a good time (and if it doesn't, what are you thinking?) you're going to love it here. 
Where to onsen if you're as onsen-mad as we are 
A lot of spa towns allow people to enjoy onsen meguri – walking between different onsen. That's exactly what you can do in the town of Kinosaki Onsen: don a yukata (a light summer kimono), pull on a pair of wooden geta, and clip-clop around the town dipping in and out of the hot spring baths. Kinosaki stands out because of its seven 'mystic' onsen, each of which is wreathed in myth and legend.
What's extra exciting about Kinoksaki is that all along the river that winds through town, there are retro game centres (think old style slot machines and air gun shooting), and snack shops selling ramen, yakitori, beer and more. It really is a great place for a ryokan experience – it's got everything. 
---
So, thinking of visiting Japan? Keen to incorporate a ryokan stay or onsen visit into your trip? Just give one of our travel consultants a call and we can chat through your options together!
Like this post? Help us by sharing it!