Narita
With an international - but still uniquely Japanese - atmosphere, a stay in Narita can be the perfect way to ease yourself into Japan, or prepare yourself for the journey home; think of Narita as something of a portal between East and West.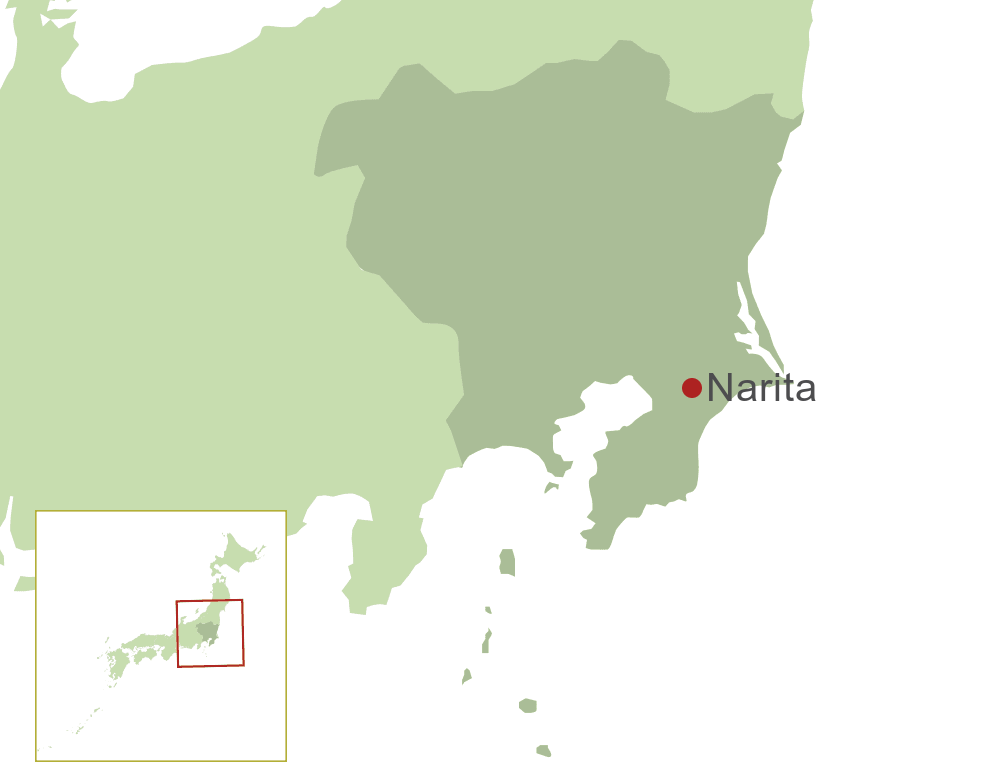 "Narita could well be your first or last glimpse of Japan - and a very pleasant glimpse it is too! Why stay in a faceless airport hotel when Narita itself offers so much?"
Harry Sargant, Marketing & Agents Manager
Narita is technically classed as a city, but really it is no more than a medium-sized town, and compared to the megalopolis of Tokyo just next door Narita certainly exudes a laid-back, small-town atmosphere. Your reason for being in Narita is likely to be an international flight either from or to the airport of the same name. However this does not mean that Narita is simply a place to rest your head before or after a flight; the town is a great little place to explore?
The temple complex of Narita-san sits at the heart of the town, and were it in Kyoto it would probably be more famous. Instead however it sits quietly in Narita, something of a hidden gem, with some beautiful sub-temples, gates, a pagoda and pleasant open spaces. The winding road that leads from Narita's train station up to the temple is lined with traditional wooden buildings, many of them shops and small local restaurants. This all makes for a fine morning or afternoon of gentle exploring, perfect for your first or last day in Japan.
By night Narita has another side. With Narita Airport over an hour from central Tokyo most cabin crew and airline staff forgo the long transfer to the city and opt instead for a night of rest and recuperation in Narita. This gives this sleepy town an unusually cosmopolitan atmosphere, and in the evenings the streets near the station come alive with resturants, cafes and bars, serving both western and Japanese dishes. Every restaurant in town has an English menu, and you might get the chance to discuss the ins and outs of 747s and 737s with your pilot, or get some insider tips on how to get that elusive upgrade!
Weather in Narita
The Climate Guide for Narita, Japan is perfect for planning your holiday. Monthly weather averages give the best indication of what the weather is usually like for every month of the year including figures for temperature, rainfall and sunshine.
Jan
Feb
Mar
Apr
May
Jun
Jul
Aug
Sep
Oct
Nov
Dec
Max Daytime Temperature (°C)
9
10
12
17
21
24
27
29
26
21
16
12
Min Night-time Temperature (°C)
0
0
3
9
13
17
21
22
19
13
8
2
Hours of Sunshine (Daily)
6
5
5
5
6
4
5
6
4
4
5
5
Hours of Daylight (Daily)
10
11
12
13
14
14
14
13
12
11
10
10
Heat and Humidity Discomfort
None
None
None
None
None
None
Moderate
High
Low
None
None
None
Days with some Rainfall
10
12
17
16
15
19
18
15
19
16
13
10
Monthly Rainfall (mm)
47
67
111
116
104
145
121
118
198
162
90
44
UV Index (Maximum)
2
3
5
7
9
10
10
10
8
5
3
2