Kamakura
Japan's de facto cultural and political capital from 1192 until its bloody and violent razing of 1333, Kamakura is a treasure trove of eccentric temples and interesting shrines.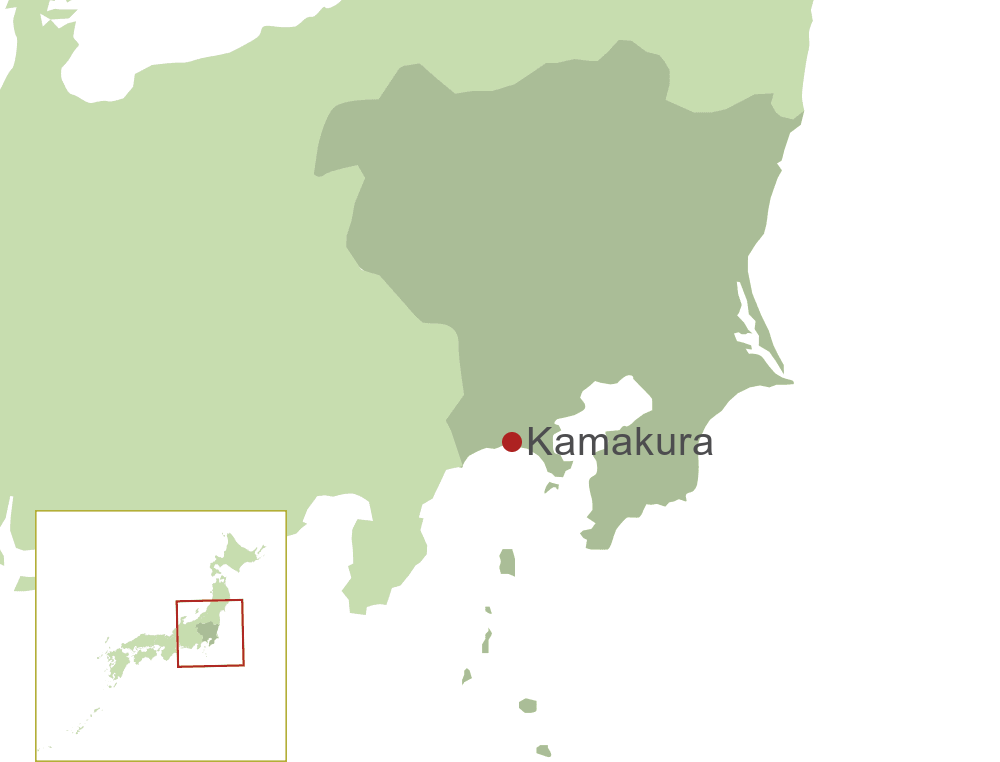 "My favorite activity in Kamakura is walking along the beach to visit the shrines and temples (my favourite being Egara Tenjin Shrine). I love nothing better than buying some good bread on the way (Kibiya is my favourite), stopping for lunch and getting stuck into a good book while I'm there."
Rachel Grainger, Product Administrator
Located on the Pacific coast, Kamakura is a haven of peace and quiet. This is the perfect place to escape the stresses of Tokyo - where the only sea is one of people!
The most famous and revered sight at Kamakura is the giant seated Buddha who has meditated calmly here for over eight hundred years, framed by trees and (nowadays, at least) groups of camera-clicking tourists. He has survived fire, floods, tidal waves, typhoons and even the great earthquake of 1923, so it is no surprise that he is looking a little weather-beaten these days.
Famous the world over, the Buddha often overshadows some of Kamakura's more unusual temples and sights of interest, many of which are well worth your time. Thanks to its important position as one of Japan's former capitals (serving as the seat of shogun Minamoto Yoritomo's military government from 1192 to the mid-14th century), Kamakura boasts a number of interesting historical sites.
The Tokei-ji temple in Northern Kamakura, for example, is better known as the "divorce temple". In the days before women could apply to be separated from their husbands, they could seek refuge from domestic instability at this temple. After three years there, they were automatically granted a divorce.
At the Zeniara Benten Shrine, meanwhile, the Goddess of Fortune can help you double your money. If you wash your Japanese yen here and spend it quickly it will double its face value! Or so they say...
Another unusual little shrine is dedicated to the god of harvest, Inari, who manifests himself as a fox. Located deep in the forest, an avenue of torii gates wind their way up a hillside to the main shrine. All the time the lonely pilgrim is watched by tiny fox statues who peep out of the undergrowth.
With lots of hidden secrets, Kamakura is a charming town and makes for a fabulous day trip from Tokyo - or better still, an overnight stay.
Recommended Accommodation in Kamakura
The following are our favourites from among the western-style hotels and Japanese-style inns of Kamakura.

Experiences in Kamakura
Kamakura offers a wealth of exciting experiences that will help you get beneath the surface of Japan's fascinating culture. See below for a few of our favourites
Weather in Kamakura
The Climate Guide for Kamakura, Japan is perfect for planning your holiday. Monthly weather averages give the best indication of what the weather is usually like for every month of the year including figures for temperature, rainfall and sunshine.
Jan
Feb
Mar
Apr
May
Jun
Jul
Aug
Sep
Oct
Nov
Dec
Max Daytime Temperature (°C)
10
10
13
18
22
24
28
30
26
22
17
13
Min Night-time Temperature (°C)
2
2
5
10
14
18
22
23
20
14
9
4
Hours of Sunshine (Daily)
5
5
5
5
6
4
5
6
4
4
5
5
Hours of Daylight (Daily)
10
11
12
13
14
14
14
13
12
11
10
10
Heat and Humidity Discomfort
None
None
None
None
None
Low
Moderate
High
Low
None
None
None
Days with some Rainfall
11
13
18
17
16
19
18
15
19
17
14
11
Monthly Rainfall (mm)
65
81
153
154
136
196
154
138
238
197
121
53
UV Index (Maximum)
3
4
6
8
9
10
10
10
8
6
3
2