Tokushima
Tokushima is the capital of Tokushima Prefecture, one of the four prefectures on Shikoku Island, and the largest city on the island; an attractive city, surrounded by 1,000 metre mountains on three sides and the Inland Sea on the fourth.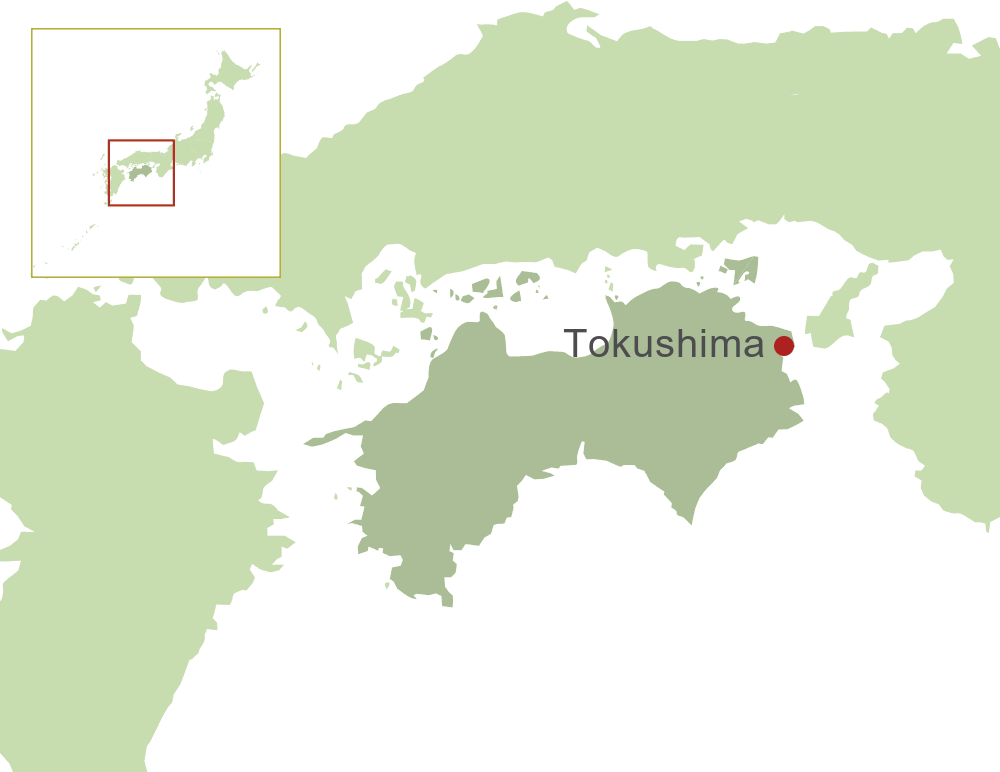 "Watching the Awa Odori dance was so much fun, we couldn't resist getting up and joining in the dancing! "
Famous for its local arts and culture, August sees the city taken over by the Awa Odori festival with its distinctive dancing style. Locals say that when Tokushima Castle was opened in the late 16th century, the daimyo (feudal lord) hosted a wild celebration. The sake flowed freely and the locals began to drunkenly weave and stumble back and forth.
Music was played to accompany this strange dance and lyrics were invented to go with the tune. Thus, the Awa Odori was invented.
Performances of this unique dance can be seen all year round, and you may find yourself joining in on the fun!
Tokushima is also a great place to see bunraku, Japanese puppetry, and to try your hand at indigo-dyeing.
Tokushima makes a great base for trips to the stunning Iya Valley to see the famous vine bridges. You can also visit the giant Naruto whirlpools, just outside of town.
It is also the starting place for Shikoku's 88 Temple Pilgrimage; you may see henro (pilgrims) in their distinctive white garb, large hats and walking sticks preparing for their long walk.
It can take up to 2 months on foot to reach the 88th temple, so feel free to offer them o-settai; a small gift of money or food to assist them on their pilgrimage. This will bring you luck as well.
Recommended Accommodation in Tokushima
The following are our favourites from among the western-style hotels and Japanese-style inns of Tokushima.

Experiences in Tokushima
Tokushima offers a wealth of exciting experiences that will help you get beneath the surface of Japan's fascinating culture. See below for a few of our favourites
Weather in Tokushima
The Climate Guide for Tokushima, Japan is perfect for planning your holiday. Monthly weather averages give the best indication of what the weather is usually like for every month of the year including figures for temperature, rainfall and sunshine.
Jan
Feb
Mar
Apr
May
Jun
Jul
Aug
Sep
Oct
Nov
Dec
Max Daytime Temperature (°C)
9
10
13
18
22
25
29
30
27
22
17
12
Min Night-time Temperature (°C)
2
2
5
10
14
19
23
24
20
14
10
5
Hours of Sunshine (Daily)
5
5
6
6
6
5
6
7
5
5
5
5
Hours of Daylight (Daily)
10
11
12
13
14
14
14
13
12
11
10
10
Heat and Humidity Discomfort
None
None
None
None
None
Low
High
High
Moderate
None
None
None
Days with some Rainfall
15
15
17
15
15
18
19
17
17
14
13
14
Monthly Rainfall (mm)
53
53
72
105
206
306
264
239
305
179
83
49
UV Index (Maximum)
3
4
6
8
9
10
11
10
8
6
4
3
Featured trips including Tokushima
Kyoto
Mount Koya
Tokushima
Takamatsu
Kotohira
Matsuyama
Hiroshima
Kyoto

Discover the road less travelled

12 nights: US$5187 Read more >