Iya Valley
Iya Valley is Japan's hidden secret, cut deep in an island of gorges, steep sided mountains and untamed rivers. Shikoku is a wild country where modernisation has only taken hold along the industrialised coast of the Inland Sea. This is not an easy place to travel but it is richly rewarding.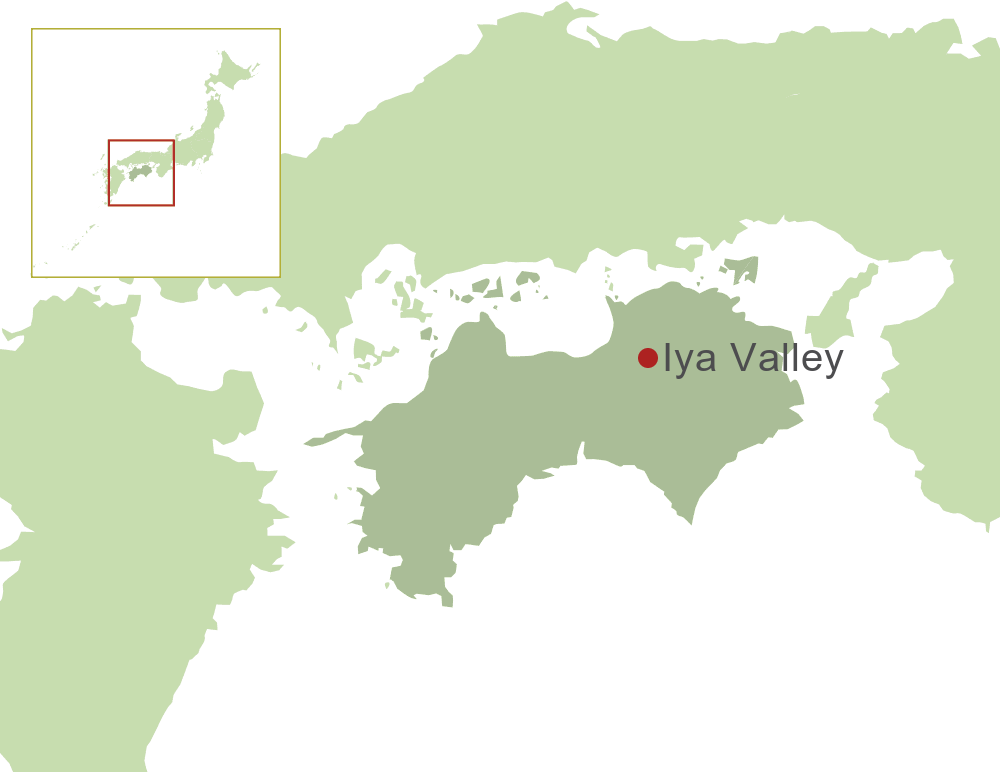 "Driving through the winding roads of the Iya valley and standing on the edge of a deep gorge watching the river rush by, you can't help but feel like you've been let in on a well-kept secret."
Katrina Cordery, Sales Team Leader
On the western border of Tokushima Prefecture, the deep gorges that make up the Iya valley are known as one of Japan's "hidden regions" and offer some of Shikoku's best views, especially from the summit of Mount Tsurugi, the second highest peak on the island. It is a great place for hiking and cycling with a variety of routes already mapped out.
The remote and rural area is famous for its kazurabashi (vine bridges) which were once the only way to cross the river.
The Iya Valley is also home to the Chiiori Project, once an uninhabited thatched roof farmhouse discovered by American writer and art collector Alex Kerr in the 1970's. Over two decades, with the help of many like minded friends, Kerr restored the farmhouse and the project received a great deal of attention both nationally and internationally. It also featured in his award winning book "Lost Japan". Nowadays Chiiori, or "House of the flute", is open to volunteers from all walks of life who wish to taste Japanese country living and keep the project alive.
Recommended Accommodation in Iya Valley
The following are our favourites from among the western-style hotels and Japanese-style inns of Iya Valley.
Experiences in Iya Valley
Iya Valley offers a wealth of exciting experiences that will help you get beneath the surface of Japan's fascinating culture. See below for a few of our favourites
Weather in Iya Valley
The Climate Guide for Iya Valley, Japan is perfect for planning your holiday. Monthly weather averages give the best indication of what the weather is usually like for every month of the year including figures for temperature, rainfall and sunshine.
Jan
Feb
Mar
Apr
May
Jun
Jul
Aug
Sep
Oct
Nov
Dec
Max Daytime Temperature (°C)
6
7
10
16
20
22
26
27
24
19
14
9
Min Night-time Temperature (°C)
-1
-1
2
7
12
16
20
21
17
11
6
1
Hours of Sunshine (Daily)
4
5
5
6
6
5
5
6
5
5
5
5
Hours of Daylight (Daily)
10
11
12
13
14
14
14
13
12
11
10
10
Heat and Humidity Discomfort
None
None
None
None
None
None
Low
Moderate
None
None
None
None
Days with some Rainfall
16
16
18
16
15
19
19
18
18
13
12
14
Monthly Rainfall (mm)
46
77
140
198
221
337
296
234
286
145
94
36
UV Index (Maximum)
3
4
6
8
10
11
11
10
9
6
4
3
Featured trips including Iya Valley
Kyoto
Miyajima
Matsuyama
Kotohira
Iya Valley
Takamatsu
Osaka

This superior two-week itinerary introduces the little-visited, rural island of Shikoku - with a range of in-depth cultural experiences included.

13 nights: from US$5499 pp (twin share) Read more >

Kyoto
Miyajima
Matsuyama
Kotohira
Iya Valley
Takamatsu
Osaka

Explore the rural heartlands of Japan whilst helping to sustain unique aspects of Japanese culture and tradition on this classic two-week trip.

13 nights: from US$3822 pp (twin share) Read more >