Naoshima
Amongst the 3,000 islands that pepper the Seto Island Sea lies Naoshima, a tiny island known for its sandy beaches, relaxed atmosphere and most importantly its extraordinary collection of modern art.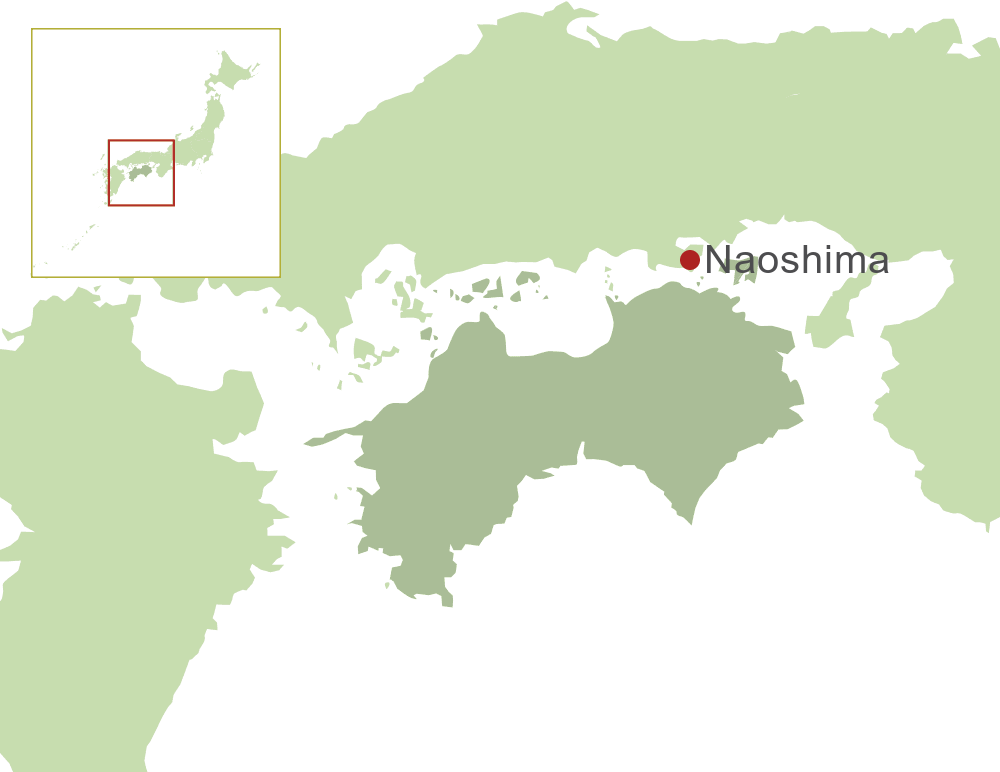 "Officially my favourite place in Japan! Cycling around Naoshima on a sunny day, stopping off to enjoy the outdoor sculptures and installations, is the perfect antidote to the hectic cities of the mainland."
Claire Brothers, Sales Team Leader
A small island with a population of just 3,400, Naoshima first came to prominence in the art world when Benesse House opened in 1992 with the theme of "coexistence of nature, architecture and art". The building, designed by the famous Japanese architect Tadao Ando, combines individually designed guestrooms with gallery space to create an entirely original and completely unique accommodation experience.
Since the opening of Benesse House, Naoshima's artistic credentials have gone from strength to strength. Today, visitors will find the island scattered with galleries and installations - not just housed in conventional museums but in disused shrines, ordinary houses, old workshops, and out on the beaches.
In 1998, the artist Tatsuo Miyajima began the celebrated "Art House Project", whereby abandoned houses on Naoshima have been turned into works of art. These buildings, of which there are now seven, are shaped by Japanese tradition and aesthetics, weaving in the history and memories of the period when the houses were built.
The Chichu Museum, meanwhile, was established in 2004 and contains works from Claude Monet, Walter De Maria and James Turrell housed in buildings designed by Tadao Ando. Though the museum itself is mainly underground in order not to impose on the natural scenery, one of its most celebrated features is the way it makes use of natural light to bring the artworks to life. Watching as the light ripples across Monet's Water Lilies, you can hardly help but be spellbound.
Even for those who know Japan well, Naoshima is refreshing, unexpected, and utterly unlike anything else you'll experience on your trip. Through the originality and industry of a few innovative artists, architects and thinkers, a lovely yet obscure fishing island has turned itself into one of Japan's most fascinating destinations: it is a truly remarkable success story.
While visiting Naoshima, we highly recommend paying a visit to the delightfully kitsch "I Love Yuu" bathhouse (a play on words: yuu means "hot water" in Japanese). Designed by artist Otake Shinro, this unique twist on the traditional Japanese pastime of hot spring bathing features video displays, stained glass, tiled mosaics, erotica, and even a giant elephant statue.
Recommended Accommodation in Naoshima
The following are our favourites from among the western-style hotels and Japanese-style inns of Naoshima.
Experiences in Naoshima
Naoshima offers a wealth of exciting experiences that will help you get beneath the surface of Japan's fascinating culture. See below for a few of our favourites
Weather in Naoshima
The Climate Guide for Naoshima, Japan is perfect for planning your holiday. Monthly weather averages give the best indication of what the weather is usually like for every month of the year including figures for temperature, rainfall and sunshine.
Jan
Feb
Mar
Apr
May
Jun
Jul
Aug
Sep
Oct
Nov
Dec
Max Daytime Temperature (°C)
9
9
12
18
22
26
30
31
27
22
16
11
Min Night-time Temperature (°C)
1
1
3
9
13
18
22
23
19
13
8
3
Hours of Sunshine (Daily)
5
5
6
6
7
5
6
7
5
5
5
5
Hours of Daylight (Daily)
10
11
12
13
14
14
14
13
12
11
10
10
Heat and Humidity Discomfort
None
None
None
None
None
Low
High
High
Moderate
None
None
None
Days with some Rainfall
15
15
16
14
14
16
16
13
16
13
11
13
Monthly Rainfall (mm)
33
49
83
111
122
191
148
110
198
96
58
27
UV Index (Maximum)
3
4
6
8
9
10
11
10
8
6
4
3
Featured trips including Naoshima
Tokyo
Kawaguchiko
Matsumoto
Kyoto
Matsue
Naoshima
Tokyo

The best of Japan's arts scene, from Naoshima "Art Island" to the Adachi Museum, with moderate accommodation and some delicious meals included.

14 nights: from US$3666 pp (twin share) Read more >

Tokyo
Kawaguchiko
Matsumoto
Kyoto
Matsue
Naoshima
Tokyo

A superior 14-night itinerary for those who want to discover Japan's exciting arts scene in comfort and style.

14 nights: from US$6240 pp (twin share) Read more >

Kyoto
Onomichi
Omishima Island
Takamatsu
Naoshima
Osaka

Discover Japan's artistic heart among the islands of the Seto Inland Sea.

14 nights: from US$5330 pp (twin share) Read more >