Kotohira
The small town of Kotohira is home to Konpira-san, one of Shikoku's top attractions and one of the main shrines on the 88 temple pilgrimage route. The shrine was founded in the 14th century (Muromachi Period) and lies at the top of 1,368 stone steps.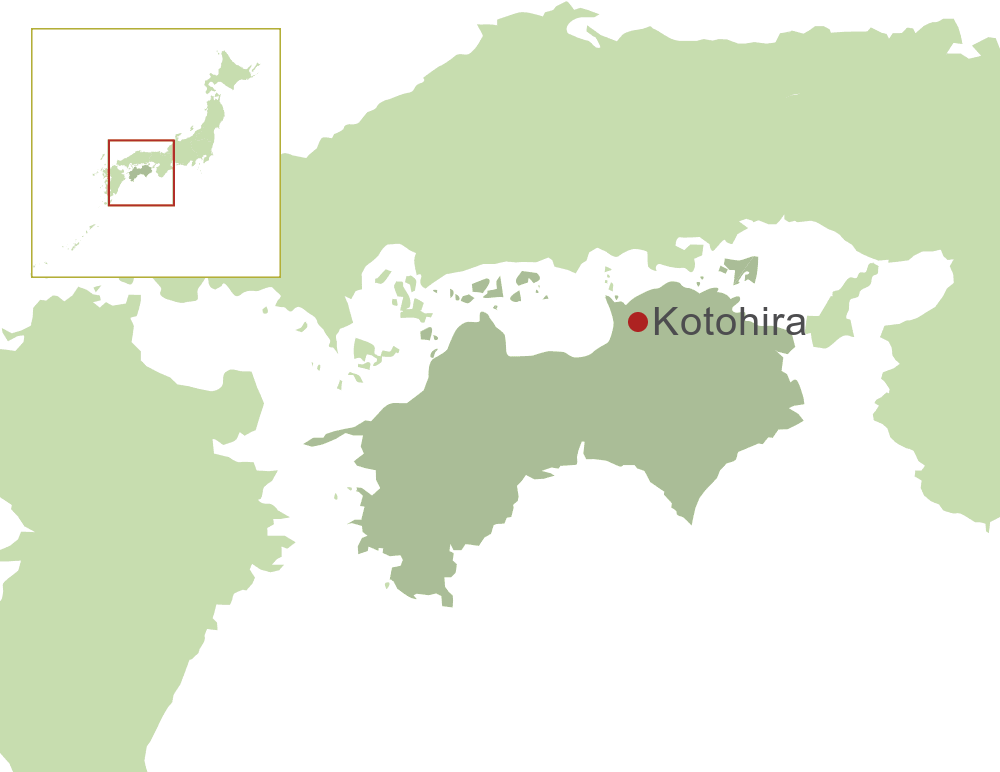 "There are many Japanese towns that are famous for just one thing - whether it's a dish, an event, or in Kotohira's case, a view. But what a view it is! From Konpira-san's main hall you can soak up a view that stretches for miles on a good day, as long as you've survived the 785-odd steps."
Amy Tadehara, Expert Travel Consultant
The deity of seafarers is enshrined at Konpira-san and has been worshipped here on the wooded side of Mount Zozu in Kotohira for well over 1,000 years. Pilgrimage to the shrine, which is also known as Kotohira-gu, became popular in the 14th century, and the flow of worshippers from all over Japan never ceases even today - despite the vertiginous climb!
At its height, the shrine's reputation and popularity was extremely widespread. Although many wanted to make the pilgrimage, few could afford to leave their homes for such a long time. As a substitute, many would-be pilgrims tied pouches of money around the necks of their dogs and tossed both the money and the dogs into the sea. The hope was that passing sailors would rescue the dogs and take them and the money to Konpira.
The approach to the main sanctuary comprises 785 stone steps, and there are a further 583 stone steps to the inner shrine. Most visitors only make it as far as the main precinct, from which there is a tremendous view of the Sanuki Plain stretching out below.
The main precinct itself is made up of the main sanctuary; Asahi-no-Yashiro Shrine (Sunshine Shrine), which is ornately carved with images of flora and fauna; Omote-shoin (formal drawing room); Oku-shoin (inner drawing room); and other historical sites such as the treasure house and Academic Reference Library. The treasure house contains an image of an 11-faced kannon - one of the temple's most valuable relics.
Next-door to the hall is the Ema Hall, which contains a collection of pictures and memorabilia relating to ships, battleships and even space rockets - all of which have sought the protection of the shrine at one point or another. There is even a real mini submarine on display! Hardly the first thing you would expect to find halfway up a mountain.
If the steps sound like too much, you can hire a palanquin for around 5,300 yen one way (6,500 yen round trip) and travel up in that!
Every Autumn, the shrine hosts a festival where visitors can watch the ancient Konpira-mai dance and kemari, an old football game traditionally enjoyed by members of the Imperial Court.
Kotohira town is a pleasant place to wander around, and as well as the ubiquitous but charming souvenir shops the town has some other curious attractions. If, after climbing to Konpira-san, you feel that something a little stronger than water is in order, then we suggest you pop into the Kinryo Sake Brewery, where a taster cup will set you back just 100 yen. The adjacent Sake Museum's displays on the sake-making process are worth a look and come with an English-language leaflet for foreign visitors.
If it is more culture you are after then Kanamaru-za, Japan's oldest Kabuki theatre, is worth a stop. When no performances are being held, the theatre's audience hall, basement, stage and backstage, including trap doors and a revolving stage, are open to visitors.
When it's time for a refuel, Kotohira's culinary speciality is sanuki udon - thick, square noodles in broth. There are many restaurants and cafes where you'll be able to try a bowl, and you can even have a go at making them yourself if you choose.
Recommended Accommodation in Kotohira
The following are our favourites from among the western-style hotels and Japanese-style inns of Kotohira.

Experiences in Kotohira
Kotohira offers a wealth of exciting experiences that will help you get beneath the surface of Japan's fascinating culture. See below for a few of our favourites
Weather in Kotohira
The Climate Guide for Kotohira, Japan is perfect for planning your holiday. Monthly weather averages give the best indication of what the weather is usually like for every month of the year including figures for temperature, rainfall and sunshine.
Jan
Feb
Mar
Apr
May
Jun
Jul
Aug
Sep
Oct
Nov
Dec
Max Daytime Temperature (°C)
9
9
12
18
22
26
30
31
27
22
16
11
Min Night-time Temperature (°C)
1
1
3
9
13
18
22
23
19
13
8
3
Hours of Sunshine (Daily)
5
5
6
6
6
5
6
7
5
5
5
5
Hours of Daylight (Daily)
10
11
12
13
14
14
14
13
12
11
10
10
Heat and Humidity Discomfort
None
None
None
None
None
Low
High
High
Moderate
None
None
None
Days with some Rainfall
15
15
16
14
14
16
16
13
16
13
11
13
Monthly Rainfall (mm)
33
49
83
111
122
191
148
110
198
96
58
27
UV Index (Maximum)
3
4
6
8
9
10
11
10
8
6
4
3
Featured trips including Kotohira
Kyoto
Mount Koya
Tokushima
Takamatsu
Kotohira
Matsuyama
Hiroshima
Kyoto

Discover the road less travelled

12 nights: US$5187 Read more >

Kyoto
Miyajima
Matsuyama
Kotohira
Iya Valley
Takamatsu
Osaka

Explore the rural heartlands of Japan whilst helping to sustain unique aspects of Japanese culture and tradition on this classic two-week trip.

13 nights: from US$3822 pp (twin share) Read more >

Kyoto
Miyajima
Matsuyama
Kotohira
Iya Valley
Takamatsu
Osaka

This superior two-week itinerary introduces the little-visited, rural island of Shikoku - with a range of in-depth cultural experiences included.

13 nights: from US$5499 pp (twin share) Read more >