Like this post? Help us by sharing it!
Following in the footsteps of samurai and priests, Ali Muskett goes in search of a spiritual side of Japan as she walks the pilgrimage routes of the Kumano Kodo. This article originally appeared in issue #2 of East, the Inside Asia Tours magazine. Subscribe for free or download an online version by clicking here.

Tired and physically exhausted, I stopped still in the middle of the forest and listened. All I could hear was a slight rustling in the leaves above me as rain began to gently fall. Resting a hand carefully on the giant tree next to me, I felt its ancient bark beneath my fingers and steadied myself. I was slightly giddy, perhaps from the elevation (I'd lost count of the number of steps I had climbed), or perhaps it was the elation of thinking about what I had achieved that day. Or maybe I was just dehydrated and hungry.
I'm not a hiker, and to be honest I'm not even that fit, but the idea of a solo journey along the ancient paths of the Kumano Kodo appealed greatly. Inspired by the pilgrimages of Matsuo Basho, who wrote about his odyssey in The Narrow Road to the Deep North; and by the writer Lesley Downer, who followed in his footsteps 300 years later; and Alan Booth, who also published tales of walking across Japan, I yearned to make my own pilgrimage.
Lacking in time, as one so often is in this modern world, I found the perfect solution. I couldn't take a three-month sabbatical to hike across Japan, but I could squeeze in a three-day hike.
The Kumano Kodo is a series of pilgrimage trails that criss-cross the Kii Peninsula. For over 1,000 years everyone from samurai warriors and aristocrats to priests and commoners have made the trek between the region's Three Grand Shrines: Kumano Hongu Taisha, Kumano Nachi Taisha and Kumano Hayatama Taisha. Compared with other sacred sites in Japan, where women were banned, everyone was (and still is) welcome in Kumano regardless of sect, class or gender.
These days, the well-preserved paths of the Kumano Kodo can be hiked in small sections, taking just two to five nights to cover the main areas. Now it was my turn to follow in the footsteps of the pilgrims before me, if only for three days.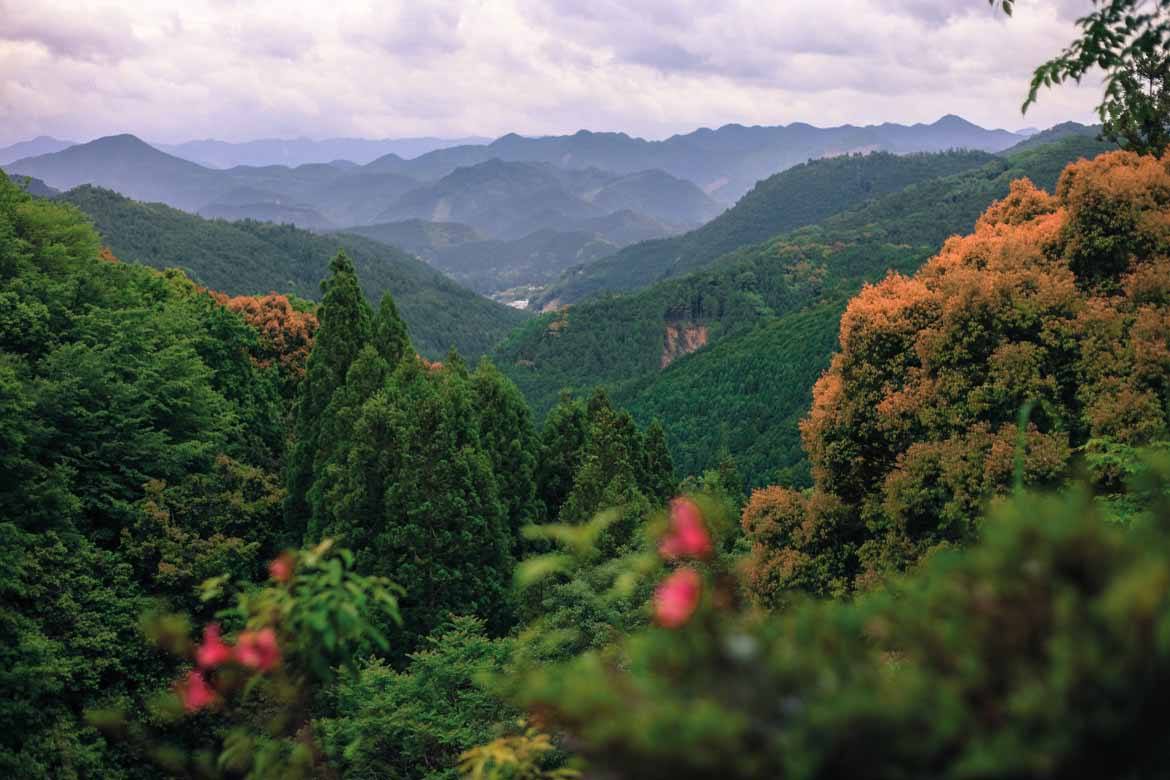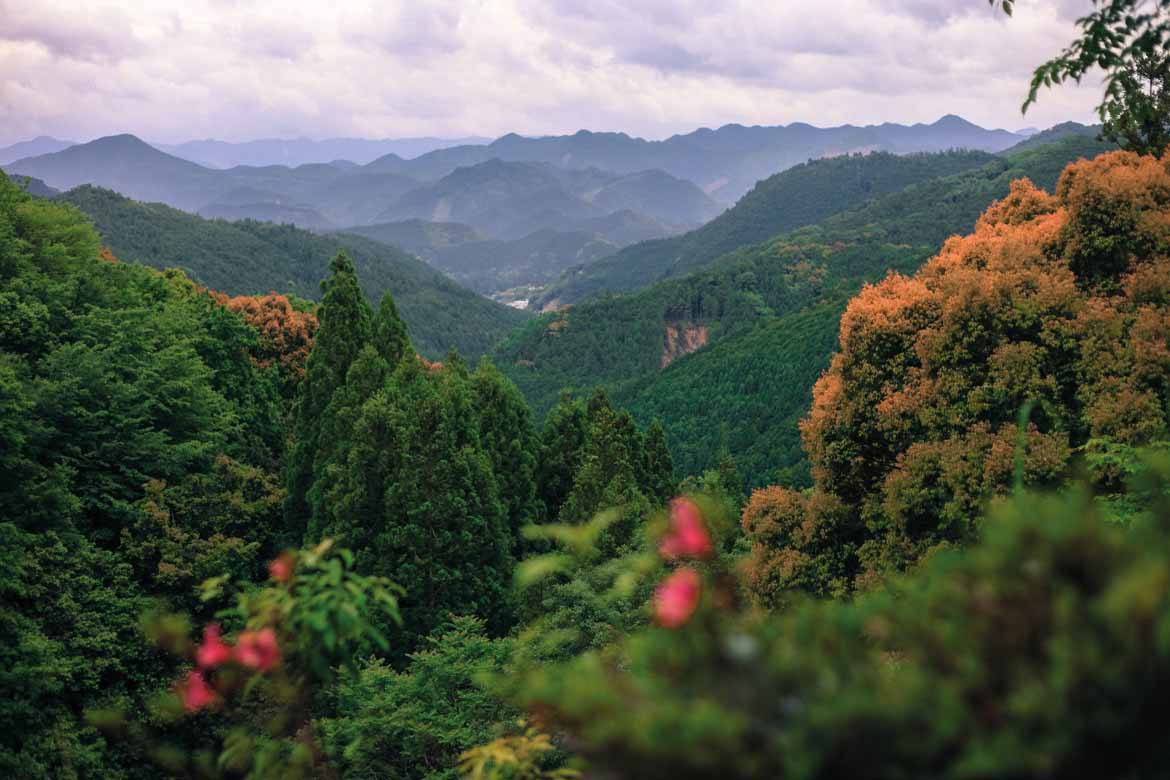 The journey begins…
Starting out from the ancient capital of Kyoto, I took an express train down the western coast of the Kii Peninsula to Tanabe. I like Kyoto a lot, but it's a massive, bustling city, full of tourists, and I was excited to be heading away from it all into what I hoped would be a quieter, more serene place. After arriving at Kii-Tanabe Station, I headed straight to the Tanabe City Kumano Tourist Information Centre where I had an appointment for my orientation.
A solo pilgrimage sounds like an exciting adventure on paper, but the reality of it was pretty scary. Even in Japan, one of the safest countries on the planet, I wondered if it was safe for a girl like me, with a terrible sense of direction, to simply set off into the forests alone. Fortunately, after my orientation with the fantastic staff at the tourist office I not only felt ready, I felt reassured. They armed me with maps, information, timetables and even a weather forecast for the days ahead. My accommodation was confirmed, lunchboxes ordered, and luggage forwarding pre-arranged.
One of the most exciting things they gave me was a small clear plastic wallet containing my 'Dual Pilgrim passport'. On one side was information about the Kumano Kodo, with spaces for me to collect red ink stamps from each location I visited, and on the other was the Camino de Santiago, or the Way of St James. These two pilgrimage routes are the only ones in the world to be designated UNESCO World Heritage sites, and the 'Dual Pilgrim' programme was developed to celebrate the stories of those who have completed both routes. I immediately decided I couldn't stop just at the Kumano Kodo and would have to head to Spain in the near future.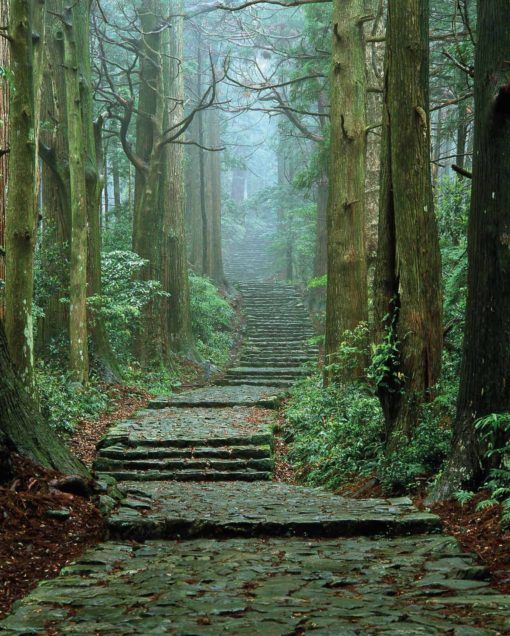 Stamp collecting
Leaving Tanabe behind, I travelled by bus for just under two hours to reach Kawayu Onsen. I checked in to the Fujiya Ryokan and settled in for the evening. A dinner of local seafood cooked in broth and warmed over a small candle, accompanied by vegetables cut into the shape of maple leaves, was brought to my room. I washed it down with a local beer while poring over the maps I had spread out over the tatami floor.
The next morning, I refuelled on rice, fish and miso soup, then headed straight out to begin my adventure. Staff from the ryokan (inn) drove me to my starting point: Hosshinmon-oji. This is known as the 'gate of awakening of the aspiration to enlightenment', and marks the outermost entrance to Kumano Hongu Taisha's sacred precincts. From here on in it would be just me, the ground and the trees.
After excitedly taking a photo of the first official Kumano Kodo sign I spotted, I set off along a rather ordinary-looking road. Starting a hike like this is strange – I didn't know how long it would take me or exactly what to expect. I was alone in my own head, with just the sound of my feet on the ground to keep me going. Before long, I spotted another sign telling me to head off down a much rougher-looking path. It took me past houses and farmers' fields, and eventually to Mizunomi-oji, the first of my places of interest and the first point at which I could collect a stamp.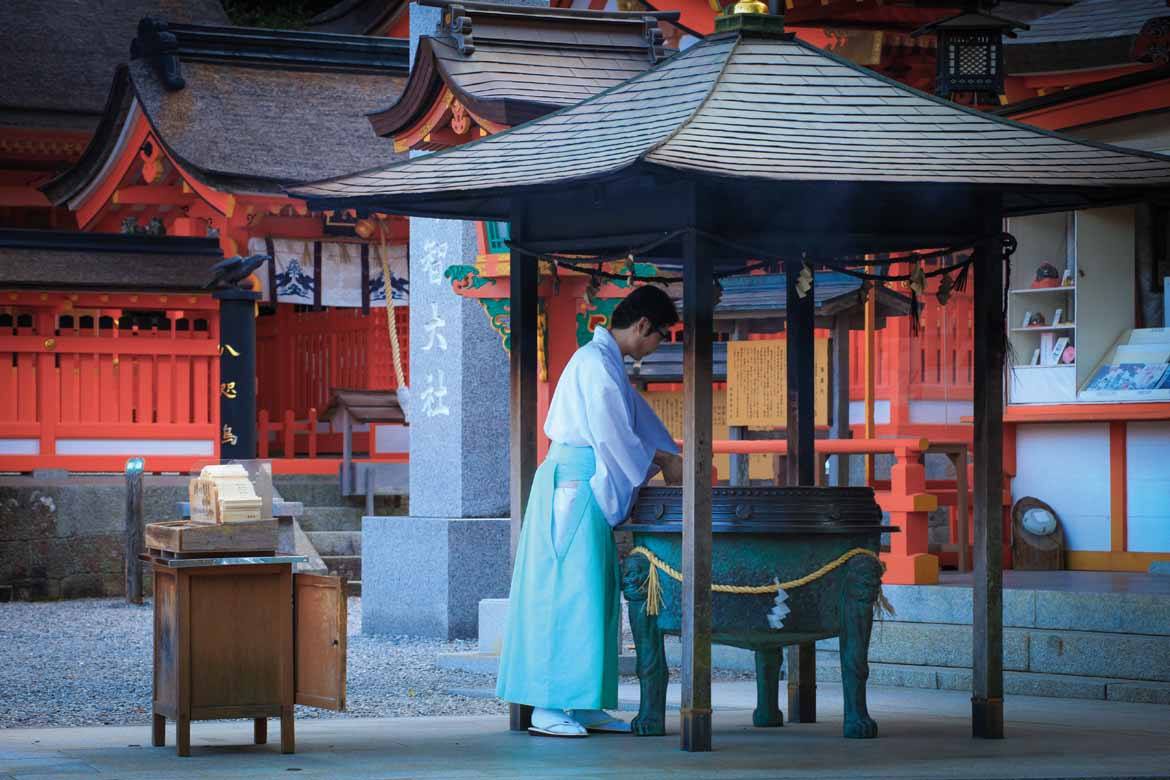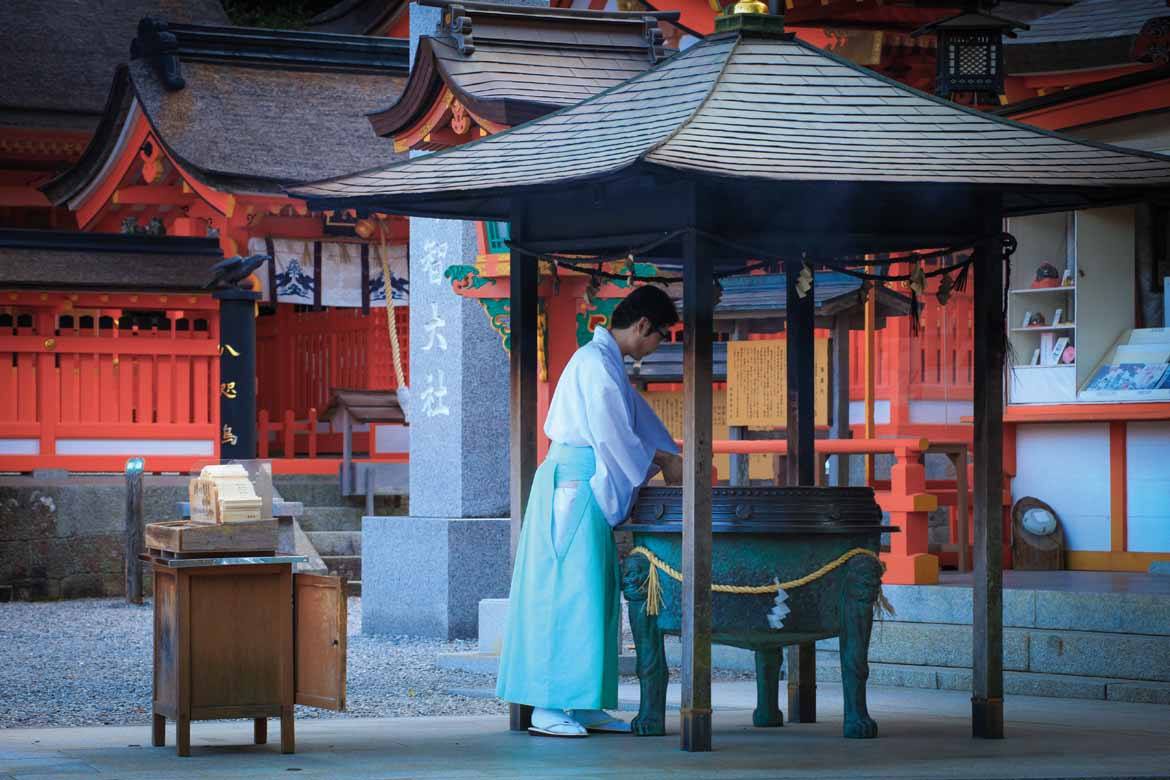 Passing through Mizunomi-oji, a small shrine with nothing much of note besides a statue of Jizo, protector of children and travellers, I suddenly found myself in the forest. Tall, skinny trees towered above me, and a rough stone path laid into the mud stretched out ahead. This was more like it – this was what adventure looked like!
The next rest point was Fushiogamioji, the site where pilgrims are said to have fallen to their knees and prayed after catching their first glimpse of the Grand Shrine in the distant valley below. I may not have quite fallen to my knees at the sight, but I certainly felt my breath catch in my throat. Blue-green mountains stretched out before me, and I could just make out the valley below. As I stood alone, taking it all in, slightly ominous grey clouds filled the sky. Tall, skinny trees towered above me, and a rough stone path laid into the mud stretched out ahead. This was more like it – this was what adventure looked like!
Much to my delight, here was a small rest house where I could sit for a while and contemplate what I had seen so far over a steaming coffee made with hot spring water. I'm usually a fancy-latteswith-syrups kind of girl, but this was the best coffee I'd had in a long time!
Refreshed and ready for more, I continued on to Kumano Hongu Taisha, the Grand Shrine and central point of the Kumano Kodo. They say life is often about the journey more than the destination, and although Kumano Hongu Taisha was impressive (in an understated kind of way), I would say that the journey to get there impressed me even more.
There was something about arriving at such an important and grand shrine on foot, with the feeling of having walked so very far (although it was only around seven kilometres), that made me feel like a true pilgrim. I sat and looked at the plain, wooden buildings of Kumano Hongu Taisha a while, imagining those who had been there before me. Gold shone from the edges of the roof, and paper flags moved gently in the breeze. I saw a few other pilgrims while I sat at the shrine – more than I had seen all day so far – but still felt like I was in another world, and possibly another time.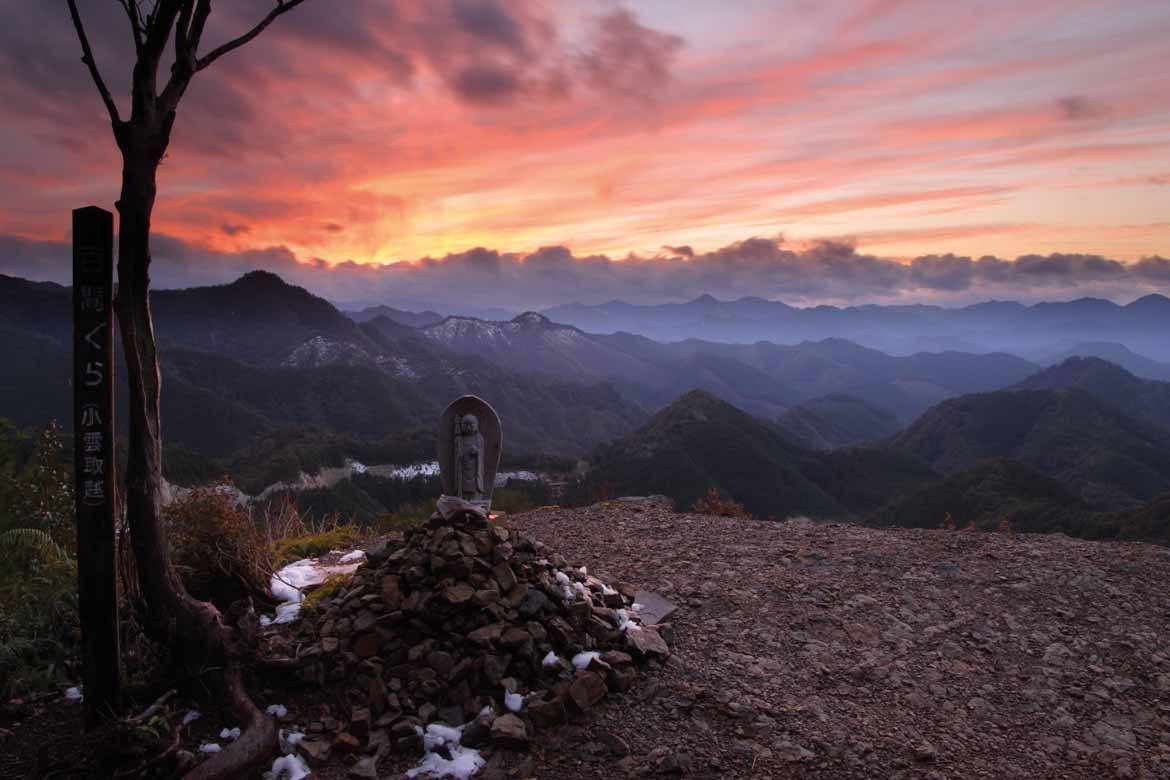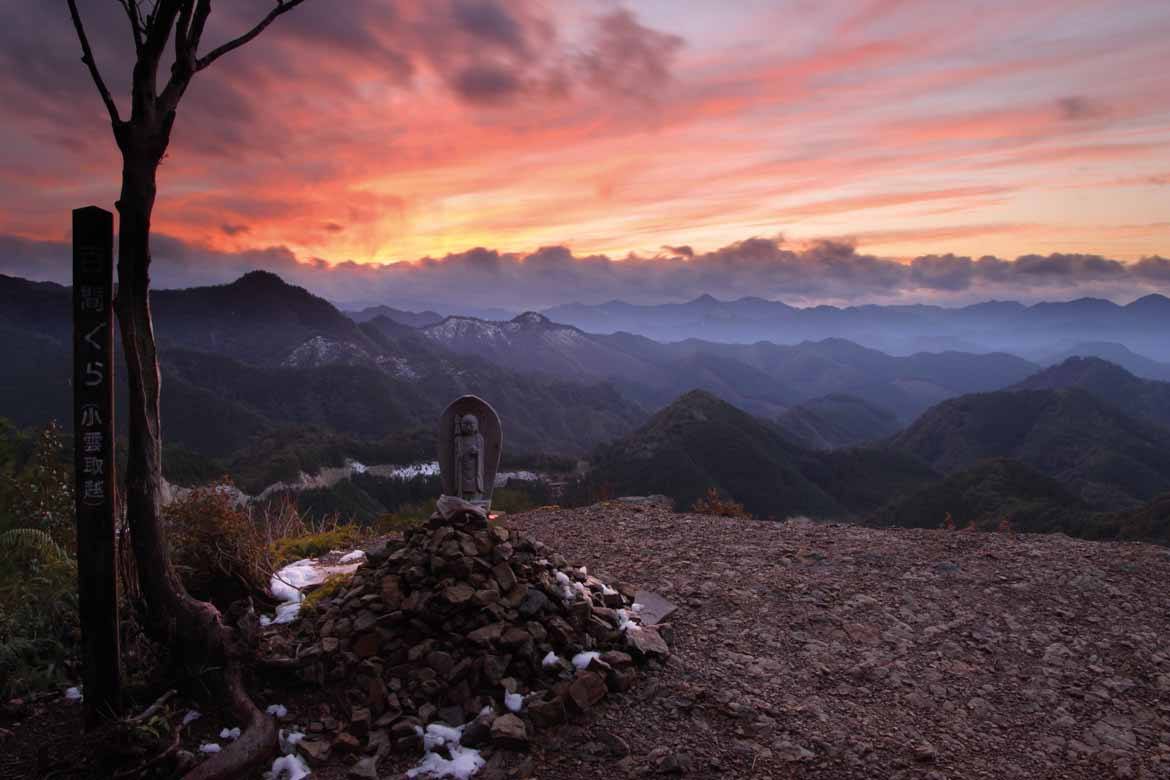 Taking to the water
After a quick visit to Oyunohara, home to Japan's largest torii gate, I had a choice to make. I could either take a bus to Yunomine Onsen, where I would spend the night, or I could walk. My notes warned me that the 3.5-kilometre hike was 'relatively steep', but I chose the option of walking nonetheless.
From Kumano Hongu Taisha to Yunomine Onsen I walked the Dainichi-goe trail, which was one of the physically toughest things I have ever done, but utterly worth it. The trail took me up steep stone steps, which in turn led me to dirt paths through forests. Tree roots interrupted my path as I climbed higher and higher over Mount Dainichi. At one point I paused and held on to a tree to steady myself. Sweat dripped off me, and I didn't mind that it was starting to rain. I had committed to the hike now, and there was no turning back.
Yunomine Onsen appeared before me, just as the heavens opened and the rain began to fall. The Adumaya Ryokan wasn't far along the road, and I quickly headed in to take shelter from the rain. A tiny, simple hot spring bath was waiting for me, and my legs couldn't have been happier. After a dinner of salty, grilled ayu (sweetfish), I settled back on my futon and listened to the rain fall.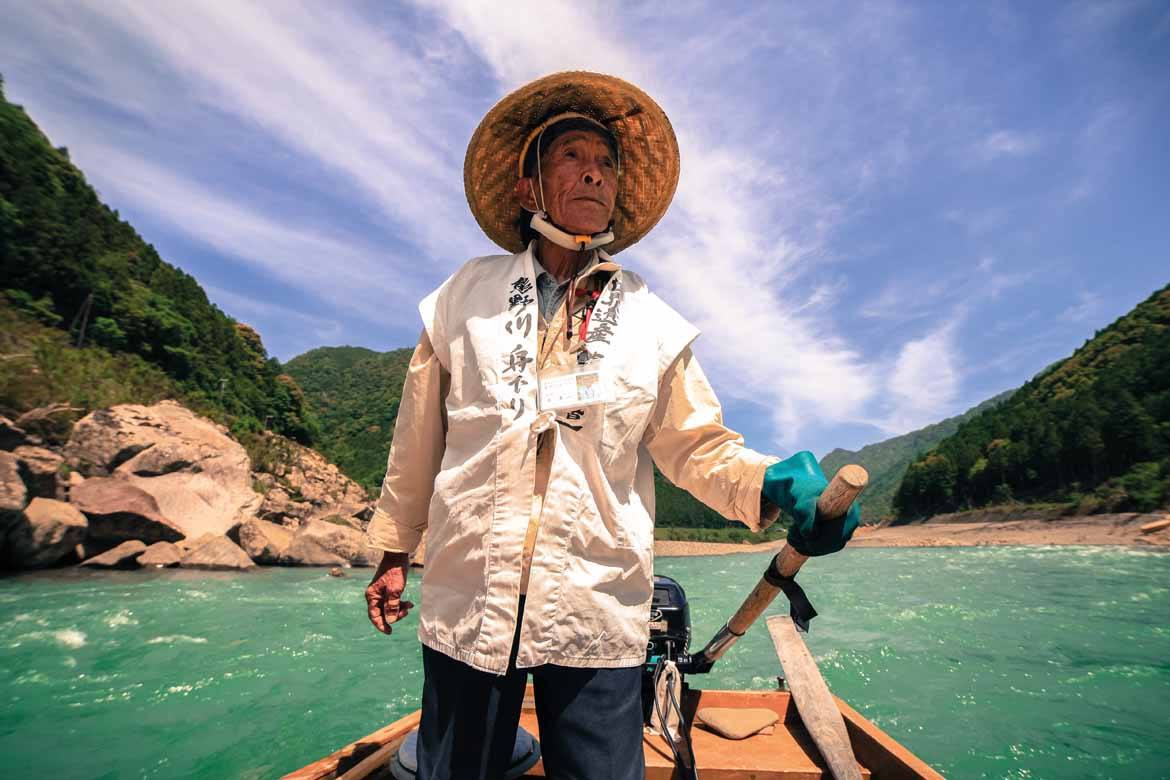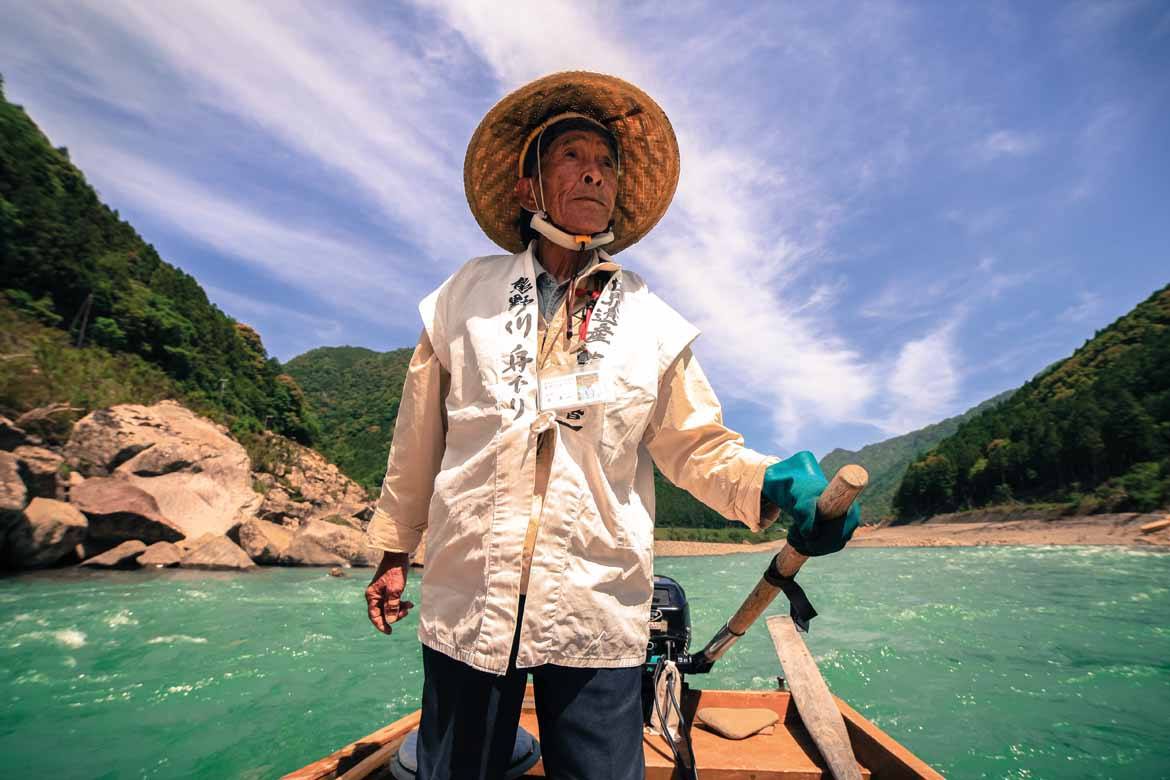 I awoke fearful of the weather, but found a glorious, sunny day waiting for me. A bus took me to Hitari, just 30 minutes away, where I met the guide who would be taking me on a traditional boat cruise along the Kumano River. There was a group of about nine of us, and once we had all put on our lifejackets and customary conical straw hats, we clambered into a tiny narrow boat and set off.
The guide was fantastic, speaking both English and Japanese throughout the tour, and explaining a lot of the sights along the way. The river glistened before us, reflecting the cloudless blue sky. The boat was powered by a small motor, but towards the end of the tour we cruised the old-fashioned way for a while to the sound of the guide playing a traditional wooden flute. The music pierced the air as I shut my eyes, allowing the sun to warm my face and feeling the boat drift and bob along the river.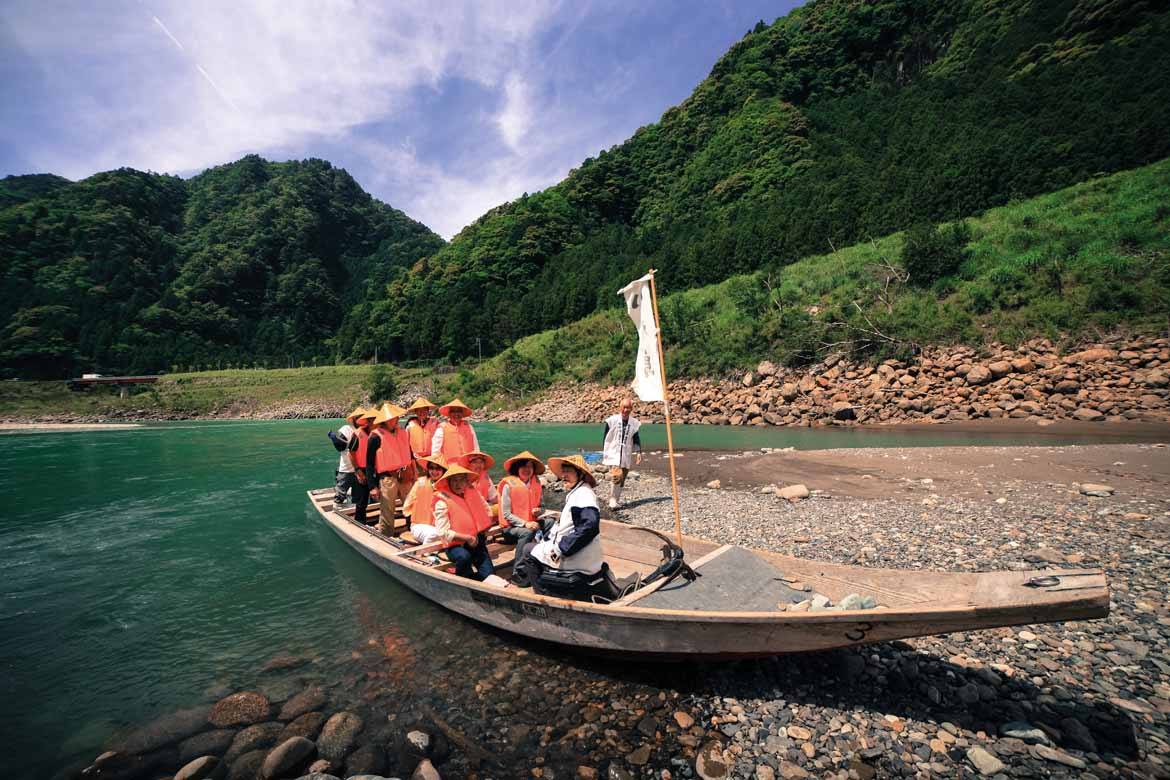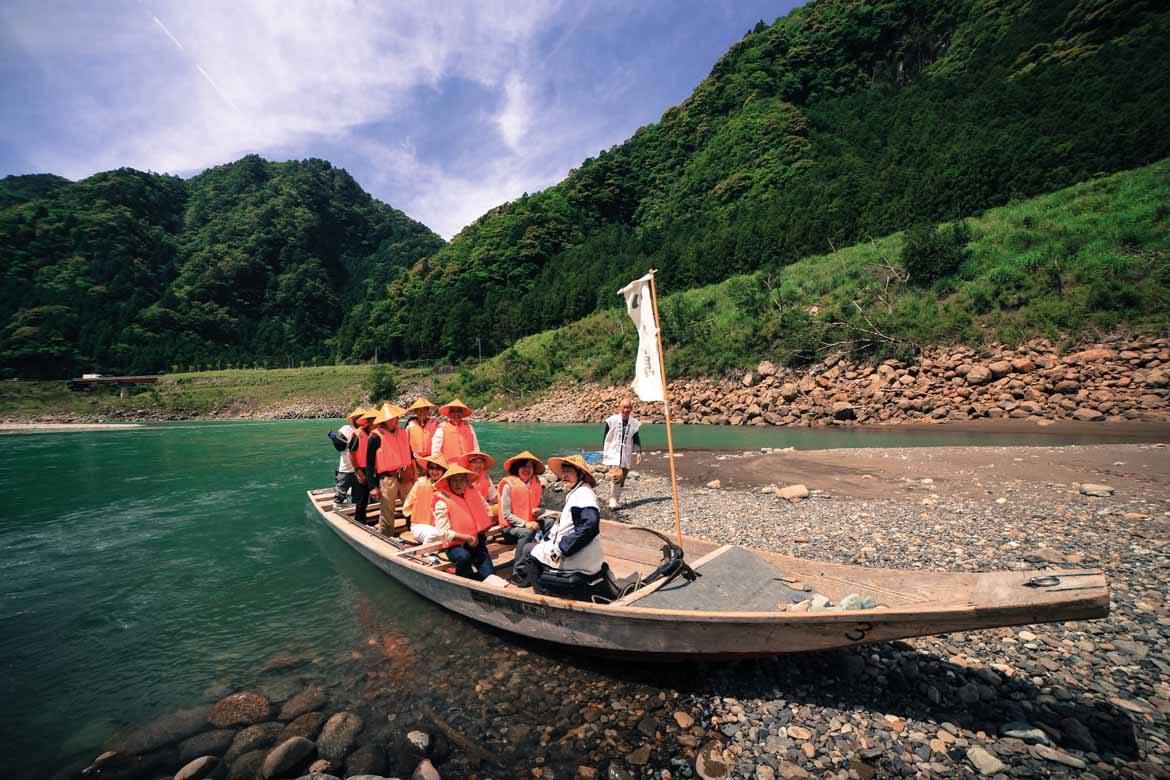 More hiking followed this relaxing start to the day, and after a visit to Kumano Hayatama Taisha, one of the Three Grand Shrines, I took a bus to Daimonzaka and hiked to Nachi. This is home to Kumano Nachi Taisha, the third of the grand shrines I would visit, and also Nachi-no-Otaki, the tallest waterfall in Japan, which stands 133 metres high and 13 metres wide.
The route from Daimonzaka took me up an impressive cobblestone staircase, with steps that seemed to go on forever. Tall trees lined the path, and when I looked up I could barely see the tops. At the start of the trail I saw some hiking sticks – these are provided with the understanding that hikers will put them back when they are done. It's a great system, and I don't think I could have managed all of those steps without one.
Chasing waterfalls
I wouldn't call myself a massive fan of waterfalls, but Nachi-no-Otaki was breathtaking. Kumano Nachi Taisha's red pagoda is conveniently placed to make the perfect picture-postcard. I naturally lined up alongside the other tourists to capture the moment. This was miles away from the serenity of the forest, but still a fantastic part of the journey.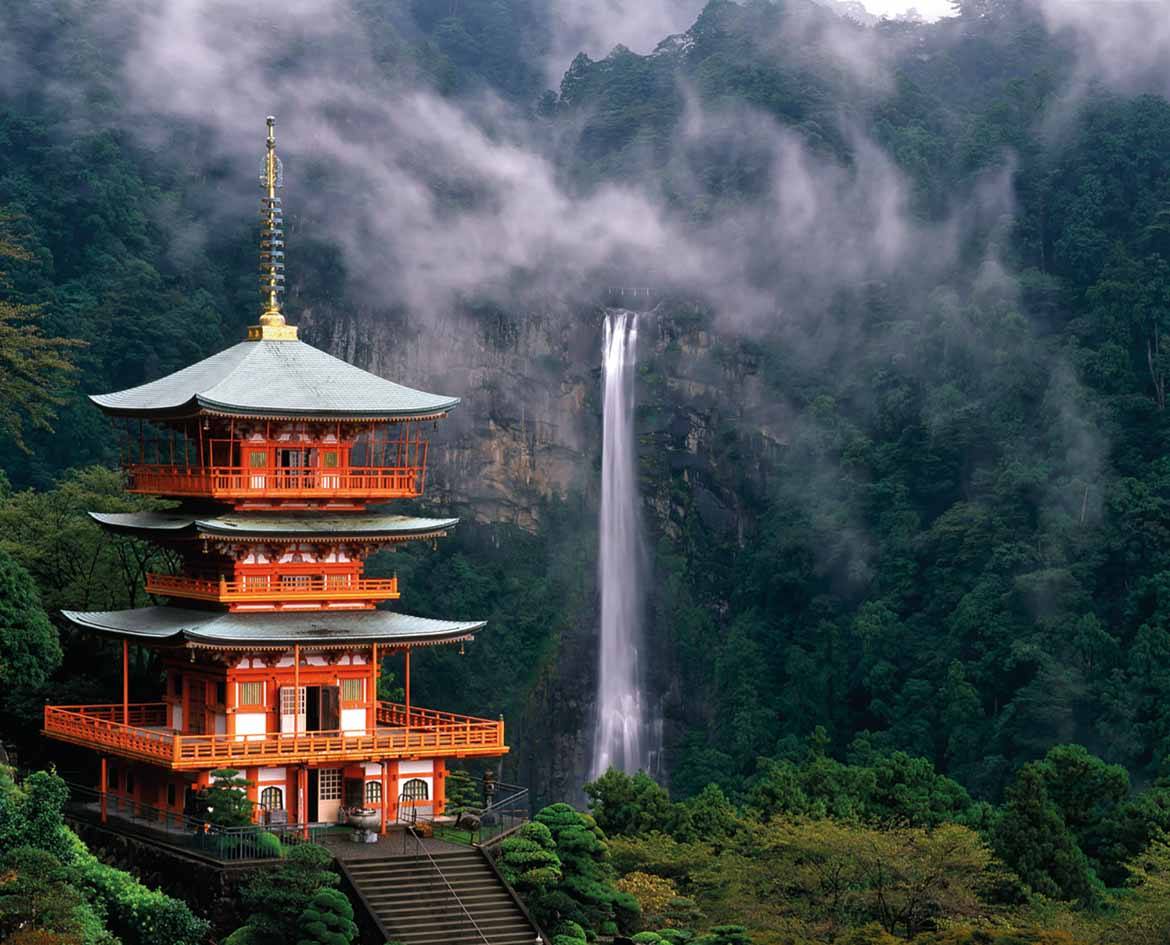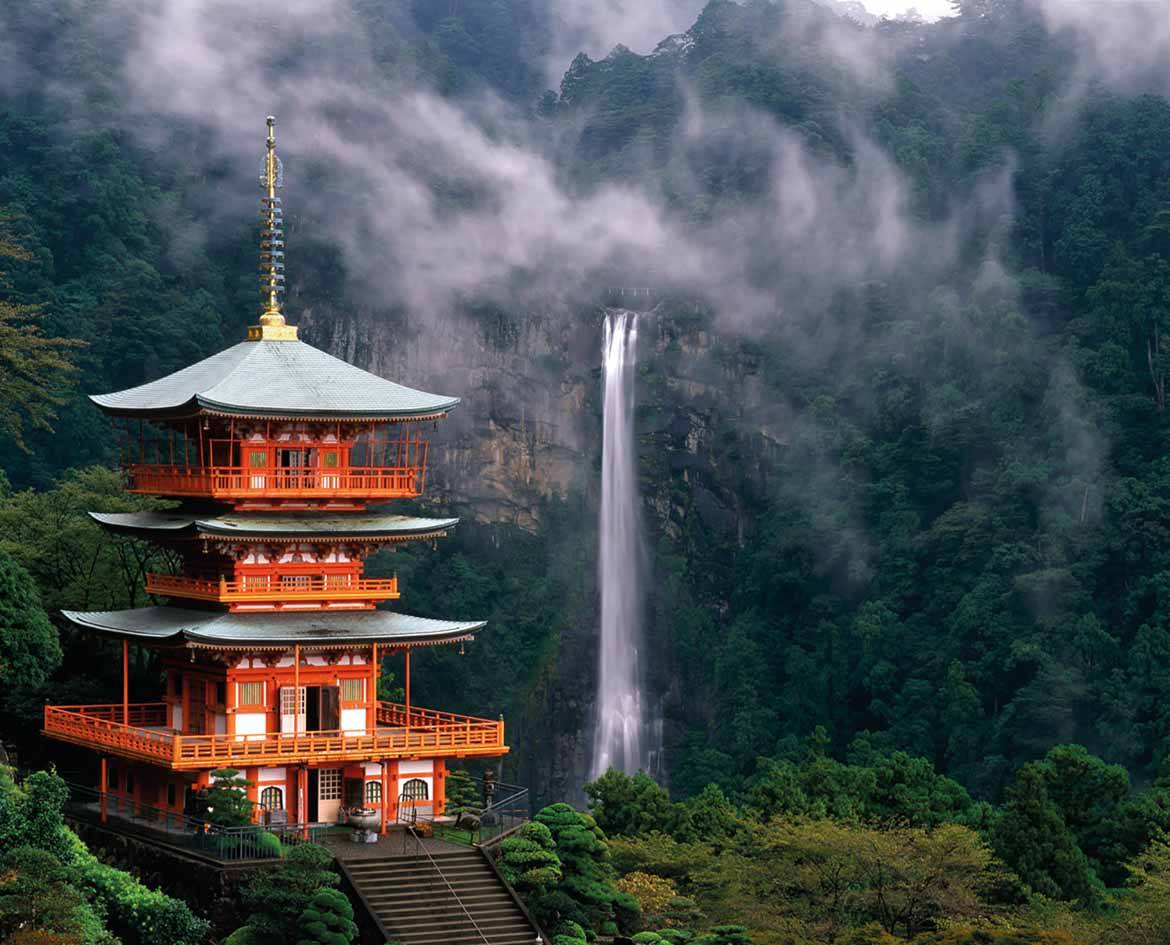 One more bus ride took me from Nachi back to the coast of Katsuura Onsen. My hotel, the Nakanoshima Hotel, was located on its own private island, so I hopped on a boat and headed out there. The sun was setting as the boat chugged towards the island, and I looked back at the mainland with a feeling of accomplishment.
My first solo pilgrimage had been an adventure, and a success. Although I was treading the ground so many had walked before me, I felt like I had discovered something very few people knew existed. Tomorrow, I would be back in the bright lights of Osaka, but I vowed to bring a little bit of Kumano Kodo with me; a feeling that would travel with me on all of my future pilgrimages.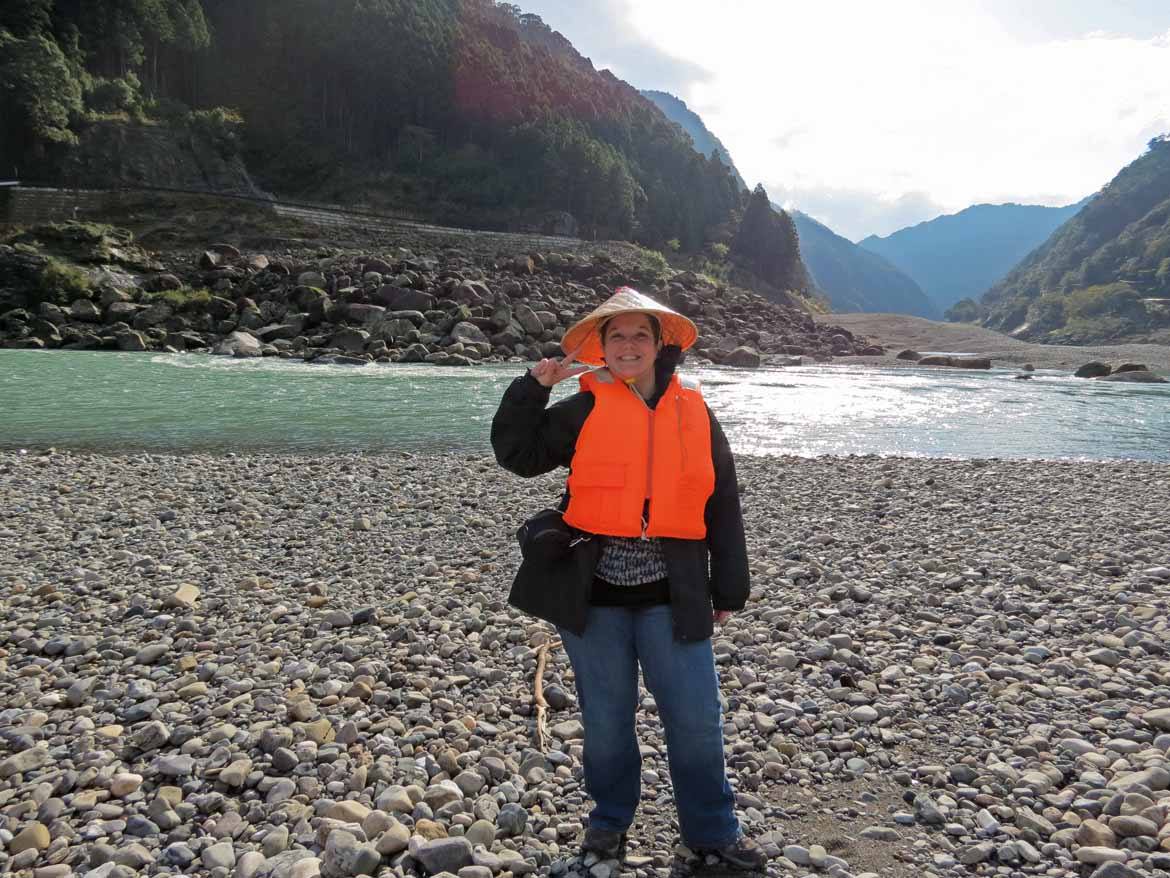 We offer a range of Kumano Kodo hiking modules of varying lengths and difficulties, all of which are designed to be added to any tailored trip. Ali followed our Three-night Module (Gentle Walking). Click here to find out more.
Photos by Sara Pretelli & the Kumano City Tourism Board.
Like this post? Help us by sharing it!