Toya Onsen
Toya Onsen, located in southwest Hokkaido, is a popular getaway for Japanese urbanites - offering hiking, fishing, watersports and hot spring baths in a beautiful lakeside setting surrounded by mountains.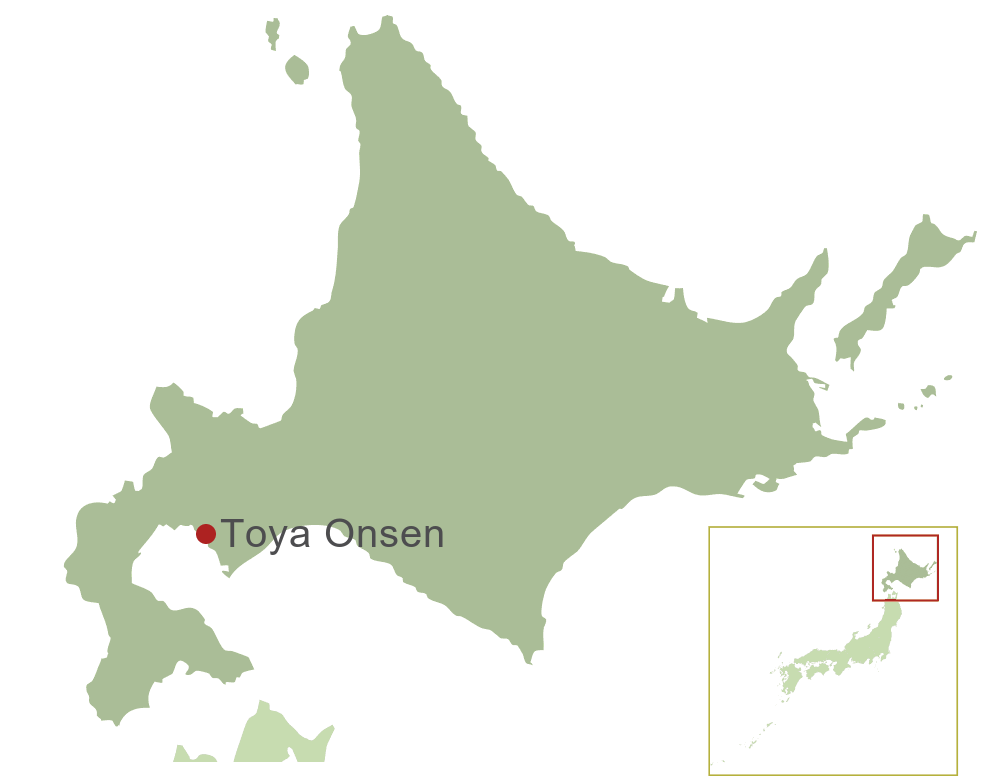 "With a guestlist including Bush, Brown, Medvedev, Sarkozy and Berlusconi, you will be in good company in Toya Onsen! This beautiful lakeside resort encompasses all that is great about Hokkaido; stunning scenery, steaming volcanoes, hot-spring baths & endless ways to enjoy the great outdoors."
Harry Sargant, Marketing & Agents Manager
In 2008 Toya received its most illustrious guests to date when it was chosen by Japan to host the G8 Summit, to showcase Japan's natural beauty to the world.
On the south side of Lake Toya proudly stands one of Japan's youngest volcanoes, Showa-Shin-Zan, which was "born" as recently as 1943, when a series of earthquakes saw a bump appear, which grew into a mound, which grew into a hill, which grew into the 400-metre peak which stands today, still mildly active and attracting curious visitors. Be wary however as the next-door peak of Usu-zan blew its top in 2000; evacuations were necessary in the surrounding area to prevent casualties. You can find out more about the unpredictable nature of Toya's geology at a handful of small museums.
The volcanic activity in the area means of course plenty of hot spring baths, and Toya is one of Hokkaido's premier hot spring resorts with a range of baths to try out (some offering stunning lake views), with many accommodations opening their baths to non-staying guests during the day. You will also find several foot-baths, or ashi-no-yu along the lakeside, and during the summer months the resort puts on nightly firework displays.
Toya makes a good base for exploring this corner of Hokkaido. Other places of interest in the Shikotsu-Toya National Park include Lake Shikotsu, the hot spring mecca of Noboribetsu and hiking and walking just about anywhere!
Recommended Accommodation in Toya Onsen
The following are our favourites from among the western-style hotels and Japanese-style inns of Toya Onsen.

Experiences in Toya Onsen
Toya Onsen offers a wealth of exciting experiences that will help you get beneath the surface of Japan's fascinating culture. See below for a few of our favourites
Weather in Toya Onsen
The Climate Guide for Toya Onsen, Japan is perfect for planning your holiday. Monthly weather averages give the best indication of what the weather is usually like for every month of the year including figures for temperature, rainfall and sunshine.
Jan
Feb
Mar
Apr
May
Jun
Jul
Aug
Sep
Oct
Nov
Dec
Max Daytime Temperature (°C)
-3
-2
1
8
13
18
22
23
20
13
6
0
Min Night-time Temperature (°C)
-10
-10
-6
0
4
10
14
16
11
5
-2
-7
Hours of Sunshine (Daily)
2
3
5
6
6
6
5
5
5
5
3
2
Hours of Daylight (Daily)
10
10
12
13
15
15
15
14
12
11
10
9
Heat and Humidity Discomfort
None
None
None
None
None
None
None
None
None
None
None
None
Days with some Rainfall
30
26
26
18
18
17
18
19
18
20
25
29
Monthly Rainfall (mm)
138
104
81
77
81
72
118
156
161
138
144
144
UV Index (Maximum)
1
2
3
5
7
8
9
8
6
3
2
1