Rausu
The Shiretoko Peninsula sticks out like an angry finger into the icy waters of the Sea of Okhotsk. But what exactly is it pointing at? Perhaps at Russia, who has occupied the nearby Kuril Islands, also claimed by Japan, since World War 2.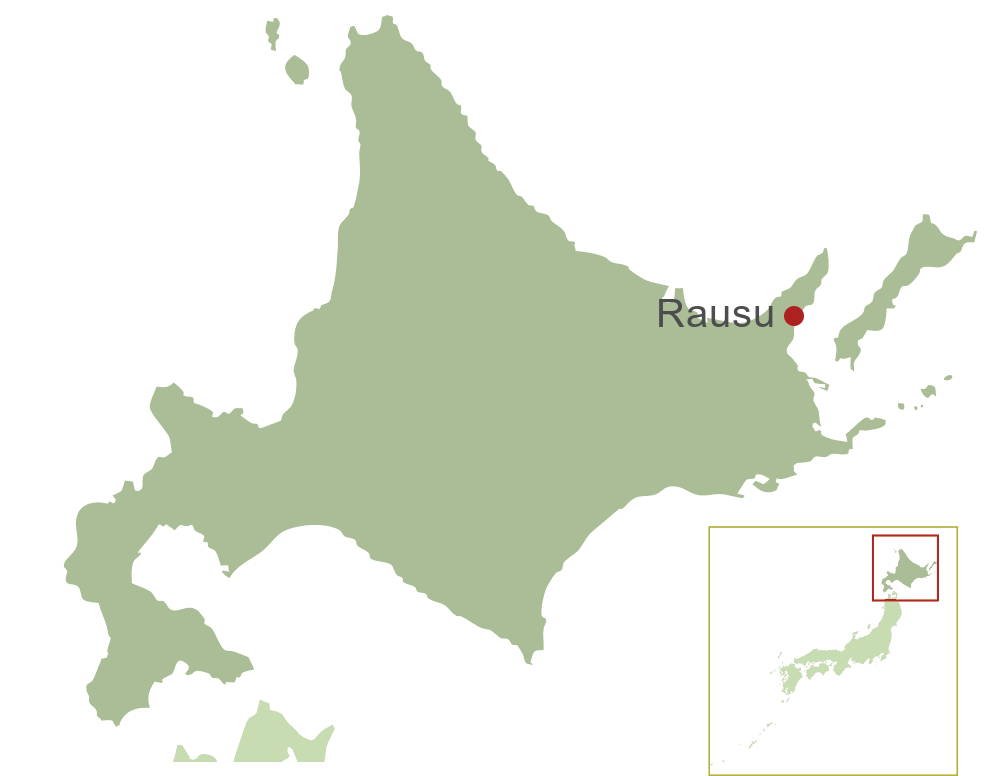 "This is true remote Japan. It felt like I was the first foreigner to leave a footprint in the snow here. With bears, whales, dolphins and an array of birds, Rausu is a year round nature lover's paradise – and about as far from Tokyo citylife as you can get"
Alastair Donnelly, Director
Rausu sits on the eastern coast of the Peninsula, 20 kilometres from the tip of the finger. Kunashiri Island, one of the disputed islands, is visible from the town. Locals say on still mornings the sounds of the Russian inhabitants are carried on the wind.
The Shiretoko Peninsula is only 16 km wide near Rausu, with a range of mountains formed by past volcanic activity running through the centre, the tallest being the 1660m Rausudake. Due to its harsh topography and climate, a large part of the peninsula remains accessible only by sea. The area is covered in primeval forest, and in a move to preserve this precious natural environment, 50% of the region has been designated a special preservation district, with permission required for access.
Rausu holds the lofty title of the largest town on the eastern coast of Shiretoko, but with a population of just 6000, it only just qualifies as a town. The primary industry in Rausu is fishing, and every morning scores of fishing boats head off into the Nemuro Straits and beyond for the day's catch.
Rausu draws people for many reasons. Nature enthusiasts come during the summer for whale watching, and to catch sight of the brown bear, as well as deer and foxes. Winter brings a think blanket of snow on the town, a layer of drift ice on the sea and the chance to take an ice-breaking cruise to see dolphins and the Stellar's Sea Eagle, the largest eagle in the world.
And of course, all year round when those fishing boats come back to shore in the afternoon you are guaranteed the very best seafood for dinner in your ryokan that night.
Recommended Accommodation in Rausu
The following are our favourites from among the western-style hotels and Japanese-style inns of Rausu.

Experiences in Rausu
Rausu offers a wealth of exciting experiences that will help you get beneath the surface of Japan's fascinating culture. See below for a few of our favourites
Weather in Rausu
The Climate Guide for Rausu, Japan is perfect for planning your holiday. Monthly weather averages give the best indication of what the weather is usually like for every month of the year including figures for temperature, rainfall and sunshine.
Jan
Feb
Mar
Apr
May
Jun
Jul
Aug
Sep
Oct
Nov
Dec
Max Daytime Temperature (°C)
-4
-5
-2
4
9
12
16
18
16
12
5
-1
Min Night-time Temperature (°C)
-11
-12
-8
-2
2
5
10
13
10
4
-2
-7
Hours of Sunshine (Daily)
4
5
6
6
6
5
4
4
5
5
4
4
Hours of Daylight (Daily)
9
10
12
13
15
15
15
14
12
11
10
9
Heat and Humidity Discomfort
None
None
None
None
None
None
None
None
None
None
None
None
Days with some Rainfall
26
23
23
18
19
17
19
19
18
20
22
25
Monthly Rainfall (mm)
74
61
65
87
111
93
112
145
180
147
115
75
UV Index (Maximum)
1
2
3
5
6
7
8
7
5
3
1
1