Lake Shikotsu
Lake Shikotsu is Japan's second-deepest lake at over 360 metres; and is surrounded on all sides by high mountain peaks, which provide some great hiking opportunities, in turn providing fantastic panoramic views over the lake.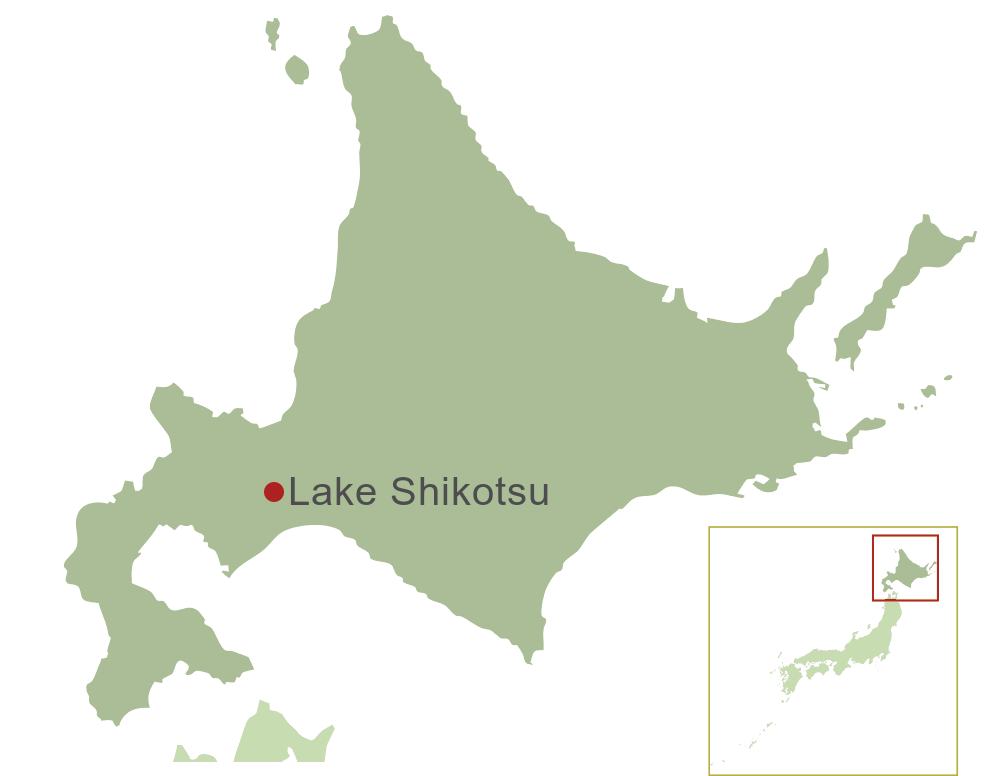 "This beautiful lake was the first place I visited after arriving on Hokkaido. It makes for a great introduction to this vast rural island, with beautiful scenery and some great walking and hiking opportunities."
Harry Sargant, Marketing & Agents Manager
The name Shikotsu comes from an Ainu (original native people of Northern Japan) word meaning depression or hollow. It is a caldera lake, as are many of Hokkaido's great lakes, meaning it was formed by volcanic activity, in this case over 30,000 years ago. The lake is famous for not freezing over, even in the depths of the harsh Hokkaido winters, and is in fact the northernmost lake in Japan to have this attribute!
Like many destinations in Hokkaido, a visit to Lake Shikotsu is all about enjoying the great outdoors. The three volcanic peaks around the lake provide a range of walking and hiking options; boat trips are available from spring to autumn and in the summer further activities such as canoeing and scuba diving are available. The highlight of winter is the ice waterfall festival, which features amazing ice sculptures which are lit up at night.
Lake Shikotsu has a number of interesting options for day trips. Noboribetsu Onsen is one of Hokkaido?s most famous hot-spring resorts, while at Nibutani you can find out more about the culture of the Ainu (or Utari as they prefer), northern Japan?s indigenous people whose numbers have dwindled to almost nothing in the modern age. Nibutani village is a majority Ainu village (over 80% of the population are of Ainu blood) and therefore gives a good insight into the culture, with a number of museums housing some fine exhibits.
Weather in Lake Shikotsu
The Climate Guide for Lake Shikotsu, Japan is perfect for planning your holiday. Monthly weather averages give the best indication of what the weather is usually like for every month of the year including figures for temperature, rainfall and sunshine.
Jan
Feb
Mar
Apr
May
Jun
Jul
Aug
Sep
Oct
Nov
Dec
Max Daytime Temperature (°C)
-4
-4
-1
7
12
16
20
22
18
12
5
-2
Min Night-time Temperature (°C)
-12
-12
-8
-2
3
8
13
14
10
3
-3
-8
Hours of Sunshine (Daily)
3
4
5
6
6
6
5
5
5
5
3
3
Hours of Daylight (Daily)
9
10
12
13
15
15
15
14
12
11
10
9
Heat and Humidity Discomfort
None
None
None
None
None
None
None
None
None
None
None
None
Days with some Rainfall
28
25
25
18
19
18
19
20
18
19
24
27
Monthly Rainfall (mm)
101
79
73
78
92
89
137
177
165
128
118
106
UV Index (Maximum)
1
2
3
5
7
8
9
8
6
3
2
1