Niseko
An amazing location for outdoor exploration in summer and a fantastic skiing destination in winter; powder hunters from all over the world flock to Niseko in search of spectacular deep powder, off-piste runs and challenging terrain.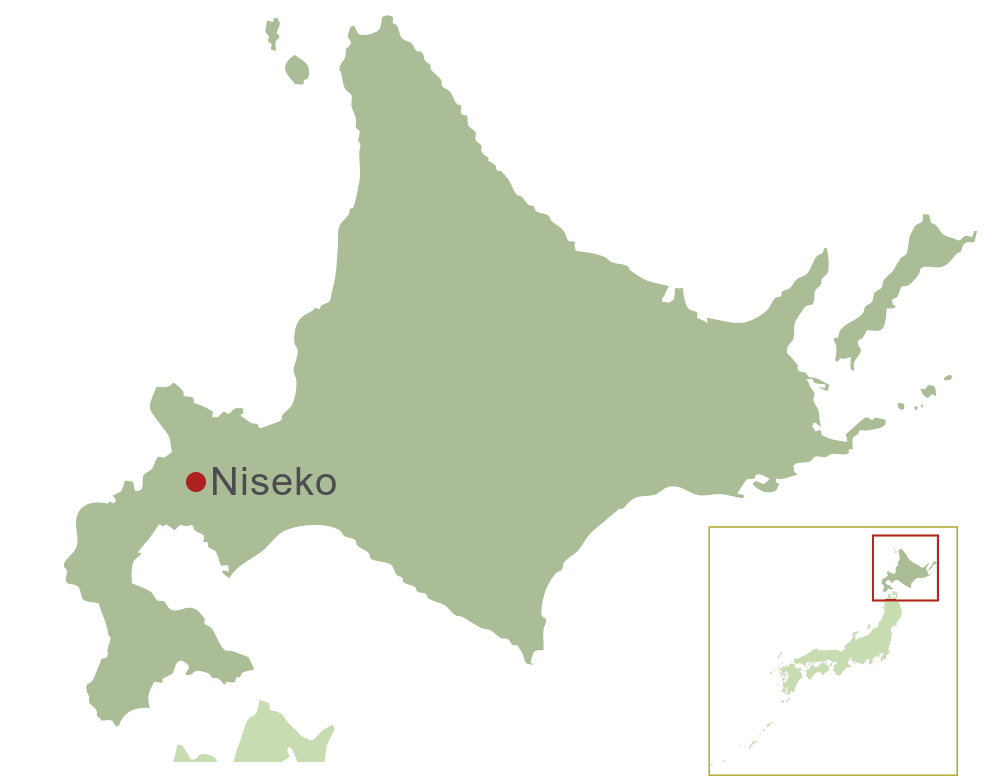 "Think the best powder is to be found at Whistler or in the Rockies? Think again. Niseko is a powder-lover's dream that's not to be missed."
Ben Guest, Expert Travel Consultant
Niseko is probably the most famous of Hokkaido's winter resorts, boasting not only fantastic powder snow, but a real village atmosphere with plenty of bars and restaurants.
The reason Niseko has a reputation for such quantity and quality of powder snow is its location in Hokkaido. Located at the western end, it receives the brunt of the Siberian desert storm systems that march across the Sea of Japan from Russia with amazing regularity from November through March. Thanks to this, Niseko is a ski and snowboard dream destination, offering spectacular skiing and snowboarding opportunities whether you're a novice, intermediate or expert, all backed up by an English-speaking support team based at the resort.
The resort is made up of three main ski areas: Grand Hirafu, Higashiyama and Annapuri, all of which are linked together by an efficient system of ski lifts and a free resort shuttle. Out of the three areas, Hirafu has the most extensive array of runs and facilities as well as a great village with an abundance of hotels and nightlife.
The resort is fast becoming well-known with skiers and snowboarders throughout the world and each year sees a larger percentage of non-Japanese on the slopes - which has its upsides and its downsides, of course. With the infrastructure in town developing to cater for the new visitors, it means fewer language problems, the opportunity for some great night-skiing and an excellent après-ski scene!
N.B. Though Niseko's powder snow is generally extremely reliable, it's important to remember that like any other ski resort - it can occasionally fail!
The fun doesn't melt away with the snow, however, and in the summer months the temperate sunny days create the perfect paradise for outdoor activities. Not sure what you want to do? How about mountain-biking, wake-boarding, horse-riding, kayaking, golf, fishing, or trekking? the list goes on!
Niseko's northern location offers a reprieve from the heat and humidity of Japan's main island, and is also lucky enough to dodge the wetness of the rainy season. Mid-summer temperatures peak around 27C (80F), and cool off to around 18C (64F) during the evening. During the day you have green open spaces and clean air, and at night the stars are simply breathtaking.
Recommended Accommodation in Niseko
Niseko offers a wide range of different accommodation. You can choose from budget pensions in the town itself to upmarket hotels and luxury apartments. For those travelling in winter there are a few ski-in ski-out options to choose from. Below is a very small sample of what we can offer.
Experiences in Niseko
Whilst staying in Niseko you will have a wide range of experiences to choose from. In winter you can strap on the snow shoes for a trek across the powder or perhaps head out for a snowmobile safari. In summer there are lots of activities available, from kayaking to hiking, biking and fishing.
Weather in Niseko
The Climate Guide for Niseko, Japan is perfect for planning your holiday. Monthly weather averages give the best indication of what the weather is usually like for every month of the year including figures for temperature, rainfall and sunshine.
Jan
Feb
Mar
Apr
May
Jun
Jul
Aug
Sep
Oct
Nov
Dec
Max Daytime Temperature (°C)
-3
-2
1
8
13
18
22
23
20
13
6
0
Min Night-time Temperature (°C)
-10
-10
-6
0
4
10
14
16
11
5
-2
-7
Hours of Sunshine (Daily)
2
3
5
6
6
6
5
5
5
5
3
2
Hours of Daylight (Daily)
9
10
12
13
15
15
15
14
12
11
10
9
Heat and Humidity Discomfort
None
None
None
None
None
None
None
None
None
None
None
None
Days with some Rainfall
30
26
26
18
18
17
18
19
18
20
25
29
Monthly Rainfall (mm)
138
104
81
77
81
72
118
156
161
138
144
144
UV Index (Maximum)
1
2
3
5
7
8
9
8
6
3
2
1
Featured trips including Niseko
An amazing week at perhaps Japan's top winter sports resort. Fantastic snow conditions and a vibrant international atmosphere.

8 nights: from US$2366 pp (twin share) Read more >

Tokyo
Niseko
Sapporo
Kyoto
Yudanaka
Tokyo

Mix culture with snow sports on this deluxe trip, taking in several exciting destinations across Honshu and Hokkaido.

15 nights: Read more >