Like this post? Help us by sharing it!
Interested in manga, but not sure where to start? Our Japan experts share their mountains of manga knowledge to help you on your way!
---
1. Shingeki no Kyojin
This was all the rage when I moved to Japan in 2013. I read all about the animation being top-notch and the theme song being invigorating but brushed it aside while I was into another series. With one free night I opened Netflix and there it was on my recommended list. 'Okay, I'll just watch one episode…' and before I knew it, 7 hours had passed and I finished the first season. I was in!
The last of humanity has retreated to living within three large walls, as  titans roam around outside eating people. In the first episode, you're introduced to two titans unlike the rest, with one 50m-high that kicks a hole in the wall where the majority of humanity lives, letting the mindless titans in to eat its residents. The protagonist, Eren Yeager, joins the military leading expeditions outside to kill these titans after he witnesses his mother being eaten, and his father mysteriously disappears before sharing all his secrets.
It's hard to describe a show without spoiling it! Some people describe it as the Game of Thrones of manga.
2. Death Note
After finding a notebook that kills whoever's name is written in it, Light Yagami, the main protagonist kills off criminals he deems to be causing the world to rot. By default, whoever's name is in the Death Note (while picturing their face, so as to not kill everyone with the same name), dies after 40 seconds from a heart attack. The police and several detectives get involved, with the main detective, 'L', posing as the antagonist to Light. Protagonist? Antagonist? Who's to say who is morally right in this show?
The Netflix live action adaptation was awful. Please don't watch it as a substitute for a relatively short series; only 37 episodes. The back and forth of 'will he be caught' or 'will he outsmart the best detective in the world' is really captivating. Really good story, and usually ranks near the top for fan favourites.
---

3. Amaama to Inazuma
For something light, I wholeheartedly recommend Amaama to Inazuma. You really can't get more unabashedly adorable and pure than this story. It follows Kohei Inuzuka, a high school maths teacher who has raised his young daughter Tsumugi on his own since the death of his wife. His daughter longs to have home-cooked meals again, so Kohei starts learning how to cook from a high school student named Kotori.
The art style is so expressive, even for typical manga standards, and you get so attached to the characters. There is little to no actual conflict, but some heart-wrenching moments, oodles of character building and *squeee*-worthy moments of cuteness. A great starting place, and a fantastic anime adaptation as well.
4. Koe no Katachi
For the truly emotional masochists, I recommend Koe no Katachi. In all seriousness, this is one of the most earnest and "real" stories I have ever seen. It was adapted into a full-length feature film of the same name, and the character portrayals shine through in both mediums.
Without giving too much of the plot away, Shoya Ishida is a former elementary school delinquent who bullied his deaf classmate, Shoko Nishimiya. The story follows their high school years as they try to reconcile their past. It tackles bullying in a truly thoughtful and multi-dimensional way, and the art style is really striking.
---
Laura Barnes, Travel Consultant, Bristol, UK

5. Gin Tama
Gin Tama is one of the funniest, wackiest and most experimental manga from popular magazine Shonen Jump, rewriting Japanese history with a fresh dose of comedy and sci-fi. Although featuring a huge cast of original characters and historic figures, readers mostly follow jack of all trades Gintoki, Kagura and Shinpachi as they help friends, work hard and avoid the landlady who demands several months of back rent.
On first glance Gintama is a silly gag manga, but at its heart it's about a group of outsiders who form a kind of family together, and overcome obstacles with an unconditional love for their community. Whether it's an alien invasion or an internal struggle, the characters always stand strong and fight back to protect those who can't.
6. Fruits Basket
Soon to receive a brand new anime adaptation, Fruits Basket is an internationally best-selling manga first published in 1998. It follows the story of Tohru, an orphaned girl who is rejected by her own family and lives a tough life despite her young years, but always seems to smile through it all and never lay blame at the feet of anyone.
By accidental meeting she is taken in by the elusive Sohma family who harbour a secret – 12 of the family members, when hugged by a member of the opposite sex, turn into an animal from the Chinese zodiac. She builds a close relationship with these troubled individuals as well as with the Sohma pariah Kyo, who is branded a monster. The 23 volumes of manga are full of moments to make you laugh, cry and swoon as the characters let go of old grudges and wounds and start life anew.
---
Tim Supplitt, Travel Consultant, Boulder, USA

7. Real
Real is made by Takehiko Inoue, best known for the famous basketball manga Slam Dunk. Tackling world wheelchair basketball, Real feel very, well, real. It dives deep not only into the world of athletics, but the world of being disabled too, and has an amazing balance between two gripping main stories via the eyes of high school dropout Nomiya Tomomi.
There's the story of Togawa Kiyoharu, a rising wheelchair basketball star who must balance his Japan National team aspirations with the realities of wheelchair basketball league. Then there's Takahashi, a high school basketball star who becomes paralysed after getting hit by a truck. As someone who studies disability culture I find it amazingly groundbreaking.
8. Gabriel DropOut
The story of a fallen angel, an angelic demon, a demonic angel and an incompetent demon who all go to a human high school together! The way all the personalities balance each other out is truly hilarious, setting a strong standard for the 'high school girl group of friends comedy' genre.
9. Boku no Hero Academia
This is the next big thing. For good reason – it is amazing and overflows with creativity. In Boku no Hero, the author takes the classic hero story tropes and puts a twist on them making the characters and storylines more engaging
---
Malcolm House, Travel Consultant, Brisbane, Australia

10. Silver Spoon
Silver Spoon is a Japanese coming-of-age Manga. It's set in the fictional Ooezo Agricultural High School in Hokkaido and depicts the daily life of Yuugo Hachiken, a high school student from Sapporo who enrolled at Ezo to flee from the demands of his strict father.
However, he soon learns that life at an agricultural school is not as easy as he believed it would be. Unlike his classmates, he has no intention of following an agricultural career, but he envies them for having set goals for their lives and the pursuit of their dreams.
11. One Punch Man
One Punch Man is a play on the long-running children's character Anpanman, wanpan being a contraction of wanpanchi ("one punch").
One-Punch Man tells the story of Saitama, an extremely overpowered superhero who has grown bored by the absence of challenge in his fight against evil and seeks to find a worthy opponent. I love this series because it is a deconstruction of the superhero theme, showing how boring life would be if you got what you wanted.
12. Berserk
Set in a medieval Europe-inspired dark fantasy world, the story centres on Guts, a lone mercenary, and Griffith, the leader of a mercenary band called the "Band of the Hawk".
Themes of isolation, camaraderie, and the question of whether humanity is fundamentally good, or evil pervades the story, as it explores both the best and worst of human nature.
---
Inspired? Travel to the place it all began on our Manga & Anime self-guided trip, discover the world of Japanese pop culture on our J-Pop & Go Small Group Tour or get in touch with our team of Japan experts.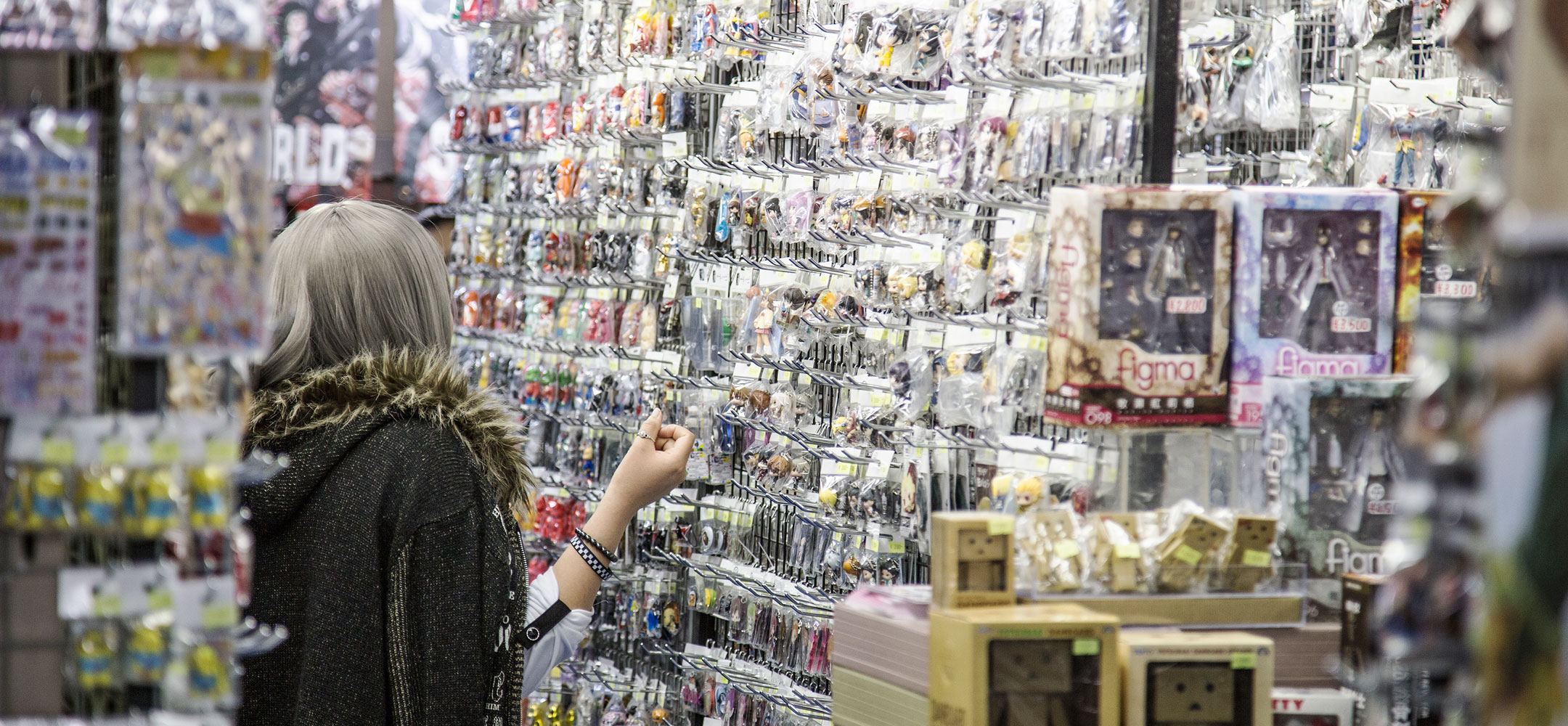 Like this post? Help us by sharing it!