Like this post? Help us by sharing it!
If you read my recent post on hot spring bathing etiquette a couple of weeks ago, it might well have got you wondering where in Japan to whip out your new-found skills and cultural know-how.
If you were – you've come to the right place. The following is a list, compiled by dedicated Japan experts who have denuded and submerged themselves in every prefecture of this fine archipelago, represents our pick of the best onsen hot springs in Japan. Don't forget – there are many onsen just as marvellous as these that we have yet to discover, so this list is far from exhaustive! I've listed our 15 fabulous favourites in no particular order.
N.B. Onsen purists beware – this list includes sento bathhouses as well as official onsen (if you want to know the difference, read my last post). Deal with it.
Located in the Akita Prefecture in Japan's northern Tohoku Region, Nyuto Onsen is one of Japan's most famous hot spring areas. The name means "nipple hot spring" (apparently it's named after the shape of a nearby mountain), and the water here is a milky colour – almost blue in some lights.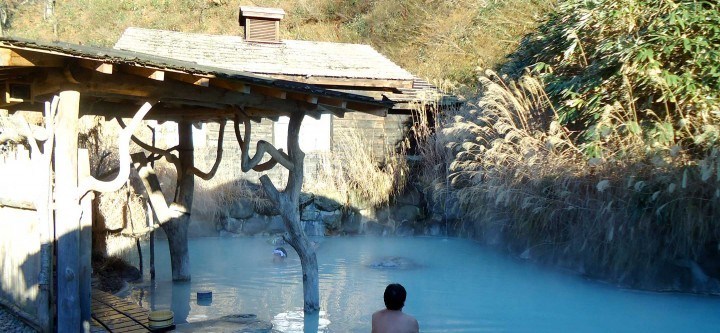 Tsuboyu is the only hot spring bath in Japan to be designated a UNESCO World Heritage Site. Given this status, you'd be forgiven for imagining an idyllic, steaming pool surrounded by spectacular views, with water the consistency of milk and honey. In actual fact, what you get is a gloomy stone shack about the size of a commode, which overhangs a river and stinks to high heaven of sulphur. But it's an experience, you have to give it that!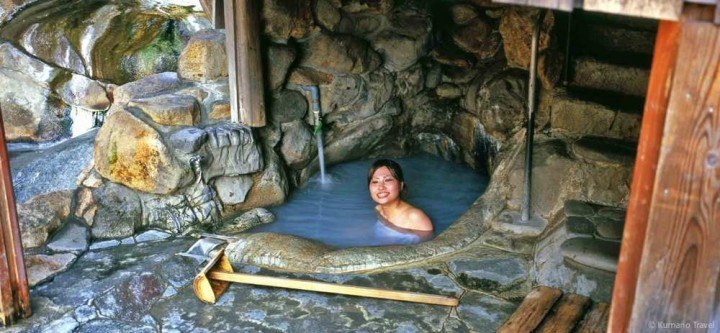 Just 30 minutes by train from the heart of Kyoto, the beautiful little hot spring village of Kurama Onsen is the perfect option for those who don't have time to trek right into Japan's deepest countryside in search of a nice soak. For the best experience, head to the onsen after hiking from the neighbouring village, across the mountain pass.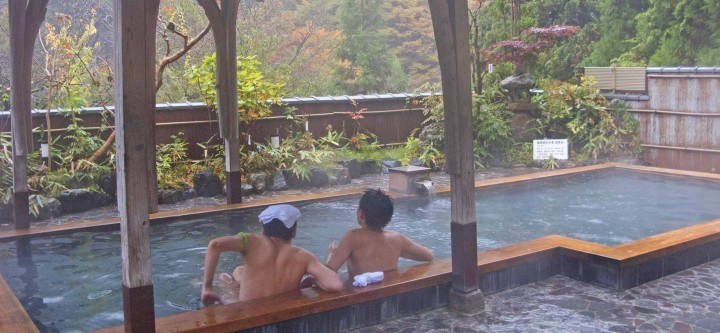 Rustic, traditional onsen are lovely – but the I Love Yuu Bathhouse on Japan's art-tastic Naoshima Island really is a breath of fresh air. The name is a multilingual play on words, as yuu is the Japanese word for "hot water", and inside you'll bathe in kitschy baths decorated with erotic art, pink palm trees, a giant elephant statue and much more. Don't miss it!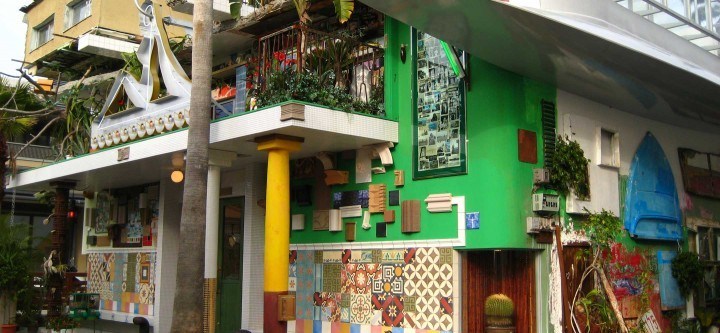 This venerable bathhouse in Matsuyama City is the oldest surviving bathhouse in Japan, and is said to have inspired Hayao Miyazaki's masterpiece Spirited Away. The current building was opened in 1894, but the spa has a history stretching back over a millennium. Commoners such as ourselves can bathe here in the main baths, there is a special bath set aside for the sole use of the Japanese royal family!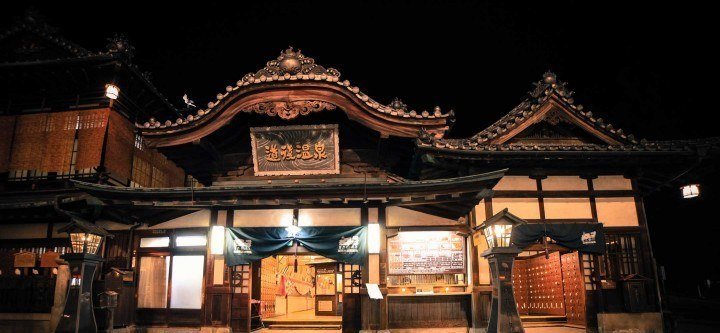 In a similar vein to Dogo Onsen, the Funaoka is one of Kyoto's most famous and best-loved bathhouses. Opened in 1923, the dressing rooms are decorated with wood carvings depicting the Japanese invasion of Manchuria (controversial), and the bathhouse boasts a great array of indoor baths, outdoor baths, cypress baths, herbal baths, and even a bath with an electric current running through it! Funaoka is technically a sento, not an onsen.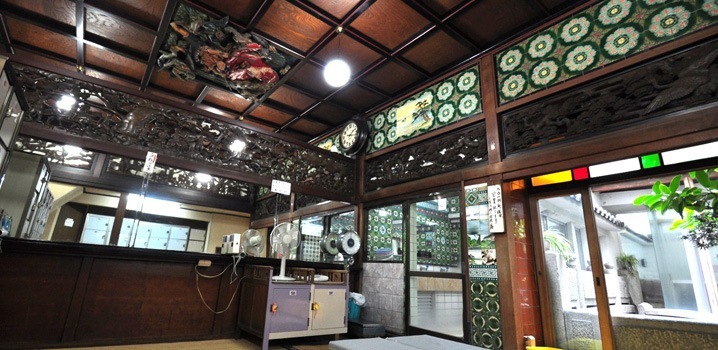 Osaka Spaworld is essentially an onsen theme park, with several different floors offering restaurants, beauty treatments, shops, swimming pools – and, of course, baths. There is an Asian floor and a European floor, each with baths running the gamut from a Grecian bath with columns and fountains, to a milk-and-honey bath in a cave, to a bath with giant fish tanks in the walls, to a Finnish sauna complete with model wolves – and much, much more besides. Spa World is so amazingly epic, in fact, that Claire Brothers of InsideJapan Tours declares it her favourite place in the entire world. High praise indeed from a lady who has visited an owl café.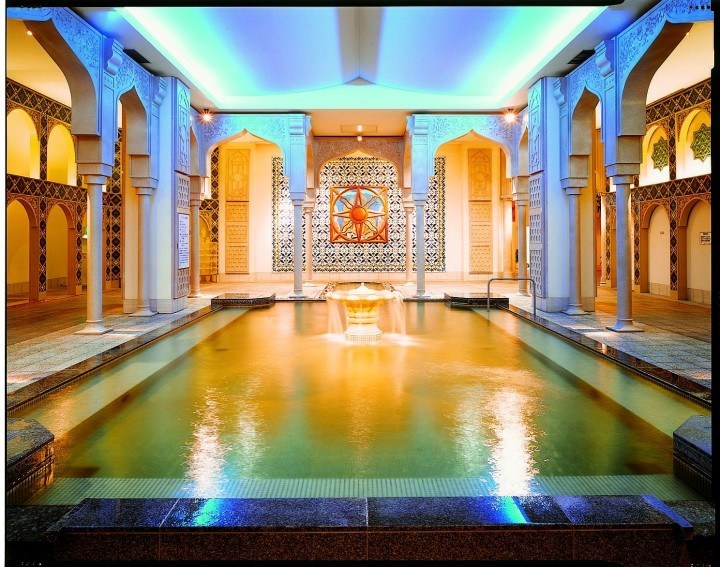 Located in Hyogo Prefecture in the southwest of Japan, Kinosaki Onsen is a classic hot spring town sandwiched between mountains and sea. Hot springs were discovered here in the eighth century, and today visitors still come here to stay in the beautiful traditional inns and take the waters at the seven lovely bathhouses, connected by lantern-lit wooden bridges.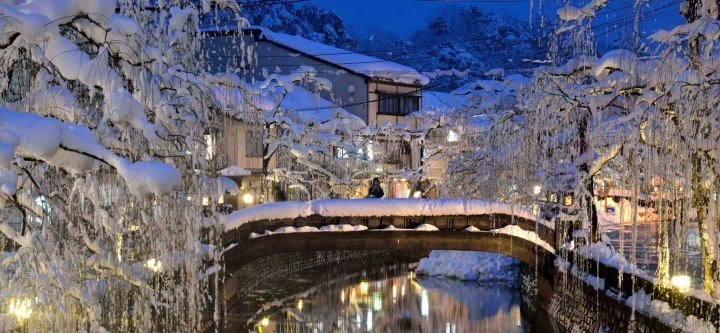 A monkey park? But this is an article about hot spring baths?! Indeed it is, and no discussion of hot springs could possibly be complete without mentioning the onsen-bathing snow monkeys of Jigokudani. They. Are. Adorable. Unfortunately you can't just jump into the monkey spring, but there are human springs aplenty in the nearby town of Yudanaka Onsen.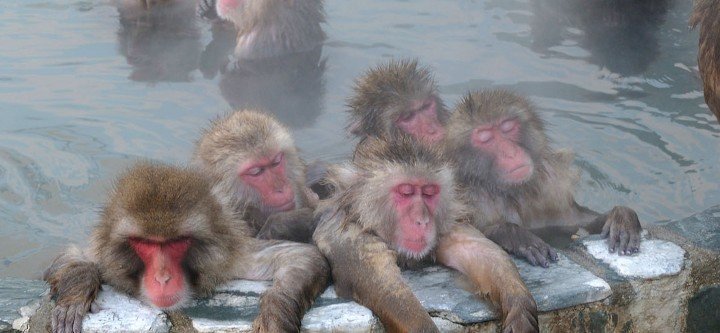 A new addition to our list of favourite onsen, Hirayu Onsen is one of five onsen towns in the Okuhida area of the northern Japan Alps. Of the five, Hirayu is the oldest and largest, and is said to have been discovered in the 1560s. We highly recommend heading to the onsen after a long day of skiing on the slopes nearby!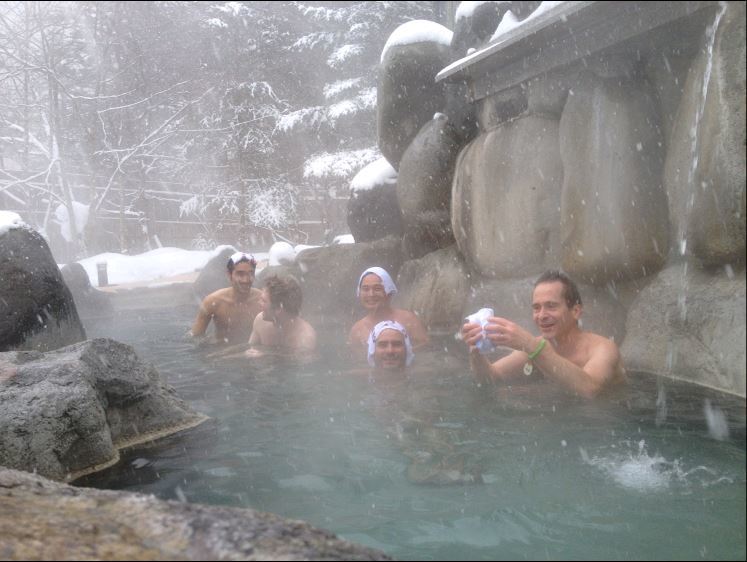 Located on the Kumano Kodo pilgrimage route, deep in the countryside of the Kii Peninsula, Kawayu Onsen is a hot spring town not far from Yunomine Onsen (mentioned above). Our favourite hotel in the town, the Fujiya Ryokan, sits on the banks of the Ohto River and is famous for its giant senninburo bath, carved from the riverbank. The senninburo (meaning thousand-person-bath) is only there during the winter months, but in summer you can dig your own hot spring bath instead!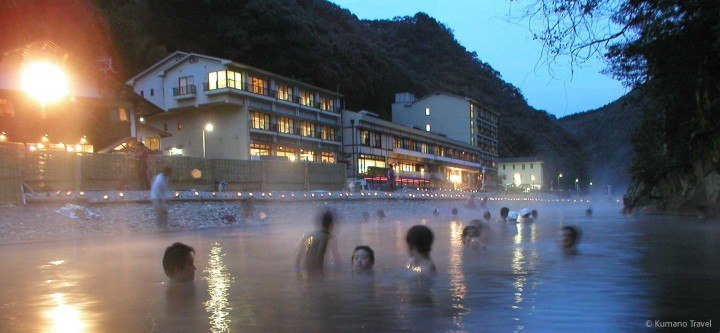 Takaragawa Onsen is located in rural Gunma Prefecture, slap-bang in the middle of nowhere on the banks of a river surrounded by trees. This is a beautiful, peaceful onsen in a stunning location – in fact, you'd have to try pretty hard to do better than this!
Though most foreigners will never have heard of it, Kusatsu is one of Japan's favourite onsen towns. Also located in Gunma (home to Takaragawa Onsen), the town is built around the Yubatake (hot water field) – the single largest source of hot spring water in Japan, providing 5,000 litres per minute.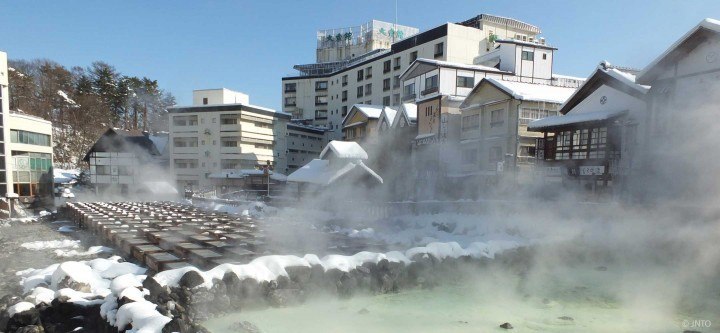 One of our favourite hot spring spots on Japan's northern island of Hokkaido is Lake Kussharo, the largest of the three caldera lakes that make up Akan National Park. Here you can soak in one of the area's lovely hot spring baths, or even dig your own from the steaming lakeshore.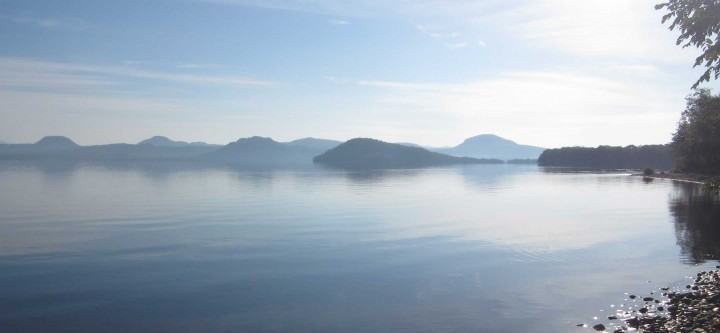 Our final hot spring favourite is Hakone, a famous hot spring resort in the shadow of Mount Fuji – just a stone's throw from Tokyo. Here there are no end of excellent ryokan inns with their own lovely hot spring baths, and if you eat a black egg boiled in the bubbling owakudani it's said that you'll extend your life by seven years.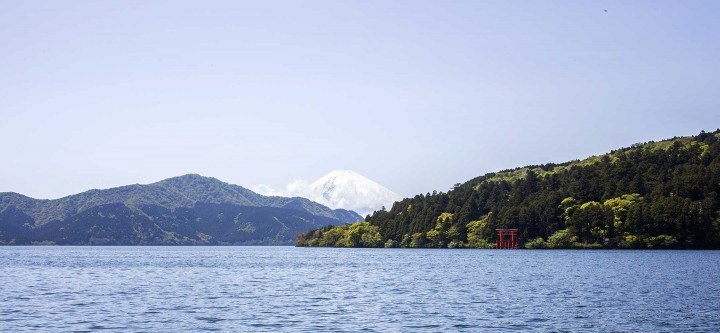 ---
See yourself sinking into a relaxing onsen? Get in touch with our team of Japan travel experts to start planning your trip.
Like this post? Help us by sharing it!