Like this post? Help us by sharing it!
InsideJapan Tours (IJT) is lucky to have a talented bunch of staff in Japan with our office staff in Nagoya, our tour leaders across Japan and our private guides. Ayako Kiyono san is one of IJT's professional guides in the Kyoto area who has a great knowledge of the Kansai region, the country, its history, religion and culture in general. If you have any interest at all IJT can just about guarantee that Kiyono san will be able to give you the most interesting and fulfilling day of guiding during your time in Japan.
Kiyono san has just been doing some 'personal' research on in the Kansai area. In fact, Kiyono san has developed a little tour of the regions beer and whisky producers squeezing three breweries into one day….along with free drinks and snacks on the way. So for the thirsty traveller, here's Kiyono sans 'Beer and Whiskey sampling tour of Kansai'.
What better way to begin the day, than with a 0930am stop at the Asahi beer factory. Asahi is one of Japan's most famous beers and the factory is found in the Osaka district of Suita, a short train ride from Osaka station. A 90 minute tour is followed by three complimentary glasses of Asahi Superdry and snacks (Otsumami).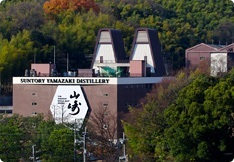 After a lunch brake, why not opt for a change in palate and a 60 minute tour of the Suntory Yamazaki whisky distillery. It is only a 25 minute train ride from Suita, but you will probably be quite thirsty by the end of the informative tour. Don't worry; you have approximately three complimentary glasses of Suntory single malt whisky to quench your thirst at the end of the tour with a few snacks to keep you ticking over.
Just a few minutes on the train and a short shuttle bus trip away, brings you to the Suntory beer factory in Nagaoka-kyo. You can take part in the 60 minute tour before enjoying complimentary Suntory Premium Malts beer along with some more snack food.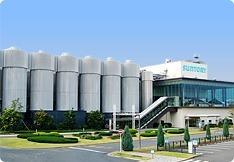 Having finished your brewery tour for the day, you can find yourself back at your hotel in Kyoto or Osaka by 5pm. You can freshen up before heading out to experience a fantastic food in a Japanese Izakaya (traditional pub) or perhaps head to one of hundreds of excellent restaurants for some wonderful food or even to a Tachi-nomi (standing and drinking bar) to continue as the day began.
All of the brewery tours are in Japanese and require advanced reservation.
IJT are proud of the commitment shown by Kiyono san in researching this trip and can guarantee that she will give you 100 percent when guiding you, wherever your interests lay. Kiyono san will be able to show you some of the popular tourist sights in the region, take you to secret local spots of interest and give you valuable cultural insights into life in Japan. A days itinerary is not fixed, but if you have anything in particular in mind that you would like to see or do, or maybe you have a specialist interest, let us know before you arrive and Kiyono san will help you get the most out your time in the Kansai region.
KANPAI!!
Like this post? Help us by sharing it!