Like this post? Help us by sharing it!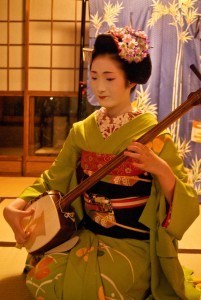 From the moment I first set foot in Japan everything about this country fascinated and enchanted me. It was like no place I had ever been before and like nowhere I have been since. 10 years later, I am living in Tokyo and have travelled up and down the country so many times that I have almost lost track of the number of times I've climbed up Mt. Fuji, shared sake with sumo wrestlers, eaten sushi at Tsukiji, spent the night in a capsule hotel, made new friends at a Japanese "live house", or watched the famous snow monkeys relaxing in an onsen. But most surprisingly of all is the fact that Japan hasn't lost its magic. To the contrary, the more time I spend here the more I become engrossed in the language, in Japanese calligraphy and flower arrangement, and in the culture in general. Yet there is one slice of Japanese culture that fascinates me above all others, it is the world of the geisha. The word conjures up different images for different people but there are few who are not curious about what's going on inside Kyoto's famous tea houses. The following is a review of the best documentary on geisha that I have ever seen.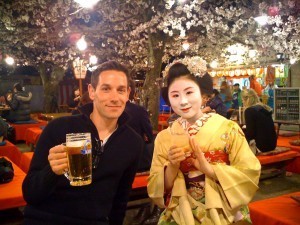 Real Geisha, Real Women
A documentary film by Peter MacIntosh
Review by Lucy Birmingham as written in the Kyoto Journal
Think geisha, and you're bound to visualize an exotic creature from a languishing willow world with a secretive life hidden behind closed shoji. Films, television and books have perpetuated the geisha myth as temptress meant for pleasure. There has never been a film that unveils these artisans and entertainers as simply modern women — until now. "Real Geisha Real Women," is a remarkable documentary that opens the shoji for us all, if only for 52-minutes. It allows us a peek into the private lives of 10 active and retired Kyoto geisha (known as "geiko" in the ancient capital) and maiko (apprentice geisha). Two men who work among them also add their historical and insider perspectives.
Equally remarkable is the writer/producer/director who gained the women's trust, and was allowed access into their private world. A former pro-soccer player from Halifax, Nova Scotia, Peter MacIntosh landed in Kyoto in 1993. Since that time he's managed to perfect the local dialect (no small feat), run a successful geisha tour business, exhibit and publish his geisha photography, and establish himself as Kyoto's best international "fixer" (on-site arranger) and interpreter for geisha-related articles, films and TV productions. He's worked for "The Secret Life of A Geisha" (1999), "Memoirs of a Geisha" (2005), the BBC, National Geographic Channel, Brazilian TV, Travel Channel's Samantha Brown Asia program, among many others. Throughout, he has studied Japanese traditional arts including dance, ikebana, and the tea ceremony. A burly blonde, with a penchant for fine drink and food, he's often spotted at his bar Hanagumo or strolling the geisha districts as tour guide or customer donning a stylish men's kimono — the model of "iki" chic.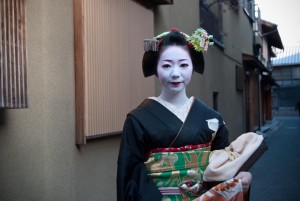 "I wanted to show the geisha as real people, speaking in their own words, without narration," says MacIntosh. "As far as I know it's never been done before." But "Real Geisha Real Women" is not for geisha beginners. The lack of guided narration leaves basic facts unanswered. Fortunately a good balance of humor and realism keeps it refreshingly un-academic. The personal interviews do not divulge inner secrets, but reveal these intriguing women in a true slice of life.
The dialogue begins not with a geisha but the gravelly voice of 84-year-old Kojiro Sakai who was born and raised in Gion. His description of his childhood in the historical geisha district is a flavorful introduction, but leads us down a confusing path. With 82-year-old Mieko, a geiko from the Miyagawa-cho, we learn the path is bittersweet. As a young girl she was sold by her father to work in a local teahouse — a near duplicate of the protagonist in Memoirs of a Geisha. She is the "mother" to Haruno and the "big sister" of maiko Miehina, who also share their stories. We also meet Toshiharu, a former maiko and geiko, now married and a busy mother with three young children. Horikiri Shuji, an "otokoshi" (dresser) introduces us to the world of working men catering to the geisha. Geiko Komomo, who grew up abroad, explains her attraction to the traditions of old Japan, while geiko Umechika shows us her country girl roots back home with family and friends. We share a time slip with maiko Ichiwaka during her trip to Tokyo, and a look at the entrepreneurial skills of Mamefuku, one of many business savvy geiko. Finally, a trip across the globe with geiko Fukuwaka and maiko Miehina proves surprisingly entertaining for all.
MacIntosh hasn't succeeded in demystifying the geisha persona. We're still left with secrets — and wanting to learn more. "I'm planning two more parts, to make this a 3-part series," he explains. "The "danna" (patron) issue will probably come up when I interview the customers, but that's not my priority." Will the geisha-phile deliver any intrigue? "Don't worry," he adds. "When you watch my three-part series you won't have to watch another geisha documentary again."
Website: www.realgeisharealwomen.com
Download: Create Space or Amazon probably in March
Hard copy: contact Peter MacIntosh
Like this post? Help us by sharing it!