Osaka SpaWorld
A veritable onsen theme park with baths, saunas, steam rooms, Jacuzzis all under one roof… and a water park on top!
It's easy to lose an afternoon or even a day in SpaWorld. It's is not the most stylish or luxurious of places (think 70s theme park rather than a boutique spa), however the huge number of facilities are fantastic. Men and women have a separate floor; one Asian themed and one European which swaps between the sexes each month. On the Asia floor expect Japanese cypress baths indoors and out, an Islamic style hamam, Persian baths and a Bali-esque floral bath. In Europe you'll find Finnish saunas as well as kitschy Roman and Greek style baths. Both sexes come together (swimsuits on now) for the water park at the top of the building complete with rapids, rubber rings and water slides; great for families.

Spa World is open 24 hours, and also has a hotel, gym, restaurants and a beauty salon and massage centre, just in case you were finding it hard to leave!
When to go:

Make an Enquiry
For more information email us: [email protected] or call: + 61 7 3186 8800
Important notice: We are pleased to be able to offer so many amazing experiences in Japan. However, we are sorry that we can only include these as a part of a full Japan holiday package which includes your accommodation and transport alongside the experiences presented in this section of the web site.

Naoshima's best bath house is unlike any other in Japan. Wacky modern art meets traditional relaxation.

A perfect outdoor hot spring bath up in the mountains just a stone throw from Kyoto.

Japan's most rustic hot spring resort in the northern mountains of Tohoku.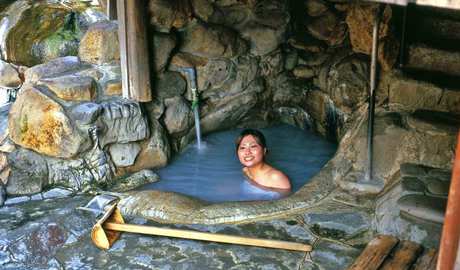 Fancy taking a hot spring bath in a UNESCO World Heritage site?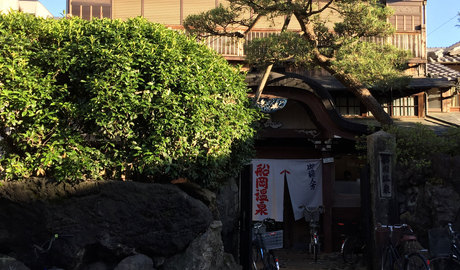 Kyoto city's historic bath house still in operation today.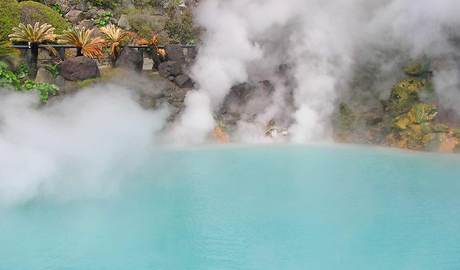 Like a scene from a sci-fi movie, volcanic steam vents and larva pools punctuate the lunar landscape.