Funaoka bath house
Kyoto city's historic bath house still in operation today.
Funaoka Onsen is one of Kyoto's oldest surviving bath houses dating back to 1923. Tucked away in a backstreet in the northern part of the city, the traditional building boasts a dramatic wood relief at ceiling height separating the male and female changing rooms. The rather violent carving depicts the Japanese invasion of Manchuria demonstrating the nationalistic mindset at the time. The frieze aside, the bath house offers a lovely slice of traditional Kyoto life where local people still regularly bathe today.

Technically the waters here are not natural hot springs, which makes this a sento bath house rather than an onsen, but the relaxing effect is still the same, and some baths are open to the skies despite the city centre location. Also in the bath house is a sauna, cypress wood bath, a herbal bath and a pool with mild electric currents running through it, supposedly for health benefits! Look out for the pond full of brightly covered koi carp as you pass over a small wooden bridge from the dressing rooms to the main bath house.
Make an Enquiry
For more information email us: [email protected] or call: + 61 7 3186 8800
Important notice: We are pleased to be able to offer so many amazing experiences in Japan. However, we are sorry that we can only include these as a part of a full Japan holiday package which includes your accommodation and transport alongside the experiences presented in this section of the web site.

Like a scene from a sci-fi movie, volcanic steam vents and larva pools punctuate the lunar landscape.

An onsen themed water park with slides, whirlpools and baths of green tea and sake!

Japan's most rustic hot spring resort in the northern mountains of Tohoku.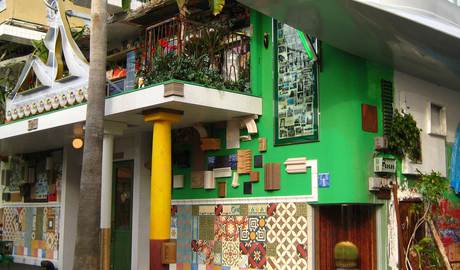 Naoshima's best bath house is unlike any other in Japan. Wacky modern art meets traditional relaxation.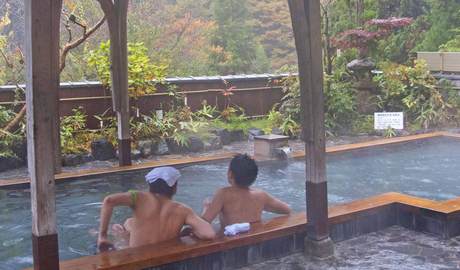 A perfect outdoor hot spring bath up in the mountains just a stone throw from Kyoto.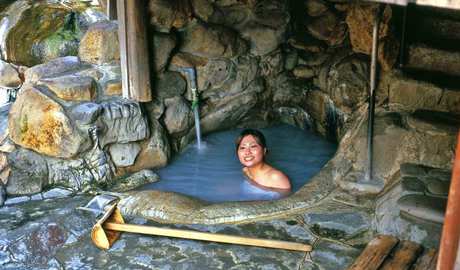 Fancy taking a hot spring bath in a UNESCO World Heritage site?