Yunessun
An onsen themed water park with slides, whirlpools and baths of green tea and sake!
Opened in 2001 Yunessun in Hakone National Park is more like a hot spring theme park than a traditional onsen; it spans 140,000 sqm. The main half of the resort, Yuutopia, requires all its visitors wear swimming suits. This does create a bit of a swimming pool atmosphere, but is ideal for families as the sexes are not separated, and a god send for those who are a bit shy! This area has 20 different baths: barrel baths, stone baths and pools made of Japanese cypress wood, as well as whirlpools and water slides. There are even baths of green tea, coffee and red wine; supposed to have therapeutic qualities apparently!

The other part of the resort, Mori-no-Yu, is a conventional Japanese onsen with indoor and outdoor baths and a sauna. Swimsuits are not allowed here.
Make an Enquiry
For more information email us: [email protected] or call: + 61 7 3186 8800
Important notice: We are pleased to be able to offer so many amazing experiences in Japan. However, we are sorry that we can only include these as a part of a full Japan holiday package which includes your accommodation and transport alongside the experiences presented in this section of the web site.

Naoshima's best bath house is unlike any other in Japan. Wacky modern art meets traditional relaxation.

A perfect outdoor hot spring bath up in the mountains just a stone throw from Kyoto.

Like a scene from a sci-fi movie, volcanic steam vents and larva pools punctuate the lunar landscape.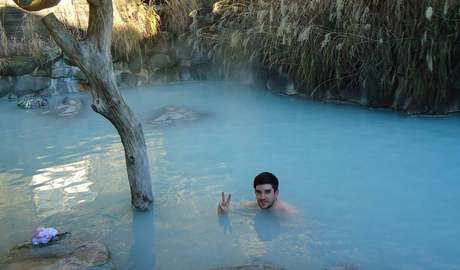 Japan's most rustic hot spring resort in the northern mountains of Tohoku.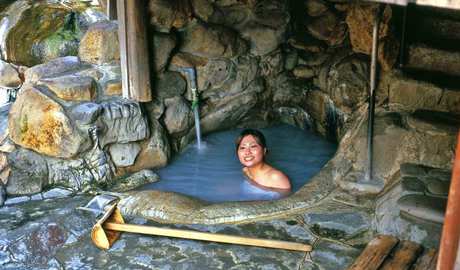 Fancy taking a hot spring bath in a UNESCO World Heritage site?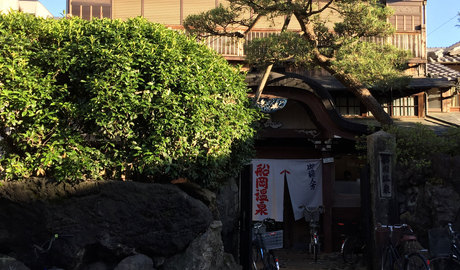 Kyoto city's historic bath house still in operation today.