Unzen hells
Like a scene from a sci-fi movie, volcanic steam vents and larva pools punctuate the lunar landscape.
In the shadow of one of Japan's most active volcanoes sits the onsen resort of Unzen, surrounded by bubbling hot spring fields or ?hells'. Here you can feel the force of the volcano; the barren rocky landscape is pock-marked with billowing steam vents, mud holes and gushing springs of milky, acidic liquid. The smell of sulphur often fills the air and steamy mists roll across the town's main street; you'd be forgiven for thinking you'd wandered on to the set of a sci-fi movie.

There are onsen baths fit for human use in the town's modern ryokan hotels; the most popular reason for visiting Unzen. The spring water has to be cooled down as it leaves the ground before you can take a bath.
Make an Enquiry
For more information email us: [email protected] or call: + 61 7 3186 8800
Important notice: We are pleased to be able to offer so many amazing experiences in Japan. However, we are sorry that we can only include these as a part of a full Japan holiday package which includes your accommodation and transport alongside the experiences presented in this section of the web site.

Interested in this Experience? It is included in this tour:
Discover the impressive landscapes and vibrant cities of Kyushu on this journey from the forests of Yakushima to Kurokawa Onsen's hot springs

Discover the vibrant cities and impressive natural landscapes of the Kyushu region, from Kurokawa Onsen's hot springs to the primeval forests of Yakushima, staying in superior accommodation and enjoying some of the finest in Japanese cuisine.
Naoshima's best bath house is unlike any other in Japan. Wacky modern art meets traditional relaxation.

A perfect outdoor hot spring bath up in the mountains just a stone throw from Kyoto.

Kyoto city's historic bath house still in operation today.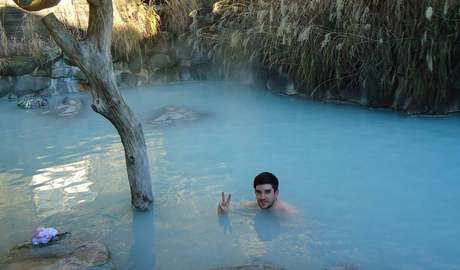 Japan's most rustic hot spring resort in the northern mountains of Tohoku.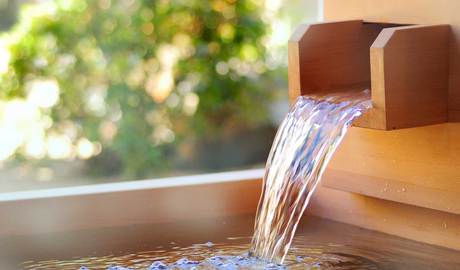 An onsen themed water park with slides, whirlpools and baths of green tea and sake!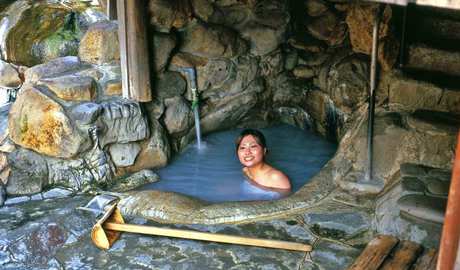 Fancy taking a hot spring bath in a UNESCO World Heritage site?