Shingon Buddhism
"Understanding fully the true nature of your own mind is equal to understanding everything." – From the Dainichi-kyo, Shingon Buddhist sutras.
The sacred mountain temple complex atop Mount Koya is considered the birth place of Shingon esoteric Buddhism. In 816, after years of study in Japan, the non-conformist priest Kobo Daishi was given special permission from the Emperor Saga to establish an isolated retreat. After scouring Japan for a suitable spot to carry out his life's mission to bring peace and happiness to the country, he settled on Mount Koya.
In brief, Shingon Buddhism holds that the Buddha's secret wisdom can be obtained through rituals that employ body, speech and mind and including the use of symbolic gestures, chanting and meditation. The sect is supported by scriptures known as the Dainichi-kyo or ?great sun sutra'.
In 835 Kobo Daishi suffered a long illness, and after refusing food and water he retreated into meditation and died shortly afterwards. His body was entombed on Mount Koya in the centre of Okunoin Cemetery. Rumour spread that his body failed to decay giving rise to the legend that he rests in eternal meditation. To this day the monks of Mount Koya bring meals to Kobo Daishi and his clothes are changed daily.
Okunoin Cemetery is the highlight of a visit to Mount Koya; an atmospheric forest lined with 200,000 tombstones on the 2km path to Kobo Daishi's mausoleum where it is not uncommon to find pilgrims chanting sutras. In the evening the cemetery is illuminated by lanterns casting an eerie glow across the forest's damp moss floor, although please note the main religious buildings in the cemetery are closed at this time.
Make an Enquiry
For more information email us: [email protected] or call: + 61 7 3186 8800
Important notice: We are pleased to be able to offer so many amazing experiences in Japan. However, we are sorry that we can only include these as a part of a full Japan holiday package which includes your accommodation and transport alongside the experiences presented in this section of the web site.

Interested in this Experience? It is included in this tour:
Discover Japan's most important monuments on this superior 17-night trip, including the temples of Nikko, Hiroshima's Peace Park, and Himeji Castle.

Discover Japan's most important cultural and historical monuments as you visit the temples of Nikko, the Peace Park at Hiroshima, and Himeji Castle, staying in outstanding accommodation - including a traditional townhouse in Kanazawa and a temple lodging on Mount Koya.
Ise's famous Shinto shrines are rebuilt every 20 years.

For a beautiful memento, why not keep a shuuin stamp book to record each temple you have visited?

An inspiring introduction to meditation with a Zen priest in a tranquil temple setting.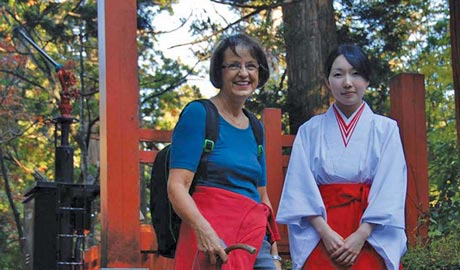 Make your own pilgrimage to sacred Mount Haguro and stay in Buddhist temple lodgings.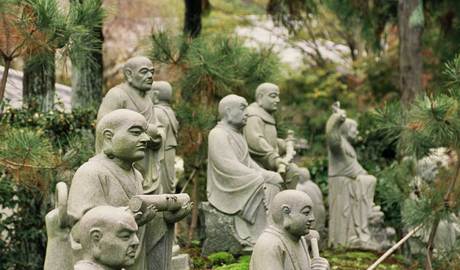 Temple number 19 of Shikoku's 88 temple circuit, Tatsue-ji offers overnight stays in simple shukubo lodgings.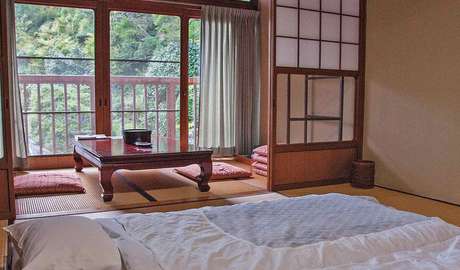 Spend a night in shukubo temple lodgings; a fantastic way to understand the simple, traditional lifestyle of Japan's Buddhist monks.