Yamaguchi
It's easy to see how Yamaguchi city gained the title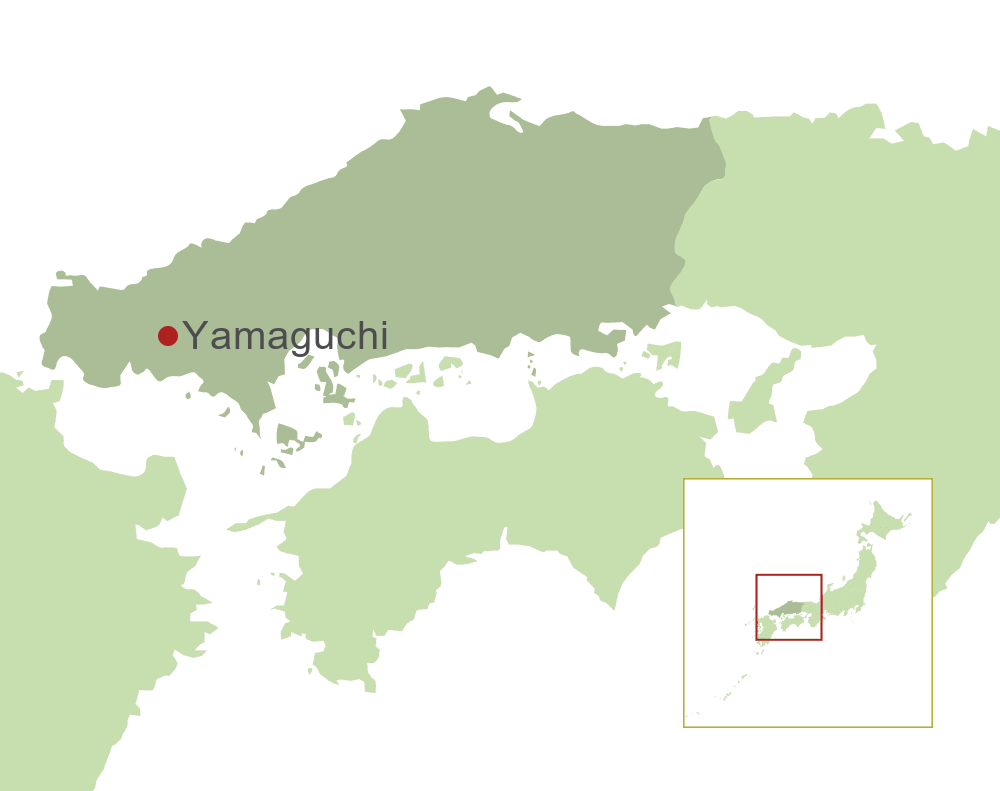 "Far less imposing than the hustle and bustle of many of Japan's larger cities, Yamaguchi is a quieter more refined city. Great for a relaxing day trip; but to truly appreciate everything the city has to offer it is worth staying a night or two"
Mark Johnson, Expert Travel Consultant
What sets Yamaguchi city apart from other similar sized cities in Japan is its distinct lack of imposing neon lights, its wide open tree-lined streets and its boulevard of small boutique shops and coffee shops.
The most striking feature of Yamaguchi city is its famous five storey Ruriko-ji pagoda located in Kozan Park. Commissioned by Lord Ouchi a prosperous feudal warlord in the fifteenth century, the story goes that the warlord's lonesome wife so missed Kyoto that she set about recreating her favourite city in Yamaguchi. Today this beautiful pagoda (ranked as one of the three most beautiful in Japan) has been designated as a national treasure and is well worth a visit.
Every year Yamaguchi city hosts its own version of Kyoto's Gion Matsuri festival, so be sure not to miss this if you are travelling through Yamaguchi prefecture in July. The Yamaguchi Gion Matsuri festival is renowned for its performance of the Sagimai dance - a traditional dance representing the courting dance of the heron.
Famous throughout Japan, a great souvenir from Yamaguchi is a set of Ouchi dolls. Representing the Emperor and Empress of the Ouchi clan, it is said that these beautifully carved lacquerware round dolls were commissioned by the emperor himself as a gift to his wife.
Being centrally located within Yamaguchi prefecture next to Shin-Yamaguchi on the bullet train line, the city is an ideal stop-off point when travelling through Yamaguchi Prefecture. Nearby Yuda Onsen hot springs are also well worth a visit ? don't forget to take a towel and make use of the free open-air foot spas dotted along the main high street.
Weather in Yamaguchi
The Climate Guide for Yamaguchi, Japan is perfect for planning your holiday. Monthly weather averages give the best indication of what the weather is usually like for every month of the year including figures for temperature, rainfall and sunshine.
Jan
Feb
Mar
Apr
May
Jun
Jul
Aug
Sep
Oct
Nov
Dec
Max Daytime Temperature (°C)
7
8
11
17
21
24
28
29
26
21
15
10
Min Night-time Temperature (°C)
0
0
3
8
12
17
21
22
18
12
7
2
Hours of Sunshine (Daily)
3
4
5
6
6
5
5
6
5
5
4
3
Hours of Daylight (Daily)
10
11
12
13
14
14
14
13
12
11
10
10
Heat and Humidity Discomfort
None
None
None
None
None
None
Moderate
High
Low
None
None
None
Days with some Rainfall
23
21
20
16
15
17
18
16
18
14
17
20
Monthly Rainfall (mm)
84
91
141
163
174
288
291
182
195
96
77
62
UV Index (Maximum)
3
4
6
8
9
10
11
10
8
6
4
3