Miyajima
The beautiful Miyajima is a tiny island set in the tranquil Inland Sea, just off the coast of Hiroshima. This peaceful haven is home to the venerable shrine of Itsukushima, famous for its huge vermilion gate, or torii, which rises majestically out of the sea.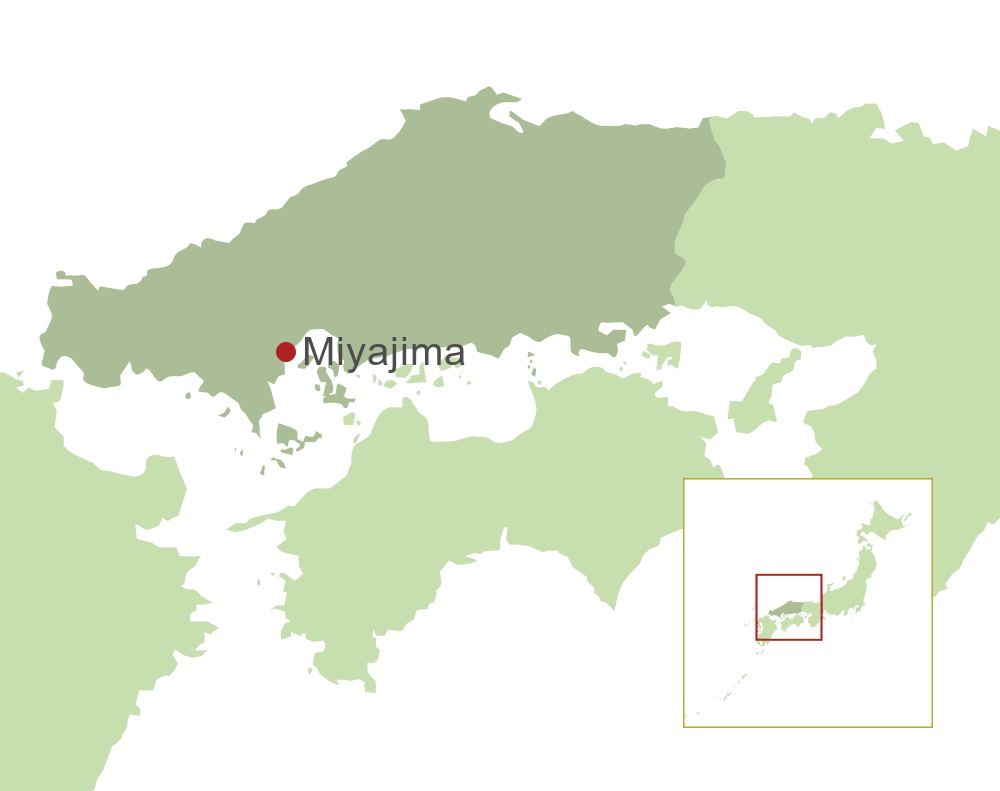 "Miyajima is simply magical; my favourite place in all of Japan. Day-trip here if time is short, but for the real experience stay for a night or two and let the island enchant you"
Harry Sargant, Marketing & Agents Manager
At high tide, with the sun setting, the red gates of Itsukushima are justly considered to be one of the most beautiful sights in Japan. The handful of streets around the shrine form the island's only real settlement and sacred deer roam freely around the shrine area, giving Miyajima a wonderfully relaxed, rural atmosphere, a real breath of fresh air if you have been tramping between the sights in the big cities.
The laid back feel of the island is enhanced in the evenings when the day trippers head back to the mainland, the town shuts for the night and you head back to your Japanese ryokan. Once you've had your traditional Japanese dinner, you can stroll down to the shoreline wearing your Yukata (cotton kimono) and Geta (wooden sandals) to view the illuminated torii gate and stone lanterns ? particularly atmospheric after dark.
Since ancient times, Miyajima has been revered and worshiped. The island's virgin forests are among the finest of the Inland Sea. The forested hills rise sharply from behind the famous shrine to form the central peak of the island, Mt Misen. The peak can be reached by hiking trail (or cable-car!) and offers spectacular panoramic views over the island and across the Inland Sea. On your way up the mountain you may also spot some of Miyajima's wild monkey population.
Miyajima also has a couple of attractive temples, some small beaches in summer and a lovely ramshackle old shopping street. However the magic of Miyajima is not be found by dashing around the island, ticking off sights. Find somewhere near the shrine to take the weight off your feet, relax, watch the boats come in, the tide go out and the sun sink slowly in the sky. Time passes slowly on Miyajima, but enjoy it; you won't want to leave!
Recommended Accommodation in Miyajima
The following are our favourites from among the western-style hotels and Japanese-style inns of Miyajima.
Experiences in Miyajima
Miyajima offers a wealth of exciting experiences that will help you get beneath the surface of Japan's fascinating culture. See below for a few of our favourites
Weather in Miyajima
The Climate Guide for Miyajima, Japan is perfect for planning your holiday. Monthly weather averages give the best indication of what the weather is usually like for every month of the year including figures for temperature, rainfall and sunshine.
Jan
Feb
Mar
Apr
May
Jun
Jul
Aug
Sep
Oct
Nov
Dec
Max Daytime Temperature (°C)
7
8
11
17
21
24
28
29
26
21
15
10
Min Night-time Temperature (°C)
0
0
3
8
12
17
21
22
18
12
7
2
Hours of Sunshine (Daily)
4
4
5
6
6
5
6
7
5
5
5
4
Hours of Daylight (Daily)
10
11
12
13
14
14
14
13
12
11
10
10
Heat and Humidity Discomfort
None
None
None
None
None
None
Moderate
High
Low
None
None
None
Days with some Rainfall
20
19
18
15
14
17
18
15
16
13
14
17
Monthly Rainfall (mm)
56
72
125
156
164
279
256
148
186
98
71
43
UV Index (Maximum)
3
4
6
8
9
10
11
10
8
6
4
3
Featured trips including Miyajima
Tokyo
Hakone
Kyoto
Miyajima
Osaka
Takayama
Tokyo

A deluxe two-week itinerary introducing Japan's most iconic sights with the best in luxury accommodation and fine dining included.

14 nights: from US$13845 pp (twin share) Read more >

Tokyo
Hakone
Kyoto
Miyajima
Osaka
Takayama
Tokyo

A superior two-week itinerary taking in Japan's most iconic sights, with four-star accommodation and a programme of cultural experiences included.

14 nights: from US$6916 pp (twin share) Read more >

Kyoto
Miyajima
Matsuyama
Kotohira
Iya Valley
Takamatsu
Osaka

Explore the rural heartlands of Japan whilst helping to sustain unique aspects of Japanese culture and tradition on this classic two-week trip.

13 nights: from US$3822 pp (twin share) Read more >