Matsue
A coastal city sandwiched between two lakes, Matsue is Japan's "City of Water". Though at first glance it may not appear to be anything special, Matsue is a city with many interesting features - from its stunning original castle to its surprising Irish connection -and is well worth a visit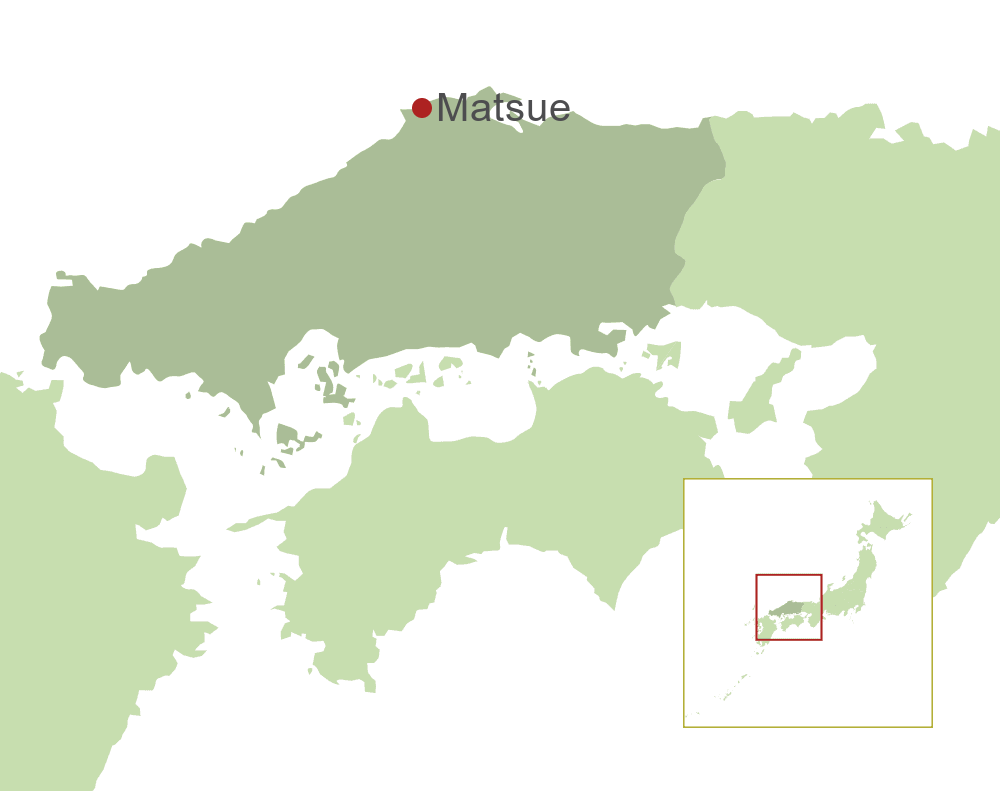 "Located on Japan's west coast and with two lakes forming the boundaries of the city, Matsue is a water paradise with some of the friendliest people you'll find anywhere in Japan."
Alastair Donnelly, Director
The area a short distance north of the railway station holds a fascinating look into Japan's feudal past: the thoroughly impressive Matsue Castle. The castle is an original, undamaged by wartime bombing, and is the second-largest in Japan after Himeji. The castle's gardens are beautiful, and the reflection of its ramparts mirrored in the moat makes for fantastic photographs. The castle interior is splendid and contains three floors filled with samurai weapons, armour, artworks and models of Matsue past and present.
The castle gardens are extremely beautiful, and as you walk through them you will find yourself delivered by way of several temples to Matsue's main historical area, at the banks of the castle moat.
Here you'll find yourself on Shiomi Nawate Street, named one of "Japan's top 100 streets" by the Ministry of Construction in 1987, and one of the most beautiful and authentic historical streets to be found in Japan. The road here is lined on one side with traditional Japanese houses and on the other by the castle moat and a row of ancient pine trees.
It is here that you'll find many of Matsue's principal attractions - including the Tanabe Art Museum (of interest to Japanese pottery enthusiasts), the Lafcadio Hearn Residence & Museum, Meimei-An Teahouse and Matsue Buke Yashiki.
The Buke Yashiki is a former samurai residence that once belonged to a high-ranking samurai and his family in the 18th century. Meticulously preserved with its original buildings and gardens, this is a fantastic place to see how Japan's warrior classes lived in days gone by. Meimei-An Teahouse, meanwhile, lies a short distance along the road and is one of the Japan's best-preserved historical teahouses.
Perhaps the most unusual of the attractions to be found along Shiomi Nawate Street, however, are the Lafcadio Hearn Residence and Museum. Patrick Lafcadio Hearn (1850-1904) was the son of Dr Charles Hearn, an Irish surgeon serving in the British Army, and a Greek mother, Rosa Kassimatis Hearn. After Lafcadio's mother left Ireland alone to move back to Greece and his father remarried and emigrated to India, Lafcadio was left to be raised by his doting great-aunt, Sarah "Sally" Holmes Brenane.
Later, when his great-aunt fell on hard times, Lafcadio emigrated to America at the age of 19. An accomplished French translator, he then took a job as a reporter at "The Cincinnati Enquirer" newspaper, which sent him to New Orleans, then Martinique, and then on to Japan in 1890. It was here that Hearn excelled, becoming famous for his Japanese ghost stories and for his books on Japanese culture. He fell in love with Japan, eventually taking Japanese nationality, changing his name to Koizumi Yakumo, and marrying a samurai's daughter.
Through his poetic imagination, sharp intellect and readable style Hearn came to be held as the great interpreter of all things Japanese to the West. In 1904, after writing what is possibly his best work "Japan, an Attempt at Interpretation", Lafcadio died of a heart attack aged 54. The renewed interest in Hearn and his works some hundred years later is an acknowledgement of his skill in interpreting both the inner life of Japan for the West, and of the West for the Japanese.
Hearn's former residence lies next-door to a museum celebrating his life and works, with charming gardens and screen doors fitted with some of the earliest glass to be made in Japan, circa 1907. English versions of his books, including the thoroughly recommendable "Glimpses of Unfamiliar Japan", which offers enchanting accounts of Hearn's first impressions of Japan in 1890, are on sale here too.
Besides its fascinating historical district, Matsue also provides a great base to visit Izumo Taisha, one of Japan's most important Shinto shrines, and the Adachi Museum of Art - which is famous for having one of Japan's most beautiful landscape gardens.
Experiences in Matsue
Matsue offers a wealth of exciting experiences that will help you get beneath the surface of Japan's fascinating culture. See below for a few of our favourites
Weather in Matsue
The Climate Guide for Matsue, Japan is perfect for planning your holiday. Monthly weather averages give the best indication of what the weather is usually like for every month of the year including figures for temperature, rainfall and sunshine.
Jan
Feb
Mar
Apr
May
Jun
Jul
Aug
Sep
Oct
Nov
Dec
Max Daytime Temperature (°C)
5
5
9
16
20
23
27
28
24
19
13
8
Min Night-time Temperature (°C)
-2
-2
0
5
10
15
20
21
16
10
5
0
Hours of Sunshine (Daily)
2
3
5
6
7
6
6
7
5
5
4
3
Hours of Daylight (Daily)
10
11
12
13
14
14
14
13
12
11
10
10
Heat and Humidity Discomfort
None
None
None
None
None
None
Moderate
Moderate
None
None
None
None
Days with some Rainfall
26
23
21
16
15
17
18
16
18
16
18
23
Monthly Rainfall (mm)
98
105
117
128
140
228
274
159
209
114
103
85
UV Index (Maximum)
3
4
6
8
9
10
11
10
8
6
3
2
Featured trips including Matsue
Tokyo
Kawaguchiko
Matsumoto
Kyoto
Matsue
Naoshima
Tokyo

This deluxe itinerary introduces the best of Japan's arts scene, with five-star accommodation, exclusive experiences and top-class cuisine included.

14 nights: from US$13897 pp (twin share) Read more >

Tokyo
Kawaguchiko
Matsumoto
Kyoto
Matsue
Naoshima
Tokyo

The best of Japan's arts scene, from Naoshima "Art Island" to the Adachi Museum, with moderate accommodation and some delicious meals included.

14 nights: from US$3666 pp (twin share) Read more >

Tokyo
Kawaguchiko
Matsumoto
Kyoto
Matsue
Naoshima
Tokyo

A superior 14-night itinerary for those who want to discover Japan's exciting arts scene in comfort and style.

14 nights: from US$6240 pp (twin share) Read more >