Like this post? Help us by sharing it!
Despite having picturesque tiny hot spring towns, traditional festivals and sacred mountains, Tohoku (just two hours from Tokyo) is often woefully forgotten by first-time visitors to Japan. Travel consultant Aaron returns to his former home city of Sendai, the largest city in Tohoku, to reveal just how special this corner of Japan is.
5 reasons to go to Sendai
Having lived in Sendai for two years, I know it's a hidden delight. But when I revisited the city this year, I wasn't expecting to fall in love with it all over again. While it's tricky to narrow down the reasons why it's so special, here are just five of my favourite parts.
1. The food

Every region of Japan has ramen and soba, but Sendai is home to some truly unique dishes that are very difficult to find elsewhere around the country. The city's most famous dish is gyutan (beef tongue). The tongue is sliced, grilled and salted, and served with rice and oxtail soup. It tastes much better than it sounds!
2. Accessibility

One 'must-do' on everyone's Japan list should be a ride on the bullet train. Travelling between Tokyo and Sendai, you ride on the fastest bullet train in the whole of Japan: the Hayabusa. With top speeds of 200 mph, you can be in Sendai in just 90 minutes from the capital.
3. Day trips

I was lucky enough to spend three nights in Sendai this summer, which gave me plenty of time to re-explore the city as well as make some great day trips.
One of the most popular day trips is to the coastal town of Matsushima. Renowned for having one of the top three views in the whole of Japan, it is a popular destination for many Japanese tourists, but relatively unknown to international visitors. During my time here, I explored the local fish market (Matsushima is famous for its oysters), wandered through the stunning Entsuin temple and finished my day with a boat ride around the spectacular pine-covered islands off the coast.

I had a great time in Matsushima, but my favourite day trip was Yamadera. This small town is just an hour from Sendai on the local train and spectacular in every season.
The highlight of the area is Risshaku-ji, a temple only reached by taking 1000 steps up the side of a mountain. Even though I was slightly templed out at this point, and climbing 1000 steps in 35 degrees weather was not the most fun, the view I was gifted with at the top made it all worthwhile.
---
---
4. The seasons
I'm always asked when the best time is to go to Sendai and my answer is anytime. Every season offers of a different perspective of Sendai's culture and natural beauty. Having lived there for two years, I was lucky enough to experience Sendai all year round.
Autumn: Sendai is known in Tohoku as Mori no Miyako (the city of trees). During the autumn, the trees burst with beautiful shades of red, yellow and orange. If you're heading to Japan in October and want to experience Japan's autumn foliage, I recommend hopping on a train up to Sendai; the leaves start to turn earlier in Tohoku than Tokyo and Kyoto.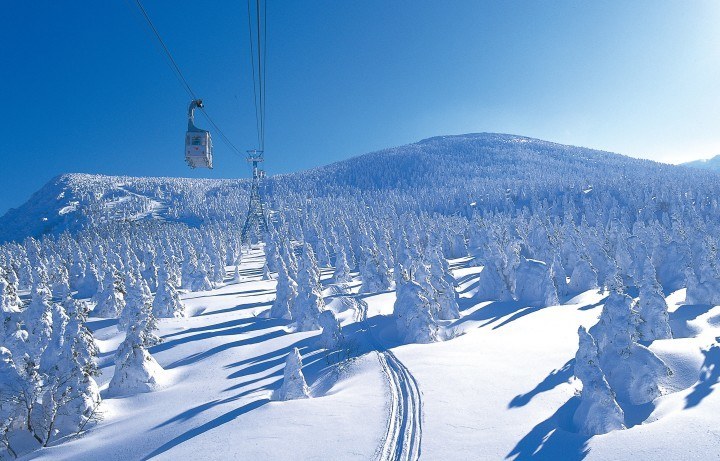 Winter: If it's a winter wonderland you are after, Sendai has you covered. Mt. Zao, home to the natural wonders of the "Juhyo" (Snow Monsters) and relaxing open-air hot springs, is just a short trip away. If you are lucky enough to be in Sendai in December, I recommend walking down Jozenji-Dori Street to gaze at the 'Sendai Starlight Pagent' winter illuminations.
Spring: If you missed the cherry blossom in Tokyo, Kyoto and Osaka, head up to Sendai. The trees bloom slightly later here, and in my opinion, they are just as beautiful!
Summer: The summer tends to be slightly cooler than the south and is the best season for Sendai's greatest festivals. This leads me nicely into my final reason…
5. Festivals
Sendai's most famous festival is Tanabata, held every year from the 6th to the 8th August. Beautiful paper decorations line the streets, fireworks light the night sky and traditional dances are organised for everyone to join in. Some of my other favourite festivals are Aoba Matsuri in June (dance festival) and the Jazz Festival in September.
Sendai makes the perfect base for exploring the Tohoku region of Japan. So, how about taking an adventure in the north?
---
Fancy travelling to Tohoku? We don't blame you. Take a look at our Northern Soul small group tour or Northern Highlights self-guided trip for more information. Give our Japan travel experts a call to start planning.
Find out more about the weather in Japan as well as must-see events and festivals with When to Travel.
Like this post? Help us by sharing it!