Like this post? Help us by sharing it!
Kyoto resident and Inside Japan tour leader Richard Farmer is a keen hiker, and loves exploring new trails around his adopted home city. In this blog post, he lets us in on one of his new discoveries – a beautiful (and challenging) hike on nearby Mount Hiei. If you're interested in tackling the hike yourself, skip to the bottom of this post for details on how!
The ancient capital of Kyoto is a fantastic starting point for some great hiking opportunities in Japan. Kyoto is hemmed in on three sides by mountains, which creates an oven-like atmosphere as the heat pools in the Kyoto basin over summer. But every cloud has a silver lining, and those same mountains present myriad hiking opportunities for energetic visitors to the region. There are a number of hiking trails that run through the mountains, and earlier this year I travelled with our Kansai-based guide, Suzuki-san, to explore some of them, which you can read about in his blog posts (part one, part two, and part three).
Today I would like to introduce Mount Hiei, my favourite hiking destination in Kyoto (although actually the mountain straddles the border between Kyoto and Shiga prefectures), which combines hiking with my favourite thing. If you've been following any of my earlier blog posts, you might have guessed what that thing is… Yes, it's Buddhism!
Mount Hiei is the home of Enryaku-ji, the head temple of the Tendai school of Buddhism, founded by the monk Saicho (also known by his posthumous name Dengyo Daishi) in 788 AD. Although it's possible to visit Enryaku-ji by public transport nowadays, I think it's much more fitting to visit the hallowed temple in the historical fashion – on foot. The mountain can be approached from various directions, and there are a number of different hiking trails criss-crossing the mountain. One of the most popular trails starts from near Shugaku-in station in the Northeast of Kyoto city.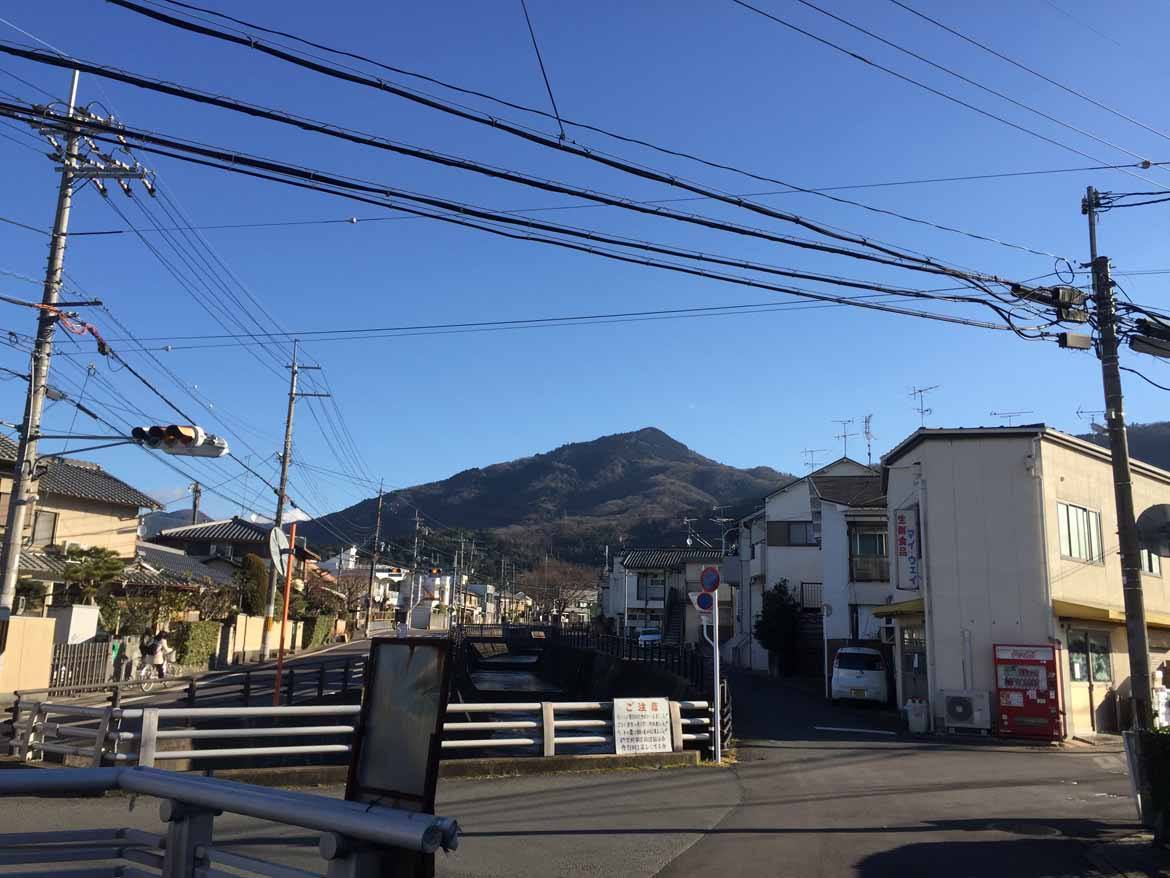 From Shugaku-in Station it takes about 20 minutes to walk to the trailhead. The course is not technically difficult, but it's unpaved and quite steep in places. Sturdy hiking shoes are definitely required.
The total elevation of the mountain is only 848 m, a baby compared to Mount Fuji's towering 3,776 m, but it's very interesting to see how the landscape changes as you ascend. As you get towards the summit, the scenery changes to towering and majestic cedar trees.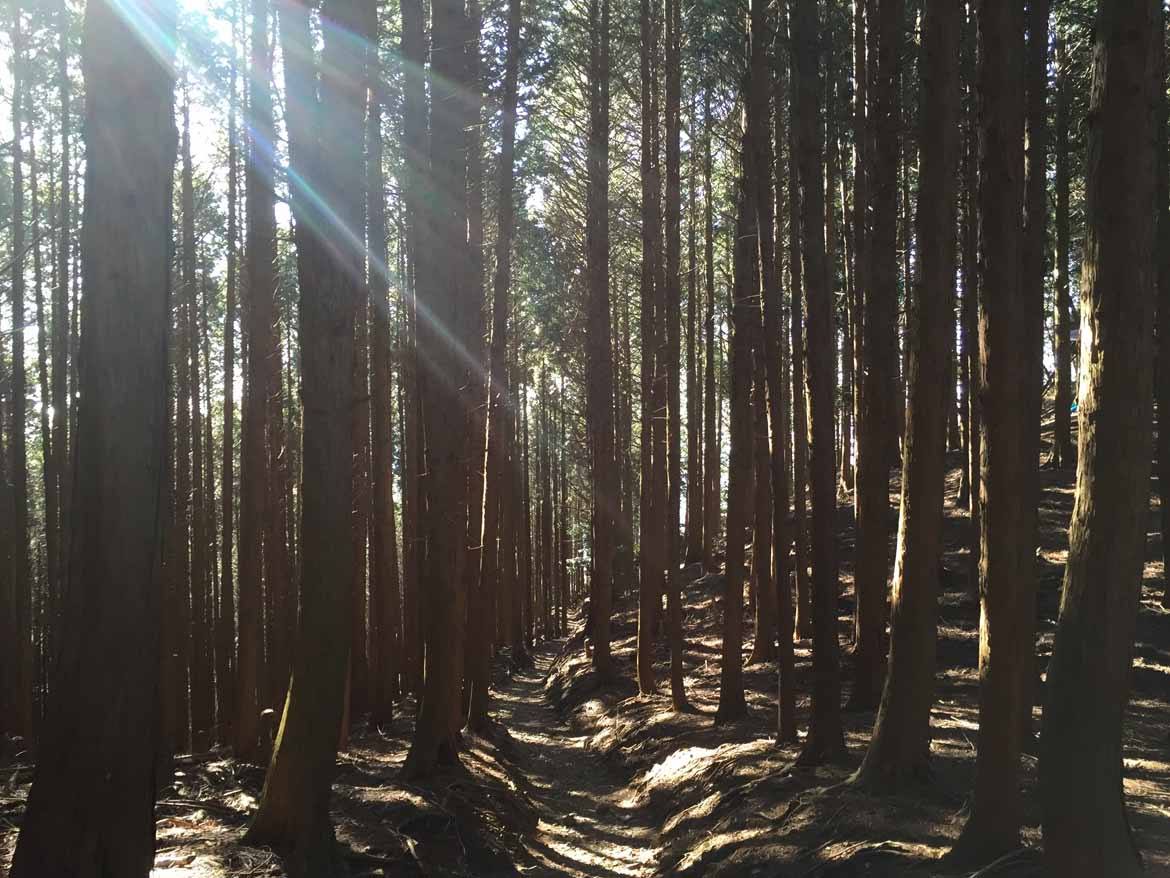 Before reaching Enryaku-ji Temple, there are some fantastic views along the final approach. From one vantage point it's possible to see all the way to Osaka, Japan's third-largest city, in the distance.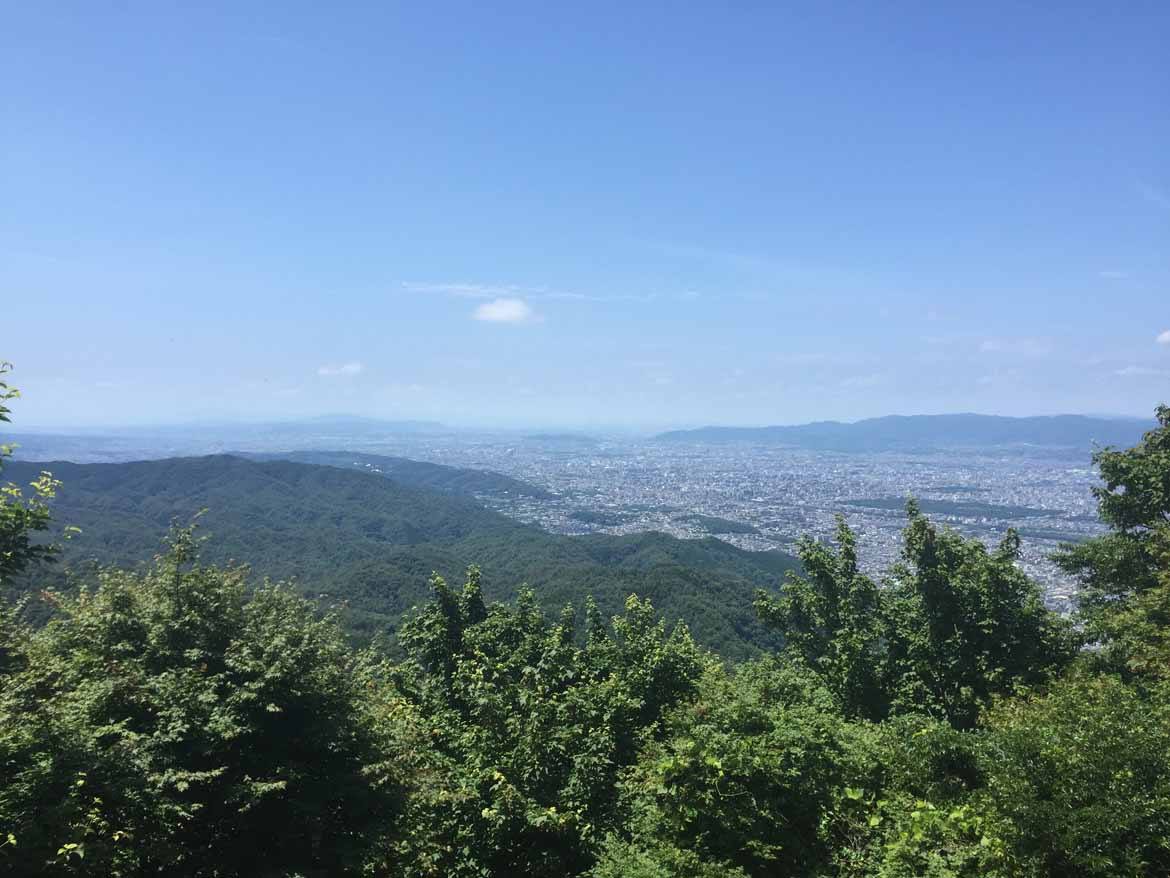 When navigating Japan's hiking courses, wearing a bear-bell is highly recommended in order to announce your presence to the wildlife that sometimes share the trails. Black bears, wild boar and macaque monkeys can all be found in Japan's mountainous areas, and you don't want to get on the wrong side of any of them! I've come across macaque monkeys on this trail before, and they are far less keen on humans invading their space than the famous "snow monkeys" – the nonchalant primates who bathe in Nagano Prefecture's onsen hot-spring waters. Tread carefully!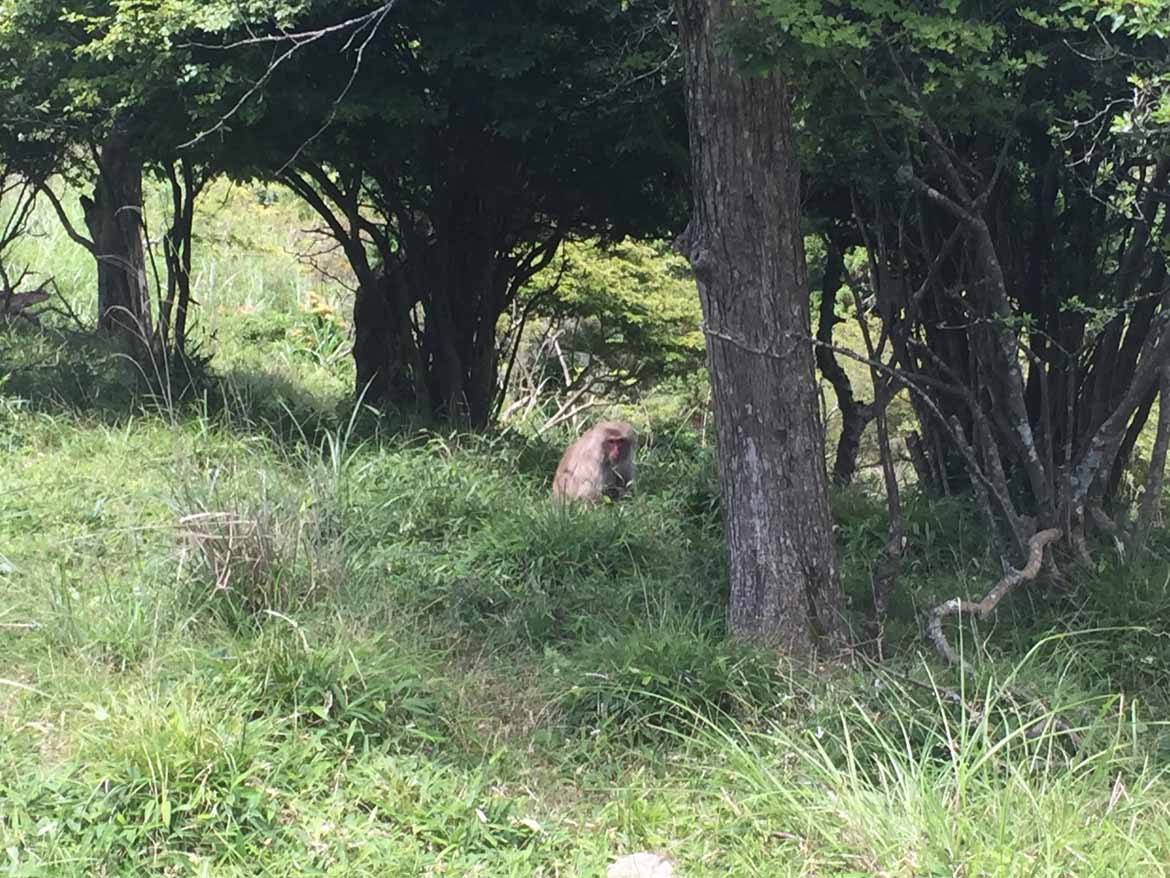 After around two hours of hiking, you will arrive at the Enryaku-ji Temple complex. The temple's buildings are sprawled all across the mountain, but are mainly concentrated in three compounds. Two of these areas, the To-to (East pagoda) and Sai-to (West Pagoda) are located close to each other. The third complex, Yokawa (which means "beside the river") is another one and a half hours hike from the To-to and Sai-to.
In its heyday, Enryaku-ji covered the whole mountain, consisting of around 3,000 different temple buildings. However, the whole mountain was razed to the ground in the 16th century by the warlord Oda Nobunaga as a way of controlling the monks of the Tendai establishment, who were getting a little too powerful for his liking (he wasn't just being paranoid, the Tendai school had a whole army of "warrior monks" on the mountain!). After this conflict, the buildings were reconstructed, and most buildings on the mountain today date from the late 16th and early 17th centuries.
There are nowhere near 3,000 buildings now, but there are still quite a lot! Enryaku-ji's centre of worship is the Konpon-Chudo, the main hall. It's actually undergoing a long-term restoration project at the moment, and is covered in scaffolding, but don't let that deter you from visiting, there's plenty more to see besides!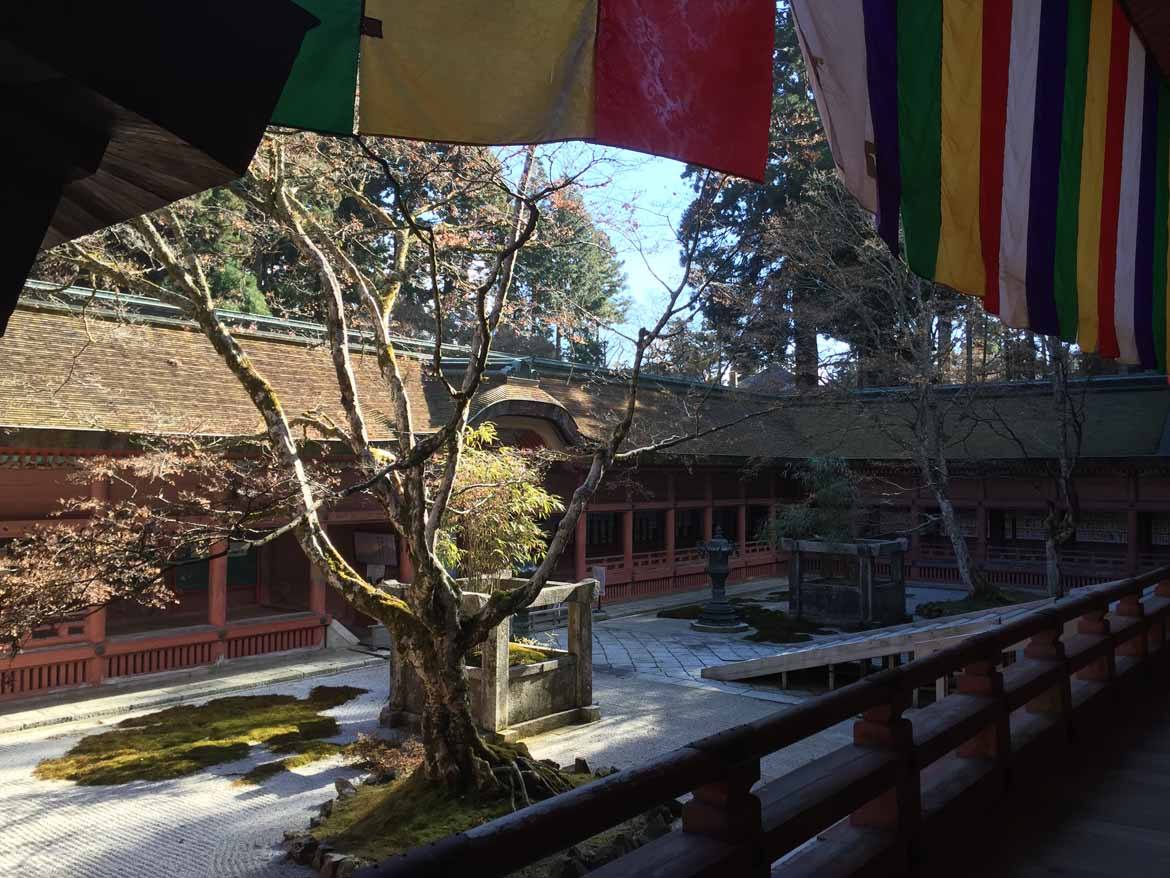 Other areas of the Enryaku-ji complex are unaffected by the restoration work taking place on the main hall, such as the East Pagoda and Amida Hall in the To-to part of the complex.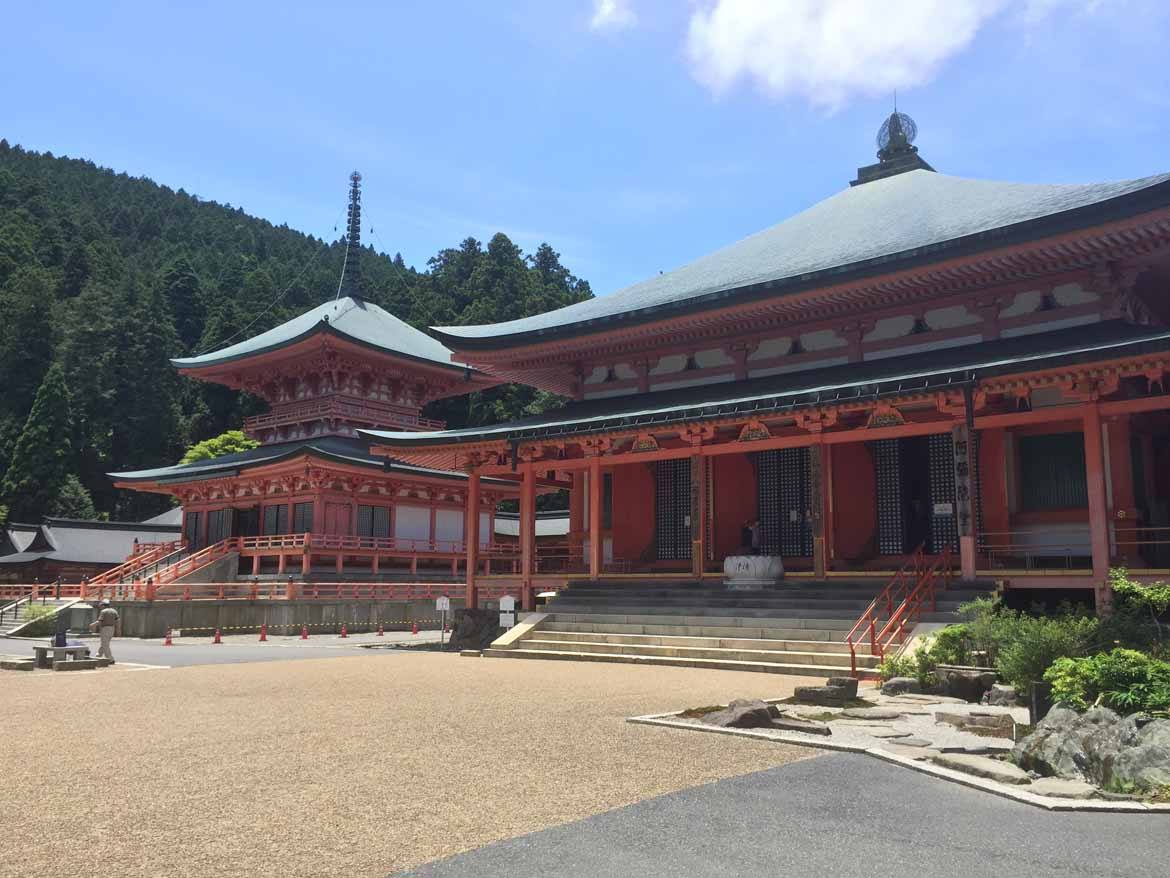 One fascinating aspect of Mount Hiei's history is the so-called "Marathon Monks" who take part in an ascetic practice called kaihogyo. Kaihogyo takes place over 1000 days, spread over a seven-year period. Over the years, the monks commit to walking (the word "marathon" is slightly misleading – the monks hike, but don't run) either 100 or 200 days of the year over increasingly long distances, starting at 30km per day and working up to 84km per day in the final year.
The hardest part, however, comes during the fifth year, when the monk commits to spending seven and a half days constantly reciting a Buddhist holy mantra. This is done without food, rest, or even water! Any monk who completes the full seven-year kaihogyo training is seen to be a living Buddha. A fully well deserved title in my mind!  A handful of monks have completed this training twice!
It doesn't quite involve the same distances as completing the kaihogyo, but after checking out Enryaku-ji's main temple areas, it's well worth undertaking another one and a half-hour hike over to Yokawa, the third of the mountain's temple complexes.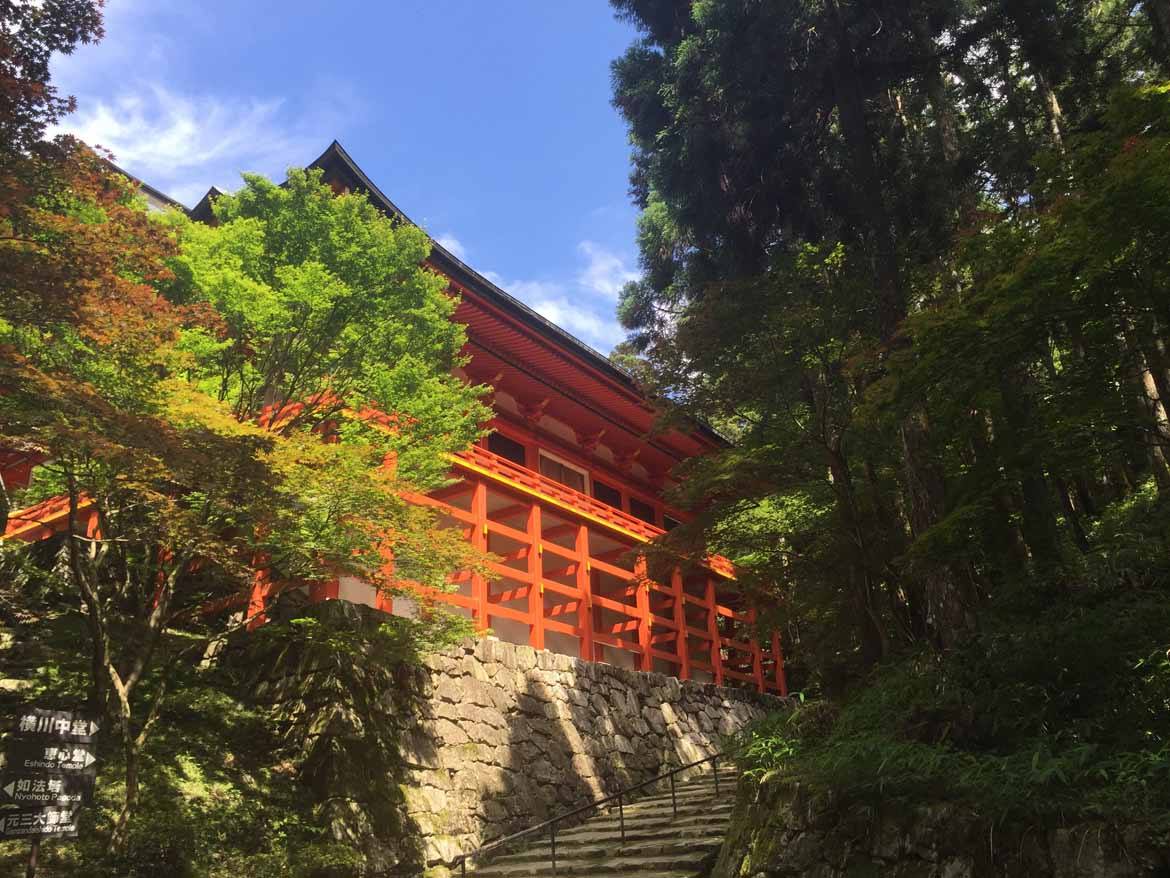 From the top of Mount Hiei, it's possible to return to the centre of Kyoto by public transport, however there are a number of other great trails leading back into civilisation that don't involve doubling back on yourself. There are two nice trails that both lead down to the town of Sakamoto in Shiga prefecture, from where it's an easy 20 minute train journey to Kyoto station. One trail runs from the To-to area almost parallel to the Sakamoto funicular railway and offers some great views over to Lake Biwa, Japan's largest freshwater lake on the way.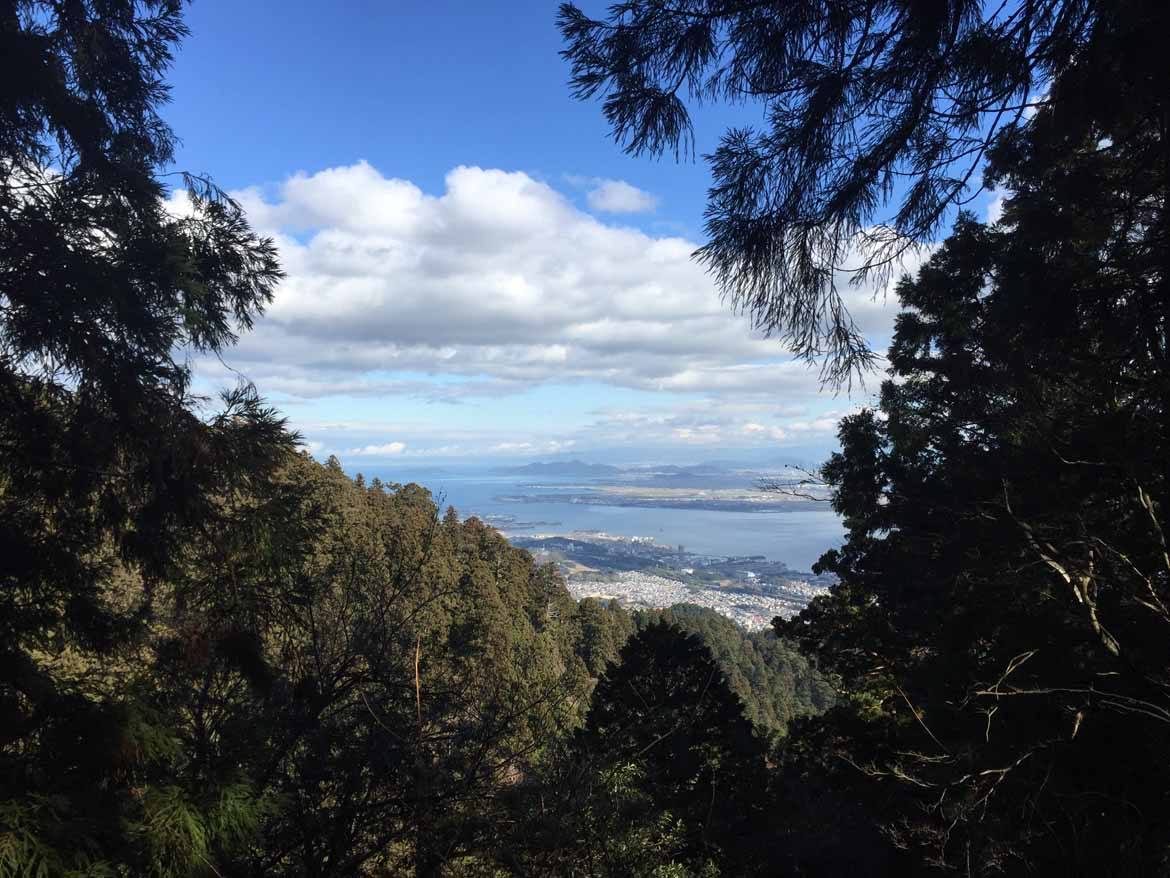 Another option (and an easier, less steep decent!) is a trail down to Sakamoto from the Yokawa area of the mountain. As mentioned earlier, Yokawa means 'beside the river' and this trail lives up to the name and follows a small river down the mountain the whole way.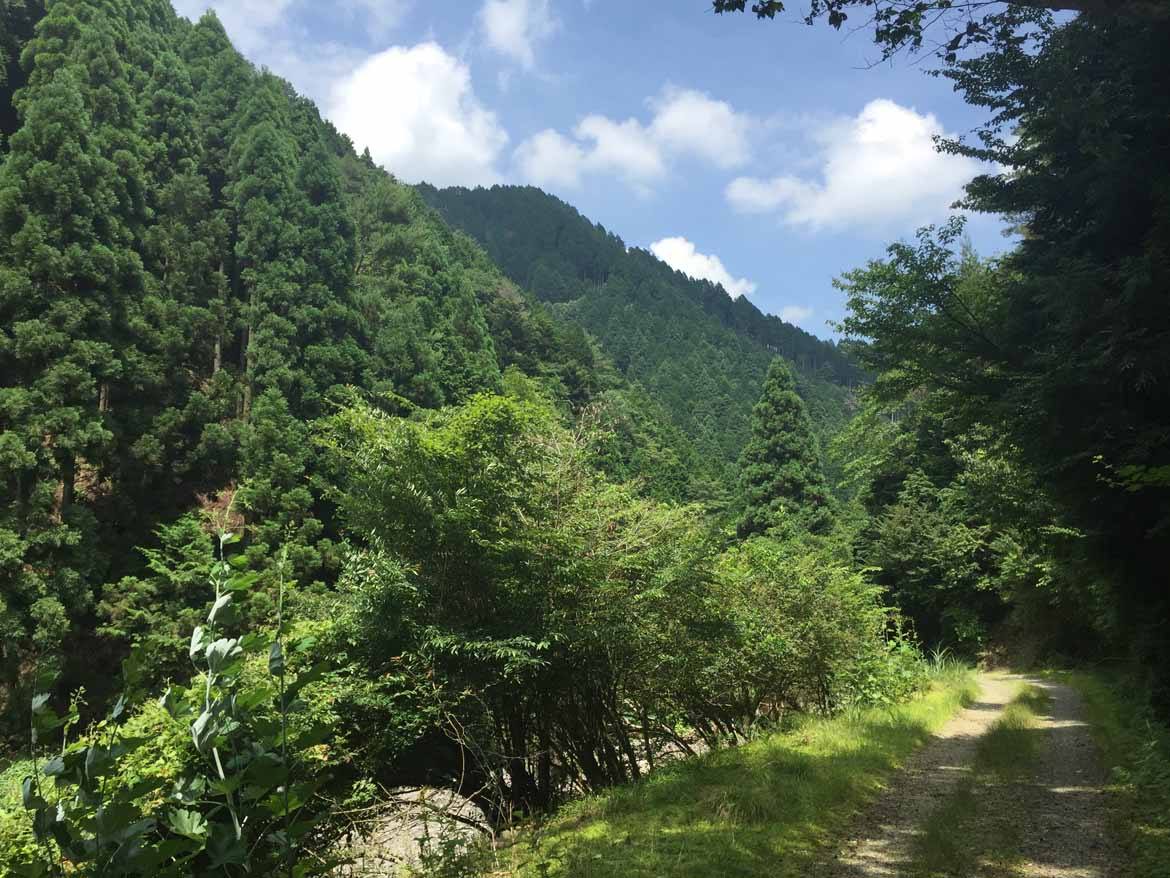 A day spent hiking Mount Hiei's various trails and exploring the various temple complexes along the way is one of my favourite ways to spend a day escaping the crowds that can sometimes plague central Kyoto's most famous sights. I recently put together a Mount Hiei hiking day-tour, which can be included in our self-guided itineraries. If you're interested in having a guided hike up to and around Mount Hiei, while learning about Japan's Buddhist heritage in the process, please mention this blog piece to your expert travel consultant. I promise to keep the distance to under 84km!
To include Richard's tour of Mount Hiei in your trip, click here to get in touch with a travel consultant now.
Like this post? Help us by sharing it!