Like this post? Help us by sharing it!
In the final instalment of his three-part series on the hiking courses in the mountains surrounding Kyoto City, IJT guide Takeshi Suzuki joins tour leader Richard Farmer on a hike from Toganoo to the bamboo groves of Arashiyama.
With another day to explore the Kyoto countryside (you can read about our previous adventures here and here), Richard and I decided to walk the section of the Kyoto Trail that links Toganoo (trail board #87) with Arashiyama (trail board #18) – a distance of about 11km.
To get to our starting point we took the number 8 bus from Shijo Karasuma Station in the city to Takao, a journey that takes just under an hour and costs 520 yen (approximately £3.15/$4.60). Immediately as we got off the bus, we saw a beautiful forest of kitayamasugi (Japanese cedar trees) – a highly desirable wood used in many historical structures for the beauty of its straight-stretching grain.
Our first destination was Kozan-ji Temple in Toganoo. Kozan-ji (高山寺), officially Toganosan Kosan-ji (栂尾山高山寺), is a Buddhist temple of the Omuro sect of Shingon Buddhism. The temple was founded by the Shingon scholar and monk Myoe (1173 – 1232) and is renowned for its numerous national treasures and important cultural properties. The Choju-jinbutsu-giga (鳥獣人物戯画), a group of ink paintings from the 12th and 13th centuries, are among the most important treasures to be found at this temple. This is in part why, in 1994, it was registered as a UNESCO World Heritage Site as one of the "Historic Monuments of Ancient Kyoto".
Interestingly, I found striking similarities between this temple and those at Mount Koya (AKA Koya-san). Both belong to the Shingon sect of esoteric Buddhism and are located in deep mountains separated from city life, giving them a similarly peaceful atmosphere.
After enjoying the beauty of Kozan-ji, we moved on to another temple: Saimyo-ji. Saimyo-ji, a small temple that stands between Kozan-ji and Jingo-ji, was founded during the Tencho Period (824-834) by Chisen Daitoku, one of the ten disciples of Kukai (AKA Kobo Daishi), the founder of Shingon Buddhism. This Shingon sect temple is also known as Byodoshinno-in, and its main hall was donated by the mother of the fifth Tokugawa Shogun in 1700.
The vermilion bridge in the photos below is called Shigetsukyo Bridge (指月橋; trail board #88) and spans the Kiyotakigawa River (清滝川). From here, we walked alongside the river for about ten minutes before we came to another bridge, called Takaobashi Bridge (高雄橋; trail board #90), which led us to our next stopping point: Jingo-ji Temple.
Known for its beautiful autumn leaves, Jingo-ji is one of the three most important esoteric Buddhist temples in Japan (along with To-ji Temple and Kongobu-ji Temple). It has been restored and rebuilt many times in its long history, and houses a number of treasures from the Heian (794-1185) and Kamakura (1185-1333) periods. An interesting tradition at this temple is roof tile throwing – visitors are invited to throw a roof tile as far as possible over the cliff side in order to ward off misfortunes.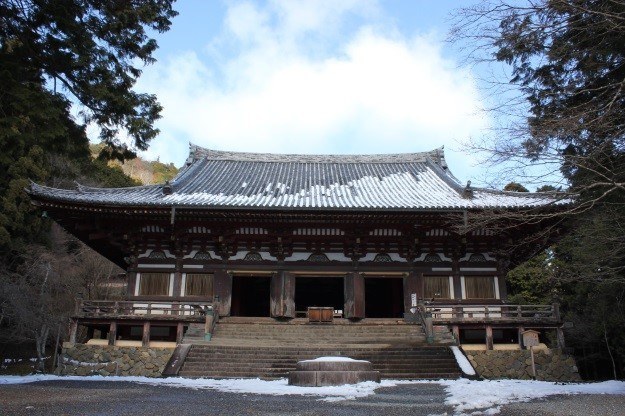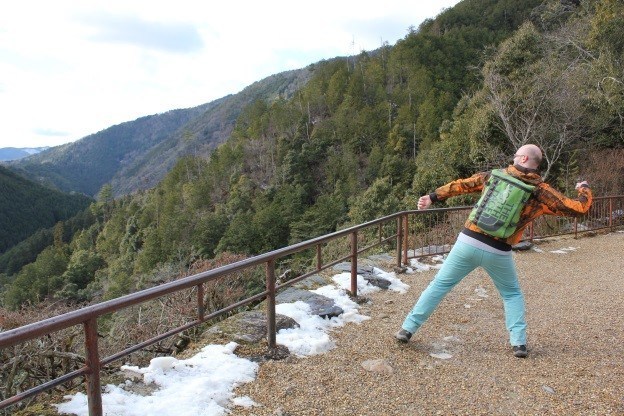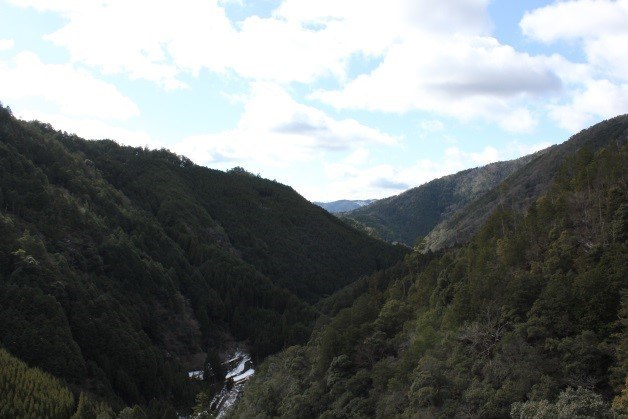 After visiting Jingo-ji Temple we headed back to the Kyoto Trail and resumed our hike. From Takaobashi Bridge (trail board #90) to Ochiai Bridge (trail board #5-1), the hiking way is basically flat and goes alongside the Kiyotakigawa River for about five kilometres. This is certainly one of the most beautiful hiking paths I've walked in my life, and very highly recommended. The trail is lined with beautiful kitayamasugi trees and is one of the best places in Kyoto to see autumn colors in the fall.
This slideshow requires JavaScript.
After Ochiaibashi Bridge (trail board #5-1), the trail began to slope uphill. We walked up for about a kilometre as far as the Rokucho-toge Pass (trail board #6), which brought us to an elevation of 171m above sea level. From here, there is an excellent a panoramic view of the surrounding mountains and the Hozukyo Gorge.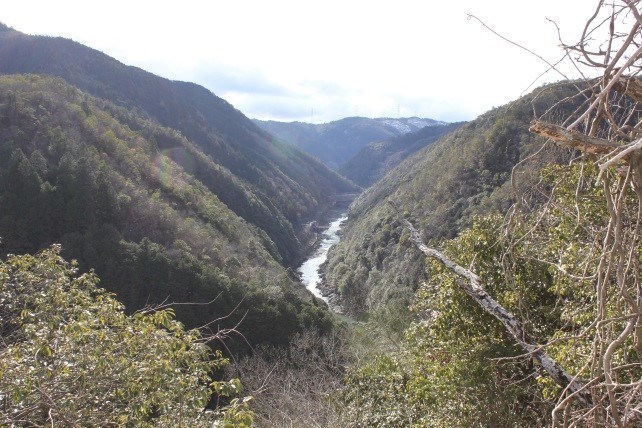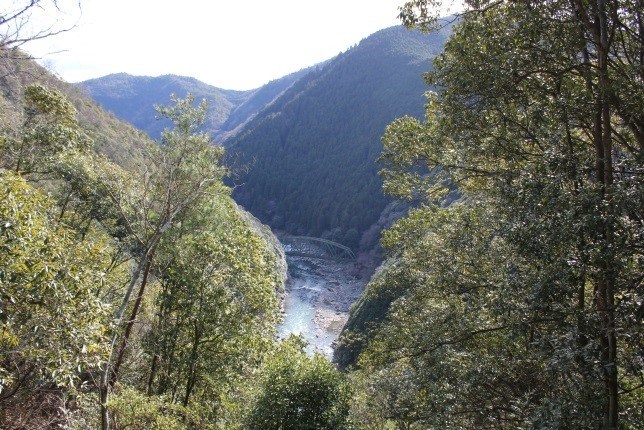 From the Rokucho-toge Pass, we walked down the slope and finally came to Torimoto (trail board #8), the starting point of Saga Arashiyama area. Finally, we ended our trip at the bamboo grove in Sagano – a famously beautiful part of Kyoto and very popular with tourists, for good reason.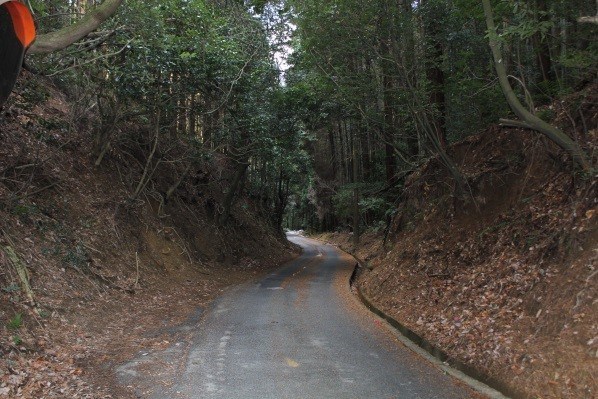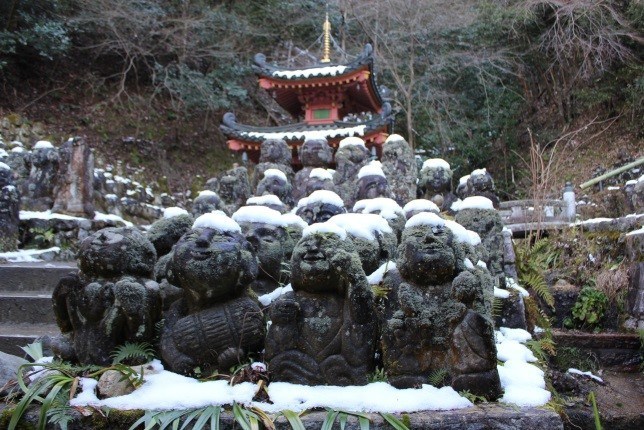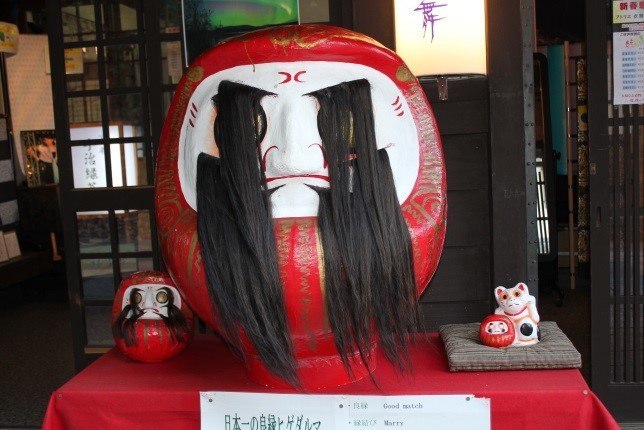 The whole trip today took approximately five and a half hours – though if you wanted to stop for lunch (we didn't), you might like to leave a little longer. Either way, it makes a fantastic day trip from Kyoto – and the bamboo groves are a lovely place to conclude a day of walking.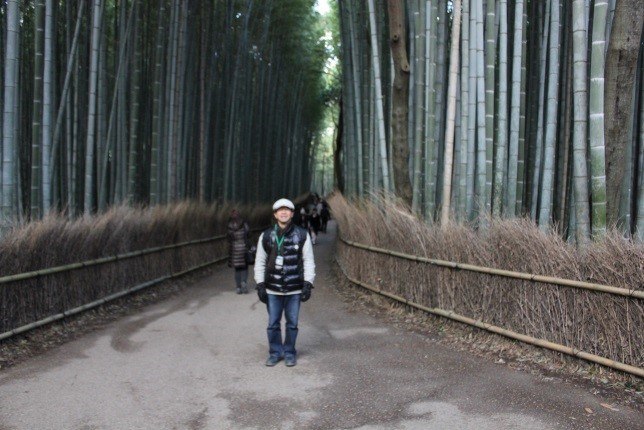 Having now spent three days walking on the Kyoto Trail, I'd be very happy to recommend this to anyone who feels they'd like a break from the city – or who wishes to discover the Japanese countryside without having to travel far into the wilderness. The Kyoto Trail paths are clearly signposted, easy to follow, and begin close to the city – so they're extremely achievable, even if you're travelling alone. They're lined with sites of incredible beauty and historical interest, yet they're far enough from the beaten track toe ensure they're never as crowded as the main sites of central Kyoto. Granted, it is sometimes busy at peak seasons (spring and autumn), but certainly not as busy as the city.
If you're fit, adventurous, and want to get off the beaten track – give the Kyoto Trail a try!
If you're interested in including the Kyoto Trail in your trip, we can arrange for Takeshi, Richard, or one of our other guides to show you the ropes. Alternatively, if you'd like to tackle the trails independently, our experts can advise on how to incorporate it into a longer trip. Just get in touch to find out more.
Like this post? Help us by sharing it!