Like this post? Help us by sharing it!
Charlea is a tour leader for Inside Japan Tours, and a devoted cat lover. She spent her first year in Japan in Osaka, before moving to Tokyo – where she has been based for the past four years. Here, she gives us a whirlwind tour of Japan through the eyes of her feline friends!
Whether we're fans of them or not, we all know of the cat's ability to find the best place for relaxing and enjoying the day away. Let these five furry friends be testament to this as they show you their favorite spots.
Tokyo Kitty
This lovely lady is taking a reprieve from the busy Tokyo streets at the playground of the samurai, Hamarikyu Gardens – as you can see above. At the heart of Tokyo, these gardens are a wonderful way to enjoy the beautiful modern high rises while at the same time contemplating the samurai and their curious duck-hunting skills. Maybe this kitty, too, is reminiscing days past, when a good day's hunt meant a juicy duck dinner!
Kamakura Tom
Taking a pilgrimage in the hills of Kamakura, a 13th century Japanese capital that serves as a  temple-lover's haven, may be this Tom cat's way to atone for all those nights prowling for female "friends" or to pray for good food from a generous passerby. I'll let you be the judge. Whatever the reason, he has found the perfect stop mid-hike to enjoy the sun (and perhaps a picnic lunch) while appreciating a good view of Mount Fuji. This is all before he heads onward to see the Big Buddha, who also loves the sun, and enjoy the waterfalls and koi ponds of Benzaiten Shrine.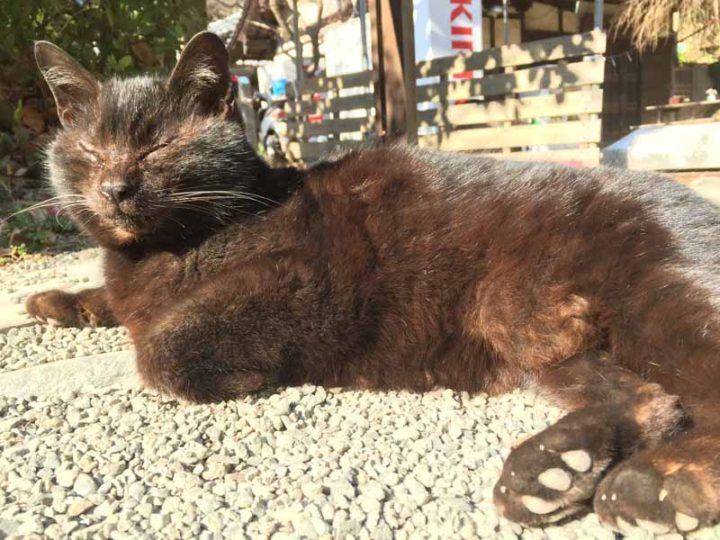 Nagasaki House Cat
Though Nagasaki is known for the atomic bombing during World War II, this house cat is reflecting upon a brighter tomorrow as she looks around the peace park, which is dedicated to upholding and promoting peace  for future generations through remembrance. But this savvy pussycat doesn't stop there. She also visits Dejima, a special city for foreign Dutch traders where they brought in sugar and were known for their Castella, sponge cake with coarse sugar at the bottom. Lastly, she winds up on the purr-fect sofa for a nap in the high-class Glover Garden, home of Thomas Glover, an 18th century Scottish merchant. Smartest cat so far in my book -"to die for" views of the harbour and a super comfy sofa on which to snuggle? Yes, please!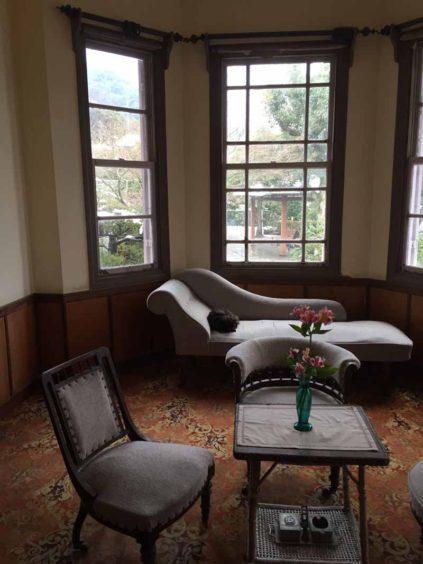 Samurai's Right Paw
A warm spot next to a heater is quite the luxury, especially for this pussycat, who lives in a guard tower of Hirado Castle. This formidable fortress is putting itself to good use during peaceful times, welcoming visitors to ponder not only all of its amazing artifacts in the main keep's museum, but also its most respectable venture: keeping this samurai's best helper warm and toasty!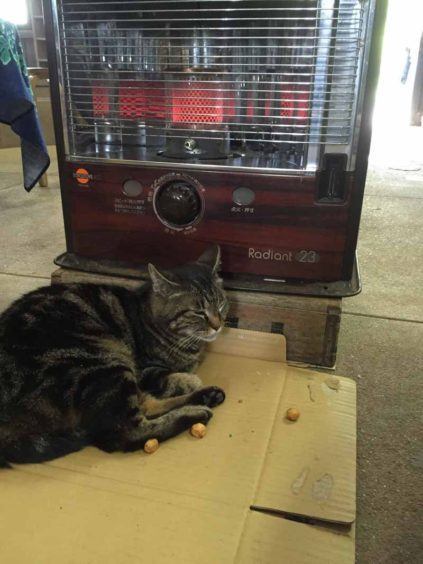 Paparazzi Tabby
It's 6 o'clock, and just like the tourists lining the cool, winding streets of Gion, Kyoto, to catch a glimpse of maiko (apprentice geisha) wisping past in full brigade to their first evening appointments, this tabby and his friends hiding under the tea house wait anxiously as well. For what, exactly, are they waiting? Do they wish to find out if the maiko can truly match them in terms of grace? Or are they lying in wait for a delivery boy to lose his balance as he carries trays of scrumptious food one-handedly while riding a bicycle to the teahouses? With both potential treats and harbingers of traditional Japanese grace as possibilities, this little guy has certainly discovered the perfect spot.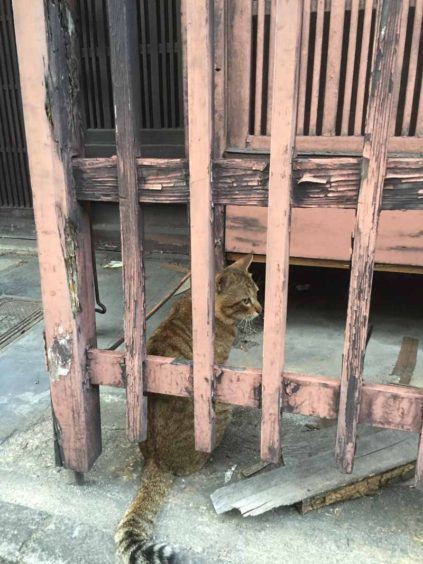 Keep your eyes peeled for more blogs from Charlea! If you're interested in booking a place on one of our group tours or planning your own bespoke itinerary, get in touch to speak to one of our experts.
Like this post? Help us by sharing it!