Like this post? Help us by sharing it!
John McMillen returned to the Boulder office in Colorado after his jaunt to Japan. It was hot work and John made it his mission to try most of the drinks that you'll find in some of the many vending machines in Japan. There are a lot of vending machines and a lot of drinks, so here's John giving his view on some of the vending machine favourites and giving you an idea as to what you are buying…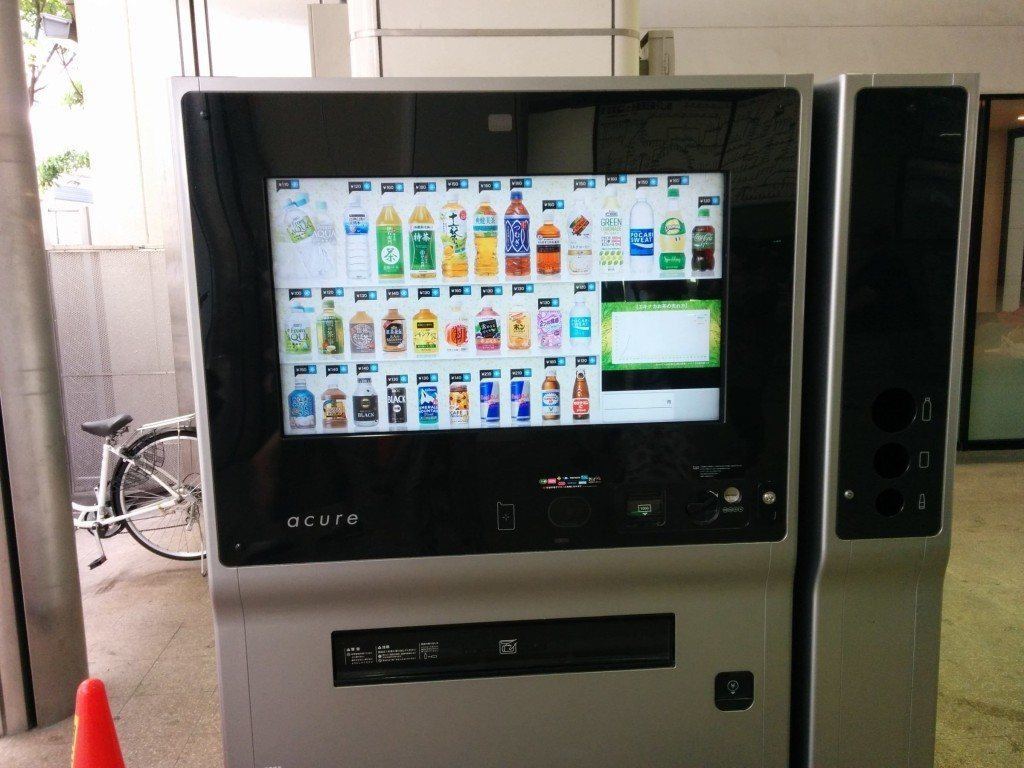 Not long after you arrive in Japan, it becomes immediately apparent that you can buy just about any drink you could ever want out of a vending machine. Of course you have your standard sodas and bottled water, but you'll also find a fantastic array of sports drinks, teas, coffees, and seasonal concoctions that are a pleasure to explore. With the seasons as well, you'll find that you can purchase a greater selection of cold beverages in the summer and hot ones in the winter. Let me tell you, nothing beats a hot chocolate straight out of the vending machine on a winter day while in Japan.  And to add to the mix, now they even have vending machines that can 'sense' what you want and will make a recommendation for you on their touch screen.
In honor of the the plethora of new options to you in Japan, I've compiled below a collection with brief descriptions, in no particular organization other than alphabetic, of some of the offerings you might find on your travels.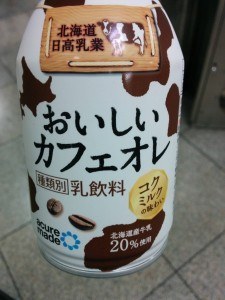 Acure Made – Delicious Cafe Au Lait
–    This light concoction is made from coffee and 20% milk sourced from Japan's north island of Hokkaido.  A thick, milky and cool treat for the summer.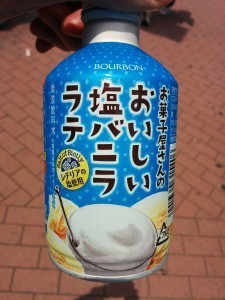 Bourbon – Delicious Salt Vanilla Latte
–    Another milky option, but without the coffee.  This light, vanilla-flavored drink comes with the bonus of Sicilian salt.  Not overdone, this addition adds a pleasant savory quality that leaves you wanting to drink more.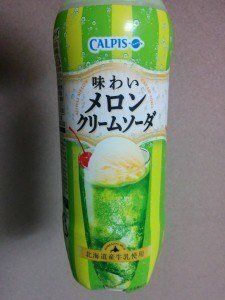 Calpis Ajiwai Melon Cream Soda
–    This unique drink tastes neither much like melon nor cream soda, but is quite a popular choice in the summers.  Originally one would put vanilla ice cream in the green-colored melon soda, and they've replicated this flavor combination minus the ice cream.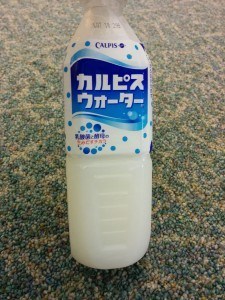 Calpis Water
–    A monolith among Japanese bottled beverages, Calpis Water has been around the block.  It's dairy-like consistence and tangy punch give it a bit of an air of sweet liquid yoghurt.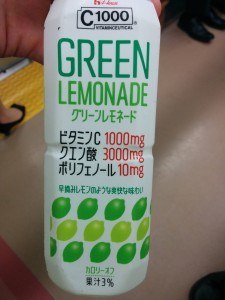 House Wellness – Green Lemonade
–    A fairly straight-up lemon-flavored drink, which is light green in color.  It's loaded with vitamins, is a reduced calorie beverage, but only has 3% fruit.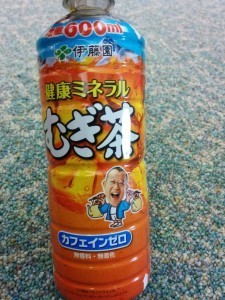 Itoen – Healthy Mineral Barley Tea
–    Barley Tea is a mainstay of Japanese summer beverages.  Its earthy flavor and lack of caffeine and calories enable you to keep deliciously hydrated in the hot summer months.  My own personal theory is that this is where the leftover barley went after making beer!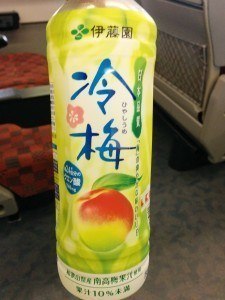 Itoen – Hiyashi Ume
–    A light sweet and sour option that is essentially plum flavored. It's not carbonated, but packs a nice sour punch from its 10% plum juice.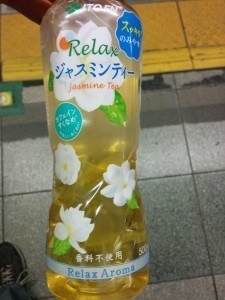 Itoen – Relax Jasmine Tea
–    You may have had jasmine tea perhaps at Chinese Restaurants, but Japan has taken to this green tea variant as well.  In appreciation of its floral aroma and flavor, you can usually spot the different manufacturers by flowers on the bottles.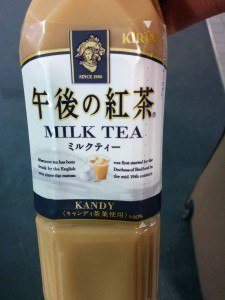 Kirin – Afternoon Tea Milk Tea
–    This sweetened milk tea is a standard in Japan and widely available in vending machines as well as convenience stores. You can always count on it for when you want this sort of thing.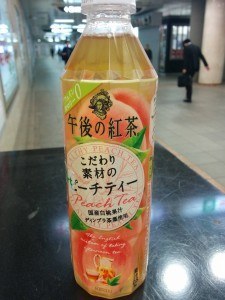 Kirin – Peach Tea
–    I'm not sure if the English would be certain of taking afternoon tea with this tea as it says on the bottle, but it might hit the spot for the right person.  Perhaps a great option as a zero-calorie, zero-caffeine sweet tea with a light hint from real Japanese peaches.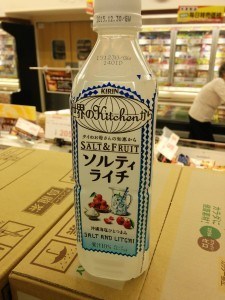 Kirin – Salty Litchi
–    Another option for the lychee lovers out there, this concoction really nails it.  A light balance of 10% juice, water and salt, it's almost like a sports drink with its replenishing nature.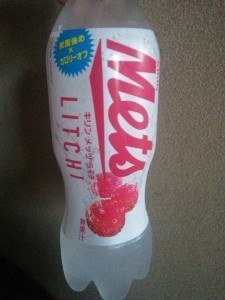 Mets – Litchi
–    A carbonated drink with lychee flavoring.  Although there is no fruit in this one, the flavor is pretty accurate and as a bonus it has about half the calories of a regular soda.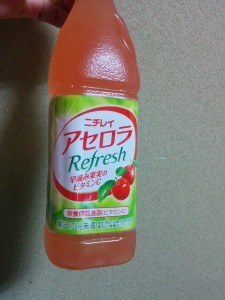 Nichirei – Acerola Refresh
–    This is another non-carbonated juice-based drink featuring the acerola, or Indian Cherry, fruit. Also sporting 10% juice, it lives up to its refreshing name with just enough flavor and sweet, tangy fruitiness to quench that thirst on a hot day.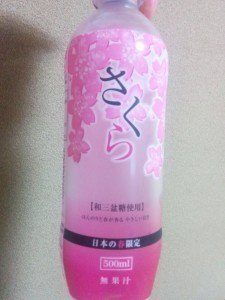 Sakura Soda
–    This is a spring-only offering in the spirit of cherry blossom season. It has a light flavor reminiscent of cherries and cotton candy. Its carbonation gives a pleasant effervescence for a refreshing experience.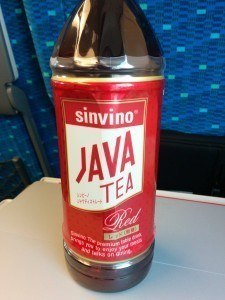 Shivino – Java Tea
–    If you ask anyone in the US what they think of when they hear the word "Java" and they'll probably tell you coffee.  Well, this tea has nothing to do with coffee aside from also being sourced in Indonesia.  It is unsweetened black tea with a refreshing flavor.  The bottle intimates that you can enjoy it over a meal, but I also enjoyed it on the bullet train.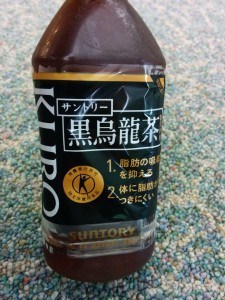 Suntory – Black Ulong Tea
–    If you're looking for a good tea with a kick of caffeine, this is the winner.  An added bonus, it says that drinking it will make it more difficult for your body to uptake fat that you eat – a bonus for many out there!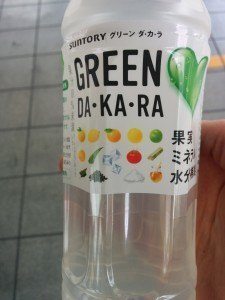 Suntory – Green Dakara
–    I would put this one in the sports drink category.  Its light grapefruit flavor, added vitamins and minerals and potentially some amino acids in there make it a great choice to replenish yourself.  It's about 10% fruit.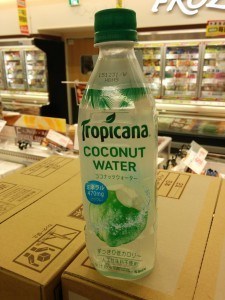 Tropicana – Coconut Water
–    Also distributed by Kirin, this 15% juice option is an affordable alternative to actual coconut water.  If you're hoping for coconut water, though, I'd steer clear as it tastes quite different.  Still a nice option to soda!
Like this post? Help us by sharing it!