Like this post? Help us by sharing it!
So you're going on holiday to Japan. One of the first questions you'll probably ask yourself is: how are you going to get around?
Japan has one of the safest, cleanest, fastest, most efficient, punctual and convenient public transportation networks in the world, comprising city subways, cross-country trains, bullet trains, highway buses, local buses, funicular railways, cable cars, ferries, monorails, domestic flights, taxis… the list goes on! But for the most part, the best way to get around Japan is undoubtedly by train.
This post will cover all the main forms of transport that you might use on a holiday getting around Japan.
TRAINS
The Japan Railways (JR) group is Japan's largest train network and comprises six regional rail companies: JR Hokkaido, JR East, JR Central, JR West, JR Shikoku and JR Kyushu and JR Freight. Combined, these networks cover the whole of Japan's four main islands: Honshu, Hokkaido, Kyushu and Shikoku, encompassing a variety of subway lines, local railways and bullet trains.
In addition to the extensive JR network, there are numerous private railway companies operating throughout the country (more in-depth information about which can be found here).
Bullet train
Ah, the famous bullet train. How I could rhapsodise about its speed, efficiency and general enjoyableness. Oh wait – I did!
The JR bullet train, or Shinkansen as it is known in Japanese, was 50 years old last year and is an amazing feat of engineering, whisking passengers across distances of hundreds of miles at speeds of up to 320 kph (200 mph). Not only is it speedy (and hella punctual, with an annual average delay measured in seconds), it's an experience in itself – the seats are comfy, the staff wear cute uniforms and bow whenever they leave the carriage, and the edibles from the food trolley are actually – well – edible.
I know I say this about a lot of things, but you really haven't been to Japan until you've been on the Shinkansen. And with a Japan Rail Pass (see below), you get unlimited journeys across the whole network!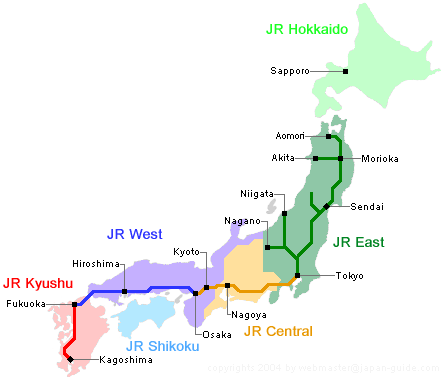 Subway
At first look, an underground railway network such as that of Tokyo can seem bewildering – but once you get used to it they are very simple and easy to use. Nearly every station will have subway maps with the station names in English, so there's no reason why you shouldn't be able to find your way around.
If you plan to use the subway system whilst in Japan (and we recommend that you do!), to make your life easier we suggest that you purchase an IC card (equivalent to a London Oyster card). These are sold under various different brand names in different cities (Pasmo and Suica in Tokyo, Manaca in Nagoya, Icoca and PiTaPa in Osaka, for example), but the cards are in fact interchangeable – a Manaca will work in Tokyo, while a Pasmo will work in Fukuoka, and so on. All you need to do is top up, then touch in and out of the ticket barriers at the beginning and end of each journey.
Besides subways, the cards can also be used on most overground trains and buses in the majority of Japanese cities. For more information on IC cards and their compatibility, see here. And remember, if you have a Japan Rail Pass, you can save money by using it on JR-operated subway lines!
If you are purchasing a Japan Rail Pass from InsideJapan Tours on our website, you can also order an IC card at the same time.
Local train
Japanese local trains are just normal, everyday trains. It can be useful to familiarise yourself with the categories of train that are available – if only to avoid getting on a super-slow variety that stops at every stop!
These are:
Local (kakueki-teisha or futsu-densha) – Very slow! These trains stop at every station.
Rapid (kaisoku) – Misleadingly, these are not the most rapid trains. They cost the same as local trains but skip some of the stations.
Express (kyuko) – Express trains skip more stations than the rapid trains, and may be more expensive.
Limited Express (tokkyu) – These are the fastest local trains, only stopping at major stations. You will usually need to pay an extra limited express fee if you use these trains.
If you keep an eye on the screens on the train platform, you'll find that most Japanese stations will display the train categories in English as well as Japanese.
If you are purchasing a rail ticket at a Japanese train station, all you need to do is find your destination station on a map and look at the little number beside the station name. This number is your fare. Put your money into the machine, select the appropriate fare and hey presto – you'll receive a generic ticket that'll take you as far as you need to go.
Japan Rail Pass
If you've already begun researching your Japan holiday, you'll probably already have heard of the Japan Rail Pass. This extremely economical deal promises unlimited travel on the entirety of the Japan Rail (JR) network (which includes all bullet trains except the "Nozomi" and "Mizuho", certain subway lines, and most local and cross-country rail services), and is available for periods of 7, 14 or 21 days at either ordinary class or "green" class (first-class).

To put these prices in perspective, a one-way journey on the bullet train from Tokyo to Hiroshima costs about half that of an adult 7-day Japan Rail Pass (ordinary class) – so if you're travelling to Japan it's really a no-brainer: buy a Japan Rail Pass!
You can see a full list of prices in pounds sterling and purchase a Japan Rail Pass at face value on our website.
BUSES
Japan has an excellent network of local buses within cities and highway buses that cover cross-country journeys.
Local buses
We usually recommend using subways and trains instead of buses in Japan, but in some cities where the subway network is not as comprehensive as that of Tokyo, taking the bus might be necessary. The most notable location in which you'll find this is the case is Kyoto.
On most local Japanese buses, you should enter through the back door (if there is one), pick up a numbered ticket from a small machine by the door, and keep your eye on the screen above the driver. This screen will match your ticket number with the fare you need to pay. When you get off, pay at the front of the bus – using the changing machine beforehand if you don't have the correct change. In some cities, however, you pay a flat fare for wherever you're travelling.
To make things easier, cities in which buses are the main mode of transport will usually offer one-day passes for the bus systems. These are extremely useful for tourists – so if you are in a city without a subway network, ask at tourist information to find out the best card to buy.
Highway buses
Highway buses are an inexpensive alternative to trains and cover long distances over the whole of Japan. However, as the Japan Rail Pass offers such outstanding value, you'd be a fool to plump for buses!
The only instance in which we'd recommend using a highway bus is if you're going to be resident in Japan for over 90 days, making you ineligible for a Japan Rail Pass.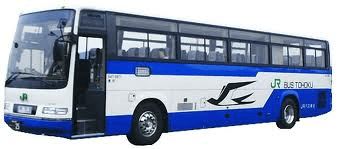 RENTAL CAR
As much as we do love trains, there are some locations in Japan where rail travel doesn't quite cut the mustard. The main locations where this is the case are Hokkaido (Japan's northern island) and Okinawa (the southern, subtropical archipelago).
Hokkaido does have a rail network, but as the island is sparsely populated and consists largely of untamed wilderness, it is far from comprehensive. Driving in Hokkaido, on the other hand, is a complete breeze – long, empty roads, dramatic scenery, and the ability to make detours and stops whenever you like make this by far the best way to travel.
The various islands that make up Okinawa, meanwhile, do not have a rail network at all (well, there's a single, one-track monorail in Naha – the prefectural capital – but that hardly counts). There is a bus system, but take it from me – it's an infinitely better idea to rent a car. As in Hokkaido, the rental process is easy and the driving is an absolute doddle – plus it allows you to explore places that you might never have found if you'd taken the boring old bus.
Renting a car on mainland Japan is also a viable option if you feel particularly inclined to motor travel as opposed to rail – but be aware that driving long distances can be pretty dull, as Japanese motorways do just look pretty much like motorways anywhere else…  Probably best use the train.
…and remember, get your International Drivers Permit before you go to Japan!
DOMESTIC FLIGHT
These days, with budget operators such as Peach Aviation offering ridiculously cheap fares between destinations in Japan and surrounding countries, domestic flights are most definitely an option if you're planning to visit far-flung corners of the archipelago. You are most likely to use a domestic airline if you're planning to visit the islands of Okinawa, Yakushima or Hokkaido – but there are plenty of other routes available. Remember, however, that flying entails an awful lot of hanging around and faffing about – so if you are making a long-distance journey on Honshu or Kyushu Island, it's usually easier and less stressful (yep, you guessed it) just to get the train.
Like this post? Help us by sharing it!