Like this post? Help us by sharing it!
Tsukiji Fish Market is one of my tip-top favourite Tokyo experiences, but what with increasingly unstable relations between the vendors (for whom this is their livelihood) and tourists (for whom it is a fascinating attraction), it is important to know how to "do" Tsukiji properly.
Located right in the middle of Tokyo, next-door to Hamarikyu Gardens and near the upmarket Ginza district of town, Tsukiji is the largest seafood market in the world, and makes a fantastic (and free) addition to any Tokyo itinerary.
And since it was announced that Tsukiji will soon be moving from its current location to a site in Toyosu (a 20-minute bus or train ride from its current spot), you really will have to get in there quick – before it changes for good!
What does the future hold?
As of yet, exact details about the new arrangement for Tsukiji Fish Market are elusive – and what information we've been able to glean so far has been vague at best.
The Toyosu Tsukiji Market (run by the Tokyo Metropolitan Government) is scheduled to open in November 2016, and will continue to function as a wholesale market for Tokyo's restaurants. In addition to this, it seems that there will be an area dedicated to the general public (including tourists), where you will be able to see and buy fresh seafood and vegetables, and perhaps even take cooking lessons or attend special events. The tuna auctions will also be taking place here, but it is not yet clear whether the public will be allowed to watch them or not.
What is to become of the current Tsukiji site is even more unclear. Whilst most news sources on the suggest that the reason for the move is to free up prime real estate for profitable development, one of our sources in Tokyo indicated that there has been talk of plans for a new Tsukiji Market (run by the local ward) to be built where the "inner" market currently resides, while the existing shops in the "outer" market will remain as they are.
So, in short, it's not certain what the future holds for Tsukiji.
How do I visit the market now?
Until these mysterious changes come into effect, it is still possible to visit Tsukiji Market – and I would certainly urge you to do so if you get the chance. If you do decide to visit, you have two options: either get up before the crack of dawn to see the tuna auctions for which the market is famous; or mosey on down at about 9am to catch a bit of market action.
When you get there, you'll find that the market has two sections: inner and outer. The outer market is much smaller, has plenty of great sushi restaurants, and lots of shops selling vegetables, spices, cooking implements and various other things.
The inner market, meanwhile, is the really interesting bit. This is where you'll find all the wholesale seafood sellers – as well as some of the very best sushi restaurants in Japan, where people queue for literally hours for just a few minutes at the bar.
Visiting just the inner market:
9am is still pretty early in the morning when you're on holiday (if you ask me), so I will not be the one to judge if you just don't care enough about dead fish to get up for the tuna auctions. Tsukiji is still most definitely worth a visit if you can only make it to the main market – in fact, at InsideJapan we think this is the best bit. You will get to see massive tuna being skilfully carved up, as well as plenty of other weird and wonderful produce – and you can feel secure in the knowledge that your presence is welcomed rather than resented.
At this time in the morning the trains will be running, so getting to the market is much easier than if you decide to see the auctions. All you need to do is catch the subway to Tsukiji Station (on the Hibiya subway line, 8 mins walk from inner market) or Tsukijishijo Station (on the Toei Oedo Line, 3 mins walk from inner market). Follow the crowds and you should end up at the market, where guards on the entrances can usually provide you with a free map.
Once inside, you are free to wander amongst the stalls freely – but look out for speedy buggies zipping past, as they will not get out of your way! The market is still very crowded at this time, so try your best not to get in the way of vendors trying to do their jobs – once again, this is a working market, not a tourist attraction. Remember not to smoke, touch anything, bring large bags or luggage, or wear inappropriate footwear (the ground is very uneven, wet and dirty). Young children are also not allowed.
Visiting the auctions:
If you really want the full Tsukiji experience and don't mind getting up at silly o'clock to get it, you can visit the tuna auctions, which take place between 3.30am and 6am every day (except Sunday and some Wednesdays) and are completely free of charge.
We suggest that you think carefully before deciding to visit the tuna auctions. Though they are fascinating, relations between tourists and buyers/sellers at the auction have become quite fractious in recent years, and there is a sense that you presence here is grudgingly tolerated rather than openly welcomed.
If you do decide to visit the auctions, take care to do so in a respectful fashion. Follow the rules to the letter, and absolutely do not head over there after a night on the tiles! Since trains do not run this early in Tokyo, your options are either to stay somewhere within walking distance of the market, or order a taxi from your hotel.
Public access to the auction is limited to two tour groups, each of 60 people, and places are strictly first come, first served. The first group are allowed to watch the auction from 5.25am until 4.45am, while the second group is allowed to watch from 5.50am until 6.10am. To be in with a good chance of getting a place in one of the groups, most people recommend turning up at about 4am. This means that you should be prepared for a long, cold wait before you can actually get into the auction!
After all this effort, you are still not guaranteed entry into the market. It really depends as to how many people are going to turn up that day.
Make sure you wrap up warm (the waiting room is unheated), and bring something to amuse yourself while you wait. Once inside, you can take photos and films to your heart's content, but remember not to use flash – or you will be unceremoniously removed from proceedings.
After the auction, we recommend heading to the outer market for a sushi breakfast (the best sushi breakfast you will ever have) and to explore the market stalls here before returning to the inner market to see the wholesale vendors in action. Tourists are not allowed into the inner market until 9am, when the morning's hustle and bustle is beginning to wind down. Though you can technically enter before this if you intend on buying something, and you will read some sources suggesting that you use this as an excuse to get in, we highly recommend that you don't do this, as you will be getting in the way and obstruct the normal operation of business.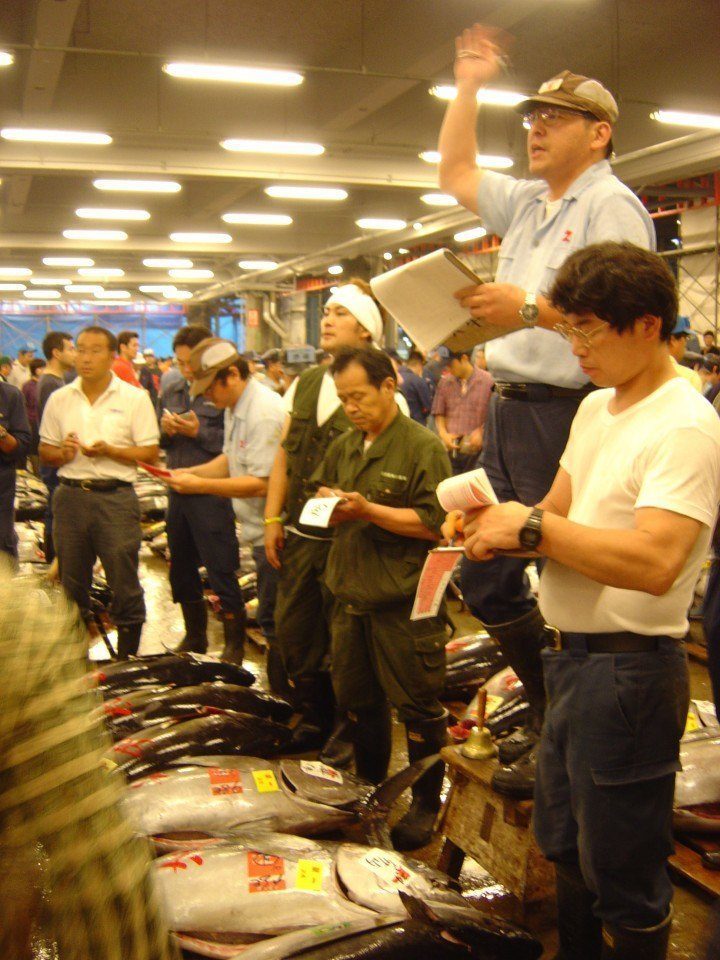 The following video should give you a good insight into the tuna auctions at Tsukiji. If you're interested in seeing more background on the Tokyo restaurant scene, I also highly recommend getting your hands on a copy of the documentary Jiro Dreams of Sushi, which gives a fascinating insight into the life and craft of one of the city's best sushi chefs.
If you would like any more advice or information about visiting Tsukiji Fish Market, please don't hesitate to contact us in the comments below, via Facebook, Twitter or through our website.
---
Like this post? Help us by sharing it!