Like this post? Help us by sharing it!
Perhaps it's the sweltering heat, or the humidity so thick you could spread it on toast – or perhaps it's just that everyone goes so gaga for spring that they forget there was ever any other season. For whatever reason, summer in Japan tends to get a bit of a bad rap, and it's totally undeserved.
NEWSFLASH! Summer (June-August) is actually an amazing time to travel to Japan. Here's why.
10 reasons to visit Japan in the summer
1. Summer Games 2021
July and August 2021 will be a once-in-a-lifetime chance to see the world's most spectacular sporting event in Tokyo. Could there be a better reason to travel to Japan in summer? Find out more.
2. Beaches
When you think of Japan, the likelihood is that golden beaches, glittering waves and sunbathing do not immediately spring to mind – but with nearly 30,000 km of coastline, it stands to reason that Japan should have a few great beaches.
Some of the very best Japanese beaches are to be found in the subtropical islands of Okinawa (a short and easy domestic flight from the mainland). If you don't have the time to make it that far, there are great beaches up and down the length of Japan.
---
---
3. Hiking and climbing Mount Fuji
Though the heat may be on in Japan's sea-level cities, up in the mountains the temperature remains cool and manageable – perfect for a bit of hiking. Some of Japan's most stunning geography is to be found in high-altitude spots like the Japan Alps, Kamikochi, and the mountains of the Kii Peninsula. And in, summer everything is at its lushest and most beautiful.
If you fancy a real challenge, Mount Fuji's climbing season begins at the beginning of July and ends in early September, giving you a chance to have a crack at this Japanese icon. Though the ascent is tough, you need no technical mountaineering experience. You will routinely find children and senior citizens tackling it without a hitch!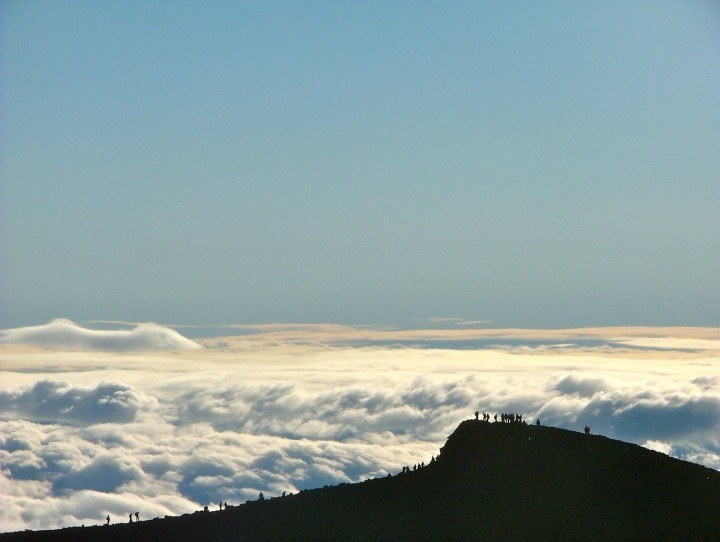 ---
---
4. Scuba diving
Unbeknownst to most, Japan is home to some world-class scuba diving. Again, some of the best spots are to be found in the Okinawan archipelago, where the visibility is spectacular. Here, divers have the opportunity to swim with manta rays, hammerhead sharks and sea turtles amongst beautiful coral reefs. One of the most impressive and perplexing dive sites of all is off the coast of Yonaguni, where strange underwater rock formations have given rise to the theory that these are the ruins of some ancient, unknown Atlantis. The jury's still out, but the columns, stairs, passageways and plazas of this "underwater city" make an incredible dive!
If you want to fit in a bit of diving but are not planning to visit Okinawa, we also recommend Yakushima, the Izu Peninsula (close to Tokyo), or the remote Ogasawara Islands.
5. Fireworks
For the Japanese, summer is a time for fireworks – and there are many fantastic displays up and down the length of the country. One of the most famous is the Sumida River Firework Display in Tokyo, which happens on the last Saturday of July. In August, Miyajima Island also has a great display, illuminating its famous torii gate – while Toya Onsen in Hokkaido holds a lakeshore firework display every single night throughout the season.
These are just a few examples. Wherever you happen to travel in Japan, you're sure to find a firework display happening near you.
---
Top tips for visiting Miyajima Fireworks Festival
---
6. Festivals
With about one billion festivals happening every month of every year, every day is festival day in Japan – but some of the biggest and best happen in summer. In the northern Tohoku region, the Aomori Nebuta Matsuri sees giant, light-up floats travel through the city of Aomori. Akita holds the Kanto Matsuri, during which performers balance giant poles festooned with paper lanterns on parts of their bodies. And Sendai celebrates the Tanabata Matsuri, where festivities include traditional decorations, dances and entertainments.
Further south, Kyoto's famous Gion Matsuri continues for the entire month of July, including a massive parade and plenty of festivities. And Tokushima on Shikoku Island celebrates the Awa Odori Matsuri – the largest dance festival in Japan.
These really are just the tip of the iceberg. There's also the countrywide Obon festival, Kyoto's spectacular Daimonji fire festival, Yamagata's Toro lantern festival… the list goes on and on.
---
6 of the best summer festivals in Japan
---
7. Amazing vending machines
You might think that vending machines are no big deal, but I can assure you that when you visit Japan you will change your mind. These are not your average automated drink dispensers. Oh no.
Japan's crazy vending machines are no less awesome in any other season, but in summer they are really worth their weight in gold. Japan has vending machines in spades – more per capita than any other country in the world – and they are packed full of all kinds of weird and wonderful drinks to keep you cool AND entertained in the heat.
Whether you want beer, wine, iced coffee, jasmine tea, grape-flavoured fizzy jelly, sweetcorn soup or pancake-flavoured milkshake, Japanese vending machines can provide. And they also do hot drinks – not that you'd really want those in the summer.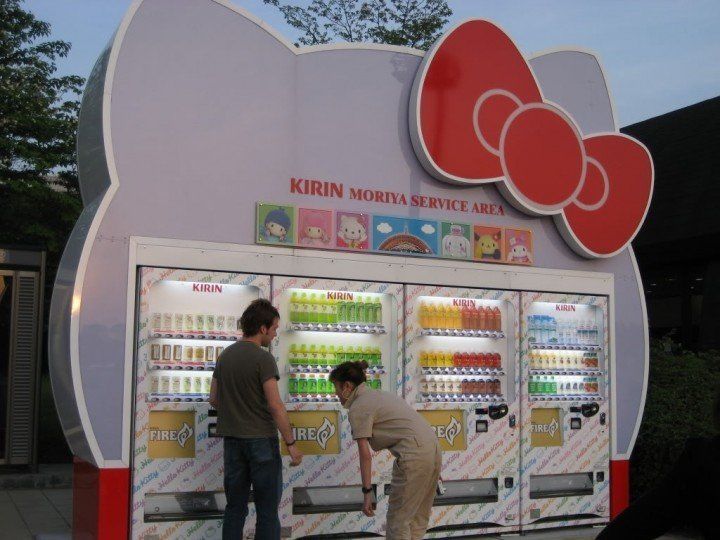 8. Summer foods and insane ice creams
It would be absolute insanity to suggest that Japanese food isn't delicious on every day of the year, but summer brings some excellent speciality dishes that most certainly merit a mention in this blog piece. My own personal favourite is zarusoba, which is essentially a dish of cold noodles served on a bamboo tray with a dipping sauce called tsuyu. You may think that this sounds less than palatable, but in fact it is incredibly delicious and exceedingly refreshing.
Japanese ice creams are also a real treat and come in all kinds of flavours. And I mean ALL kinds of flavours. My personal favourites include kurogoma (black sesame), beni-imo (Okinawan sweet potato) and matcha (green tea). My personal least favourite is wasabi, which should absolutely not be ice cream. Ever.
---
Ice-cream tour of Japan: Five top flavours
---
9. Music festivals
Another light that Japan likes to hide underneath its bushel (along with its beaches, scuba diving, and beautiful mountain scenery) is its music festivals. Though barely known amongst music aficionados in Europe or the US, Fuji Rock (which takes place at Naeba resort over the last weekend of July) is world-class, attracting line-ups packed with international household names as well as Japanese acts that are little known outside of Japan. Previous events have hosted the Foo Fighters, Muse, The Cure, Radiohead, Elvis Costello, Arctic Monkeys, Oasis, and many more.
If you can't make it to Fuji Rock, Summer Sonic is another excellent Japanese music festival, taking place simultaneously in Osaka and Chiba (near Tokyo) in early August.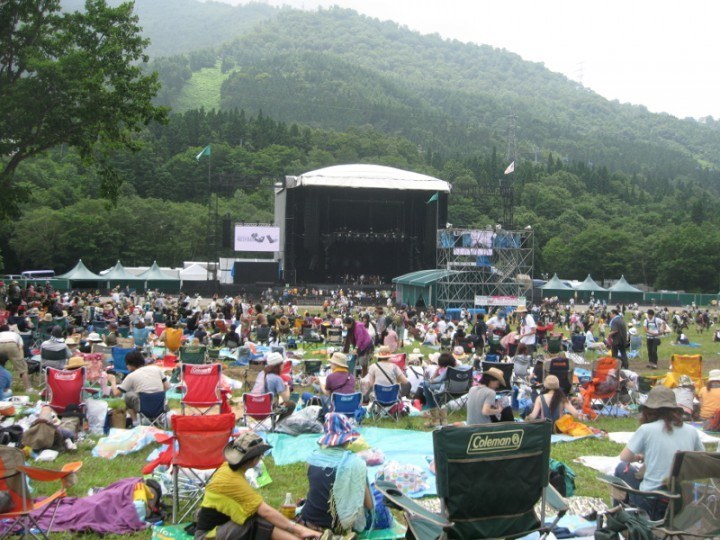 10. Beer gardens and nomihodai
Last, but certainly not least, are beer gardens: Japan's summer entertainment staple. Sapporo is home to the king of beer gardens for a month in July, when the whole of Odori Koen Park is transformed into a giant beer garden – but beer gardens are a firm fixture of the summer scene across Japan. Often located on the tops of buildings, these beer gardens often operate the delightful Japanese tradition of nomihodai: "all you can drink" (for a set price).
Drunkenness and high buildings? I can't think of any better reason to head to Japan than that.
---
Packing your sun hat already? Get in touch with our team to start planning your trip to Japan.
---
Explore Japan in 360°

Discover the most beautiful spots in Japan (and a few you may not have heard of) with our beautiful interactive map: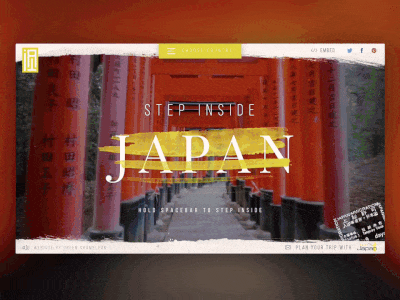 Like this post? Help us by sharing it!