Like this post? Help us by sharing it!
As you may know, I have been working in the IJT Nagoya office for the past few months as an intern. Although part of my job has consisted of support for the Japan team (not making the coffee, thankfully), most of my time has been spent working to improve the IJT Destination Guides. This has involved researching all of the major (and many of the not-so-major) tourist destinations in the country, Google mapping literally thousands of attractions and restaurants, checking reviews, updating prices and contact details, reading hundreds of blogs and travel websites and so on and so forth. All this has given me a knowledge of Japan roughly equivalent to having swallowed a Lonely Planet travel guide – although I won't lie, I think some of the pages might have got a bit mixed up on the way down.
With only three weeks left in Japan, however, it was time to put away Google maps and do some research "in the field," starting with an action-packed three days exploring Nara, Yoshino and Hikone – some of the best travel that Kansai has to offer…beyond Kyoto…and Osaka…and Mt Koya…the region has a lot to offer.
On the way to Nara I stopped in at Uji, which is about 20 minutes on the train from Kyoto and 40 minutes from Nara, so makes a good stopping point between the two. Uji is primarily known for Byodoin Temple. Even if you haven't heard of it the chances are you've seen its likeness hundreds of times before since it's on the back of the 10 yen coin. Since the temple has recently undergone renovation I decided to call in here to check it out, and I must say it was looking rather photogenic in the sunlight.
Unfortunately, even though it wasn't even 10am yet there was over an hour's wait to be able to go inside the temple's "Phoenix Hall." This hall is a veritable monument to longevity – still standing after almost 1,000 years! Sadly I didn't have the time to wait around so I didn't get to see it this time. Nonetheless, Uji is a lovely town and well worth the visit to have a wander down the banks of the river and down some of the quieter side streets.
After stopping at Uji I continued my journey to Nara, which is a wonderful city and well deserving of any tourist's attention. I had visited in February for the Wakakusa Yamayaki fire festival, during which time I met some of Nara's furry residents, saw the amazing great Buddha and explored Nara Park's incredible temples and shrines.
This time, however, my mission was to check out Naramachi – the "old town" area of the city – and to improve our section on Nara's cafes and restaurants. Not bad for a day's work.
In Naramachi you can find the atmosphere of old Japan preserved without the crowds of the country's more well-known tourist haunts. Edo buildings line the streets, packed with oddball museums full of trinkets and crafts and wonderful little cafes housed in old-fashioned, "machiya" houses. I visited on a Friday during peak tourist season (with fabulous weather into the bargain) and I saw barely a soul – although the town's most popular spots are always buzzing.
My hosts at the Guesthouse Naramachi (a hostel-cum-guesthouse in an old machiya with a wonderful atmosphere) were a lovely couple full of excellent recommendations and advice for the area. They disagreed on which local "sento" (public bathhouse) was the best, so of course I had to try them both. For the record, my favourite was Asahi Sento as it had the best selection of baths of different temperatures. The other was too scalding hot for my delicate foreign constitution!
On Saturday I made the two-hour journey into the mountains to Yoshino, which is claimed by many to be Japan's best spot for cherry blossom viewing. By the end of the day I certainly felt that I had seen enough cherry blossom to last a lifetime!
Of course, it was busy. I arrived before most of the crowds and still considered it busy – little did I know that by lunchtime there would be at least ten times as many people! Nevertheless the lovely spring weather, scores of food stalls and general festival-like atmosphere mean that it is well worth the trip despite the crowds. A friendly Japanese couple even bought me a cup of sake for no other reason than to be nice!
It is possible to catch a cablecar up the first section of the mountain or to take the bus to the top and walk down, but not wanting to queue for either (and emboldened by my cup of sake, perhaps) I decided to walk both ways. The way up takes about 3 to 4 hours at a leisurely pace, but isn't too taxing and can be tackled by people of all ages. Along the way are several interesting temples, lots of nice restaurants and cafes, and abundant photo opportunities!
Yoshino is a great place to include in your itinerary if you've just missed the cherry blossom season in Kyoto, since because of the altitude full bloom occurs here a couple of weeks later than in surrounding areas. Just make sure that you book a reserved seat on the Kintetsu express back to civilisation – I can tell you that the last thing you'll want to be doing at the end of the day is standing on a crowded train for two hours!
The final stop on my research trip was Hikone, a castle town in Shiga Prefecture located conveniently on the shinkansen line between Tokyo and Osaka. Hikone is famous for two things: Hikone Castle, one of only four castles designated a national treasure, and Hikonyan, the town mascot.
I was surprised to find that the cherry blossom was still out in Hikone too, meaning that the castle was attractively wreathed in pink and white. Photogenic though that may be, this did also mean that it was heaving with visitors and there was a very long wait to get inside the castle donjon.
Nonetheless, Hikone is a very picturesque town and the castle site is a lovely place to wander around – a good alternative to visiting Himeji Castle, which is currently undergoing major renovations. The recently revitalised "Old New Town" area is also lovely, and visitors can wander amongst nicely fitted-out boutiques and cafes along the Edo-style Castle Road.
The undisputed hero of Hikone, however, is "Hikonyan," a charismatic cartoon cat who has stolen the hearts of the Japanese public. You've heard about Japanese mascot mania from IJT before – well, Hikonyan is the embodiment of that mania. Hikonyan is so outrageously popular in Japan that it's estimated that he single-handedly increased tourism to Hikone by about 200,000 people per year, and that his overall economic effect on the area so far is thought to have been upwards of 3 billion yen (about 30 million USD). Hikonyan merchandise sales alone are supposedly worth 1.7 billion yen. Now that is impressive.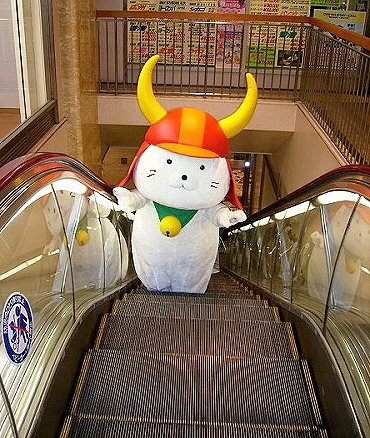 In my next post I'll be exploring Okayama in south-western Honshu – where I encountered a man who has a very unique kind of edible musical instrument. Stay tuned!
Like this post? Help us by sharing it!