Like this post? Help us by sharing it!
The cinema might seem an unlikely source of inspiration of Japanese sightseers, but many famous films serve that purpose quite admirably. Examples include:
Shunjiku/Shibuya (Lost in Translation) –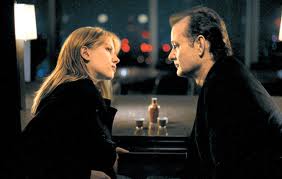 Lost in Translation is as much as love letter to the Shinjiku and Shibuya areas of Tokyo as it is a love story between the characters played by Bill Murray and Scarlett Johansson. Travelers can get that "you are there" feeling by springing for the deluxe accommodations at Shinjiku's famous Park Hyatt Hotel, or they can put that money toward partying in Shibuya's entertainment district, including Ichikan, the site of a dinner scene in the film. If you can't afford a night in the Park Hyatt, then you might want to head up to the Bar & Grill, enjoy a cocktail and the views – very cool.
Lake Sayama (My Neighbor Toto
ro) – Families the world over have been captivated by the magical animated films of Hayao Miyazaki, especially My Neighbor Totoro. This whimsical fantasy follows a pair of children who move out to the country and meet a variety of fantastic yet kindly creatures. Lake Sayama, located in the Tokorozawa City/Irumu City area of Saitama, is widely believed to be Miyazaki's inspiration for the film's setting; in fact, it is affectionately known as the "Totoro Woods." This peaceful artificial lake surrounded by flora and fauna is accessible via the Seibu Line from Seibukyujo-mae Station.
Yakushima Island (Pricess Mononoke) – Another Miyazaki classic is Princess Mononoke which is said to be heavily inspired by the ancient forests of Yakushima Island in Kyushu. The anime is about the struggle between guardians and spirits of the forests and the humans of 'Iron Town' producing fantastic characters and a beautiful story. The magical forest scenery is very similar to the somewhat mystical island of Yakushima which is covered in largely untainted forests of huge 1000 and 2000 year old Cypress trees. Having visited the island a couple of hours jet foil ride from Kagoshima, it is easy to understand as to how the Ghibli Studios founder was influenced by its natural beauty.

Abashirii (If You Are the One) –  If You Are the One, the romantic tale of a Chinese couple who tour Hokkaido, single-handedly launched a huge wave of interest among Chinese moviegoers for this beautiful northern island. The fishing village of Abashiri, in particular, received a lot of screen time for its gorgeous views of the Okhotsk Sea. The wetlands, numerous watering holes and hot springs of Kushiro also won viewers over. A tour of Hokkaido, whether based on this film or not, is a spellbinding experience for nature lovers and those who wish to see a Japan they might never glimpse on the mainland.
We haven't even mentioned the James Bond classic, You Only Live Twicewhich takes in a huge number of locations from Tokyo to the volcano of Kirishima national park. There was the recent Bond movie, Skyfall in which the baddy lair was inspired by Gunkanjima Island in Nagasaki. This summer sees the latest release in the X-men series with Hugh Jackman's Wolverine which should prove to be a huge success with scenes actually filmed across Tokyo.

Japan is a truly inspirational place in the movies and in real life. Go see for yourself!
Like this post? Help us by sharing it!