Like this post? Help us by sharing it!
It has been almost a month since the Foreign Commonwealth Office (FCO) took the precaution of advising against travelling to Tokyo, but restrictions have finally been lifted. InsideJapan Tours are grateful to the UK government for being the first to react, but have been frustrated for weeks in the knowledge that Tokyo has been safe to travel to for a while now. InsideJapan have a network of staff, suppliers, business partners and friends on the ground relaying the most up-to-date, accurate and  reliable information from Japan. We have been very confident that our customer's safety was never in question and have continued to send customers (albeit fewer than normal) out to this unique and inspiring country.
We have had a number of customers from the UK and US defy government advice and continue with their travels to Japan during what is traditionally its most beautiful season. As expected, our customers in Japan are having a fantastic time which is great to hear. Our Spring Elegance small group tours have been running and we have received some excellent feedback from customers travelling through a cherry blossoming Japan as we speak. Tina Vivona of Illinois is travelling with her family have given some fantastic mid-trip feedback and says that she would like us to use it – Thank you Tina!
"One week into our Spring Elegance tour and Ross and I are not regretting our decision to continue with our tour of Japan as planned. All of our pre-trip anxieties vanished the moment our tour began. All of our negative expectations proved to be unfounded. The shelves in the convenience stores are well stocked, bottled water is a plenty, in fact there are vending machines located on practically every street corner, we have experienced no power outages, trains appear to be running regularly, and no mind rattling aftershocks have been felt. The only inconvenience we have run into would be that some of the escalators in the train and subway stations are not running in the efforts to conserve energy.
What else can we say? We are having a great time!!! The Japanese people we have interacted with seem appreciative that we are here as tourism has become practically non-existent at the moment. They are as gracious and charming as we imagined. A special thanks to our tour guide, Axel Deroubaix, who is doing an amazing job introducing us to the beauty and awe of Japan. We feel especially lucky to be having such an intimate experience in a small group".
After Tina's glowing initial summary, she was keen to let us know how the Spring Elegance Tour was going. Here is a frank summary for anyone that was pondering on joining a future tour;
Wednesday 30th March
What an amazing first day we had in Tokyo. The weather was absolutely beautiful…sunny, light breeze, low 60s. Spring has definitely arrived here. The day was action packed as we traveled all over town. We started in Asakusa where we visited the Sensoji temple, the oldest in the city. We then took a stroll over to the Sumida River where we boarded a riverboat cruise that took us to the Hamarikyu gardens where the majority of the trees, regardless of their size, have been shaped like Bonsai. In the garden we had a chance to partake in an afternoon tea served with a traditional Japanese confectionery. From there we walked to the busy working district of Shinbashi where Ross and I got to enjoy our first Kaiten sushi bar experience. We then learned how to navigate the train and subway system of Tokyo. There are so many lines that the map just looks like a tangled mess of colors. But once someone explains how it all works, it all seems to make perfect sense. Twenty-five minutes later we were in the famed fashion district of Harajuku were the teenagers were out in full force. We had a traditional Japanese dinner in a quaint family owned restaurant.
Thursday 31st March
Day excursion to the seaside town of Kamakura. Mesmerized by the gardens at Hase-Dera Temple. Tried something new for dinner – Okonomiyaki, something like a pancake with cabbage and the meat of your choice. Prepared on a mini grill plate at our table. Delicious! Went to a Cat Café to play with the kitties.
Friday 1st April
Free day in Tokyo. Successfully navigated the subway system on our own, but got completely lost in both the Ginza and Akihabara districts. Both were completely overwhelming. Rows and rows of streets with tons of shoppers cramming the sidewalks. Ginza is Tokyo's shopping mecca. Imagine Michigan Avenue in Chicago. Then times that by 10. It's mind blowing. Same with Akihabara, the electronics district.
Saturday 2nd April
Left Tokyo for Matsumoto, a town located in the Japanese Alps. It's still winter there! Visited the Matsumoto Castle built in 1504 (AKA the Black Castle) It has been designated as a National Treasure. Once you see it, you know why. The surrounding moat is quite impressive. Noodles and tempura for dinner. Double yum! Also tried Basashi. You'll need to Google this. It was surprisingly delicious.
Sunday 3rd April
Took a bus from Matsumoto to Takayama. Driving through the snow laced mountains offered breathtaking views. Funny to see al the ski lodges and slopes along the way. For some reason, I don't think of winter sports when I think of Japan. But, there they were. Takayama is still in the Japanese Alps, so we were still experiencing winter weather with some pretty frigid temperatures. Checked into our hotel for the next two nights – a traditional Ryokan, or Japanese Inn. This is how you imagine a Japanese experience to be. Tatami mats on the floors, no shoes allowed, paper screen sliding doors to every room, meals sitting on the floor, futon on the floor for your bed, and communal bathing facilities. Although we also had private baths in our rooms, extraordinary in their own right, the public Onsen supplied with water from a natural hot spring was something not to be missed. An exquisite and relaxing experience! Visited shops, sampled street food, and delighted in sake tasting at local sake breweries in the section known in the "Old Town." Had a traditional Japanese feast at the Ryokan. Even surprised myself by trying things I would never dare to think of.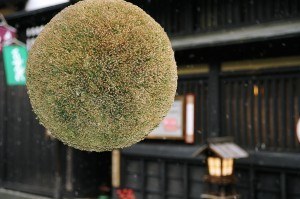 Monday 4th April
Full day in Takayama. Traditional Japanese breakfast at the Ryokan. Hit the morning markets for some more shopping. Visited a traditional merchant house, another temple, a museum housing the elaborate floats used in the town's spring and fall festivals, and the Hida Folk Village (a collection of historic buildings from around the region brought to a single location). During a leisurely stroll through the Old Town before dinner, Ross and I stumbled across a butcher shop selling Hida Beef Sushi. OMG! I have never tasting anything so amazing! Lucky for us, our guide had arranged for dinner at a local restaurant where we were able to grill our own Hida beef choices over a grill at our table. This experience is nothing like eating at an American steakhouse. But what makes it exceptional is the marbling of fat throughout. Makes the meat melt like butter in your mouth. Not an inexpensive meal, but well worth every penny! I will be dreaming about this place for years to come! Special treat was that our guide was friends with the owner's sister-in-law. She sat with us throughout dinner and delighted us with her presence and conversation.
Tuesday 5th April
On the move again today. Enjoyed one last Hida Beef sushi experience before heading for the train station. Two trains later, we arrived in the metropolis of Kanazawa just around 12:30. Highlights included the landscape gardens of Kenrok-en where we finally got to see some cherry blossoms beginning to bloom, a trip to the fish market and a visit to the old Samurai district where we enjoyed tea while overlooking the garden in an actual Samurai house that has been preserved through the ages. Sushi for dinner back at the fish market. The freshest I have ever tasted. Tried all different kinds. All completely delicious!
Wednesday 6th April
And so, the adventure continues. Off to Kyoto today!
Sincerely
Tina Vivona
It is great to hear that Tina and family are enjoying their Spring Elegance tour so much and, to be honest, there is no reason why they shouldn't be enjoying it!
The north eastern region of Japan has seen terrible destruction, but with the help of charities such as Civic Force and the strength of the Japanese people, the region will quickly get back to its former rural glory. Elsewhere, the country is as amazing as it has always been. Tokyo is still one of the worlds best cities and to the south, the country continues life as normal, draped in culture and tradition and inhabited by friendly and inspiring people.
We love Japan and know that you will fall in love with it too.
Like this post? Help us by sharing it!