Yakushima
Yakushima is an almost-circular, mountainous island lying 60km southwest of Kyushu Island. Designated a Natural World Heritage Site since 1993, Yakushima's main attractions are its primeval forests, with their ancient trees and dizzying array of flora and fauna.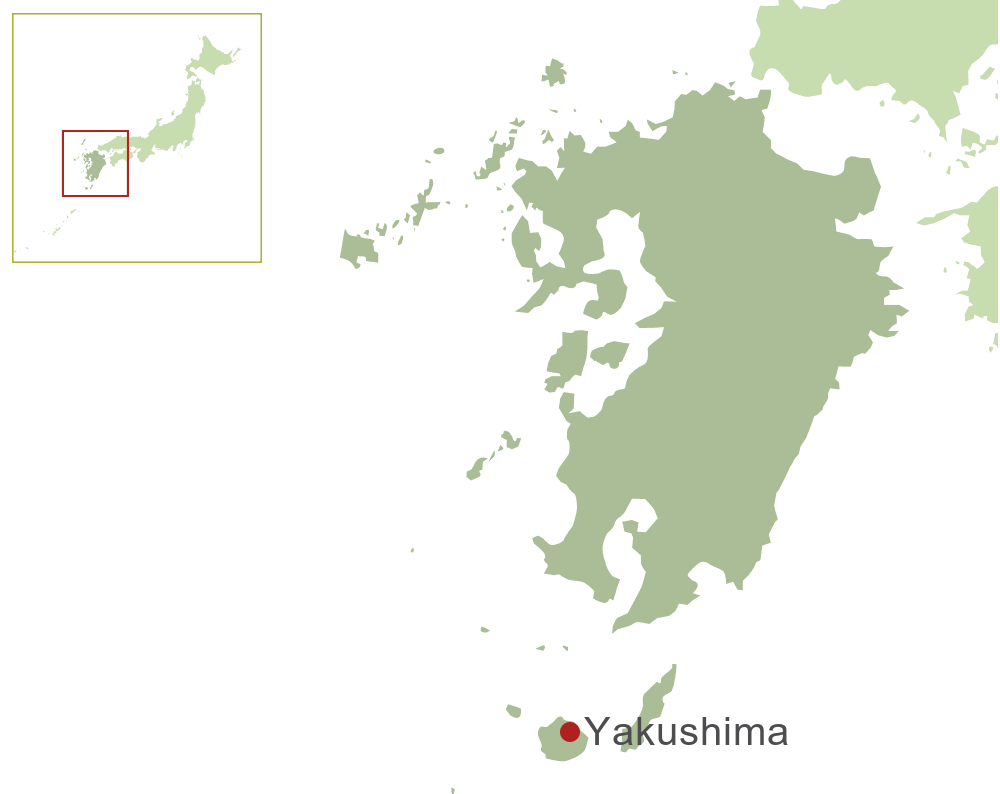 "Yakushima is often referred to as the 'Alps of the Sea', and as you approach by plane or by boat it is easy to see why. The island's vertiginous peaks, ancient forests and amazing diversity of flora and fauna make an incredible counterpoint to Japan's more famous cities."
James Mundy, PR Manager
Residents of Yakushima say that it rains for 35 days a month - which is part of the reason the island is so famously lush! Another contributing factor is the sheer range of habitats Yakushima supports, from subtropical conditions around the coastline to almost subarctic temperatures at its highest altitudes. As a result of these sharply contrasting conditions, Yakushima plays host to a diversity of wildlife unrivalled by anywhere else in Japan.
Of great significance to Yakushima's forests is the presence of Japanese yaku cedars, which can live for thousands of years. Those which are over 1,000 years old are termed yakusugi, whilst younger trees are known as kosugi. The oldest tree on the island, Jomon Sugi, is thought to be as old as 7,000 years, which (if true) would make it the oldest tree in the world.
Before the 1600s, trees on Yakushima were only cut down when they were needed for building and firewood, and the yakusugi were held as sacred by the islanders. During the Edo period (1603 - 1867), however, a Yakushima monk named Tomari Jochiku who wanted to relieve the poverty of his home island persuaded the residents to begin logging the forests. This practice continued for almost four-hundred years. Throughout this time yakusugi were used for shipbuilding and architecture, but most of them became roof tiles known as hiragi, which were paid to the Satsuma clan in exchange for rice and other supplies.
After the Meiji Restoration, islanders were restricted from cutting trees. Although this was good news for the preservation of ancient woodland, it spelled destitution for the residents of Yakushima, who lost their principal source of income in one fell swoop. In 1921, a "forest management" plan was introduced to the island which nationalised certain areas of the forest and partially restored the timber industry. This meant that residents could once again use the trees for local profit and firewood, but important swathes of woodland remained protected. Today the forests have recovered well from past logging and are a national park.
The fauna of Yakushima is as diverse as its flora, and it is home to 16 mammal species - of which four are endemic to the island. These include the famous yakuzaru monkey and the yakushika deer, which together outnumber the human population! Lucky visitors during the summer months may also witness the hatching of thousands of baby turtles on the island's beaches, as it is a spawning ground for migratory loggerhead turtles.
As you follow hiking trails through primeval forests, soak in beachside hot springs, enjoy the warm hospitality of the local inns, admire powerful waterfalls and spot fascinating wildlife, you can hardly fail to be bewitched by the atmosphere of Yakushima as many others have before you. To get you in the mood for your visit, we highly recommend watching Hayao Miyazaki's animated masterpiece, Princess Mononoke, which was inspired by the director's memories of the island.
Recommended Accommodation in Yakushima
The following are our favourites from among the western-style hotels and Japanese-style inns of Yakushima.
Experiences in Yakushima
Yakushima offers a wealth of exciting experiences that will help you get beneath the surface of Japan's fascinating culture. See below for a few of our favourites
Weather in Yakushima
The Climate Guide for Yakushima, Japan is perfect for planning your holiday. Monthly weather averages give the best indication of what the weather is usually like for every month of the year including figures for temperature, rainfall and sunshine.
Jan
Feb
Mar
Apr
May
Jun
Jul
Aug
Sep
Oct
Nov
Dec
Max Daytime Temperature (°C)
9
10
13
17
20
23
26
26
24
20
16
12
Min Night-time Temperature (°C)
2
2
5
9
13
17
20
20
18
13
8
4
Hours of Sunshine (Daily)
3
3
4
5
5
4
7
7
5
5
4
3
Hours of Daylight (Daily)
10
11
12
13
14
14
14
13
12
11
11
10
Heat and Humidity Discomfort
None
None
None
None
None
None
Moderate
Moderate
Low
None
None
None
Days with some Rainfall
18
18
20
19
20
22
23
23
21
17
16
17
Monthly Rainfall (mm)
102
106
167
192
236
437
355
281
259
154
89
77
UV Index (Maximum)
4
6
8
10
11
11
11
11
9
7
5
4
Featured trips including Yakushima
Nagasaki
Kagoshima
Yakushima
Kirishima National Park
Kumamoto
Kurokawa Onsen
Fukuoka

If you're an adventurous traveller who wants to discover a side of Japan rarely seen by outsiders, this itinerary could be the one for you.

13 nights: from AU$4978 pp (twin share) Read more >

Nagasaki
Kagoshima
Yakushima
Kirishima National Park
Kumamoto
Kurokawa Onsen
Fukuoka

Discover the impressive landscapes and vibrant cities of Kyushu on this journey from the forests of Yakushima to Kurokawa Onsen's hot springs

13 nights: from AU$7676 pp (twin share) Read more >