Self-Guided Adventure
Kyushu Adventure
13 Nights: from AU$7676 per person (twin share)
Trip Code: KAS
Discover the vibrant cities and impressive natural landscapes of the Kyushu region, from Kurokawa Onsen's hot springs to the primeval forests of Yakushima, staying in superior accommodation and enjoying some of the finest in Japanese cuisine. Read more >
Kyushu island is characterised by its friendly residents' laid-back approach to life and the beautiful natural landscapes to be found at every stop along the way. From the historic port city of Nagasaki, to the ancient forests of Yakushima, via the untamed wilderness of Kirishima National Park, there are many treasures waiting to be discovered.
The cosmopolitan city of Nagasaki is a great first stop to dip your toe into all that Kyushu has to offer. Here, influences from China, Holland and Portugal can be seen throughout the city, particularly in the reconstructed Dutch factory of Dejima and the Meiji period colonial style homes echo this.
Kagoshima is home to one of Kyushu's most impressive natural wonders: Sakurajima, an active volcano atop an island in the bay. Kagoshima has a rich samurai history as it was home to some of the most powerful clans in the whole country; the samurai residence Sengan-en is a great place to learn more.
Awarded UNESCO World Heritage site in 1993, the little island of Yakushima is Kyushu's hidden gem, well loved for its giant yakusugi cedar trees the oldest of which, Jomon-sugi, may have withstood the ravages of time for as many as 7,000 years. Yakushima is a world away from the bustle of city life and remains an unspoilt area of Japan.
Kirishima National Park is a vast region of rugged mountains and lakes, with plenty of hiking trails for adventurous travellers, and heaps of relaxation for those who prefer to admire the scenery from a hot spring bath!
The small but lively city of Kumamoto makes for an interesting two-night stay. Here you can visit what is considered to be one of Japan's best castles, with a signature curved stone construction known as musha-gaoeshi. It's also a great base for taking a day trip to nearby Takachiho Gorge where you can boat down the river and marvel at the high basalt cliffs.
On the eastern side of Kyushu, Kurokawa Onsen is dominated by Mount Aso which can be scaled via a ropeway for some fantastic views over rural Kyushu - and perhaps a glimpse into the steaming Aso caldera lake.
Start and finish: This itinerary is designed to begin in Nagasaki and end in Fukuoka, to show off the best of Kyushu. We can easily tailor the trip to start and finish at one of the international airports, or it's a great add-on to a more traditional Golden Route of Tokyo, Hakone, and Kyoto. Let us know your interest and time available and we'll adjust the itinerary to match.
Alternatively, if you'd like to explore more of Asia, Fukuoka is a gateway to South Korea, with flights and ferries connecting the two countries. Head on over to our sister brand, InsideAsia Tours, for more details on a multi-country Japan and South Korea holiday. Our Best of Korea & Japan self-guided itinerary shows off the best of both countries, or you can eat your way across Asia on A Taste of Japan & South Korea.
Transport: Our itinerary includes car hire in two locations: once on Yakushima Island where public transport is limited, and again between Kirishima National Park and Fukuoka. We will provide full directions in your Info-Pack and your car will have English sat-nav. Although there is a main Shinkansen bullet train line connecting the north and south of the island, it only runs through the main cities. In order to get the best experience and see as much of Kyushu's natural beauty as possible, we think a car is the best way to explore. If you're not sure about driving in Japan, we can arrange other transport such as private cars - just let us know.
Driving in Japan: Please note that to drive in Japan you will need to obtain an International Driving Permit (IDP) before you leave your home country.
What's included
13 nights' accommodation (six nights Japanese-style)

Breakfast each morning and seven evening meals

Airport transfers by private car

All transport between destinations in Japan including bus, train and ferry tickets

Eight-hour private guide service in Nagasaki and Yakushima

Private evening food tour of Fukuoka

10 days' car hire

Pocket WiFi device

Your personalised InsideJapan Info-Pack
What's NOT included:
International flights

Any extra local transport (buses, subways, taxis) unless otherwise specified

Any entrance fees unless otherwise stated

Baggage handling & luggage forwarding

Petrol (gas) for car hire
Trip Highlights
Visit Kumamoto Castle and the beautiful Suizenji Gardens

Learn about Kagoshima's powerful samurai history

Explore the rugged beauty of Kirishima National Park
Hike amongst Yakushima's ancient giant cedar trees

Visit Nagasaki's Peace Park

Soak in the hot spring baths of Kurokawa Onsen
For more information email us: [email protected] or call: + 61 7 3186 8800
What, where, when and how...
Kyushu Adventure - 14 Days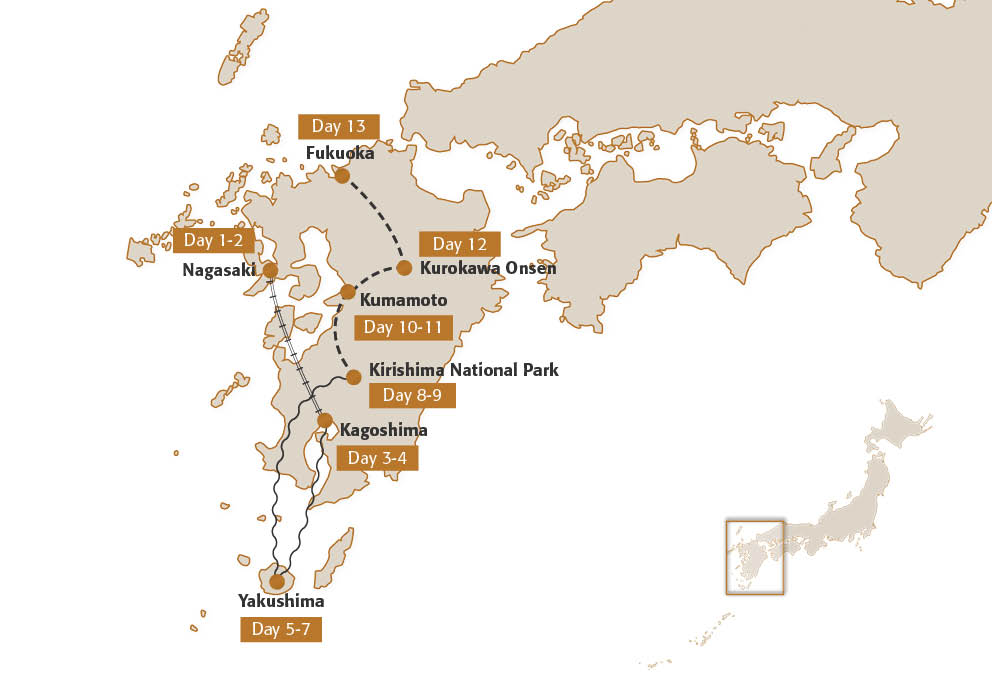 Kyushu Adventure - 14 Days - Day by Day
Kyushu Adventure - 14 Days - Accommodation
Kyushu Adventure - 14 Days - Experiences
Day 1-2

Kick-off your Kyushu Adventure in this cosmopolitan coastal city.

The port here was the only place in Japan that was open to the outside world during more than two centuries of national isolation and as a result has obvious influences from China, Holland and Portugal which can be seen throughout the city.
On your second day you'll have a full day to explore the early and modern history of the city. There's a lot to see, from vibrant Chinatown to the reconstructed Dutch factories of Dejima or maybe the Meiji period colonial style homes. You could also take the tram over to Urakami, and the site of what Nagasaki is perhaps most famous for - the world's second nuclear bomb - visiting the Peace Memorial Park and the moving museum dedicated to the city's darkest day.
In the evening, you can reflect upon your day's sightseeing by taking a cable car trip up to the top of Mount Inasa for the "Million Dollar View" of this beautiful city.

Overnight: ANA Crowne Plaza Nagasaki Glover Hill

Day 3-4

Journey south to Kagoshima and marvel at Sakurajima volcano in the bay.

After a smooth 3-hour train ride on the Shinkansen bullet train, you'll have the afternoon to explore Kagoshima, Kyushu's southernmost major city. We recommend starting with a visit to Sengan-en, a residence that belongs to the Shimadzu clan who were one of the most powerful samurai families in the region – and the whole of Japan. After enjoying the gardens and learning about the history, you might like a late lunch or afternoon tea on-site while taking in views of Sakurajima volcano out in the bay. At certain times of year, they host events like horseback samurai archery, which is quite a sight!
For dinner there is an excellent collection of yatai food stands near the station that is a great place for sampling some traditional street food.
On your second day you'll have the day at leisure to either see more of Kagoshima or to take a day trip to the oceanside sand baths of Ibusuki or the samurai residences of Chiran. Full details will be included in your Info-Pack.

Overnight: Shiroyama Hotel Kagoshima

Day 5-7

Hike through the ancient cedar forests of Yakushima Island.

The two-and-a-half hour ferry journey over to Yakushima offers stunning views of Kinko Bay. After arriving on the island and picking up your hire car, you might want to head out on one of the local hiking trails, visit a waterfall or relax on the pristine beaches.
Yakushima Island was designated a UNESCO World Heritage site in 1993 and is famed for its giant Japanese cedar trees. Isolated from the Japanese mainland and with a unique terrain and climate, Yakushima is truly one of Japan's natural wonders.
On the following day, a Yakushima hiking expert will pick you up in his car and take you around the island for a full day's exploration. The best way to reach the ancient cedar trees is by taking one of the many wonderful walks and hikes - there's a good chance you will be joined by indigenous monkeys and deer on your way! Walking through these very same forests inspired the famous animator Hayao Miyazaki to create his epic masterpiece Princess Mononoke. A bento lunchbox will be included as part of your guided hike today.
You will have the next day at leisure to explore Yakushima under your own steam. The dramatic coastline of this island should also be explored for its sandy beaches, hot spring baths and fresh local cuisine. A wonderful Japanese-style dinner will be included at your accommodation on all three nights of your stay on Yakushima.

Overnight: Yakushima JR Hotel

Day 8-9

Return to the mainland and journey north to the wild beauty of Kirishima National Park.

The first half of the day will see you drop off your car, take the ferry back to Kagoshima, and pick up a new car for the 1.5-hour drive north to Kirishima National Park where you'll have a day and a half at leisure.
The region is full of rugged mountains, highland plateaus, volcanic lakes and hot springs, which combine to make a beautiful destination for hiking or relaxation. If your legs are tired after Yakushima, there's plenty to draw your interest. Kirishima-Jingu Shrine is one of the most important in the country and even features in the Japanese national anthem. Art enthusiasts are sure to enjoy the open-air museum which features pieces from artists like Yayoi Kusama and James Turrell. And if you're a fan of a hot spring bath, there are plenty scattered across the area.
Dinner is included on both nights at your modern ryokan accommodation, which has incredible views out over the National Park from your room - and from the open-air hot spring baths!

Overnight: KAI Kirishima

Day 10-11

Stop by Kumamoto Castle and take a day trip out to Takachiho Gorge.

The next stop on your Kyushu Adventure is the small castle town of Kumamoto, which was heavily damaged in an earthquake in 2016. In addition to the restored castle, Suizenji garden, which features a long landscape piece depicting the famous Tokaido trading route, is well worth a visit.
The following day you might like to use your car to continue exploring the area. We highly recommend travelling east into Miyazaki prefecture to visit Takachiho Gorge, where you can enjoy views of the sheer basalt cliffs from your own boat.
On your way back to Kumamoto, you might like to break the journey at the Kunimigaoka viewing platform, which offers views across the mountainous countryside; if you're visiting in the autumn, you may be lucky enough to see the 'unkai' phenomenon where the valleys is filled with a 'sea of clouds'.

Overnight: The Blossom Hotel Kumamoto

Day 12

Soak away in the restorative hot spring waters of Kurokawa Onsen.

Today you'll continue on to Kurokawa Onsen via the Mount Aso area – the location of the world's largest caldera. It is an area of impressive natural landscapes, and you can hike (or take the easier option of a cable car) up to the top of the active Nake-Dake volcano crater and visit the excellent museum depicting the history of the volcano – please note that due to volcanic activity, access to the caldera isn't always possible.
Your destination, Kurokawa Onsen, is our favourite hot spring towns in Kyushu. Your accommodation night is a real treat: luxurious traditional villas with their own baths, set among bamboo forests. It's a wonderful way to spend your penultimate night.

Overnight: Takefue

Day 13-14

Round off your Kyushu trip in Fukuoka, the largest city on the island.

The drive northwest to Fukuoka takes a couple of hours. If you want to sightsee along the way, you can stop off in Dazaifu, a town that used to be the administrative heart of the whole of Kyushu for over five hundred years. The highlight is Dazaifu Tenmangu Shrine which dates back to the end of the 16th century, and the shrine approach is full of traditional cafes and shops selling good luck charms and other lovely souvenirs.
You'll have the rest of the day at leisure in Fukuoka before joining a local guide for the best end to your Kyushu trip: a guided street food tour. Enjoy!

Overnight: The Royal Park Hotel Fukuoka
View all days
Day 1-2

Kick-off your Kyushu Adventure in this cosmopolitan coastal city.

The port here was the only place in Japan that was open to the outside world during more than two centuries of national isolation and as a result has obvious influences from China, Holland and Portugal which can be seen throughout the city.
On your second day you'll have a full day to explore the early and modern history of the city. There's a lot to see, from vibrant Chinatown to the reconstructed Dutch factories of Dejima or maybe the Meiji period colonial style homes. You could also take the tram over to Urakami, and the site of what Nagasaki is perhaps most famous for - the world's second nuclear bomb - visiting the Peace Memorial Park and the moving museum dedicated to the city's darkest day.
In the evening, you can reflect upon your day's sightseeing by taking a cable car trip up to the top of Mount Inasa for the "Million Dollar View" of this beautiful city.

Overnight: ANA Crowne Plaza Nagasaki Glover Hill

Day 3-4

Journey south to Kagoshima and marvel at Sakurajima volcano in the bay.

After a smooth 3-hour train ride on the Shinkansen bullet train, you'll have the afternoon to explore Kagoshima, Kyushu's southernmost major city. We recommend starting with a visit to Sengan-en, a residence that belongs to the Shimadzu clan who were one of the most powerful samurai families in the region – and the whole of Japan. After enjoying the gardens and learning about the history, you might like a late lunch or afternoon tea on-site while taking in views of Sakurajima volcano out in the bay. At certain times of year, they host events like horseback samurai archery, which is quite a sight!
For dinner there is an excellent collection of yatai food stands near the station that is a great place for sampling some traditional street food.
On your second day you'll have the day at leisure to either see more of Kagoshima or to take a day trip to the oceanside sand baths of Ibusuki or the samurai residences of Chiran. Full details will be included in your Info-Pack.

Overnight: Shiroyama Hotel Kagoshima

Day 5-7

Hike through the ancient cedar forests of Yakushima Island.

The two-and-a-half hour ferry journey over to Yakushima offers stunning views of Kinko Bay. After arriving on the island and picking up your hire car, you might want to head out on one of the local hiking trails, visit a waterfall or relax on the pristine beaches.
Yakushima Island was designated a UNESCO World Heritage site in 1993 and is famed for its giant Japanese cedar trees. Isolated from the Japanese mainland and with a unique terrain and climate, Yakushima is truly one of Japan's natural wonders.
On the following day, a Yakushima hiking expert will pick you up in his car and take you around the island for a full day's exploration. The best way to reach the ancient cedar trees is by taking one of the many wonderful walks and hikes - there's a good chance you will be joined by indigenous monkeys and deer on your way! Walking through these very same forests inspired the famous animator Hayao Miyazaki to create his epic masterpiece Princess Mononoke. A bento lunchbox will be included as part of your guided hike today.
You will have the next day at leisure to explore Yakushima under your own steam. The dramatic coastline of this island should also be explored for its sandy beaches, hot spring baths and fresh local cuisine. A wonderful Japanese-style dinner will be included at your accommodation on all three nights of your stay on Yakushima.

Overnight: Yakushima JR Hotel

Day 8-9

Return to the mainland and journey north to the wild beauty of Kirishima National Park.

The first half of the day will see you drop off your car, take the ferry back to Kagoshima, and pick up a new car for the 1.5-hour drive north to Kirishima National Park where you'll have a day and a half at leisure.
The region is full of rugged mountains, highland plateaus, volcanic lakes and hot springs, which combine to make a beautiful destination for hiking or relaxation. If your legs are tired after Yakushima, there's plenty to draw your interest. Kirishima-Jingu Shrine is one of the most important in the country and even features in the Japanese national anthem. Art enthusiasts are sure to enjoy the open-air museum which features pieces from artists like Yayoi Kusama and James Turrell. And if you're a fan of a hot spring bath, there are plenty scattered across the area.
Dinner is included on both nights at your modern ryokan accommodation, which has incredible views out over the National Park from your room - and from the open-air hot spring baths!

Overnight: KAI Kirishima

Day 10-11

Stop by Kumamoto Castle and take a day trip out to Takachiho Gorge.

The next stop on your Kyushu Adventure is the small castle town of Kumamoto, which was heavily damaged in an earthquake in 2016. In addition to the restored castle, Suizenji garden, which features a long landscape piece depicting the famous Tokaido trading route, is well worth a visit.
The following day you might like to use your car to continue exploring the area. We highly recommend travelling east into Miyazaki prefecture to visit Takachiho Gorge, where you can enjoy views of the sheer basalt cliffs from your own boat.
On your way back to Kumamoto, you might like to break the journey at the Kunimigaoka viewing platform, which offers views across the mountainous countryside; if you're visiting in the autumn, you may be lucky enough to see the 'unkai' phenomenon where the valleys is filled with a 'sea of clouds'.

Overnight: The Blossom Hotel Kumamoto

Day 12

Soak away in the restorative hot spring waters of Kurokawa Onsen.

Today you'll continue on to Kurokawa Onsen via the Mount Aso area – the location of the world's largest caldera. It is an area of impressive natural landscapes, and you can hike (or take the easier option of a cable car) up to the top of the active Nake-Dake volcano crater and visit the excellent museum depicting the history of the volcano – please note that due to volcanic activity, access to the caldera isn't always possible.
Your destination, Kurokawa Onsen, is our favourite hot spring towns in Kyushu. Your accommodation night is a real treat: luxurious traditional villas with their own baths, set among bamboo forests. It's a wonderful way to spend your penultimate night.

Overnight: Takefue

Day 13-14

Round off your Kyushu trip in Fukuoka, the largest city on the island.

The drive northwest to Fukuoka takes a couple of hours. If you want to sightsee along the way, you can stop off in Dazaifu, a town that used to be the administrative heart of the whole of Kyushu for over five hundred years. The highlight is Dazaifu Tenmangu Shrine which dates back to the end of the 16th century, and the shrine approach is full of traditional cafes and shops selling good luck charms and other lovely souvenirs.
You'll have the rest of the day at leisure in Fukuoka before joining a local guide for the best end to your Kyushu trip: a guided street food tour. Enjoy!

Overnight: The Royal Park Hotel Fukuoka
Close all days
Other trips you may like
Tokyo
Kanazawa
Shirakawago
Takayama
Matsumoto
Tsumago
Kyoto
Tokyo

A classic 14-night adventure introducing the traditional side of Japan, from Japanese-style inns to time-honoured cuisine and ancient temples.

14 nights: from AU$6289 pp (twin share) Read more >

Tokyo
Izu Peninsula
Kyoto
Ayabe
Tsumago
Matsumoto
Tokyo

Contemplate your reason for being on a philosophical journey around Japan.

13 nights: from AU$5890 pp (twin share) Read more >

Japan has a huge range of amazing theme parks and this twelve-night itinerary ticks off the very best.

12 nights: from AU$17879 (per family) Read more >