Self-Guided Adventure
Kyushu Adventure
14 Nights: from AU$9063 per person (twin share)
Trip Code: KAS
Discover the vibrant cities and impressive natural landscapes of the Kyushu region, from Unzen's hot springs to the primeval forests of Yakushima, staying in superior accommodation and enjoying some of the finest in Japanese cuisine. Read more >
Fukuoka is the gateway to Kyushu, an island characterised by its friendly residents' laid back approach to life and the beautiful natural landscapes to be found at every stop along the way. From the historic port city of Nagasaki, to the ancient forests of Yakushima, via the green slopes of Mount Aso's huge caldera, there are many treasures waiting to be discovered.
In Nagasaki, influences from China, Holland and Portugal can be seen throughout the city, particularly in the reconstructed Dutch factory of Dejima and the Meiji period colonial style homes echo this.
The small but lively city of Kumamoto, with its rich samurai history, makes for an interesting overnight stay. Here you can visit what is considered to be one of Japan's best castles, with a signature curved stone construction known as musha-gaoeshi. On the eastern side of Kyushu, Kurokawa Onsen is dominated by Mount Aso which can be scaled via a ropeway for some fantastic views over rural Kyushu - and perhaps a glimpse into the steaming Aso caldera lake.
Awarded UNESCO World Heritage site in 1993, the little island of Yakushima is Kyushu's hidden gem, well loved for its giant yakusugi cedar trees the oldest of which, Jomon sugi, may have withstood the ravages of time for as many as 7,000 years. Yakushima is a world away from the bustle of city life and remains a very special and unspoilt area of Japan.
What's included
15 nights' accommodation

Breakfast each morning, six evening meals and three lunches

Airport transfers by private car

All transport between destinations in Japan including domestic flights, bus, train, hire car and ferry

Eight-hour private guide service in Nagasaki, Kagoshima and Yakushima

Helicopter ride over Mount Aso

Gunkanjima Island cruise

Pocket WiFi device

Your personalised InsideJapan Info-Pack
What's NOT included:
International flights

Any extra local transport (buses, subways, taxis) unless otherwise specified

Any entrance fees unless otherwise stated

Baggage handling & luggage forwarding
Trip Highlights
Visit magnificent Kumamoto castle

See Japan's volcanic activity first hand

Take a helicopter ride over Mount Aso's craters
Hike amongst Yakushima's giant cedar trees

Visit Nagasaki's Peace Park

Relax in a hot spring onsen bath in Unzen
For more information email us: [email protected] or call: + 61 7 3186 8800
What, where, when and how...
Kyushu Adventure - 15 Days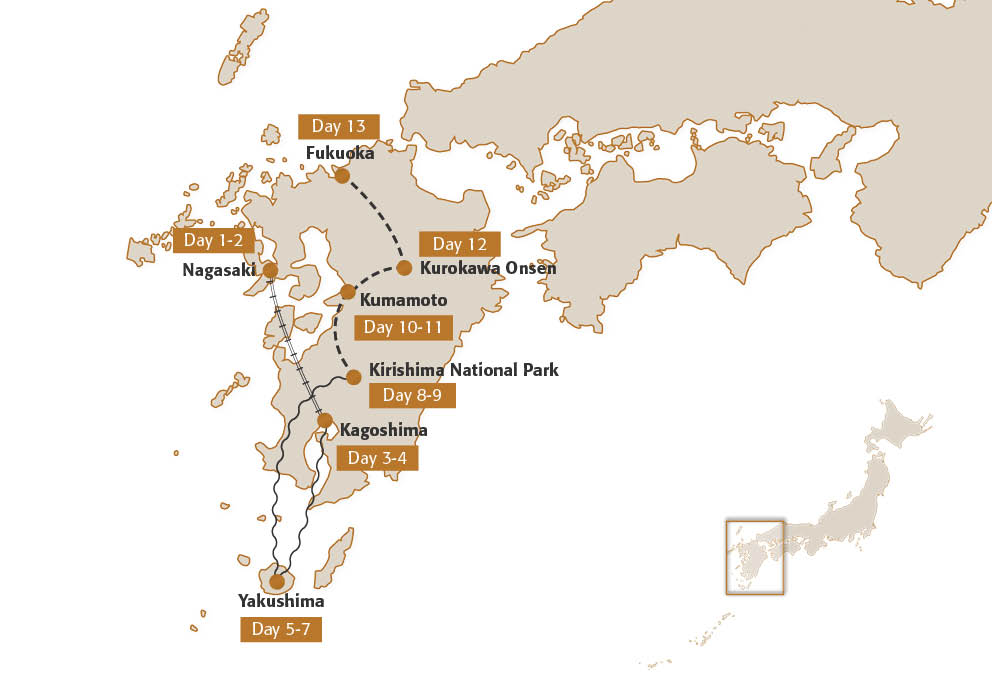 Kyushu Adventure - 15 Days - Day by Day
Kyushu Adventure - 15 Days - Accommodation
Kyushu Adventure - 15 Days - Experiences
Day 1-2

Today you will arrive in Fukuoka, Kyushu's largest city, and be transferred by private car to your first hotel.

Fukuoka is a modern city on the up and is fast gaining a reputation for its culture, entertainment and future thinking. Fukuoka boasts the country's largest hotel, longest bar, biggest cinema complex and the most advanced baseball stadium – to name just a few of its accolades! You'll have the rest of your first day in Japan to begin exploring the city's many attractions.
On your second day in Fukuoka you'll be free to either continue exploring the city or to take a day trip to one of the great destinations just nearby. We recommend Yanagawa town, where you can take a boat ride around the moat of old Yanagawa Castle; the town of Dazaifu, where armies where once launched to defend Japan's Korean kingdom of Mimana; or perhaps a visit to Nanzo-in – a giant reclining Buddha statue that's a whopping 41 m long and 11 m tall!

Overnight: The Royal Park Hotel Fukuoka

Day 3-4

Catching the train from Fukuoka, today you will arrive at the historic trading city of Nagasaki.

The port here was the only place in Japan that was open to the outside world during more than two centuries of national isolation and as a result has obvious influences from China, Holland and Portugal which can be seen throughout the city.
On the afternoon of day three you'll be taking a three-hour cruise to visit Gunkanjima, an eerie abandoned mining island off Nagasaki's coast. Once a thriving community, the island's residents left in such a hurry that some buildings still have washing-up in the sink. Today's cruise will help you discover something about this mysterious and unusual piece of Nagasaki history.
On day four you'll have a full day to explore the early and modern history of the city with your private local guide. The itinerary is flexible and your guide will have lots of fantastic suggestions for your day - from vibrant Chinatown to the reconstructed Dutch factories of Dejima or maybe the Meiji period colonial style homes. You could also take the tram over to Urakami, and the site of what Nagasaki is perhaps most famous for - the world's second nuclear bomb - visiting the Peace Memorial Park and the moving museum dedicated to the city's darkest day.
In the evening, you can reflect upon your day's sightseeing by taking a cable car trip up to the top of Mount Inasa for the "Million Dollar View" of this beautiful city.

Overnight: ANA Crowne Plaza Nagasaki Glover Hill

Day 5

A train and bus journey will take you along the Shimabara Peninsula today, as you head 800 metres above sea level to Unzen Onsen.

The overlapping stratovolcanoes here produce something of a Martian landscape with its reddish coloured ground and billowing clouds of sulphuric gas.
You can take a walk along side the bubbling waters of Jigokudani (Hell Valley) or soak in one of the vast number of hot spring baths that makes the area famous. Tonight will be your first experience of traditional Japanese-style hospitality with an overnight stay in a ryokan (Japanese inn), where dinner will be included this evening.

Day 6

On day six you'll journey by bus and ferry to the pleasant city of Kumamoto, home to one of Japan's most spectacular castles originally built by Lord Kato Kiyomasa in 1607.

Kumamoto is also famous for its Suizenji garden which features a long landscape piece depicting the famous Tokaido trading route – and for Kumamon, the lovable town mascot! Your afternoon will be free to do some sightseeing in the area.

Overnight: Nikko Hotel Kumamoto

Day 7-8

In Kumamoto you will pick-up a rental car to drive inland to Kurokawa Onsen, a small hot spring village in the countryside near Mount Aso.

There should be plenty of time this afternoon to enjoy some of the great walking opportunities in the area, and after your exploration there are a number of hot spring bathhouses to enjoy. Alternatively, you can relax in the baths at your ryokan inn, where a delicious evening meal will be included tonight.
On day eight you will have the opportunity to explore the Mount Aso area – the location of the world's largest caldera. It is an area of impressive natural landscapes, and you can hike (or take the easier option of a cable car) up to the top of the active Nake-Dake volcano crater and visit the excellent museum depicting the history of the volcano.
This afternoon you'll have the chance to survey the whole from above with a helicopter trip over the caldera. The trip will take ten minutes and fly straight over the top of the volcano. From this vantage point the views are truly spectacular – a great opportunity to take some photographs! Please be aware that the helicopter trip may be cancelled in the event of bad weather.
Dinner will be included once again at your Japanese-style inn this evening.

Overnight: Takefue

Day 9-10

On day nine you will travel to the far south of Kyushu Island to the port town of Kagoshima.

You will drive to Kumamoto where you will drop off your car and hop aboard the Shinkansen bullet train to Kagoshima.
Dubbed the Naples of Japan, Kagoshima is an attractive city dominated by Sakurajima, a volcanic island a short ferry ride away. As well as visiting the smouldering mountain there are numerous sights in the city centre itself. Full details of sightseeing options here will be included in your Info-Pack.
On day ten you will have the services of a private local guide for a full day of exploring in Kagoshima. The are a number of museums about the history of the city and some beautiful gardens at Senganen (which is noted for its collection of stone lanterns.) If hot lava is more your thing, you can take tours of the volcanic island of Sakurajima by bus and there is also an interesting visitor centre which gives you more background to the volcano.
Your guide will have plenty of suggestions, but the day's itinerary will be completely flexible to cater to your interests.

Overnight: Shiroyama Hotel Kagoshima

Day 11-13

Your trip will take you to the island of Yakushima today by jetfoil ferry.

This two-and-a-half hour journey offers stunning views of Kinko Bay where you might be able to spot a dolphin or two if you are lucky. After arriving on the island and picking up your hire car, you might want to head out on one of the local hiking trails, visit a waterfall or relax on the pristine beaches.
Yakushima Island was designated a UNESCO World Heritage site in 1993 and is famed for its giant Japanese cedar trees. Isolated from the Japanese mainland and with a unique terrain and climate, Yakushima is truly one of Japan's natural wonders.
On day 12 a Yakushima hiking expert will pick you up in his car and take you around the island for a full day's exploration. The best way to reach the ancient cedar trees is by taking one of the many wonderful walks and hikes - there's a good chance you will be joined by indigenous monkeys and deer on your way! Walking through these very same forests inspired the famous animator Hayao Miyazaki to create his epic masterpiece Princess Mononoke. A bento lunchbox will be included as part of your guided hike today.
On day thirteen, you'll have a full day to explore Yakushima under your own steam. The dramatic coastline of this island should also be explored for its sandy beaches, hot spring baths and interesting sea life. Flying fish also makes for a great lunch, and if you're feeling bold the local shochu fire-water is also worth a taste! A wonderful Japanese-style dinner will be included at your accommodation on all three nights of your stay on Yakushima.

Overnight: Yakushima JR Hotel

Day 14-15

On day fourteen you'll return your hire car to the tiny Yakushima airport and board a plane back to Fukuoka, where a private car and driver will escort you to your final hotel in the city.

The rest of the day will be free for you to make the most of all that Fukuoka has to offer – perhaps you might like to squeeze in some last-minute souvenir shopping, visit one of the museums you missed the first time around or even head out for an evening of karaoke for a very Japanese end to the trip!
Finally it's time to leave Japan, and on your final morning you'll be picked up from your hotel by private car and drive to Fukuoka Airport for your flight home.

Overnight: The Royal Park Hotel Fukuoka
View all days
Day 1-2

Today you will arrive in Fukuoka, Kyushu's largest city, and be transferred by private car to your first hotel.

Fukuoka is a modern city on the up and is fast gaining a reputation for its culture, entertainment and future thinking. Fukuoka boasts the country's largest hotel, longest bar, biggest cinema complex and the most advanced baseball stadium – to name just a few of its accolades! You'll have the rest of your first day in Japan to begin exploring the city's many attractions.
On your second day in Fukuoka you'll be free to either continue exploring the city or to take a day trip to one of the great destinations just nearby. We recommend Yanagawa town, where you can take a boat ride around the moat of old Yanagawa Castle; the town of Dazaifu, where armies where once launched to defend Japan's Korean kingdom of Mimana; or perhaps a visit to Nanzo-in – a giant reclining Buddha statue that's a whopping 41 m long and 11 m tall!

Overnight: The Royal Park Hotel Fukuoka

Day 3-4

Catching the train from Fukuoka, today you will arrive at the historic trading city of Nagasaki.

The port here was the only place in Japan that was open to the outside world during more than two centuries of national isolation and as a result has obvious influences from China, Holland and Portugal which can be seen throughout the city.
On the afternoon of day three you'll be taking a three-hour cruise to visit Gunkanjima, an eerie abandoned mining island off Nagasaki's coast. Once a thriving community, the island's residents left in such a hurry that some buildings still have washing-up in the sink. Today's cruise will help you discover something about this mysterious and unusual piece of Nagasaki history.
On day four you'll have a full day to explore the early and modern history of the city with your private local guide. The itinerary is flexible and your guide will have lots of fantastic suggestions for your day - from vibrant Chinatown to the reconstructed Dutch factories of Dejima or maybe the Meiji period colonial style homes. You could also take the tram over to Urakami, and the site of what Nagasaki is perhaps most famous for - the world's second nuclear bomb - visiting the Peace Memorial Park and the moving museum dedicated to the city's darkest day.
In the evening, you can reflect upon your day's sightseeing by taking a cable car trip up to the top of Mount Inasa for the "Million Dollar View" of this beautiful city.

Overnight: ANA Crowne Plaza Nagasaki Glover Hill

Day 5

A train and bus journey will take you along the Shimabara Peninsula today, as you head 800 metres above sea level to Unzen Onsen.

The overlapping stratovolcanoes here produce something of a Martian landscape with its reddish coloured ground and billowing clouds of sulphuric gas.
You can take a walk along side the bubbling waters of Jigokudani (Hell Valley) or soak in one of the vast number of hot spring baths that makes the area famous. Tonight will be your first experience of traditional Japanese-style hospitality with an overnight stay in a ryokan (Japanese inn), where dinner will be included this evening.

Day 6

On day six you'll journey by bus and ferry to the pleasant city of Kumamoto, home to one of Japan's most spectacular castles originally built by Lord Kato Kiyomasa in 1607.

Kumamoto is also famous for its Suizenji garden which features a long landscape piece depicting the famous Tokaido trading route – and for Kumamon, the lovable town mascot! Your afternoon will be free to do some sightseeing in the area.

Overnight: Nikko Hotel Kumamoto

Day 7-8

In Kumamoto you will pick-up a rental car to drive inland to Kurokawa Onsen, a small hot spring village in the countryside near Mount Aso.

There should be plenty of time this afternoon to enjoy some of the great walking opportunities in the area, and after your exploration there are a number of hot spring bathhouses to enjoy. Alternatively, you can relax in the baths at your ryokan inn, where a delicious evening meal will be included tonight.
On day eight you will have the opportunity to explore the Mount Aso area – the location of the world's largest caldera. It is an area of impressive natural landscapes, and you can hike (or take the easier option of a cable car) up to the top of the active Nake-Dake volcano crater and visit the excellent museum depicting the history of the volcano.
This afternoon you'll have the chance to survey the whole from above with a helicopter trip over the caldera. The trip will take ten minutes and fly straight over the top of the volcano. From this vantage point the views are truly spectacular – a great opportunity to take some photographs! Please be aware that the helicopter trip may be cancelled in the event of bad weather.
Dinner will be included once again at your Japanese-style inn this evening.

Overnight: Takefue

Day 9-10

On day nine you will travel to the far south of Kyushu Island to the port town of Kagoshima.

You will drive to Kumamoto where you will drop off your car and hop aboard the Shinkansen bullet train to Kagoshima.
Dubbed the Naples of Japan, Kagoshima is an attractive city dominated by Sakurajima, a volcanic island a short ferry ride away. As well as visiting the smouldering mountain there are numerous sights in the city centre itself. Full details of sightseeing options here will be included in your Info-Pack.
On day ten you will have the services of a private local guide for a full day of exploring in Kagoshima. The are a number of museums about the history of the city and some beautiful gardens at Senganen (which is noted for its collection of stone lanterns.) If hot lava is more your thing, you can take tours of the volcanic island of Sakurajima by bus and there is also an interesting visitor centre which gives you more background to the volcano.
Your guide will have plenty of suggestions, but the day's itinerary will be completely flexible to cater to your interests.

Overnight: Shiroyama Hotel Kagoshima

Day 11-13

Your trip will take you to the island of Yakushima today by jetfoil ferry.

This two-and-a-half hour journey offers stunning views of Kinko Bay where you might be able to spot a dolphin or two if you are lucky. After arriving on the island and picking up your hire car, you might want to head out on one of the local hiking trails, visit a waterfall or relax on the pristine beaches.
Yakushima Island was designated a UNESCO World Heritage site in 1993 and is famed for its giant Japanese cedar trees. Isolated from the Japanese mainland and with a unique terrain and climate, Yakushima is truly one of Japan's natural wonders.
On day 12 a Yakushima hiking expert will pick you up in his car and take you around the island for a full day's exploration. The best way to reach the ancient cedar trees is by taking one of the many wonderful walks and hikes - there's a good chance you will be joined by indigenous monkeys and deer on your way! Walking through these very same forests inspired the famous animator Hayao Miyazaki to create his epic masterpiece Princess Mononoke. A bento lunchbox will be included as part of your guided hike today.
On day thirteen, you'll have a full day to explore Yakushima under your own steam. The dramatic coastline of this island should also be explored for its sandy beaches, hot spring baths and interesting sea life. Flying fish also makes for a great lunch, and if you're feeling bold the local shochu fire-water is also worth a taste! A wonderful Japanese-style dinner will be included at your accommodation on all three nights of your stay on Yakushima.

Overnight: Yakushima JR Hotel

Day 14-15

On day fourteen you'll return your hire car to the tiny Yakushima airport and board a plane back to Fukuoka, where a private car and driver will escort you to your final hotel in the city.

The rest of the day will be free for you to make the most of all that Fukuoka has to offer – perhaps you might like to squeeze in some last-minute souvenir shopping, visit one of the museums you missed the first time around or even head out for an evening of karaoke for a very Japanese end to the trip!
Finally it's time to leave Japan, and on your final morning you'll be picked up from your hotel by private car and drive to Fukuoka Airport for your flight home.

Overnight: The Royal Park Hotel Fukuoka
Close all days
Other trips you may like
Tokyo
Hakone
Kyoto
Miyajima
Osaka
Takayama
Tokyo

A superior two-week itinerary taking in Japan's most iconic sights, with four-star accommodation and a programme of cultural experiences included.

14 nights: from AU$10032 pp (twin share) Read more >

Iiyama
Togarinozawa Onsen

Lace up your hiking boots for a three-day hike along the Sekida Mountain's Shin-Etsu Trail.

3 nights: from AU$1444 pp (twin share) Read more >

This is a simple little package that proves it needn't break the bank to go on a winter sports holiday in Japan.

7 nights: from AU$2413 pp (twin share) Read more >