Driving in Japan
Getting out on the open road is a great way to explore Japan, especially the more rural parts of the country where trains are less convenient.
Driving in Japan is straightforward and very possible for non-Japanese speakers: Japan drives on the left, all major roads signs are in English, roads are very well maintained and, on the whole, local driving standards are excellent with all cars obeying the rules of the road (as one would expect in Japanese society!) .

Not only does driving give you the freedom to explore the diverse scenery of the country by scaling breathtaking mountain roads, winding along coastal routes or navigating through rural villages, it also allows you to view Japanese life from a different perspective seeing scenes you wouldn't necessary encounter by train. When one driver does a good deed towards another it is acknowledged by a simple bow of the head rather than a flash of the headlights or raising of a hand. It is impossible to miss road works as they are surrounded by more neon lights than Tokyo's Shinjuku district and you will be astounded by the impeccable service at gas stations.

InsideJapan will happily include car rental as part of your trip if more economical and convenient than taking a train. We will ensure that you will find getting around by car simple and enjoyable. In order to drive in Japan it is VITAL that you obtain an International Drivers Permit (IDP) before you travel. This permit can easily be obtained in most countries; ask us for details.
Make an Enquiry
For more information email us: [email protected] or call: + 61 7 3186 8800
Important notice: We are pleased to be able to offer so many amazing experiences in Japan. However, we are sorry that we can only include these as a part of a full Japan holiday package which includes your accommodation and transport alongside the experiences presented in this section of the web site.

Driving in Japan
Available throughout Japan
Interested in this Experience? It is included in this tour:
Pile into your rental car for an unforgettable family adventure around Japan, including the Japan Alps, and the outdoor adventure mecca of Minakami.

This self-guided family driving trip lets you independently explore some lesser-known spots around central Japan. From the rugged Noto Peninsula to the majestic Alpine Route, followed by hot springs and adventure in Minakami, this is the perfect itinerary for discovering a different side of Japan.
Enjoy stunning vistas while traversing the Japanese Alps via a series of trains, cable cars, trolley buses, ropeways, tunnels and hiking routes.

Like hailing a yellow cab in NYC or hanging on for dear life in the back of a Thai tuk tuk, taking a taxi in Japan is a memorable travel experience.

Move over Orient Express - this luxury sleepr train combines beautiful, wood-clad carriages, luxurious cabins and French-Japanese fusion cuisine.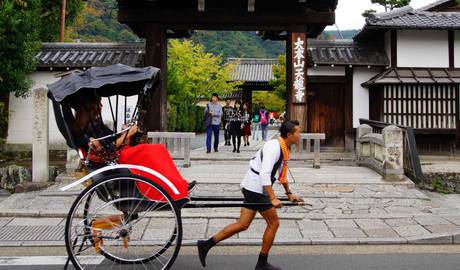 There is no better way to see Kyoto's Arashiyama district than from the seat of a jinrikusha rickshaw.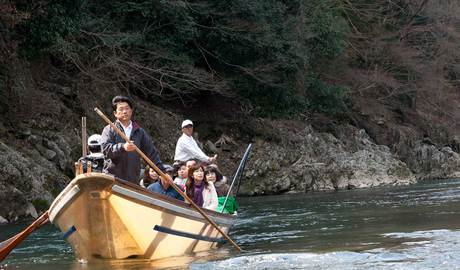 Take a trip down the Hozu River in Kyoto's stunning Arashiyama district.