Self-Guided Adventure
Alpine Adventure: Family Driving Holiday
14 Nights: from AU$25897 (per family)
Trip Code: FDHC
This self-guided family driving trip lets you independently explore some lesser-known spots around central Japan. From the rugged Noto Peninsula to the majestic Alpine Route, followed by hot springs and adventure in Minakami, this is the perfect itinerary for discovering a different side of Japan. Read more >
While we can't deny that we love to make the most of Japan's efficient public transport network (don't worry, you'll get to ride the sleek Shinkansen bullet trains during this trip!), there's just something about the freedom of piling people and luggage into the back of a car and setting your own schedule on a driving holiday.

In this 15-day driving itinerary your family will start off among the bright lights, skyscrapers, and hidden temples of Tokyo. The capital has more than enough to keep you occupied for weeks, but we've chosen two of our favourite family-friendly activities for you: city cycling and an energetic taiko drumming lesson that combines rhythm and recreation.

From Tokyo you'll speed northwest on the bullet train through the mountains to the garden city of Kanazawa. Easy to get around on foot or retro loop bus, Kanazawa is famous for its sprawling landscape garden Kenrokuen, traditional Higashi-chaya tea district, and contemporary art museum with quirky immersive installations.

Next up, your driving adventure begins. We'll arrange a rental car from Kanazawa, and armed with your complimentary Info-Pack and English sat-nav, you'll set off to explore the rugged Noto Peninsula, a small part of Japan that retains its slow pace of life. Your base will be Wakura Onsen, a bay-side hot spring town in the perfect position for a day trip drive to the northern loop of the peninsula.
From the Noto Peninsula it's an easy drive inland to the start of one of Honshu Island's most scenic routes: the Tateyama Kurobe Alpine Route. This 37km course through the majestic Northern Japan Alps connects Toyama and Nagano Prefectures by means of a smorgasbord of transportation: bus, cable car, funicular railway, ropeway and even on foot. We've included an overnight stay at one of the highest points, Murodo at 2450m, so you can enjoy some gentle walks by day and the unspoilt starts by night.
Once in Nagano you'll pick up rental car number two for the second driving portion of the trip, this time along the most scenic sections of the 350km-long Romantic Road. Along the way you'll stay at Kusatsu Onsen, a hot spring town on the slopes of Mount Kusatsu-Shirane where you can take full advantage of the therapeutic baths.
The next stop along the Romantic Road will be the outdoor adventure mecca of Minakami where you can swap cars for canoes and take on the thrills of white-water rafting and canyoning.

After visiting Lake Chuzenji, the highest lake in Japan and home to some lovely walking routes through Nikko National Park, you'll drop off your car and make your way back to the capital on the bullet train for a final day of sightseeing.
Guideline pricing: This trip is priced for a family of four (based on two adults and two teenagers), to give you an idea of prices. We know that families come in all shapes and sizes, so do get in touch and we can put together a proposal quote to suit your family.
Driving in Japan: Please note that to drive in Japan you will need to obtain an International Driving Permit (IDP) before you leave your home country.
What's included
Accommodation for 14 nights

Car rental for 8 days

Breakfast for 11 mornings and seven evening meals

Airport transfers

Manaca transport card with 2,500 yen credit for city transport

Two Bullet train journeys

PuPuRu Mobile Wi-Fi Device for 15 days

Cycling and Taiko drumming activities in Tokyo

Two half-day outdoor adventure activities in Minakami

Pocket WiFi device

Your personalised InsideJapan Tours Info-Pack
What's NOT included:
International flights

Local transport (buses, subways, taxis) unless otherwise specified

Tateyama Kurobe Alpine Route ticket

Any entrance fees unless otherwise specified

Baggage handling and luggage forwarding
Trip Highlights
Set your own pace on a cross-country driving adventure

Experience an adrenaline rush in Minakami

Traverse the majestic Northern Alps by ropeway
Play your heart out in a taiko drumming class

Soak in hot spring baths at a traditional ryokan inn

Explore the rugged Noto Peninsula by car
For more information email us: [email protected] or call: + 61 7 3186 8800
What, where, when and how...
Alpine Adventure: Family Driving Holiday - 15 Days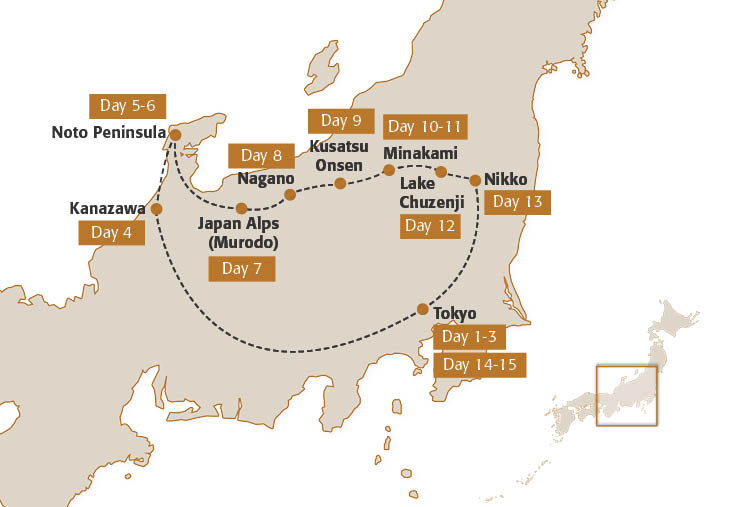 Alpine Adventure: Family Driving Holiday - 15 Days - Day by Day
Alpine Adventure: Family Driving Holiday - 15 Days - Accommodation
Alpine Adventure: Family Driving Holiday - 15 Days - Experiences
Day 1-3

Touchdown in Tokyo: sightseeing, cycling, and taiko drumming

Welcome to Japan! You'll be arriving in one of Tokyo's international airports today, Haneda or Narita, and we'll arrange for a private car to whisk you and your luggage in comfort to your hotel in the centre of Tokyo. We've chosen Ueno as your base as it has fantastic train links and plenty of excellent restaurants, shops, and Ueno park to stretch your legs.

In between seeing the sights, we've chosen two of our favourite family activities, cycling around the more traditional neighbourhoods, and a private taiko drumming class where you can put on your own family performance.

Overnight: Mimaru Apartment Hotel

Day 4

Speed through the mountains on the bullet train

The sleek Shinkansen bullet train will speed you northwest through the Japan Alps to Kanazawa, a city famous for its garden, seafood, and traditional crafts. Kanazawa is the perfect size to walk around or you can hop on and off the retro loop bus, stopping at all the major destinations in a day. Don't miss Omicho Market full of weird and wonderful seafood – even if you don't want to eat what's on offer, it's quite the sight!

Overnight: Hotel Intergate Kanazawa

Day 5-6

Pick up your rental car for the first part of your driving adventure

Your self-guided driving starts today, and we'll arrange for your rental car to be ready and waiting in Kanazawa. You'll see the city fall away to be replaced by rugged scenery as you make your way north. The Noto Peninsula is an unspoiled rural outposts, and the way of life here is a fascinating contrast to the non-stop energy of Tokyo. Your rental car gives you the freedom to stop off wherever you like and enjoy the little villages dotted around the coast; we're sure you'll fall in love with the warm, friendly atmosphere you'll find throughout the peninsula.

A traditional ryokan inn will be your base on the Noto Peninsula; tatami mat flooring, futon bedding, and delicious local cuisine.

Overnight: Tadaya

Day 7

Marvel at the mountain vistas as you traverse the Alps

From the dramatic landscape of the Noto Peninsula you'll head inland to Toyama where you'll trade in your rental car for a whole host of different transport options. The Tateyama Kurobe Alpine Route is a 37km course that spans the Japan Alps; until it's completion in the 1970s it wasn't possible to get directly from Toyama to Nagano through the mountains.

On this adventurous two-day section of your trip you'll hop on and off a mix of transport, including trolley bus, cable car, ropeway, and bus across the Midagahara alpine fields. No matter the time of year, the vistas from along the route are simply spectacular, and you'll be staying overnight at Murodo, the highest point (2450m), in order to make the most of the views and do a spot of hiking.

Depending on when you travel, you might be lucky enough to witness the 'Snow Corridor' at Murodo, a section of road where the snow walls can reach a height of 20m!

Overnight: Hotel Tateyama

Day 8

Complete the final section of the Alpine Route and make your way to Nagano City

The Alpine Route will finish in Nagano where you'll pick up a second rental car for the next driving portion of your trip. The Romantic Road, a 350km-long route heading east from Nagano, offers some of the best driving in eastern Japan. First you'll head to into the forests to see one of Japan's most iconic sights, the hot spring-bathing 'snow monkeys' of Yudanaka.

Overnight: Metropolitan Hotel

Day 9

Soak away tired muscles in the hot spring baths

Kusatsu is considered to be one of Japan's best hot spring resorts, and we wholeheartedly agree. The mountain it's located on, Mount Kusatsu-Shirane, is actually an active volcano so sometimes the hiking routes outside of the town and up the mountain can be out of bounds. The location means that gallons of mineral-rich hot spring water bubbles out of the ground across the town, most notably in the Yubutake hot water field in the centre of town which feeds the baths throughout Kusatsu Onsen.

There's a whole host of baths across the town which you can enjoy during the day, including a café with a foot bath built in beneath the seats.

Overnight: Kusatsu Hotel

Day 10-11

Let off steam with high-thrills adventure activities

The two hour drive today will take you across the Kuresaka Pass and down to Minakami, situated alongside the fast-flowing Tone River. As the adventure hotspot of Japan, Minakami is THE place to partake in some high-thrills outdoor activities, including canyoning, white water rafting, and kayaking. Pile out of the car, pull on the swimsuits, and go!

Tonight you'll be staying in a traditional ryokan inn complete with indoor and outdoor hot spring baths and local specialties for dinner.

Overnight: Minakamikan

Day 12

Pull on your walking shoes for some lakeside hikes

Today's pace will be slightly more sedate as you head 90km to Lake Chuzenji. This is Japan's highest lake and is home to the majestic Kegon Falls and some lovely hiking paths around the national park. If you fancy another dip in the hot spring pools, you can stop at Yumoto Onsen town on the edge of the lake.

This will be your last night staying in traditional accommodation, so make the most of the extensive meals.

Overnight: Oku Nikko Shikisai

Day 13-15

Return to the bright lights for the last few days in the capital

You'll have two more nights back in Tokyo to finish off any last bits of sightseeing you missed first time round, or simply relax and enjoy the parks dotted across the city.

On the final day we'll arrange for a transfer out to the airport in plenty of time for your flight home.

Overnight: JR Kyushu Blossom Shinjuku
View all days
Day 1-3

Touchdown in Tokyo: sightseeing, cycling, and taiko drumming

Welcome to Japan! You'll be arriving in one of Tokyo's international airports today, Haneda or Narita, and we'll arrange for a private car to whisk you and your luggage in comfort to your hotel in the centre of Tokyo. We've chosen Ueno as your base as it has fantastic train links and plenty of excellent restaurants, shops, and Ueno park to stretch your legs.

In between seeing the sights, we've chosen two of our favourite family activities, cycling around the more traditional neighbourhoods, and a private taiko drumming class where you can put on your own family performance.

Overnight: Mimaru Apartment Hotel

Day 4

Speed through the mountains on the bullet train

The sleek Shinkansen bullet train will speed you northwest through the Japan Alps to Kanazawa, a city famous for its garden, seafood, and traditional crafts. Kanazawa is the perfect size to walk around or you can hop on and off the retro loop bus, stopping at all the major destinations in a day. Don't miss Omicho Market full of weird and wonderful seafood – even if you don't want to eat what's on offer, it's quite the sight!

Overnight: Hotel Intergate Kanazawa

Day 5-6

Pick up your rental car for the first part of your driving adventure

Your self-guided driving starts today, and we'll arrange for your rental car to be ready and waiting in Kanazawa. You'll see the city fall away to be replaced by rugged scenery as you make your way north. The Noto Peninsula is an unspoiled rural outposts, and the way of life here is a fascinating contrast to the non-stop energy of Tokyo. Your rental car gives you the freedom to stop off wherever you like and enjoy the little villages dotted around the coast; we're sure you'll fall in love with the warm, friendly atmosphere you'll find throughout the peninsula.

A traditional ryokan inn will be your base on the Noto Peninsula; tatami mat flooring, futon bedding, and delicious local cuisine.

Overnight: Tadaya

Day 7

Marvel at the mountain vistas as you traverse the Alps

From the dramatic landscape of the Noto Peninsula you'll head inland to Toyama where you'll trade in your rental car for a whole host of different transport options. The Tateyama Kurobe Alpine Route is a 37km course that spans the Japan Alps; until it's completion in the 1970s it wasn't possible to get directly from Toyama to Nagano through the mountains.

On this adventurous two-day section of your trip you'll hop on and off a mix of transport, including trolley bus, cable car, ropeway, and bus across the Midagahara alpine fields. No matter the time of year, the vistas from along the route are simply spectacular, and you'll be staying overnight at Murodo, the highest point (2450m), in order to make the most of the views and do a spot of hiking.

Depending on when you travel, you might be lucky enough to witness the 'Snow Corridor' at Murodo, a section of road where the snow walls can reach a height of 20m!

Overnight: Hotel Tateyama

Day 8

Complete the final section of the Alpine Route and make your way to Nagano City

The Alpine Route will finish in Nagano where you'll pick up a second rental car for the next driving portion of your trip. The Romantic Road, a 350km-long route heading east from Nagano, offers some of the best driving in eastern Japan. First you'll head to into the forests to see one of Japan's most iconic sights, the hot spring-bathing 'snow monkeys' of Yudanaka.

Overnight: Metropolitan Hotel

Day 9

Soak away tired muscles in the hot spring baths

Kusatsu is considered to be one of Japan's best hot spring resorts, and we wholeheartedly agree. The mountain it's located on, Mount Kusatsu-Shirane, is actually an active volcano so sometimes the hiking routes outside of the town and up the mountain can be out of bounds. The location means that gallons of mineral-rich hot spring water bubbles out of the ground across the town, most notably in the Yubutake hot water field in the centre of town which feeds the baths throughout Kusatsu Onsen.

There's a whole host of baths across the town which you can enjoy during the day, including a café with a foot bath built in beneath the seats.

Overnight: Kusatsu Hotel

Day 10-11

Let off steam with high-thrills adventure activities

The two hour drive today will take you across the Kuresaka Pass and down to Minakami, situated alongside the fast-flowing Tone River. As the adventure hotspot of Japan, Minakami is THE place to partake in some high-thrills outdoor activities, including canyoning, white water rafting, and kayaking. Pile out of the car, pull on the swimsuits, and go!

Tonight you'll be staying in a traditional ryokan inn complete with indoor and outdoor hot spring baths and local specialties for dinner.

Overnight: Minakamikan

Day 12

Pull on your walking shoes for some lakeside hikes

Today's pace will be slightly more sedate as you head 90km to Lake Chuzenji. This is Japan's highest lake and is home to the majestic Kegon Falls and some lovely hiking paths around the national park. If you fancy another dip in the hot spring pools, you can stop at Yumoto Onsen town on the edge of the lake.

This will be your last night staying in traditional accommodation, so make the most of the extensive meals.

Overnight: Oku Nikko Shikisai

Day 13-15

Return to the bright lights for the last few days in the capital

You'll have two more nights back in Tokyo to finish off any last bits of sightseeing you missed first time round, or simply relax and enjoy the parks dotted across the city.

On the final day we'll arrange for a transfer out to the airport in plenty of time for your flight home.

Overnight: JR Kyushu Blossom Shinjuku
Close all days
Other trips you may like
Tokyo
Hakone
Kyoto
Kinosaki Onsen
Osaka

Japan's hot spring bathing culture and scenic countryside make it a wonderfully romantic setting for a honeymoon.

11 nights: from AU$8987 pp (twin share) Read more >

Takahara
Nonaka
Yunomine Onsen
Kii-Katsuura

This intermediate walking module offers five days exploring part of the Kumano Kodo, one of the most beautiful and mystical corners of Japan.

4 nights: from AU$2223 pp (twin share) Read more >

Nagasaki
Kagoshima
Yakushima
Kirishima National Park
Kumamoto
Kurokawa Onsen
Fukuoka

Discover the impressive landscapes and vibrant cities of Kyushu on this journey from the forests of Yakushima to Kurokawa Onsen's hot springs

13 nights: from AU$7676 pp (twin share) Read more >