Self-Guided Adventure
Traditional Japan
14 Nights: from US$7436 per person (twin share)
Trip Code: TJS
Combining some of Japan's classic sights with rural towns and villages throughout the countryside, our Traditional Japan itinerary showcases some of the wonderful contrasts to be found in modern Japan. Read more >
After your initial stay in the bustling urban sprawl of Tokyo, watch the skyscrapers melt away as you head into the tranquillity of the Japanese Alps.
Relive samurai battles at Matsumoto Castle, take a stroll through the immaculate gardens of Kanazawa and be whisked high into the stunning mountains for a stay in the market town of Takayama.
From the Alps you will descend once more to Kyoto, formerly the capital of Japan for over a thousand years. Here you can sample some of the country's finest cuisine, chance upon a geisha in the narrow streets of Gion, and wander through gardens and temples dotted throughout the surrounding hills.
In Tokyo, Kyoto and Kanazawa, you will be accompanied by a private local guide who will help you delve deeper into the history and culture of each of these cities. In Kyoto you'll have the chance to learn about zazen meditation from a master at Kodai-ji Temple, with your guide on hand to translate and help you ask any questions you might have about Japanese culture.
In each of your destinations you'll experience the best in Japanese hospitality, staying in a mixture of Western-style city hotels and traditional Japanese-style ryokan inns, with the very best of local cuisine included.
What's included
14 nights' accommodation (three nights Japanese style)

Breakfast each morning, three evening meals and three lunches

Airport transfers by private car

Manaca transport card with 2,500 yen credit for local transport

Transport between destinations (first class where available)

First class (green) seven-day Japan Rail Pass

Eight-hour private guide service in Tokyo, Kyoto and Kanazawa including entrance fees and lunch

Guided transfer from Kanazawa to Takayama with stop-off in Shirakawago

Private guided tour of Takayama's artisans

Twilight private guided tour of Kyoto's Gion geisha district

Zazen meditation experience

Pocket WiFi device

Your personalised InsideJapan Info-Pack
What's NOT included:
International flights

Local transport (buses, subways, taxis) unless otherwise specified

Taxi transfer between Nagiso and Tsumago (approx 2,000 yen per taxi each way)

Any entrance fees unless otherwise specified
Trip Highlights
Spot a geisha in Kyoto's Gion quarter

Explore the arts and crafts of Takayama

Walk the Nakasendo Highway
Visit the traditional village of Shirakawago

Try zazen meditation at Gesshin-In Temple
Sample kaiseki cuisine in traditional Japanese inns
For more information email us: [email protected] or call: 303 952 0379
What, where, when and how...
Traditional Japan - 15 Days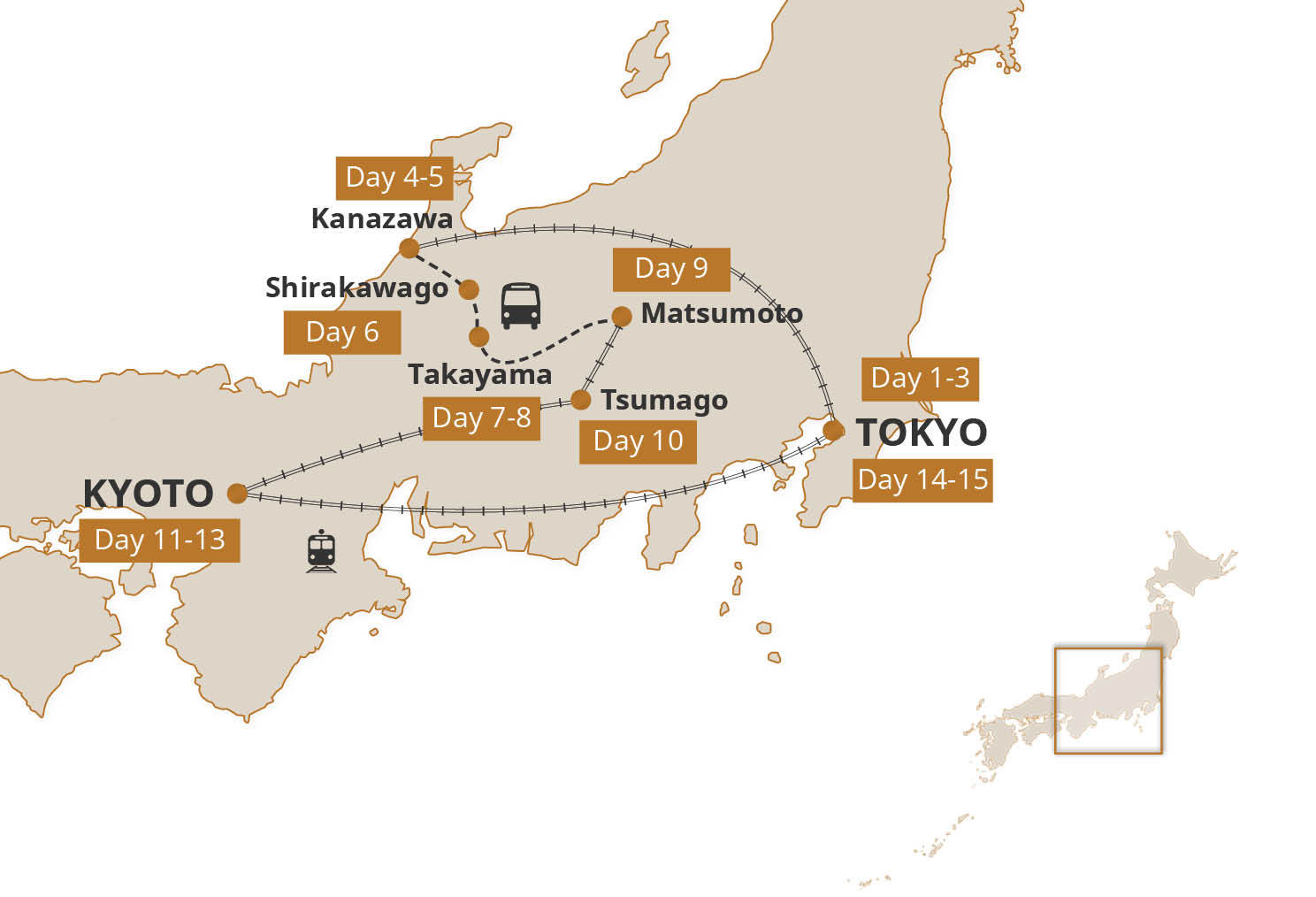 Traditional Japan - 15 Days - Day by Day
Traditional Japan - 15 Days - Accommodation
Day 1-3

Experience something of the atmosphere of pre-war Tokyo as you explore the thronging market stalls around Senso-ji, the city's oldest temple.

Welcome to Japan! To begin your adventures you'll be staying in the heart of Asakusa, Tokyo's most traditional district, where bustling streets and market stalls surround Senso-ji Temple providing plenty to keep you busy for your first afternoon in the city. Across the Sumida River, you will see Tokyo's 634 m Skytree rising high above the skyline. Take the lift up for superb views of the city and the chance to see Mount Fuji in clear weather!
On your first full day in the city you will have a private guide at your disposal to show you Tokyo's most famous sights as well as some lesser-known places of interest. The itinerary will be completely flexible to cater for any interests or preferences you may happen to have.
Travelling by public transport, you might head to Meiji Shrine, Akihabara's "electric town" or go shopping in the shadow of Shinjuku's skyscrapers, all with your guide on hand to answer any questions. Lunch will be included in your tour today.
Day three of your itinerary will be free for you to continue exploring Tokyo or to take a day trip to one of the many places of interest easily accessible from the capital.
Kamakura is a sleepy coastal town that served briefly as capital of Japan in the 1100s, leaving a rich cultural legacy including one of Japan's largest Great Buddha statues. Another great day trip option is sacred Mt Takao, with its range of hiking trails and mountaintop temple complex virtually untouched by foreign visitors. Your Info-Pack will include details of how to make these trips and more.

Overnight: Gate Hotel Kaminarimon

Day 4-5

Discover one of Japan's best-preserved historical cities as you explore the narrow streets and wooden buildings of Kanazawa's old samurai and geisha districts.

Today you will make your way through the mountainous interior of Japan to Kanazawa, a small city on the Japan Sea coast that maintains a sense of history and a wonderful traditional atmosphere. We recommend wandering the geisha districts and samurai quarter of the town, or perhaps a visit to the 21st Century Art Museum with its large collection of interactive and entertaining pieces.
On your next day in Kanazawa you will enjoy the services of a private local guide who will take you on a tour of the city. The day's itinerary is completely flexible and can be tailored to suit your particular interests, but your guide will also have lots of ideas.
The day's options include the celebrated strolling garden at Kenroku-en, Kanazawa Castle, Kutani pottery kiln, Nagamati samurai district, the historic Higashi-chaya entertainment district and finally the Sakuda Gold Leaf Workshop. Lunch will be included during your tour today.

Overnight: Hyatt Centric Kanazawa

Day 6-7

Visit the distinctive "praying hands" farmhouses in Shirakawago, one of Japan's most beautiful rural villages, before exploring the alpine town of Takayama.

A private car and driver will bring you to Shirakawago, widely regarded as one of the most scenic spots in Japan. Designated as a UNESCO World Heritage Site in 1995, the 180 unique thatched farmhouses, or gassho-zukuri (literally "praying hands houses"), are the main attraction in this picturesque village surrounded by pine tree-covered mountains.
If you want the full traditional Japan experience, we can arrange for you to stay the night in one of the gassho-zukuri houses. Facilities are rustic and simple but what it lacks in modern comforts it makes up for in being a wonderful authentic experience with delicious home-cooked meals. If this sounds appealing, just let us know and we can tailor the itinerary to suit you.
After enjoying the sights, your private car will take you on to Takayama.
You'll spend the next two days in Takayama, a delightful town in the heart of the Hida Mountains, famous for its old-town district filled with well-preserved inns, sake breweries, teahouses, shops and merchant houses.
Throughout the Edo Period the town was also renowned for the very high quality of its craftsmen, and many of the temples in Kyoto were built by workers from Takayama. This afternoon you will learn more about Takayama through a specialised craft tour which introduces you to the intricate "yatai" floats of the Takayama festival and the craftsmen who construct and maintain them. Afterwards you will retire to your ryokan inn for a sumptuous kaiseki dinner.
Your next day in Takayama will be free for you to explore at your leisure, so head down to the lively riverside morning market for some shopping before hiring bikes and meandering from temple to temple in the town's surrounding countryside.
For dinner, be sure to try the local sake, soba noodles, and delicious Hida beef – the lesser-known (but equally delicious) cousin of Kobe beef.

Overnight: Tanabe Ryokan

Day 8

Relive history as you wander the steep staircases and investigate the hidden rooms at Matsumoto's "Black Crow" castle, one of the finest original castles in Japan.

Your adventure continues as you journey to Matsumoto by express bus today, enjoying the spectacular mountain scenery on the way. Matsumoto is an alpine city surrounded on all sides by the towering peaks of the Japanese Alps.
The city is most famous for its "Black Crow" castle – one of the best-preserved original castles in Japan. It also boats sake breweries, an art museum featuring the work of world-renowned Yayoi Kusama (a Matsumoto native), and an excellent ukiyo-e woodblock print museum. If you are feeling brave, try basashi (raw horse) – it's a local speciality!

Overnight: Buena Vista Hotel

Day 9

Follow in the footsteps of the samurai as you walk a section of the Nakasendo Highway between the beautifully preserved post towns of Tsumago and Magome.

From Matsumoto you will take a limited express train into the Kiso Valley followed by a bus or a taxi to Tsumago, a former post town along the Nakasendo Highway. Here the local residents have joined forces to preserve the Edo Period atmosphere of the town, so you'll find the streets lined with traditional buildings and not a stray wire or electricity pylon in sight.
We highly recommend following in the footsteps of the samurai by making the eight-kilometre walk from Tsumago to neighbouring Magome, where you will spend the night at one of the tiny family-run minshuku inns in the village.

Overnight: Fujioto

Day 10-13

Go geisha-spotting and explore some of Japan's finest temples, shrines and gardens in Kyoto: Japan's historical and cultural heartland.

Leaving the mountains behind, the next stop on your journey will be Kyoto – Japan's cultural heart. Kyoto was the capital of Japan for over a millennium, leaving it with an exceptionally rich cultural heritage. This includes an impressive 17 UNESCO World Heritage Sites, over 1,600 Buddhist temples, 400 Shinto shrines – not to mention a huge array of world-class landscape gardens.
In the early evening today you will be taking a guided tour of Kyoto's famous geisha district, where you'll navigate the narrow lanes and hidden alleys hoping for a glimpse of the elusive geisha whilst your guide gives you an insight into the lives of those who practice this notoriously mysterious profession.
On your second day in Kyoto you will again be exploring the city with the help of a private local guide. Although the day's itinerary will be mostly up to you, the highlight of the tour will be a visit to Kodai-ji Temple, located at the foot of beautiful Higashiyama mountains in the east of the city.
Here you will take part in Zazen meditation under the instruction of the chief priest, or Teramae, who will answer any questions you have about meditation, Buddhism, and temple life in general. Lunch will also be included as part of the tour.
On the third day, we will arrange for you to visit and have lunch at a traditional machiya townhouse. The afternoon will be at leisure for you to explore as you wish.
With one more day at your disposal in Kyoto, you may choose to continue exploring the city's many attractions or head further afield to one of the many destinations within easy reach of the bullet train.
Nara is a popular option, with its collection of UNESCO World Heritage Sites and resident population of deer, whilst the nearby city of Osaka makes a great stop with its down-to-earth attitude and superb cuisine. In just two hours on the Shinkansen you can even venture as far as Hiroshima. We can include instructions for any day trips in your tailor-made Info-Pack – just let us know what interests you.

Overnight: Celestine Kyoto Gion

Day 14-15

Finish your trip with a stay amid the flashing pachinko parlours and cacophonic karaoke establishments of Shinjuku, Japan's premier entertainment hub.

Depending on where you'd prefer to spend your time, you can choose to return to Tokyo either in the morning or the afternoon today.
For your last night in the capital you will be based in Shinjuku, a vast entertainment district with a bewildering array of restaurants, bars, pachinko parlours and karaoke booths – a complete contrast to the traditional alpine villages you will have visited last week. Fit in a last museum or do some last-minute souvenir shopping before taking advantage of the entertainment options on offer here.
Unfortunately your time in Japan must come to an end, and on your final morning you will be picked up at your hotel by a driver who will take you directly to the airport. Have a safe flight home.

Overnight: Century Southern Tower
View all days
Day 1-3

Experience something of the atmosphere of pre-war Tokyo as you explore the thronging market stalls around Senso-ji, the city's oldest temple.

Welcome to Japan! To begin your adventures you'll be staying in the heart of Asakusa, Tokyo's most traditional district, where bustling streets and market stalls surround Senso-ji Temple providing plenty to keep you busy for your first afternoon in the city. Across the Sumida River, you will see Tokyo's 634 m Skytree rising high above the skyline. Take the lift up for superb views of the city and the chance to see Mount Fuji in clear weather!
On your first full day in the city you will have a private guide at your disposal to show you Tokyo's most famous sights as well as some lesser-known places of interest. The itinerary will be completely flexible to cater for any interests or preferences you may happen to have.
Travelling by public transport, you might head to Meiji Shrine, Akihabara's "electric town" or go shopping in the shadow of Shinjuku's skyscrapers, all with your guide on hand to answer any questions. Lunch will be included in your tour today.
Day three of your itinerary will be free for you to continue exploring Tokyo or to take a day trip to one of the many places of interest easily accessible from the capital.
Kamakura is a sleepy coastal town that served briefly as capital of Japan in the 1100s, leaving a rich cultural legacy including one of Japan's largest Great Buddha statues. Another great day trip option is sacred Mt Takao, with its range of hiking trails and mountaintop temple complex virtually untouched by foreign visitors. Your Info-Pack will include details of how to make these trips and more.

Overnight: Gate Hotel Kaminarimon

Day 4-5

Discover one of Japan's best-preserved historical cities as you explore the narrow streets and wooden buildings of Kanazawa's old samurai and geisha districts.

Today you will make your way through the mountainous interior of Japan to Kanazawa, a small city on the Japan Sea coast that maintains a sense of history and a wonderful traditional atmosphere. We recommend wandering the geisha districts and samurai quarter of the town, or perhaps a visit to the 21st Century Art Museum with its large collection of interactive and entertaining pieces.
On your next day in Kanazawa you will enjoy the services of a private local guide who will take you on a tour of the city. The day's itinerary is completely flexible and can be tailored to suit your particular interests, but your guide will also have lots of ideas.
The day's options include the celebrated strolling garden at Kenroku-en, Kanazawa Castle, Kutani pottery kiln, Nagamati samurai district, the historic Higashi-chaya entertainment district and finally the Sakuda Gold Leaf Workshop. Lunch will be included during your tour today.

Overnight: Hyatt Centric Kanazawa

Day 6-7

Visit the distinctive "praying hands" farmhouses in Shirakawago, one of Japan's most beautiful rural villages, before exploring the alpine town of Takayama.

A private car and driver will bring you to Shirakawago, widely regarded as one of the most scenic spots in Japan. Designated as a UNESCO World Heritage Site in 1995, the 180 unique thatched farmhouses, or gassho-zukuri (literally "praying hands houses"), are the main attraction in this picturesque village surrounded by pine tree-covered mountains.
If you want the full traditional Japan experience, we can arrange for you to stay the night in one of the gassho-zukuri houses. Facilities are rustic and simple but what it lacks in modern comforts it makes up for in being a wonderful authentic experience with delicious home-cooked meals. If this sounds appealing, just let us know and we can tailor the itinerary to suit you.
After enjoying the sights, your private car will take you on to Takayama.
You'll spend the next two days in Takayama, a delightful town in the heart of the Hida Mountains, famous for its old-town district filled with well-preserved inns, sake breweries, teahouses, shops and merchant houses.
Throughout the Edo Period the town was also renowned for the very high quality of its craftsmen, and many of the temples in Kyoto were built by workers from Takayama. This afternoon you will learn more about Takayama through a specialised craft tour which introduces you to the intricate "yatai" floats of the Takayama festival and the craftsmen who construct and maintain them. Afterwards you will retire to your ryokan inn for a sumptuous kaiseki dinner.
Your next day in Takayama will be free for you to explore at your leisure, so head down to the lively riverside morning market for some shopping before hiring bikes and meandering from temple to temple in the town's surrounding countryside.
For dinner, be sure to try the local sake, soba noodles, and delicious Hida beef – the lesser-known (but equally delicious) cousin of Kobe beef.

Overnight: Tanabe Ryokan

Day 8

Relive history as you wander the steep staircases and investigate the hidden rooms at Matsumoto's "Black Crow" castle, one of the finest original castles in Japan.

Your adventure continues as you journey to Matsumoto by express bus today, enjoying the spectacular mountain scenery on the way. Matsumoto is an alpine city surrounded on all sides by the towering peaks of the Japanese Alps.
The city is most famous for its "Black Crow" castle – one of the best-preserved original castles in Japan. It also boats sake breweries, an art museum featuring the work of world-renowned Yayoi Kusama (a Matsumoto native), and an excellent ukiyo-e woodblock print museum. If you are feeling brave, try basashi (raw horse) – it's a local speciality!

Overnight: Buena Vista Hotel

Day 9

Follow in the footsteps of the samurai as you walk a section of the Nakasendo Highway between the beautifully preserved post towns of Tsumago and Magome.

From Matsumoto you will take a limited express train into the Kiso Valley followed by a bus or a taxi to Tsumago, a former post town along the Nakasendo Highway. Here the local residents have joined forces to preserve the Edo Period atmosphere of the town, so you'll find the streets lined with traditional buildings and not a stray wire or electricity pylon in sight.
We highly recommend following in the footsteps of the samurai by making the eight-kilometre walk from Tsumago to neighbouring Magome, where you will spend the night at one of the tiny family-run minshuku inns in the village.

Overnight: Fujioto

Day 10-13

Go geisha-spotting and explore some of Japan's finest temples, shrines and gardens in Kyoto: Japan's historical and cultural heartland.

Leaving the mountains behind, the next stop on your journey will be Kyoto – Japan's cultural heart. Kyoto was the capital of Japan for over a millennium, leaving it with an exceptionally rich cultural heritage. This includes an impressive 17 UNESCO World Heritage Sites, over 1,600 Buddhist temples, 400 Shinto shrines – not to mention a huge array of world-class landscape gardens.
In the early evening today you will be taking a guided tour of Kyoto's famous geisha district, where you'll navigate the narrow lanes and hidden alleys hoping for a glimpse of the elusive geisha whilst your guide gives you an insight into the lives of those who practice this notoriously mysterious profession.
On your second day in Kyoto you will again be exploring the city with the help of a private local guide. Although the day's itinerary will be mostly up to you, the highlight of the tour will be a visit to Kodai-ji Temple, located at the foot of beautiful Higashiyama mountains in the east of the city.
Here you will take part in Zazen meditation under the instruction of the chief priest, or Teramae, who will answer any questions you have about meditation, Buddhism, and temple life in general. Lunch will also be included as part of the tour.
On the third day, we will arrange for you to visit and have lunch at a traditional machiya townhouse. The afternoon will be at leisure for you to explore as you wish.
With one more day at your disposal in Kyoto, you may choose to continue exploring the city's many attractions or head further afield to one of the many destinations within easy reach of the bullet train.
Nara is a popular option, with its collection of UNESCO World Heritage Sites and resident population of deer, whilst the nearby city of Osaka makes a great stop with its down-to-earth attitude and superb cuisine. In just two hours on the Shinkansen you can even venture as far as Hiroshima. We can include instructions for any day trips in your tailor-made Info-Pack – just let us know what interests you.

Overnight: Celestine Kyoto Gion

Day 14-15

Finish your trip with a stay amid the flashing pachinko parlours and cacophonic karaoke establishments of Shinjuku, Japan's premier entertainment hub.

Depending on where you'd prefer to spend your time, you can choose to return to Tokyo either in the morning or the afternoon today.
For your last night in the capital you will be based in Shinjuku, a vast entertainment district with a bewildering array of restaurants, bars, pachinko parlours and karaoke booths – a complete contrast to the traditional alpine villages you will have visited last week. Fit in a last museum or do some last-minute souvenir shopping before taking advantage of the entertainment options on offer here.
Unfortunately your time in Japan must come to an end, and on your final morning you will be picked up at your hotel by a driver who will take you directly to the airport. Have a safe flight home.

Overnight: Century Southern Tower
Close all days
Other trips you may like
Japan has a huge range of amazing theme parks and this twelve-night itinerary ticks off the very best.

12 nights: from US$12233 (per family) Read more >

Tokyo
Nikko
Sendai
Nyuto Onsen
Kakunodate
Mount Haguro
Tokyo

Journey through the lush rural landscapes of Tohoku, the region that stretches 500 miles north from Tokyo, on this superior two-week itinerary.

13 nights: from US$5512 pp (twin share) Read more >

From ultra-modern Tokyo to the ancient capital of Kyoto via the hot springs of Hakone, this is a classic first-timer's trip to Japan.

9 nights: from US$2678 pp (twin share) Read more >