Self-Guided Adventure
Traditional Japan
14 Nights: from US$11375 per person (twin share)
Trip Code: TJD
Our Traditional Japan itinerary will captivate you with the hidden secrets of this diverse country, steering you away from the tourist hotspots to alpine scenery, tranquil gardens and ancient temples, with the very best in Japanese hospitality from exclusive ryokan inns to world-class hotels. Read more >
You will begin your journey in Tokyo, once a small fishing village called Edo; now a glittering metropolis and one of the largest cities in the world. From here, watch the skyscrapers melt away as you travel into rural Japan, where you'll visit Matsumoto's magnificent "Black Crow" castle and retrace the steps of merchants walking the Nakasendo Way in the beautiful Kiso Valley.
In Takayama you will have the chance to visit bustling morning markets and explore sake breweries, craft shops, merchant residences and teahouses in the old town district, all set against the backdrop of the majestic Hida Mountains deep in the Japan Alps.
You will visit Shirakawago, a scenic village full of steeply thatched farmhouses deep in the countryside, and make a stop on the Japan Sea Coast at Kanazawa, home to one of Japan's top three landscape gardens.
No itinerary would be complete without a stay in Kyoto, Japan's cultural heartland and home to 17 UNESCO World Heritage Sites. Here former geisha establishments rub shoulders with tea houses in wooden streets lit by old-fashioned street lamps, and a spectacular temple or shrine lies behind every corner.
A private audience with an apprentice geisha will offer a glimpse into a notoriously mysterious world and is sure to be a highlight of this trip.
What's included
14 nights' accommodation (three nights Japanese style)

Breakfast each morning, five lunches and four dinners

Airport transfers by private car

Manaca transport card with 2,500 yen credit for local transport

First class train transport and taxis to some accommodation

Travel by private car between Kanazawa, Shirakawago, Takayama and Matsumoto

Private guided tour of Takayama's artisans

Eight-hour private guide and driver service in Tokyo and Kyoto including entrance fees and lunch

Private guided tour of Nikko World Heritage Sites including entrance fees and lunch

Evening walking tour of Kyoto's Gion geisha district

Exclusive audience with a trainee geisha

Pocket WiFi device

Your personalised InsideJapan Info-Pack
What's NOT included:
International flights

Local transport (buses, subways, taxis) unless otherwise specified

Taxi transfer between Nagiso and Tsumago (approx 2,000 yen per taxi each way)

Any entrance fees unless otherwise specified

Baggage handling and luggage forwarding
Trip Highlights
Stroll around Kenrokuen Garden

Sample the best in kaiseki cuisine in ryokan inns

Discover the thatched cottages of Shirakawago
Explore Kyoto's hidden temples and shrines

Meet a trainee geisha and learn about their secret world

Visit Matsumoto's striking Black Crow castle
For more information email us: [email protected] or call: 303 952 0379
What, where, when and how...
Traditional Japan - 15 Days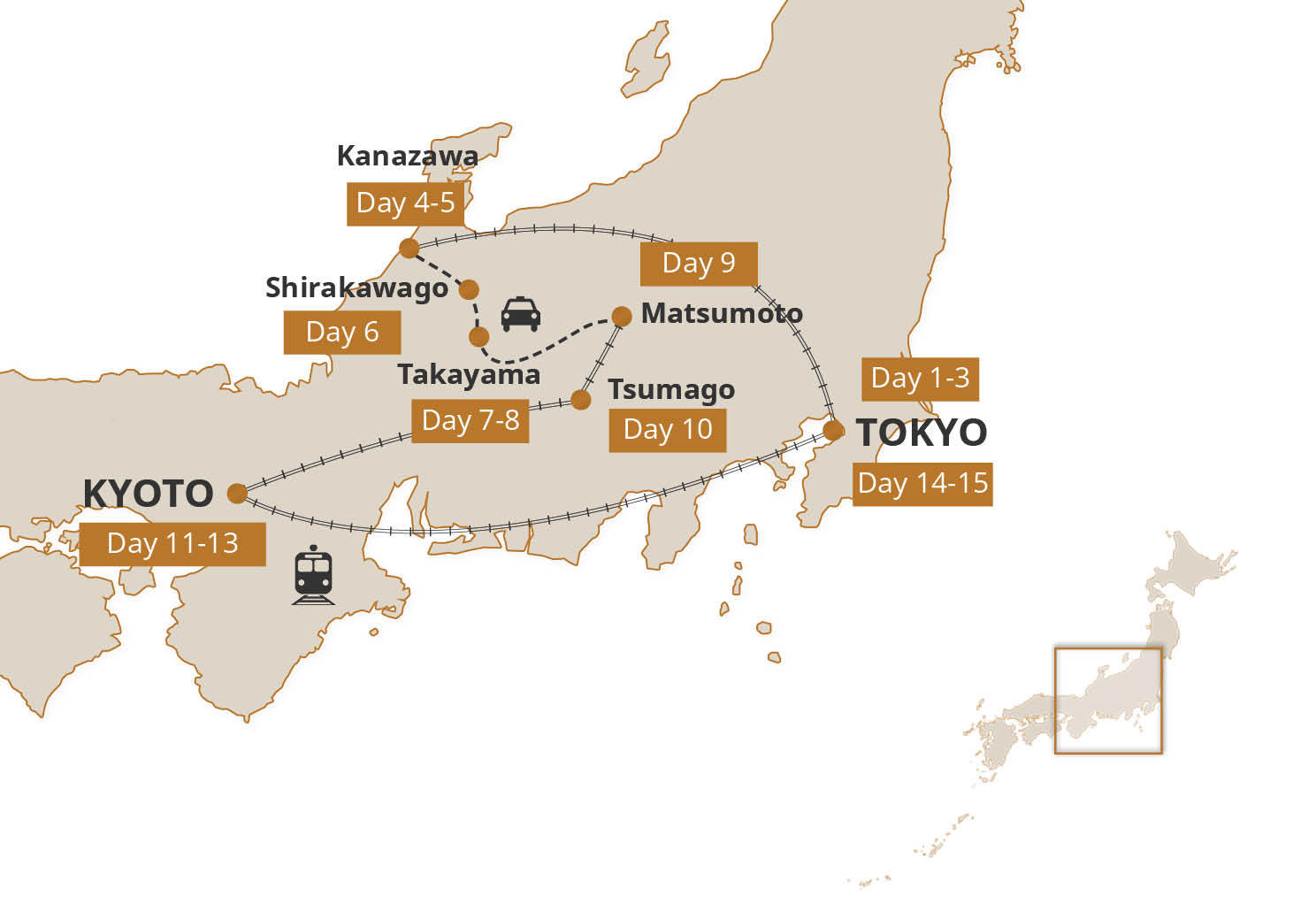 Traditional Japan - 15 Days - Day by Day
Traditional Japan - 15 Days - Accommodation
Traditional Japan - 15 Days - Experiences
Day 1-3

Kick off your adventures with a stay in one of Tokyo's premier hotels before making a day trip to Nikko for a guided tour of some of Japan's most ornate religious architecture.

Welcome to Japan! To begin your Japanese adventures you will be staying at one of Japan's most famous hotels close to the Imperial Palace. The rest of your first day in the city will be at leisure to start exploring, so stroll the Imperial Palace gardens, witness the spectacle of a traditional kabuki performance or discover the newest products available in Ginza's huge department stores. A little further from your hotel is the Skytree, towering 634 m above the Sumida River and offering spectacular panoramas of Tokyo (and Mount Fuji when the weather is clear).
Your first full day will be spent in the company of a private guide who will ensure that you maximise your time in the city by introducing you to some of Tokyo's main attractions as well as some of its lesser-known gems. The itinerary will be flexible so feel free to offer your own suggestions!
Some highlights might include the bustling lanes surrounding Senso-ji Temple in the traditional district of Asakusa, a cruise down the Sumida River to Hamarikyu Gardens, or a gentle stroll though Ueno Park to visit the Tokyo National Museum. To witness a truly Japanese tradition, visit the sumo stables to watch the wrestlers' early morning practice session. Lunch will be included during your tour today.
On day three of your itinerary you will be whisked north on the Shinkansen bullet train to Nikko, where you'll explore the UNESCO-registered shrine complex with an expert local guide. Your guide will be able to offer some fascinating insights into the places you will be visiting as well as into everyday life in Japan, and lunch will be included in the tour. After taking the train back to Tokyo, you will have the evening at leisure.

Overnight: Palace Tokyo

Day 4-5

Discover the old teahouses and samurai residences of Kanazawa, one of Japan's best-preserved historical towns.

Leaving the bright lights of the capital behind, today you will take a scenic train journey through Japan's mountainous interior to Kanazawa, a small city on the Japan Sea Coast that retains much of its traditional charm. Arriving here in the afternoon, we suggest taking a stroll around one of the small geisha districts lined with old teahouses or visiting the excellent 21st Century Art Museum.
Following a night in Kanazawa you will have a full day to explore the town, using your personalised Info-Pack to guide you. Don't miss Kenrokuen, one of Japan's top three strolling gardens situated next to the remains of Kanazawa Castle.
We can also arrange a visit to Kanazawa's "Ninja" Temple, the Kutani pottery kiln, Nagamati samurai district or the Sakuda Gold Leaf Workshop if any of these appeal to you.

Overnight: Hyatt Centric Kanazawa

Day 6-7

Visit Shirakawago, one of the most picturesque rural communities in all Japan, then continue your exploration of rural Japan in the historic craft town of Takayama.

The next stop on your adventure is Shirakawago, a picturesque mountain village designated as a UNESCO World Heritage Site in 1995. A driver will meet you at your hotel and take you through rolling fields and mountain scenery to what is widely regarded as one of the most scenic places in Japan.
The village has 180 unique gassho-zukuri thatched farmhouses with steeply sloping roofs designed especially to cope with the heavy snowfall that affects this area every winter.
You will continue on to your next stop, Takayama, in the afternoon. However if you want to get the full 'Traditional Japan' experience, we highly recommend staynig a night in one of the farmhouses. As with many kinds of rural traditional accommodation, the facilities are simple, but the hospitality is warm and you can look forward to delicious home-cooked dinner before bedding down on futon mattresses spread on the tatami mat flooring. If this is an experience that appeals to youl, let us know and we'll tailor the itinerary to suit you.
The next two days will be spent in Takayama, a delightful town in the heart of the Hida Mountains, famous for its old-town district filled with well-preserved inns, sake breweries, teahouses, shops and merchant houses.
Throughout the Edo Period the town was also renowned for the very high quality of its craftsmen, and many of the temples in Kyoto were built by workers from Takayama. This afternoon you will learn more about Takayama through a specialised craft tour which introduces you to the intricate "yatai" floats of the Takayama festival and the craftsmen who construct and maintain them. Afterwards you will retire to your ryokan inn for a sumptuous kaiseki dinner.
Your next day in Takayama will be free for you to explore at your leisure, so head down to the lively riverside morning market for some shopping before hiring bikes and meandering from temple to temple in the town's surrounding countryside.
For dinner, be sure to try the local sake, soba noodles, and delicious Hida beef – the lesser-known (but equally delicious) cousin of Kobe beef.

Overnight: Hanaougi Bettei Iiyama

Day 8

Relive history at Matsumoto's imposing "Black Crow" castle before spending a relaxing night at an exclusive onsen resort outside the city.

A private car will pick you up this morning to take you to Matsumoto, surrounded on all sides by the towering alpine peaks and famous for its distinctive "Black Crow" castle – one of the best-preserved original castles in Japan. Sake breweries abound here, and art lovers will be well provided-for with a wealth of top-class museums.
After some time to explore these sights, your driver will take you to your exclusive Japanese inn in a hot spring village on the edge of Matsumoto, where you can spend the evening relaxing in the onsen waters and sampling the local meibutsu specialities created by the inn's top chefs.

Overnight: Kai Matsumoto

Day 9

Be taken back in time as you visit Magome and Tsumago, meticulously preserved former post towns on the old Nakasendo Highway.

Returning to Matsumoto by private car, you will take a limited express train south to Nakatsugawa in the Kiso Valley. Tsumago, a small village and former post town along the ancient Nakasendo Highway, is a short bus or taxi from here.
Local residents here have banded together to preserve the area's Edo Period atmosphere, meaning that Tsumago is a lovely town packed with traditional buildings. Today we recommend retracing the steps of the samurai by walking the eight-kilometre trail from Tsumago to Magome, where you'll be staying at a tiny family-run minshuku inn with dinner included.

Overnight: Fujioto

Day 10-13

Enjoy an exclusive private audience with an apprentice geisha in Kyoto, the "City of Ten Thousand Temples".

Arriving on the bullet train today, your first glimpse of Kyoto will be Kyoto Station – an ode to futuristic architecture and worlds apart from the city's rich collection of traditional buildings. Nevertheless, after spending the afternoon meandering from the Silver Temple along the Path of Philosophy to the 400-year-old Sanmon Gate, you'll soon feel the ancient heartbeat of this very special city.
This evening we will arrange a dinner reservation for you at one of our favourite restaurants serving exquisite local Kyoto cuisine.
On the second day you will explore Kyoto with a professional guide before having an exclusive private audience with a maiko (apprentice geisha), a truly rare experience and sure to be one of the highlights of your trip. Your guide will be on hand to help you ask questions about this notoriously secretive profession, giving you a fascinating insight into a mysterious world. During your time with the guide you might like to marvel at Kinkaku-ji's Golden Pavilion, try out the ninja defences at Nijo Castle or wander around Nishiki food market. For lunch your guide will take you to discover some of the very best in Kyoto cuisine.
Your third full day in Kyoto will be at leisure. We highly recommend heading to the south of the city of visit the Fushimi Sake District and nearby Fushimi Inari Shrine, where thousands of vermillion torii gates snake up the mountainside. We can arrange a private car and guide to accompany you, or you can visit independently.
Your final day in Kyoto will again be at leisure, which is the perfect opportunity to venture a little further afield. Nearby Nara, an ancient capital only 40 minutes away by train, is a popular choice for its free-roaming deer population and the giant bronze Buddha at Todai-ji temple. Vibrant Osaka, famed for its fabulous food, is equally easily reached and makes a fun final evening in the Kansai region. Again, a private car and guide can be arranged for today so just let us know what travel style you would prefer.

Overnight: Granvia

Day 14-15

Return to Tokyo for a stay in Shinjuku, the capital's sprawling business and entertainment hub and the perfect contrast to your traditional tour of Japan.

Your adventures in Japan will come full circle today as you return to the capital, whizzing eastwards at speeds of up to 300 kph! A taxi will then take you from Tokyo station to one of the city's most luxurious hotels.
You will be perfectly located for some final sightseeing in the city and any last-minute souvenir shopping in the many shops and department stores nearby. Perhaps head to Shinjuku to spend your final evening in one of Tokyo's most famous entertainment hubs.
Sadly your time in Japan must come to an end, and on your final morning you will be met at your hotel by a driver who will take you directly to the airport. Have a safe flight home.

Overnight: Park Hyatt
View all days
Day 1-3

Kick off your adventures with a stay in one of Tokyo's premier hotels before making a day trip to Nikko for a guided tour of some of Japan's most ornate religious architecture.

Welcome to Japan! To begin your Japanese adventures you will be staying at one of Japan's most famous hotels close to the Imperial Palace. The rest of your first day in the city will be at leisure to start exploring, so stroll the Imperial Palace gardens, witness the spectacle of a traditional kabuki performance or discover the newest products available in Ginza's huge department stores. A little further from your hotel is the Skytree, towering 634 m above the Sumida River and offering spectacular panoramas of Tokyo (and Mount Fuji when the weather is clear).
Your first full day will be spent in the company of a private guide who will ensure that you maximise your time in the city by introducing you to some of Tokyo's main attractions as well as some of its lesser-known gems. The itinerary will be flexible so feel free to offer your own suggestions!
Some highlights might include the bustling lanes surrounding Senso-ji Temple in the traditional district of Asakusa, a cruise down the Sumida River to Hamarikyu Gardens, or a gentle stroll though Ueno Park to visit the Tokyo National Museum. To witness a truly Japanese tradition, visit the sumo stables to watch the wrestlers' early morning practice session. Lunch will be included during your tour today.
On day three of your itinerary you will be whisked north on the Shinkansen bullet train to Nikko, where you'll explore the UNESCO-registered shrine complex with an expert local guide. Your guide will be able to offer some fascinating insights into the places you will be visiting as well as into everyday life in Japan, and lunch will be included in the tour. After taking the train back to Tokyo, you will have the evening at leisure.

Overnight: Palace Tokyo

Day 4-5

Discover the old teahouses and samurai residences of Kanazawa, one of Japan's best-preserved historical towns.

Leaving the bright lights of the capital behind, today you will take a scenic train journey through Japan's mountainous interior to Kanazawa, a small city on the Japan Sea Coast that retains much of its traditional charm. Arriving here in the afternoon, we suggest taking a stroll around one of the small geisha districts lined with old teahouses or visiting the excellent 21st Century Art Museum.
Following a night in Kanazawa you will have a full day to explore the town, using your personalised Info-Pack to guide you. Don't miss Kenrokuen, one of Japan's top three strolling gardens situated next to the remains of Kanazawa Castle.
We can also arrange a visit to Kanazawa's "Ninja" Temple, the Kutani pottery kiln, Nagamati samurai district or the Sakuda Gold Leaf Workshop if any of these appeal to you.

Overnight: Hyatt Centric Kanazawa

Day 6-7

Visit Shirakawago, one of the most picturesque rural communities in all Japan, then continue your exploration of rural Japan in the historic craft town of Takayama.

The next stop on your adventure is Shirakawago, a picturesque mountain village designated as a UNESCO World Heritage Site in 1995. A driver will meet you at your hotel and take you through rolling fields and mountain scenery to what is widely regarded as one of the most scenic places in Japan.
The village has 180 unique gassho-zukuri thatched farmhouses with steeply sloping roofs designed especially to cope with the heavy snowfall that affects this area every winter.
You will continue on to your next stop, Takayama, in the afternoon. However if you want to get the full 'Traditional Japan' experience, we highly recommend staynig a night in one of the farmhouses. As with many kinds of rural traditional accommodation, the facilities are simple, but the hospitality is warm and you can look forward to delicious home-cooked dinner before bedding down on futon mattresses spread on the tatami mat flooring. If this is an experience that appeals to youl, let us know and we'll tailor the itinerary to suit you.
The next two days will be spent in Takayama, a delightful town in the heart of the Hida Mountains, famous for its old-town district filled with well-preserved inns, sake breweries, teahouses, shops and merchant houses.
Throughout the Edo Period the town was also renowned for the very high quality of its craftsmen, and many of the temples in Kyoto were built by workers from Takayama. This afternoon you will learn more about Takayama through a specialised craft tour which introduces you to the intricate "yatai" floats of the Takayama festival and the craftsmen who construct and maintain them. Afterwards you will retire to your ryokan inn for a sumptuous kaiseki dinner.
Your next day in Takayama will be free for you to explore at your leisure, so head down to the lively riverside morning market for some shopping before hiring bikes and meandering from temple to temple in the town's surrounding countryside.
For dinner, be sure to try the local sake, soba noodles, and delicious Hida beef – the lesser-known (but equally delicious) cousin of Kobe beef.

Overnight: Hanaougi Bettei Iiyama

Day 8

Relive history at Matsumoto's imposing "Black Crow" castle before spending a relaxing night at an exclusive onsen resort outside the city.

A private car will pick you up this morning to take you to Matsumoto, surrounded on all sides by the towering alpine peaks and famous for its distinctive "Black Crow" castle – one of the best-preserved original castles in Japan. Sake breweries abound here, and art lovers will be well provided-for with a wealth of top-class museums.
After some time to explore these sights, your driver will take you to your exclusive Japanese inn in a hot spring village on the edge of Matsumoto, where you can spend the evening relaxing in the onsen waters and sampling the local meibutsu specialities created by the inn's top chefs.

Overnight: Kai Matsumoto

Day 9

Be taken back in time as you visit Magome and Tsumago, meticulously preserved former post towns on the old Nakasendo Highway.

Returning to Matsumoto by private car, you will take a limited express train south to Nakatsugawa in the Kiso Valley. Tsumago, a small village and former post town along the ancient Nakasendo Highway, is a short bus or taxi from here.
Local residents here have banded together to preserve the area's Edo Period atmosphere, meaning that Tsumago is a lovely town packed with traditional buildings. Today we recommend retracing the steps of the samurai by walking the eight-kilometre trail from Tsumago to Magome, where you'll be staying at a tiny family-run minshuku inn with dinner included.

Overnight: Fujioto

Day 10-13

Enjoy an exclusive private audience with an apprentice geisha in Kyoto, the "City of Ten Thousand Temples".

Arriving on the bullet train today, your first glimpse of Kyoto will be Kyoto Station – an ode to futuristic architecture and worlds apart from the city's rich collection of traditional buildings. Nevertheless, after spending the afternoon meandering from the Silver Temple along the Path of Philosophy to the 400-year-old Sanmon Gate, you'll soon feel the ancient heartbeat of this very special city.
This evening we will arrange a dinner reservation for you at one of our favourite restaurants serving exquisite local Kyoto cuisine.
On the second day you will explore Kyoto with a professional guide before having an exclusive private audience with a maiko (apprentice geisha), a truly rare experience and sure to be one of the highlights of your trip. Your guide will be on hand to help you ask questions about this notoriously secretive profession, giving you a fascinating insight into a mysterious world. During your time with the guide you might like to marvel at Kinkaku-ji's Golden Pavilion, try out the ninja defences at Nijo Castle or wander around Nishiki food market. For lunch your guide will take you to discover some of the very best in Kyoto cuisine.
Your third full day in Kyoto will be at leisure. We highly recommend heading to the south of the city of visit the Fushimi Sake District and nearby Fushimi Inari Shrine, where thousands of vermillion torii gates snake up the mountainside. We can arrange a private car and guide to accompany you, or you can visit independently.
Your final day in Kyoto will again be at leisure, which is the perfect opportunity to venture a little further afield. Nearby Nara, an ancient capital only 40 minutes away by train, is a popular choice for its free-roaming deer population and the giant bronze Buddha at Todai-ji temple. Vibrant Osaka, famed for its fabulous food, is equally easily reached and makes a fun final evening in the Kansai region. Again, a private car and guide can be arranged for today so just let us know what travel style you would prefer.

Overnight: Granvia

Day 14-15

Return to Tokyo for a stay in Shinjuku, the capital's sprawling business and entertainment hub and the perfect contrast to your traditional tour of Japan.

Your adventures in Japan will come full circle today as you return to the capital, whizzing eastwards at speeds of up to 300 kph! A taxi will then take you from Tokyo station to one of the city's most luxurious hotels.
You will be perfectly located for some final sightseeing in the city and any last-minute souvenir shopping in the many shops and department stores nearby. Perhaps head to Shinjuku to spend your final evening in one of Tokyo's most famous entertainment hubs.
Sadly your time in Japan must come to an end, and on your final morning you will be met at your hotel by a driver who will take you directly to the airport. Have a safe flight home.

Overnight: Park Hyatt
Close all days
Other trips you may like
Tokyo
Hakone
Kyoto
Hiroshima
Osaka
Takayama
Tokyo

An essential two-week itinerary featuring some of Japan's classic sights, including Tokyo, Kyoto and Mount Fuji.

14 nights: from US$2535 pp (twin share) Read more >

Takahara
Nonaka
Yunomine Onsen
Koguchi
Kii-Katsuura

A challenging five-night walking module introducing the ancient trails of the Kumano Kodo pilgrimage network.

5 nights: from US$1781 pp (twin share) Read more >

This is a simple little package that proves it needn't break the bank to go on a winter sports holiday in Japan.

7 nights: from US$1820 pp (twin share) Read more >