Self-Guided Adventure
Traditional Japan
14 Nights: from US$2782 per person (twin share)
Trip Code: TJE
Leave bright lights and fast living behind and immerse yourself in the more traditional and laid-back side of Japan. This trip will show you a very different Japan, steering you away from the usual tourist haunts whilst also including the must-see cities of Tokyo and Kyoto. Read more >
After three nights in Asakusa, Tokyo's most traditional district, you will swap skyscrapers for mountains and escape the crowds of the city for rural villages and inns.
Here amongst the World Heritage Sites, mountain scenery and folk museums you'll be introduced to a more traditional, quieter side of Japan. Along the way you will visit meticulously landscaped gardens, explore samurai residences and have the opportunity to shop for arts and crafts at local markets.
In the rural village of Shirakawago you'll visit steeply thatched farmhouses deep in the countryside, whilst in Tsumago you'll have the chance to explore an excellently preserved post town on the old Nakasendo Highway. Both of these rural destinations have some fantastic walking opportunities and tiny Japanese-style inns with a genuine warm welcome and hearty home-cooked food.
After travelling through the stunning countryside and regional towns you will find yourself in the ancient capital of Kyoto, a city bursting with culture, history and art. This is the perfect opportunity to experience the religious and cultural traditions of this fascinating country.
Along your way you'll visit Matsumoto, where one of Japan's best extant castles makes for a stunning spectacle, and Kanazawa, where elegant Kenrokuen is rated among Japan's top three gardens.
The morning market in the alpine town of Takayama, meanwhile, will give you the chance to get to see a little bit of small-town life and learn about the area's famous spring and autumn festivals.
Your three nights in Kyoto will give you the opportunity to make a day trip at no extra cost, using your included Japan Rail Pass. Possible destinations include Hiroshima, Himeji and Kobe.
What's included
14 nights' accommodation (four nights Japanese style)

Breakfast each morning and three evening meals

Airport transfers on arrival and departure

Manaca transport card with 2,500 yen credit for city transport

Transport between destinations

Four-hour private guide service in Tokyo

Sushi breakfast at Tsukiji Fish Market

Tea ceremony experience in Kyoto

Evening Geisha walk in Kyoto

Sake tasting in Takayama

Pocket WiFi device

Your personalised InsideJapan Info-Pack
What's NOT included:
International flights

Local transport (buses, subways, taxis) at any destination unless otherwise specified

Day 4/5 – Taxi transfer between Nagiso and Tsumago (approx 2000 yen per taxi each way)

Any entrance fees including those for shrines, temples and museums

Baggage handling and luggage forwarding
Trip Highlights
Stay at family-run minshuku inns

Walk the historic Nakasendo Highway

Experience a traditional tea ceremony
Join a guided tour of Kyoto's Gion geisha district

See the gassho-zukuri houses in Shirakawago

Explore Tokyo with a private guide
For more information email us: [email protected] or call: 303 952 0379
What, where, when and how...
Traditional Japan - 15 Days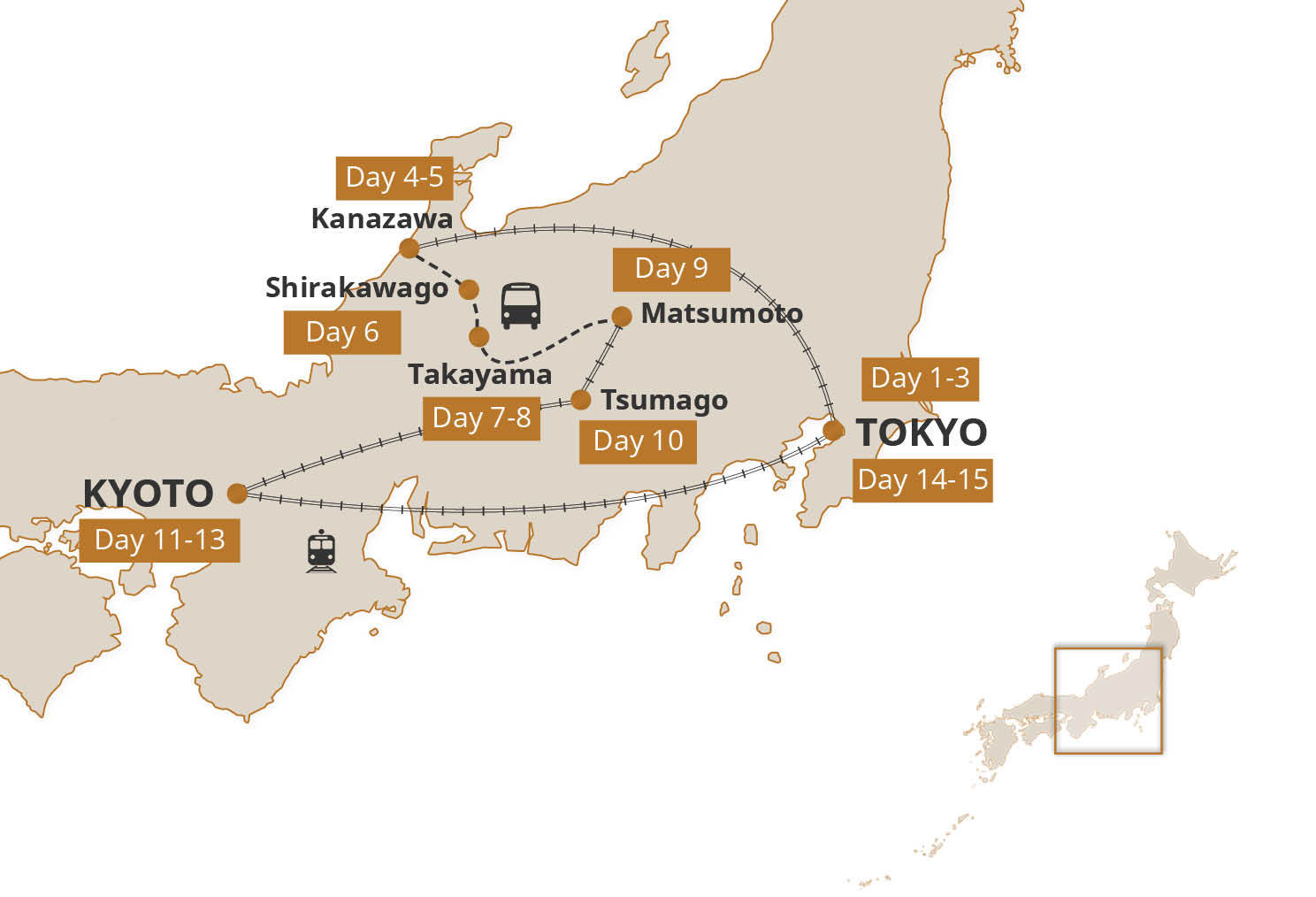 Traditional Japan - 15 Days - Day by Day
Traditional Japan - 15 Days - Accommodation
Traditional Japan - 15 Days - Experiences
Day 1-3

Begin your adventure in the traditional Asakusa district of Tokyo, home to the city's oldest temple: Senso-ji.

Welcome to Japan! Your adventure will begin in Asakusa, Tokyo's most traditional district and home to Senso-ji – the oldest temple in the city. Here the bustling streets and low-rise market stalls retain something of the air of pre-war Tokyo despite the looming 634 m Skytree to be seen in the distance! The rest of today will be free for you to start exploring the area around your hotel. Your Info-Pack will have plenty of suggestions to keep you busy.
To help you find your feet in one of the world's largest cities, your second day will be spent in the capable hands of a knowledgeable guide who will help you to combine some of Tokyo's most famous sights with some of its lesser-known gems on a four-hour tour of the city. The itinerary will be completely flexible to cater for your particular interests – whether you're a food aficionado or a fully committed otaku!
On your third day in the capital you'll be getting up bright and early for a sushi breakfast at Tsukiji Fish Market. Although the majority of the market relocated to Toyosu in 2018, you can still get some delicious sushi at the Tsukiji outer market these days. the After visiting the market you'll have the rest of the day free to continue exploring Tokyo or to take a day trip out of the city. Some great options include the great stone Buddha at Kamakura or the ornate temple complex at Nikko.

Overnight: Asakusa Tobu Hotel

Day 4-5

Wander the samurai quarter and beautifully preserved teahouse districts in one of Japan's best historical towns.

Today you will leave Tokyo behind and travel across the Japanese Alps to the well-preserved town of Kanazawa on the northern coast. On the first leg of your journey you will glide through the Tokyo suburbs and out past green paddy fields to the steep, snow-capped mountains of the Japanese Alps on the Shinkansen bullet train.
Kanazawa was one of the few Japanese cities to escape bombing during World War Two and is famous today for its old-fashioned samurai quarter and beautifully preserved teahouse districts.
On day five of your itinerary you will have a full day to explore Kanazawa. Don't miss Kenrokuen – one of the three best-loved gardens in Japan. It's beautiful no matter what season you visit in.
Just across the road from the garden are the old castle grounds, and the nearby the 21st Century Art Museum is worth a visit. Kanazawa is also famed for its "Ninja" temple – just let us know if you fancy a visit and we will arrange it for you.

Overnight: Agora Kanazawa

Day 6

Spend the night in one of the characteristic, steeply-thatched gassho-zukuri farmhouses in UNESCO World Heritage Site Shirakawago.

An hour's bus ride this morning will take you to the UNESCO World Heritage Site of Shirakawago. Hidden deep in the mountains in the Shogawa River valley, Shirakawago is a beautiful village famous for its steeply-thatched gassho-zukuri farmhouses, some of which are more than 250 years old.
Gassho-zukuri literally means "constructed like hands in prayer," so-called because the roofs of the farmhouses resemble the hands of Buddhist monks pressed together. Here you will spend the night in one of the farmhouses and enjoy a home-cooked dinner – an experience that is sure to be a highlight of your stay.

Overnight: Gassho Minshuku Ootaya

Day 7-8

Explore the morning markets and sake breweries of Takayama, with a stay in a traditional minshuku inn and some of the best in local cuisine.

Today you will take a bus from Shirakawago to Takayama, where you will spend two nights in a family-run minshuku inn. Takayama came to prominence in the Edo Period (1603 – 1868) thanks to the high quality work of its craftsmen, and today the town still displays these skills in the form of well-preserved inns, teahouses and merchant shops that crowd the old town centre. You will arrive at lunchtime with the afternoon free to explore the town before enjoying a traditional kaiseki-style dinner at your accommodation.
On your second day in Takayama you'll have another full day to explore the area. In the morning we suggest heading to the lively riverside market to see the stands selling local farm produce, flowers and crafts. In the late afternoon we've included a sake tasting tour of Takayama. The Hida region has a history of sake production and this is a great way to learn more about it and try out some local varieties.
Hire bikes and explore the many temples and shrines around the town, and be sure to try the local specialities of hida beef, soba noodles, miso-based dishes and roasted rice balls. Sake is the local drink of choice and micro-breweries abound, so pop in for a tasting! Dinner will be included at your minshuku inn again tonight.

Overnight: Iwatakan

Day 9

Discover one of Japan's finest medieval castles as you explore the famous "Black Crow" of Matsumoto.

The bus journey to Matsumoto today will take you through some spectacular mountain scenery as you pass right over the crest of the Japan Alps. Matsumoto is home to the striking "Black Crow" castle, a designated National Treasure and one of the best original castles still standing in Japan.
Matsumoto has a cosmopolitan atmosphere and a fair few interesting museums that are certainly worth your time. The city is also known for its soba noodles and the local speciality, horse sashimi (yes, that's raw horse) for the really adventurous!

Overnight: Dormy Inn Matsumoto

Day 10

Retrace the steps of thousands of samurai as you visit the old post town of Tsumago, part of the ancient Nakasendo Highway.

Travelling south by train this morning you will reach Tsumago, once a post town on the old Nakasendo Highway linking the ancient capital of Kyoto with Matsumoto.
The residents of Tsumago have taken great pains to preserve the town's Edo Period ambience, keeping power lines hidden away and cars banned from the main roads during the daytime so that the beautiful, traditional buildings and flagstone streets can be seen in their true glory.
Tsumago is situated in the picturesque Kiso Valley and the 8 km walk between Tsumago and Magome along the old post route is highly recommended.

Overnight: Daikichi Minshuku

Day 11-13

Get your dose of culture as you wander the atmospheric shrines and temples of Kyoto, Japan's Imperial capital for over a thousand years.

Leaving the Japan Alps behind, today you will take the train south to Kyoto. Once the capital of Japan for more than 1,000 years, Kyoto remains the undisputed cultural and historical centre of Japan.
Kyotoites are rightly proud of their home, which is by turns a thriving, modern city and the epicentre of the country's tradition. Not to mention it is home to Japan's most atmospheric temples and shrines, 17 of which are designated World Heritage Sites! Perhaps you could spend your free afternoon today walking down the Philospher's Path to Ginkaku-ji Temple or exploring the wares on offer at Nishiki Market.
You will take part in a tea ceremony – one of Japan's best-loved cultural experiences. Here you will learn about the history and philosophy of the art and try your hand at tea ceremony yourself. On the evening of your second day in Kyoto, we'll arrange for you to join a guided walking tour of the atmospheric district of Gion, home to the teahouses frequented by geisha and maiko. If you're lucky, you might even spot a maiko hurrying between appointments.
Your third day in Kyoto will be free for you to either continue exploring the city's many sights or to take a day trip to one of the many excellent destinations within reach of the Shinkansen.
Another ancient capital, Nara, lies just 40 minutes away by train and is worth a day trip just for the huge bronze Buddha statue at Todai-ji Temple. Osaka, famous for its down-to-earth people and hearty cuisine, is just 30 minutes away, and Hiroshima can be reached in two hours on the bullet train. Full details of all of these options will be included in your Info-Pack.

Overnight: OMO5 Kyoto Sanjo

Day 14-15

Round off your trip with a stay in the Ginza district of Tokyo, where neon lights and skyscrapers will bring you back to modernity with a bang.

Today your Japanese adventure will come full circle as the Shinkansen bullet train whisks you back to Tokyo. Your final night will be spent in the Ginza district amongst the neon lights of this commercial and entertainment centre, perfect for some last-minute shopping and a great final night out.
Sadly your holiday must come to an end, and on your final morning in Tokyo you will travel back to Narita Airport for your flight home.

Overnight: The B Ginza
View all days
Day 1-3

Begin your adventure in the traditional Asakusa district of Tokyo, home to the city's oldest temple: Senso-ji.

Welcome to Japan! Your adventure will begin in Asakusa, Tokyo's most traditional district and home to Senso-ji – the oldest temple in the city. Here the bustling streets and low-rise market stalls retain something of the air of pre-war Tokyo despite the looming 634 m Skytree to be seen in the distance! The rest of today will be free for you to start exploring the area around your hotel. Your Info-Pack will have plenty of suggestions to keep you busy.
To help you find your feet in one of the world's largest cities, your second day will be spent in the capable hands of a knowledgeable guide who will help you to combine some of Tokyo's most famous sights with some of its lesser-known gems on a four-hour tour of the city. The itinerary will be completely flexible to cater for your particular interests – whether you're a food aficionado or a fully committed otaku!
On your third day in the capital you'll be getting up bright and early for a sushi breakfast at Tsukiji Fish Market. Although the majority of the market relocated to Toyosu in 2018, you can still get some delicious sushi at the Tsukiji outer market these days. the After visiting the market you'll have the rest of the day free to continue exploring Tokyo or to take a day trip out of the city. Some great options include the great stone Buddha at Kamakura or the ornate temple complex at Nikko.

Overnight: Asakusa Tobu Hotel

Day 4-5

Wander the samurai quarter and beautifully preserved teahouse districts in one of Japan's best historical towns.

Today you will leave Tokyo behind and travel across the Japanese Alps to the well-preserved town of Kanazawa on the northern coast. On the first leg of your journey you will glide through the Tokyo suburbs and out past green paddy fields to the steep, snow-capped mountains of the Japanese Alps on the Shinkansen bullet train.
Kanazawa was one of the few Japanese cities to escape bombing during World War Two and is famous today for its old-fashioned samurai quarter and beautifully preserved teahouse districts.
On day five of your itinerary you will have a full day to explore Kanazawa. Don't miss Kenrokuen – one of the three best-loved gardens in Japan. It's beautiful no matter what season you visit in.
Just across the road from the garden are the old castle grounds, and the nearby the 21st Century Art Museum is worth a visit. Kanazawa is also famed for its "Ninja" temple – just let us know if you fancy a visit and we will arrange it for you.

Overnight: Agora Kanazawa

Day 6

Spend the night in one of the characteristic, steeply-thatched gassho-zukuri farmhouses in UNESCO World Heritage Site Shirakawago.

An hour's bus ride this morning will take you to the UNESCO World Heritage Site of Shirakawago. Hidden deep in the mountains in the Shogawa River valley, Shirakawago is a beautiful village famous for its steeply-thatched gassho-zukuri farmhouses, some of which are more than 250 years old.
Gassho-zukuri literally means "constructed like hands in prayer," so-called because the roofs of the farmhouses resemble the hands of Buddhist monks pressed together. Here you will spend the night in one of the farmhouses and enjoy a home-cooked dinner – an experience that is sure to be a highlight of your stay.

Overnight: Gassho Minshuku Ootaya

Day 7-8

Explore the morning markets and sake breweries of Takayama, with a stay in a traditional minshuku inn and some of the best in local cuisine.

Today you will take a bus from Shirakawago to Takayama, where you will spend two nights in a family-run minshuku inn. Takayama came to prominence in the Edo Period (1603 – 1868) thanks to the high quality work of its craftsmen, and today the town still displays these skills in the form of well-preserved inns, teahouses and merchant shops that crowd the old town centre. You will arrive at lunchtime with the afternoon free to explore the town before enjoying a traditional kaiseki-style dinner at your accommodation.
On your second day in Takayama you'll have another full day to explore the area. In the morning we suggest heading to the lively riverside market to see the stands selling local farm produce, flowers and crafts. In the late afternoon we've included a sake tasting tour of Takayama. The Hida region has a history of sake production and this is a great way to learn more about it and try out some local varieties.
Hire bikes and explore the many temples and shrines around the town, and be sure to try the local specialities of hida beef, soba noodles, miso-based dishes and roasted rice balls. Sake is the local drink of choice and micro-breweries abound, so pop in for a tasting! Dinner will be included at your minshuku inn again tonight.

Overnight: Iwatakan

Day 9

Discover one of Japan's finest medieval castles as you explore the famous "Black Crow" of Matsumoto.

The bus journey to Matsumoto today will take you through some spectacular mountain scenery as you pass right over the crest of the Japan Alps. Matsumoto is home to the striking "Black Crow" castle, a designated National Treasure and one of the best original castles still standing in Japan.
Matsumoto has a cosmopolitan atmosphere and a fair few interesting museums that are certainly worth your time. The city is also known for its soba noodles and the local speciality, horse sashimi (yes, that's raw horse) for the really adventurous!

Overnight: Dormy Inn Matsumoto

Day 10

Retrace the steps of thousands of samurai as you visit the old post town of Tsumago, part of the ancient Nakasendo Highway.

Travelling south by train this morning you will reach Tsumago, once a post town on the old Nakasendo Highway linking the ancient capital of Kyoto with Matsumoto.
The residents of Tsumago have taken great pains to preserve the town's Edo Period ambience, keeping power lines hidden away and cars banned from the main roads during the daytime so that the beautiful, traditional buildings and flagstone streets can be seen in their true glory.
Tsumago is situated in the picturesque Kiso Valley and the 8 km walk between Tsumago and Magome along the old post route is highly recommended.

Overnight: Daikichi Minshuku

Day 11-13

Get your dose of culture as you wander the atmospheric shrines and temples of Kyoto, Japan's Imperial capital for over a thousand years.

Leaving the Japan Alps behind, today you will take the train south to Kyoto. Once the capital of Japan for more than 1,000 years, Kyoto remains the undisputed cultural and historical centre of Japan.
Kyotoites are rightly proud of their home, which is by turns a thriving, modern city and the epicentre of the country's tradition. Not to mention it is home to Japan's most atmospheric temples and shrines, 17 of which are designated World Heritage Sites! Perhaps you could spend your free afternoon today walking down the Philospher's Path to Ginkaku-ji Temple or exploring the wares on offer at Nishiki Market.
You will take part in a tea ceremony – one of Japan's best-loved cultural experiences. Here you will learn about the history and philosophy of the art and try your hand at tea ceremony yourself. On the evening of your second day in Kyoto, we'll arrange for you to join a guided walking tour of the atmospheric district of Gion, home to the teahouses frequented by geisha and maiko. If you're lucky, you might even spot a maiko hurrying between appointments.
Your third day in Kyoto will be free for you to either continue exploring the city's many sights or to take a day trip to one of the many excellent destinations within reach of the Shinkansen.
Another ancient capital, Nara, lies just 40 minutes away by train and is worth a day trip just for the huge bronze Buddha statue at Todai-ji Temple. Osaka, famous for its down-to-earth people and hearty cuisine, is just 30 minutes away, and Hiroshima can be reached in two hours on the bullet train. Full details of all of these options will be included in your Info-Pack.

Overnight: OMO5 Kyoto Sanjo

Day 14-15

Round off your trip with a stay in the Ginza district of Tokyo, where neon lights and skyscrapers will bring you back to modernity with a bang.

Today your Japanese adventure will come full circle as the Shinkansen bullet train whisks you back to Tokyo. Your final night will be spent in the Ginza district amongst the neon lights of this commercial and entertainment centre, perfect for some last-minute shopping and a great final night out.
Sadly your holiday must come to an end, and on your final morning in Tokyo you will travel back to Narita Airport for your flight home.

Overnight: The B Ginza
Close all days
Other trips you may like
The constant bad economic news has been getting everyone a bit down, so we've created this bargain seven-night Japanese getaway to beat the blues!

7 nights: from US$1326 pp (twin share) Read more >

Tokyo
Utoro
Lake Kussharo
Mount Asahi
Biei
Sapporo
Hakodate
Tokyo

This summery itinerary highlights some of the best natural scenery, hikes, and wildlife in Hokkaido, combined with a city stay in Sapporo.

14 nights: from US$5109 pp (twin share) Read more >

Tokyo
Kyoto
Mount Koya
Kawayu Onsen
Yunomine Onsen
Kii-Katsuura
Ise
Tokyo

Follow in the footsteps of Japanese royalty as you tread the pilgrimage paths of the Kumano Kodo, with superior accommodation and cuisine included.

14 nights: from US$7735 pp (twin share) Read more >