Like this post? Help us by sharing it!
With the mighty Mount Fuji, Japan is a wonderland for hikers, but for the best Fuji views tour leader Brian Beatty recommends taking on Mount Kintoki.
Mount Kintoki
Mount Kintoki (金時山), also known as Mount Ashigara (足柄山), is a 1,212m high mountain located on the border of Kanagawa and Shizouka prefectures in the Fuji-Hakone-Izu National Park.
How to get there
Many people flock to this mountain in fall and winter to see one of the most beautiful views of Mount Fuji. To get there, you can take a bus to Kintoki-jinja-iriguchi bus stop:
25-35 minutes from Hakone Yumoto station, 860-930 yen
1 hour from Odawara station, 1,200 yen
2 hours from Shinjuku Expressway Bus Terminal (1,900 yen)
Make sure you double check the bus schedule and departure times, and have a back-up plan in place in case you miss the first bus.
It takes roughly 75 minutes to hike to the summit and I would say you need a medium to high level of fitness (take this into account if you're a novice hiker or not use to regular exercise).
The terrain is very similar to that of Mount Fuji's Subashiri hiking course, especially in the lower stages. It's straight up with an incline like a steep set of stairs, so some scrambling will be required at times. Coming down is very easy, but it's best to take your time and be cautious with your footing. Boots are definitely needed!
As Mount Fuji is usually very clear in the morning of the fall and winter months, I highly recommend getting an early start. Remember to check weather conditions beforehand and don't forget to pack water.
Japanese folklore
The mountain is known for being the birthplace of Kintaro (a child with superhuman strength in Japanese folklore) and there is a shrine dedicated to him near the starting point of the hiking course. Kintaro was said to be so strong, he could smash rocks into pieces and snap tree trucks like twigs – as you hike up the mountain, you'll see a giant boulder that was supposedly chopped in half with an axe by the boy hero himself.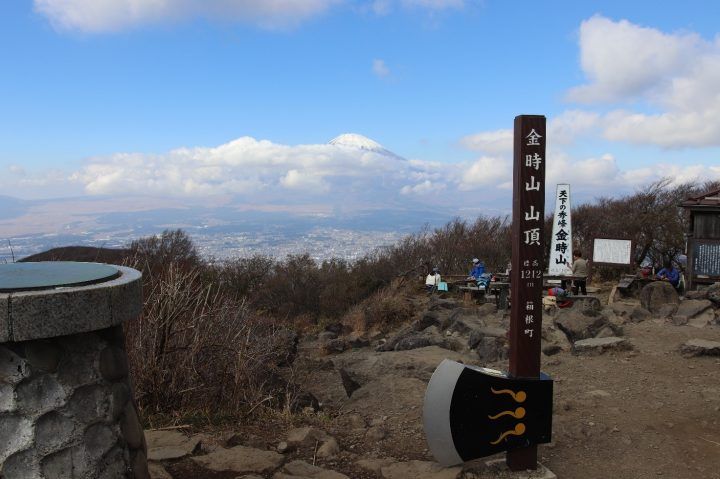 There is a tea house and bathrooms at the summit, or if it's still a little early for lunch, wait until you reach the bottom and you can choose between a few restaurants or convenience stores.
---
If you see yourself limbering up for the best Fuji views, get in touch with our Japan travel experts to find out more about climbing Mount Kintoki.
Like this post? Help us by sharing it!