Like this post? Help us by sharing it!
You could spend years exploring Japan without seeing it all. But if you're short on time and big on enthusiasm there are ways to experience some of the best bits in just 9 days.

We put our heads together to curate Spirit of Honshu; a small group tour that encompasses as many of Japan's highlights as we could comfortably squeeze into 9 days. As a team of Japan fanatics, this was no easy feat!
1. Explore Japan's most famous cities: Tokyo and Kyoto
Where to begin? Tokyo's neon lights and towering skyscrapers feel like a world away from Kyoto's maze of ancient streets and array of temples. But both are equally worth a visit and should be on any first-timer's itinerary.
Tokyo stands as a symbol of Japan's fast-moving modernity, while Kyoto has the vestiges of the country's unique history; including Sakoku, a period of isolation from the rest of the world.
2. Meet a maiko (trainee geisha)
While the onsen, ryokan and kaiseki dishes may need further explanation, geisha are recognised internationally, but visitors are rarely permitted a peek into their world. Many Kyotoites won't even have the chance to see their enchanting performances.
Having worked in Japan since 2000, we have built trusted relationships with Gion tea-houses and can arrange private meetings with a maiko (trainee geisha). Sup afternoon tea, play fun games and watch intricately choreographed dances.
3. See Mount Fuji, sort of.
Despite its mighty size, Mount Fuji is surprisingly elusive and there are no guarantees that you will spy its summit. Some of its viewpoints are places worth visiting in their own right though, so any sights of Fuji will be a happy surprise.
The stunning Izu Peninsula is one such place; a scenic escape with breathtaking mountains and a craggy coast that stretches into gloriously blue sea. It's only 60 miles from Tokyo with a journey on the picturesque Jikkoku Pass – from which you can spot Fuji on a clear day.
4. Try all of the food!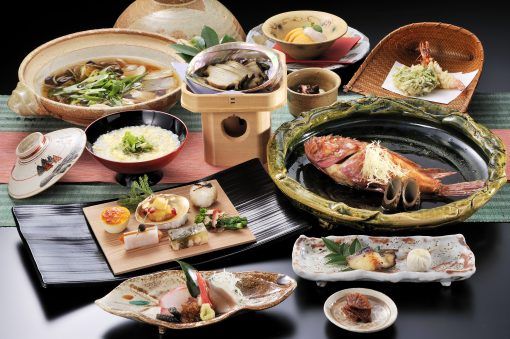 Japan is known for its gastronomic delights and the only way to find your favourite dish is to try everything…
"In 9 days?" I hear you cry. So you may not try everything, but dinner at an izakaya (Japanese pub) and a ryokan (traditional Japanese inn) will give you a good overview.
The izakaya offers an informal environment to tuck in to a variety of dishes, all washed down with swigs of beer. They aren't normally advertised with signs and the menus are often in Japanese, so it is handy to have a guide to explain the dishes to you (and order in Japanese).
At ryokans the setting is more tranquil. A series of delicate kaiseki dishes are served, each made using the freshest seasonal produce. The hosts can also be very flexible with specific dietary requirements – just be sure to give plenty of notice.
5. Discover Japan's history
Japan's unique history gives every town, city, temple and garden a story to tell. With only 9 days, it can be tricky to know where to start and how to tie it in to all of the other experiences; it takes a bit of planning!
Tokyo and Kyoto have oodles of historic sites, monuments, temples and shrines, but they are also springboards to Nikko and Nara respectively. 9 days is enough time to tie in day-trips to the intricately decorated Toshogu shrine in Nikko's striking national park, and the UNESCO World Heritage recognised temples in Nara; including the largest bronze statue of Buddha in the world and the "see no evil, hear no evil, speak no evil" monkey carvings.
6. Travel on the shinkansen (bullet train)
Japan's futuristic bullet trains make traversing the country manageable (and fun). Recline in a comfy seat, bento box in hand, and watch as villages and green paddy fields whizz by.
7. Stay at a ryokan (traditional Japanese inn)
Staying at a ryokan is an 'only in Japan' experience. Sleep soundly on fluffy futons, sit on tatami mat floors sipping tea, slink around wearing a yukata (cotton gown) and dip into an onsen (hot spring bath). Perhaps best of all though is sitting down to eat a kaiseki meal (see number 4).
8. Relax in an onsen (hot spring bath)
Japan's volcanic landscape offers an indulgent treat for visitors; the onsen (hot spring baths). There really is no better way to rest explore-weary limbs, and they are usually waiting in every ryokan. We picked the beautiful Izu Hanafubuki ryokan for the Spirit of Honshu tour. It has seven onsen, so you can take your pick. Or flit from bath to bath in your yukata.
Please note: Onsen have a few rules to observe. Tour leaders will explain all, but you can also consult our guide here.
9. Wander through famous gardens
Last but not least, those incredible gardens! Japanese gardens demonstrate an appreciation for nature and the changing seasons, each as beautiful as the last. It's not uncommon to see gardeners trimming stray leaves with scissors, or building wooden platforms to support ailing trees.
With only a short amount of time, plan to see a few different types. On the Spirit of Honshu tour you will find yourself dwarfed under the bamboo groves of Arashiyama (just outside Kyoto), strolling through the peaceful Hamarikyu gardens beneath Tokyo's towering skyscrapers, gasping at the Golden Pavillion and its grounds, and sitting down in the serenity of the Ryoan-ji Zen rock garden.
---
Time should never be a constraint for travel. As a trip that offers travellers with only 9 days to spare the chance to see some of Japan's best bits, we're particularly proud of the Spirit of Honshu small group tour. Contact our team to find out more.
Like this post? Help us by sharing it!