Like this post? Help us by sharing it!
A self-confessed Japanophile, Daniel couldn't wait to visit for the first time. Luckily he wasn't disappointed! Although we can't say we're surprised…

First trip to Japan
When I was asked if I'd like to write about my experiences in a trip to Japan, it seemed perfect. My lifelong ambitions include mastering Japanese and visiting Japan, so it was great when I had the opportunity to travel with my Dad and my brother. Since I've been back, and particularly in the last few days, my mind has been working to relive the moments and great conversations I had. This trip, like magic, had a lot of personal weight.
The weather while we were in Japan summed up the whole adventure nicely, less than one minute of rain and otherwise clear skies and sun. Like an early summer in fact.
Japanese language
It was obvious from the outset that everyone was courteous and kind. But when someone found out that I could speak Japanese at quite a high level, the huge reactions of surprise were even friendlier. On the first night in Japan at our hotel/restaurant, the Jr Shinjuku Kyushu Blossom, I was speaking to a waiter which got the attention of a kind lady. As it turned out, she was the head English teacher for a school. Really wishing I had remembered the names of people I talked to!
Tokyo
In Tokyo we went to many anime-related sites like J World Tokyo and Akihabara. We also found Kamen Rider: The Diner; a wall to wall tribute to the long-running superhero franchise. Kamen Rider covers many themes – the menu and atmosphere of the place captures a variety of these and it's made to look like an evil Shocker base. You should definitely take pictures here, you can even sit on the throne of Shocker's leader!
Osaka
Next was Osaka with an aquarium, and great temples and shrines. It's perfect to take photographs outside and spend time there in person, but be aware that photography is not allowed inside. Our second Hotel, the Sunroute Osaka Namba, was also very nice; the lobby was very spacious, and there was even a robot for the entertainment of the guests! Meals at each of our hotels were excellent and breakfast had every item you could imagine.
Public transport and accessibility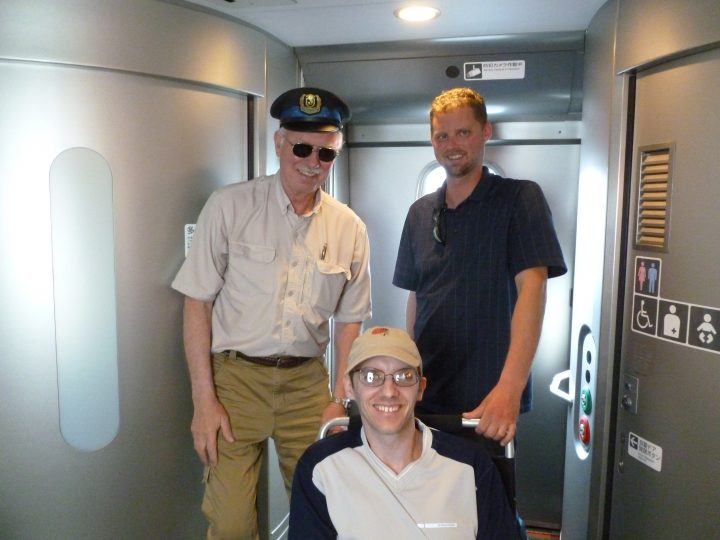 We rode the subway often, and the shinkansen bullet train to get where we wanted to go. This is an impressive high speed ride with a view, and if you're lucky you might just spot Mount Fuji! Accessibility for a wheelchair throughout Japan was of very little concern. Staff were totally ready and able to help, which was made easier by a light and portable type of chair to accommodate the needs of the trip.
We took a day in historic Hiroshima, where there was a very high-tech kind of museum, before the last leg of our trip back in Tokyo.
The Park Hotel had a phenomenal view of Tokyo tower!
Japan conclusion
I think my Dad and my brother came away understanding the connection I have with Japan. It feels like a second home by nature, and with the language in hand I achieved more by way of conversation than ever before! Honestly, I have a lot of tour guides, drivers, servers, staff, and others to thank for what I experienced. I was grateful for everything, from service and kind courtesy, to engaging conversations. If ever I were able to connect with these people again I'd be thrilled!
My favourite part of the trip was…
Getting to speak Japanese!
---
Take a trip like Daniel on our Wheelchair Accessible Golden Route self-guided itinerary. Follow his footsteps and see the bright lights of Tokyo and Osaka, as well as the traditional city of Kyoto and beautiful Lake Kawaguchi.
Like this post? Help us by sharing it!