Like this post? Help us by sharing it!
As Sustainability Officer for Inside Japan Tours, it's Matt's job to think of ways to reduce our impact on the environment and ensure that we give something back to the communities we work in. In this blog post, he introduces Second Harvest Japan – the latest charity to which we have chosen to lend our support.
If you have visited Tokyo and spent any time in Ueno Park you may well have seen some of the many homeless people living there. If you spent a night in a ryokan, you, like many of us, could well have struggled to finish your lavish breakfast, leaving some to go to waste. These are two issues Inside Japan Tours wants to play a role, however small, in solving.
As a group of people with a real love for Japan, the team at Inside Japan Tours likes to give back to the country that has inspired us all, and give the same opportunity to those who travel with us. One of the ways we like to do this is by raising money for charity. In the past we have raised over £30,000 for Civic Force and It's Not Just Mud, who both worked to help with the redevelopment of the Tohoku coast following the earthquake and tsunami in 2011.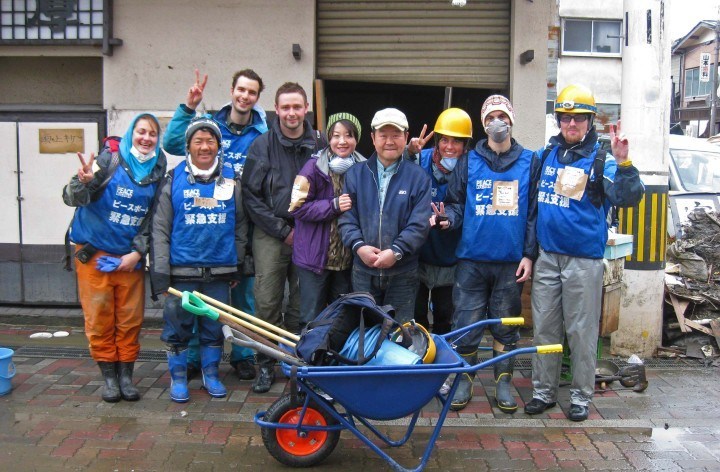 This year we have chosen a different cause and have been supporting Second Harvest Japan. Second Harvest is a great charity that gathers food that would otherwise go to waste and distributes it amongst those living in food poverty throughout Japan.
Although Japan has one of the largest economies in the world, there are still many people who struggle to access the food they need. Overall there are over 20 million people (that's one in six) living in poverty. However Japan also has a massive food waste problem, with over 17.8 million tonnes of food going to waste each year. The homeless community in Ueno Park are one of the groups Second Harvest aim to help. Every Saturday their team of volunteers runs their Harvest Kitchen, serving around 450 hot meals to the homeless living in Ueno Park.
As well as serving food to the homeless, Second Harvest also deliver food to a wide variety of people who are struggling to provide sufficient food for themselves and their families. Throughout the week they prepare care packages to send out every Thursday and Saturday, making a big difference to their recipients' health and wellbeing.
As well as working on the ground, Second Harvest work hard to advocate the power and importance of food banks. Throughout Japan they work with many local organisations and communities, encouraging and supporting them with their own food bank efforts. Internationally they have also been assisting the development of a similar food bank scheme in the Philippines since 2007.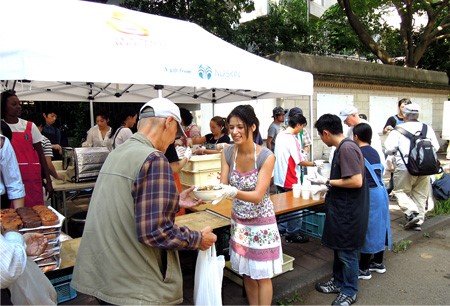 What have we done so far?
We started fund raising at the beginning of this year with a bake-off competition that ran throughout January. As well as baking, and getting to sample a huge range of delicious cakes, the UK office managed to raise over £230 – which the directors kindly matched, getting us off to a great start towards our £20,000 target!
Our next big fundraising effort was in early March when we had a team of 13 runners complete the Bath Half Marathon. We might not all have been natural runners, but we managed to raise a good deal of money towards our cause and have some fun along the way.
With all these efforts and donations we're now 15% of the way toward our £20,000 target at just shy of £3,000.
Would you like to help?
If you'd like to get involved and volunteer with Second Harvest Japan please let your travel consultant know, and they might be able to help you to arrange an afternoon helping the volunteers serving food at one of their Saturday Harvest Kitchens.
If you can't help out in person, then any donation you can make will really help Second harvest in their operations and allow them to help even more people. To donate please follow the link below:
https://www.ammado.com/community/173533/donate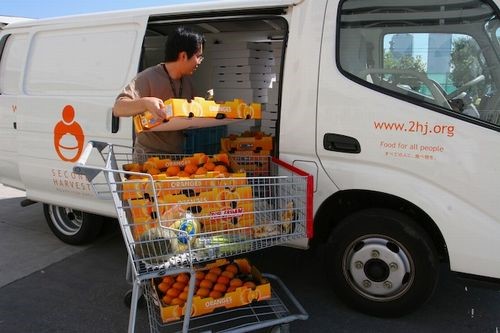 Like this post? Help us by sharing it!