Like this post? Help us by sharing it!
Beverley Rothschild recently returned from a trip to Japan with her husband and grandson, organised by the lovely Amy in our Boulder office. She kindly shared this blog post about their experience of a baseball game in Japan – which she assures us was just as fun as back home! For more inspiration, check out our dedicated family page.

One of the highlights of our recent ten days in Japan was the baseball game at the Kyocera Dome Osaka. We were travelling with our 13-year-old grandson, Ethan, who plays baseball on a rep team here at home. This was one of several activities that we asked Amy, our Travel Consultant at Inside Japan, to arrange in addition to the usual sightseeing – so that we would be doing something that Ethan could relate to.
We entered the stadium and were handed red towels emblazoned with the home team name: the Buffaloes. We had fabulous seats behind home plate for a game between the Orix Buffaloes and the Chiba Lotte Marines. Neither team had lost a game yet, and the season had just begun.
Contrary to what we had found while travelling – the quiet, soft nature of Japanese voices on the street, the subways, and the trains – the noise was deafening. Both teams had their own 'fan clubs' of a few hundred people: volunteers who follow the team to all games both at home and away. They stood, stomped their feet, sang, waved and cheered every time their team was at bat. We, in the stands, waved our towels periodically – a sea of red – cheering on the Buffaloes.
We were fortunate to be sitting among a group of businessmen who were very friendly and 'talked' to Ethan using a translation app on the phone. Most of the rules were the same, however some differed. He would write his questions in English and it would translate into Japanese. They would reply in Japanese, and it would translate back into English. They shared our excitement when Brent Morel, an American playing on the team, was up at bat – and when a player on their national team was up.
We were eager to see what would happen during the 7th inning stretch. At the right moment, fans throughout the stadium from both teams released blown up balloons (ours blue, the visiting team white) that flew throughout the stadium while deflating. This balloon release is really a spectacular sight.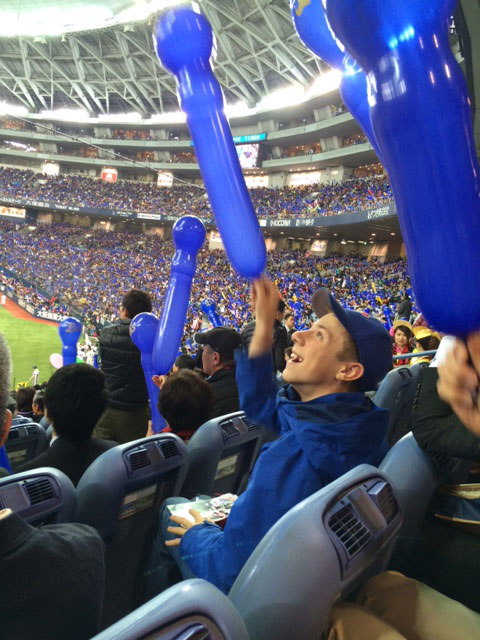 The evening was terrific. The friendliness of the fans around us made the experience even more special. At the end of the night, Ethan gave a Canadian keychain to his new Japanese buddy, who in return gave him an anime keychain… to a 13 year old, that is like GOLD.
I think the only thing that could have made the evening even better would have been if the Buffaloes had won! Unfortunately, they lost 4-3.
Beverley and her family travelled to Japan on a tailored trip organised by our team in the USA, and visited Tokyo, Hakone, Kyoto and Osaka. If you're planning a family holiday and would like to speak to one of our consultants in the UK, US or Australia, don't hesitate to get in touch and we'll put together the trip of a lifetime.

Like this post? Help us by sharing it!