Like this post? Help us by sharing it!
Following on from our 10 Reasons to visit Tohoku, tour leader Steve headed up to the region – the first time in a while – to scout areas for the new A Northern Soul tour. Here's what he had to say…
A few weeks ago, I headed out of Tokyo by bullet train and up to Sendai, gateway city to the northern region of Tohoku. It had been a while since I had been up to Japan's northern region, which was hit badly by the 2011 Great Earthquake, so I was pleased when I was asked me to scout out hotels for our upcoming trips to the area, scheduled for 2016.
It was great to be back in this fantastically friendly region, which epitomises the Japanese people's incredible ability to bounce back in the face of adversity. I'll spare you the hotel reports, but would like to mention a few places of note that I had time to visit.
My first stop was Ishinomaki – one of the coastal communities worst hit by the 2011 tsunami. Compared to my trip to the area a year ago, I was encouraged by the amount of construction going on in and around the city. There is still a long way to go, but progress seems to be being made.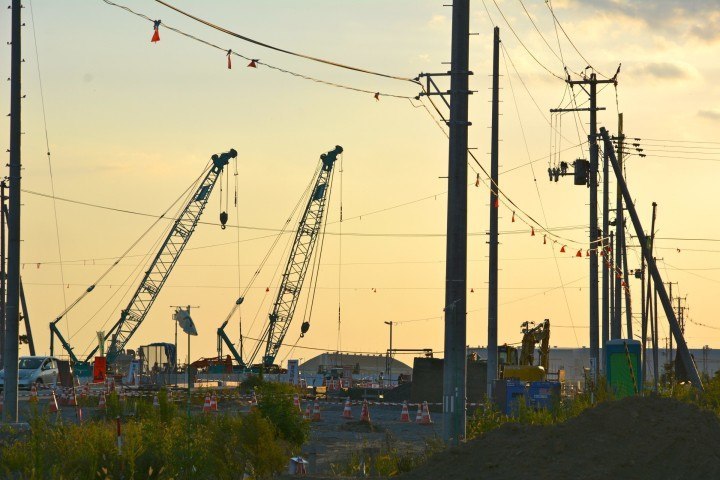 Shopping and residential developments seem to be showing the fruits of several years of planning and hard work, and whilst tourism in the area still struggles to fully take flight, hotels are, for the moment, hosting construction workers from as far afield as Hokkaido. Once the work is completed, it is to be hoped that the local population will see a surge in visitor numbers – more than it deserves for its fortitude.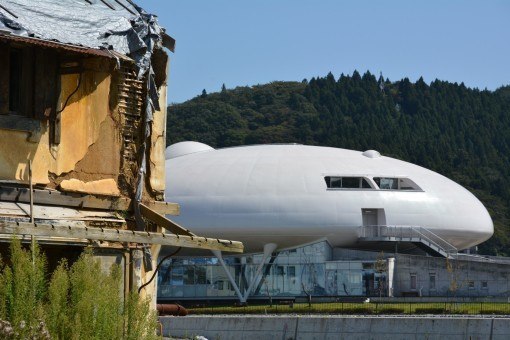 The town has recently opened a new Ishinomaki Community and Information Centre, which not only highlights the disaster and its aftermath, but also plots the way forward for the city. The reconstruction plan has three principal aims: the creation of a disaster resistant city; the rejuvenation of the area's key industries (fishing, paper, animal feed and fertilizers); and the promotion of a cohesive, active and cooperative community.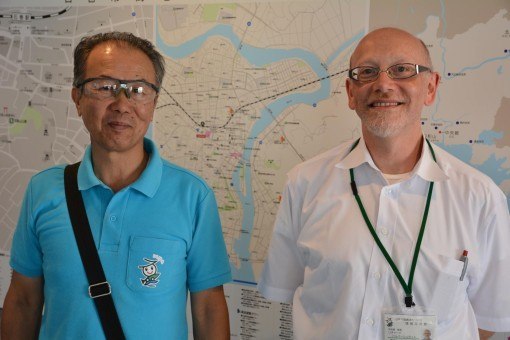 It was at this information centre that I was fortunate to meet local volunteer guide Takani-san, who leads short tours through the most affected districts of the town. These include the Kadonowaki district, a residential area which was almost completely destroyed by the surging waters. He works with Richard Halberstadt, a very warm Englishman who has lived in the city for 20 years, experiencing the full realities of the disaster. While many foreigners left the region in the aftermath of the diasaster, Richard lived through what can only have been an immensely tough few years. Who better to offer perspective on Ishinomaki – past, present and future?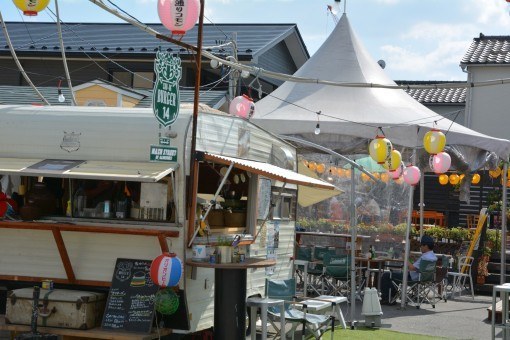 Although only a short encounter, it was great to meet these two men and learn how they are part of the city's great effort to put itself back on the map. They pointed me in the direction of the neighbouring temporary café area known as "Common", a social focal point in town, where locals and tourists alike can mix. A number of shops, businesses, and of course residents, have had to be relocated to various areas across the city. This temporary solution has been extended years beyond the original plan, but soon, possibly by the end of the year, businesses in makeshift retail areas such as Common and the Fureai Shopping Street, will be moved backed into permanent premises. For now, I was happy to sit, take a drink and give a little custom to one of these establishments.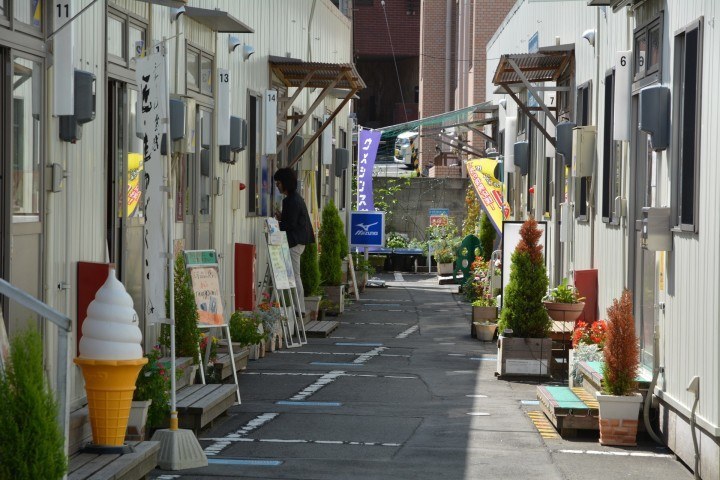 After a drink in the sun, it was time to hit the road on a mama chari – a shopping bike complete with basket and bell. I had decided to hire a cycle from in front of the railway station and ride the four miles to Sant Juan Bautista Museum, to learn more about the construction of the Spanish galleon and daring voyage that was made under order of powerful local lord Date Masamune in 1613, in order to establish trade relations with Mexico.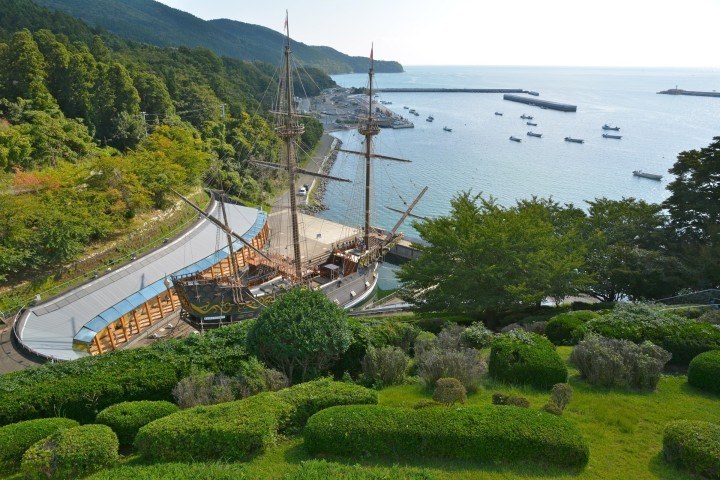 The ship is concealed in a sheltered cove, accessible from above. The views of the reconstructed Spanish galleon below and the expansive ocean were really impressive. Set among very pleasant landscaped grounds, the upper hillside area houses a small museum with some English explanation and a video auditorium which features a short docudrama on the voyage. Below, the ship is open to explore. A faithfully reconstructed version of the original Sant Juan Bautista, crewed by some 180 men, gives a good idea of how hellish the journey must have been in such cramped and unhygienic conditions.
Nowadays, although the ceilings are still low and the steps a little steep, adults enjoy the history of this daring voyage and the striking views, whilst kids get to play pirates among mannequins representing some of the voyages protaganists!!
I jumped back on the bike and made my way along the coastal road back to the Kadonowaki district of Ishinomaki, in order to offer a prayer at the originally makeshift, yet now famous sign of encouragement, written just a few days after the tsunami. A handful of people likewise stopped by to give an offering and a prayer in the early evening sun.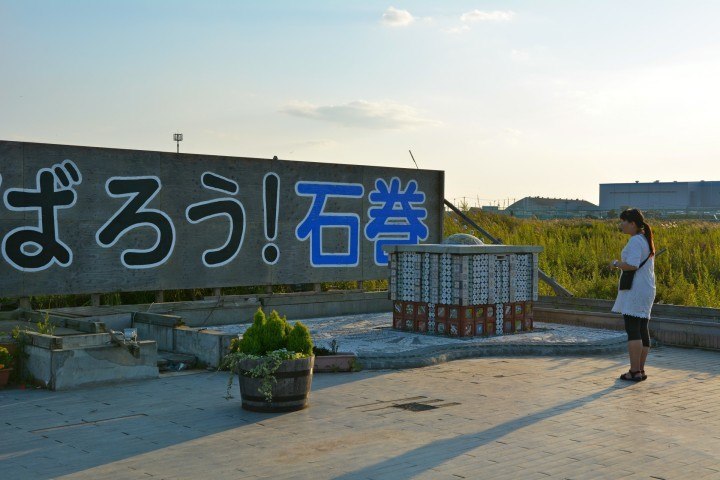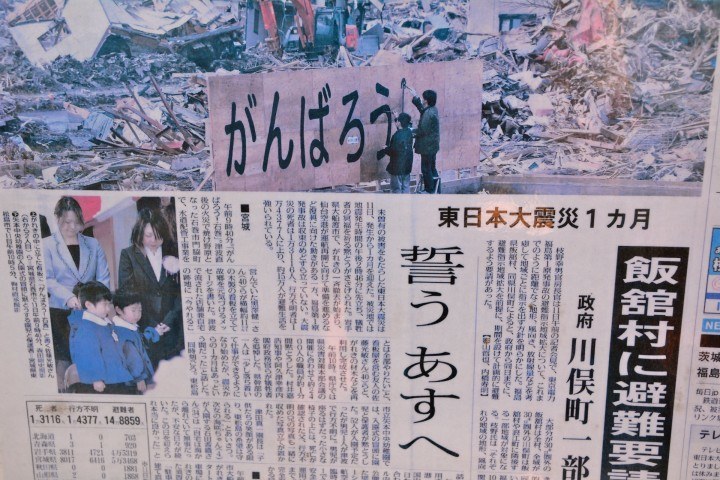 Feeling somewhat subdued by the sobering location of this lone, modest sign amongst relatively barren wasteland, where once a community thrived, my mood was soon lifted by the ever smiling face and upbeat outlook of the owners of a tiny inn named Kikuchi (Chrysanthemum), where I had decided to stay overnight. This accommodation found itself submerged in three metres of water on that fateful day, but after extensive renovation, it now offers travelers a warmest of welcomes and a comfortable stay, as close as you could possibly be to the most deeply impacted area.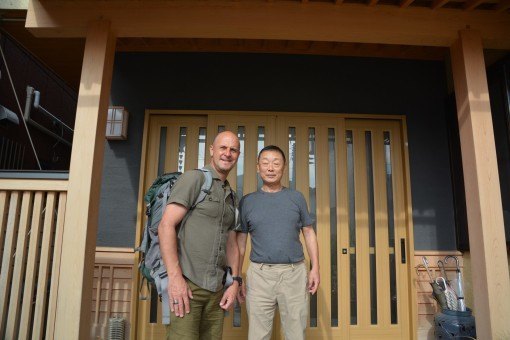 The following morning it was off to the quiet spa town of Naruko by car, traversing the yellowing rice paddies, now being harvested in Miyagi Prefecture. Naruko is famed for its Kokeshi Dolls – lathe crafted dolls decorated with bright paint and facial expressions. The town draws tourists in for its greenery and natural features – Onikobe geyser, colour-changing Katanuma Lake where you can enjoy a bit of peaceful rowing, and Naruko Gorge, which becomes aflame with autumn colours in October. It also boasts some of Japan's most famous spa bathhouses, including the fantastic Taki no Yu, a small cedar wood establishment that has been soothing the aches of bathers for 1,000 years!
I was extremely tempted to take a long dip in the soothing waters of Naruko but had to swiftly move south, and onto Zao – a quasi-national park and winter resort area straddling the prefectures of Miyagi and Yamagata. After a two-hour drive south from Naruko, I was finally on the uphill road, leading to Kattadake Peak, which stands at an impressive 1,758 metres. Agriculture, along with tourism, is one of the main industries of the area, with the lower slopes of Zao carpeted with rice paddies and nashi (Japanese pear) orchards.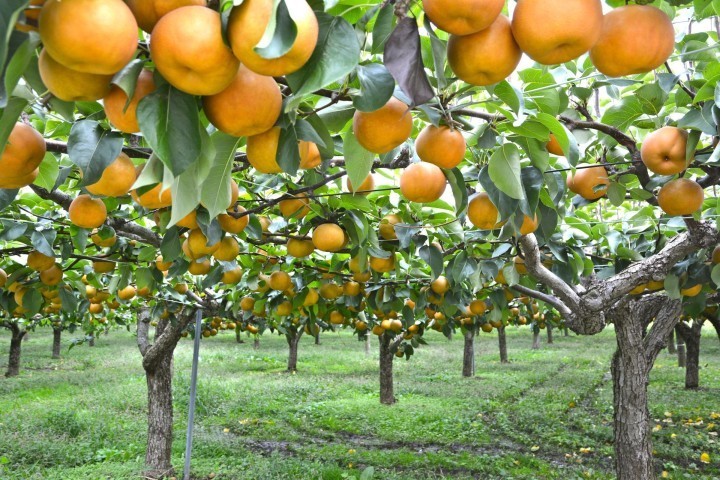 I had also heard about a renowned dairy farm in the area, so after a quick foot spa in the small town of Togatta, I headed to Zao Dairy, to sample some of the great cream cheeses they produce here – quite a feat considering they raise just 120 cows! The farm is split into the main dairy with its own shop and tasting stations, and so-called Zao Heartland, just a mile up the road. Here, the cows are raised and there is a second visitor centre, for kids to hang out with animals and visitors to try their hand at making something daringly dairy. No time for me today, but next time I am here, I'll be sure to try either the cheese or ice cream-making workshops that are on offer for less than 1,000 yen!
Next, it was onwards and upwards on the 1960's-constructed Zao Echo Line – a spectacular road, taking in Sankai waterfalls – a three-tiered cascade that totals 181 metres over three drops, and the volcanic landscapes of Komakusa Plain and Daikokuten Viewpoint. The vistas of the surrounding forested hills flecked with autumn colours, and the hazy plains below, were fabulous. After an hour on this famous road, a journey punctuated by several photos stopoffs, I finally reached the highpoint for the day, Kattadake Peak (1,758m).
This peak is famed for its incredible views of the nearby Okama Crater Lake, another natural wonder, whose waters change colour depending on the angle and intensity of sunlight. Recent volcanic belching and burping (nothing more) in the area had meant that walking trails in the area were closed off temporarily, but I was lucky to sneak a peak at the lake from the observation deck, snapping a few photos before it disappeared in a veil of cloud.
At this altitude in September it was feeling a little chilly, so after heading to the small summit shrine, I had hearty late noodle lunch in the visitor centre. By now, it was already mid-afternoon, and not fancying the winding downhill return along the Zao Echo Line in the misty dark, I decided to make my way back to the city lights of Sendai, the largest city in Tohoku. Here, further culinary delights such as the city's local specialty, grilled cow tongue and Zunda Mocchi (soybean rice cakes), were awaiting me.
The following day I was to stay at sea level, visiting another destination to feature in our upcoming Tohoku tour in 2016, Matsushima (pine islands) – an area of significant beauty with over 260 small, pine tree-covered islets dotted around Matsushima Bay – just four of them inhabited.
From Sendai, I took the local train line out to Matsushimakaigan (40 minutes), which boasts views of a number of the islands and provides access to two of them, Oshima and Fukuurajima, via striking red bridges. The former houses a number of Buddhist relics, among which I found myself alone for a good half hour. The latter offered me a longer walk in the greenery of its botanical gardens, and I even found a small cove which I was able to enjoy to myself as I looked across the bay.
The town area has a number of notable temples – Zuiganji is famous for its hollowed-out grottoes, created to house the ashes of the deceased; and Entsuin, with its exquisite gardens of raked sand, maples and bamboo. I headed to the latter to find a little tranquillity away from the hustle of main street, with its busy road and souvenir shops – just a three-minute walk from the shoreline, and I was transported into a spiritually refreshing tranquillity that enveloped me among the foliage of the gardens.
Of course, no visit to Matsushima would be complete without a little seafood – the local speciality. For me, all-you-can-eat oysters for 45 minutes was a little too full-on, so instead, I plumped for a mixed seafood platter from a roadside stall – fantastic barbecued prawns, scallops and oysters – heaven!! Of course, if sushi is your thing, there are plenty of restaurants to satisfy your raw fishy needs too. After my barbecue platter, dessert was tempting, however  I gave the fishy flavoured ice cream (see below) a miss. Maybe next time!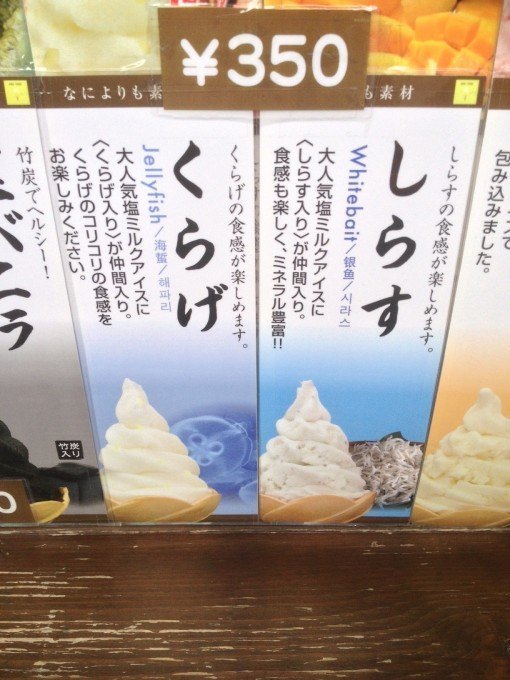 After wandering the bustle of the fish market and taking a contemplative tea in the Kanrantei teahouse, a present to the Date clan by former shogun, Toyotomi Hideyoshi in the late 1500s, it was time to wind things up and head back to Sendai by local train line, then onto the chaos of Tokyo by bullet train.
My research into the region's hotels had been completed, I had rushed around like crazy for three days, but, as always, the organic nature of Tohoku had still managed to send me back to the capital feeling like a calmer soul. I look forward to heading there again next May and October of 2016, when I hope to lead as many of you as possible to this great part of the country!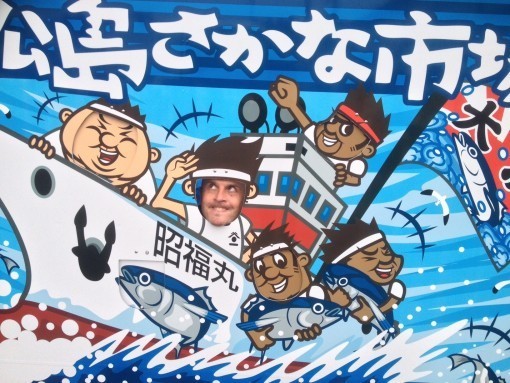 Like this post? Help us by sharing it!